Giant, eco-friendly geotextile bags dewater apple sludge
A major UK cider-making company and Golder scientists team up to test a simple, innovative solution to reduce sludge and produce a profitable by-product.
Jun 1st, 2003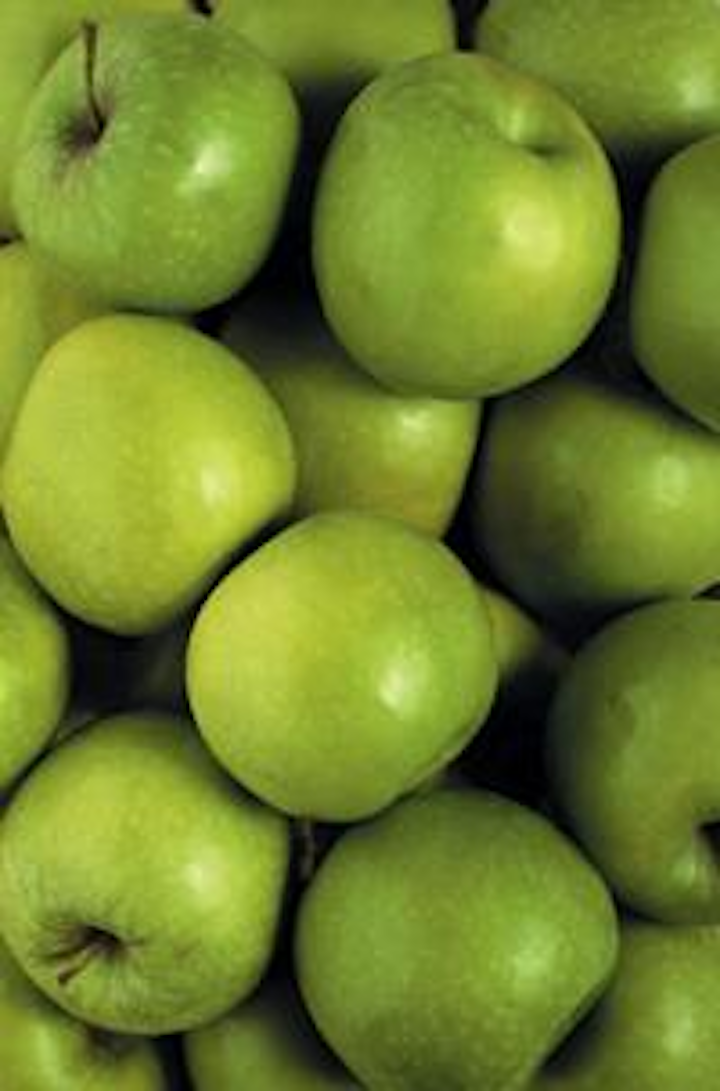 By Rebecca Hawkins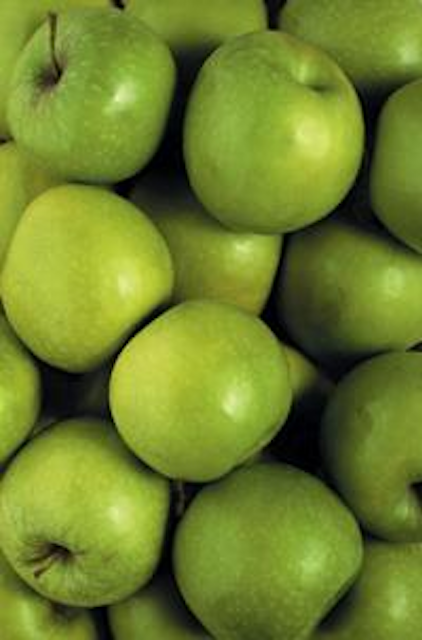 Vast quantities of sludge are produced from mechanized harvesting of apples.
Click here to enlarge image
Giant fabric bags used to dewater wastewater at Britain's leading cider making company, Bulmers, are proving effective in reducing sludge. Current trials conducted by Bulmers and a team of science and engineering consultants from Golder Associates will establish the overall long-term savings value of using geotextile containers to dewater silts and sludges, but recent results prove the simple technology reduces sludge disposal to a fraction of the normal cost.
Countless industries from pig farming to heavy industries must dewater troublesome silts, so it would be reasonable to assume that organisations, producing large volumes of sludge, will be on the constant lookout for cost-effective and environmentally sound containment solutions that help avoid unnecessary and hefty fines. The latest technology to offer dewatering of silts and sludges relies upon geotextile tubes and cubic yard bags.
This innovative use of a simple technology offers an answer to a multitude of sludge problems and so their use is only limited by an individual's creativity or ingenuity. Civil engineering fabrics have been available as far back as the 1960s and since then they have been used in separation, filtration and reinforcement. Only recently they have started being used to solve the growing problem of dewatering in an eco-friendly way. A number of current trials in the UK demonstrate the diverse nature of this technology — specifically the trial which is evaluating the "bags" for their effectiveness in dewatering hazardous material, and the trial at Bulmers' cider mill, which is testing these bags with hopes to improve the overall profitability of its manufacturing process of its apple-based beverages.
Bulmers and Golder Associates tested the geotextile-assisted dewatering system to filter and separate water trapped in the soil, which accumulates at the apple washing part of its manufacturing process. The objective is to eliminate any potential for sludge to be washed away via the sewerage system. This is proving to be a fraction of the normal disposal costs, particularly because this system produces a valuable by-product – high quality topsoil.
Not long ago, apples were picked by hand, which prevented any sludge problem at the washing stage However, apples are now shaken from trees and then blown out from under them into aisles to be collected. This mechanised process means that vast quantities of sludge are produced from the collected apples, soil and silt. During harvesting, an estimated several hundred tonnes of soil in the wash waste goes down the drain or is tankered away costing Bulmers tens of thousands of English pounds sterling (£) per season.
Originally founded in Hereford in 1887, the family-controlled firm produces 65% of all cider made in the UK and exports to 60 countries worldwide. Hereford is the centre of the traditional English cider apple and there are 10,000 acres of orchards in the region, 3,000 of them owned by Bulmers, the rest by farmers who supply the mill each autumn. Last year Bulmers pressed a record 90,000 tonnes of apples. Its large operations produce vast amounts of sludge.
The geotextile-assisted dewatering system, which is basically a giant fabric sausage, is proving to be a very effective solution. Dirty wash water is filtered, leaving soil particles trapped inside. Once the remaining soil is dried it is likely to be reusable as a soil conditioner or as topsoil, either to be sold as a new product, or for Bulmers to use again in its own orchards.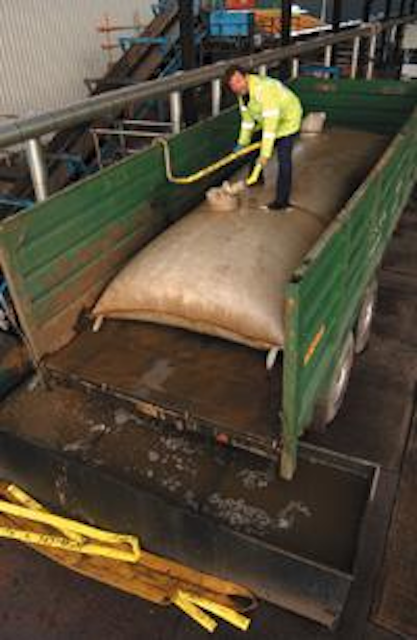 Bulmers' Mill Manager Robin Peers fills a geotextile container used to dewater silts and sludges.
Click here to enlarge image
"Like many good ideas, it's a simple one, but it has the potential to significantly reduce our mill operating costs and could even become a revenue earner," said Mill Manager Robin Peers at Bulmers. "If the system proves successful it will not only greatly reduce mill effluent charges in the future, but create an environmental bonus by recycling good topsoil currently going through the sewage works, so no more money going down the drain for us!" Peers concluded.
---
Author's note
Rebecca Hawkins is a freelance journalist based in Maidenhead, England.