Technologies & Products
The Multi-Parameter System KM 2000 is a customised system that measures, processes and controls analytical techniques.
Jun 1st, 2003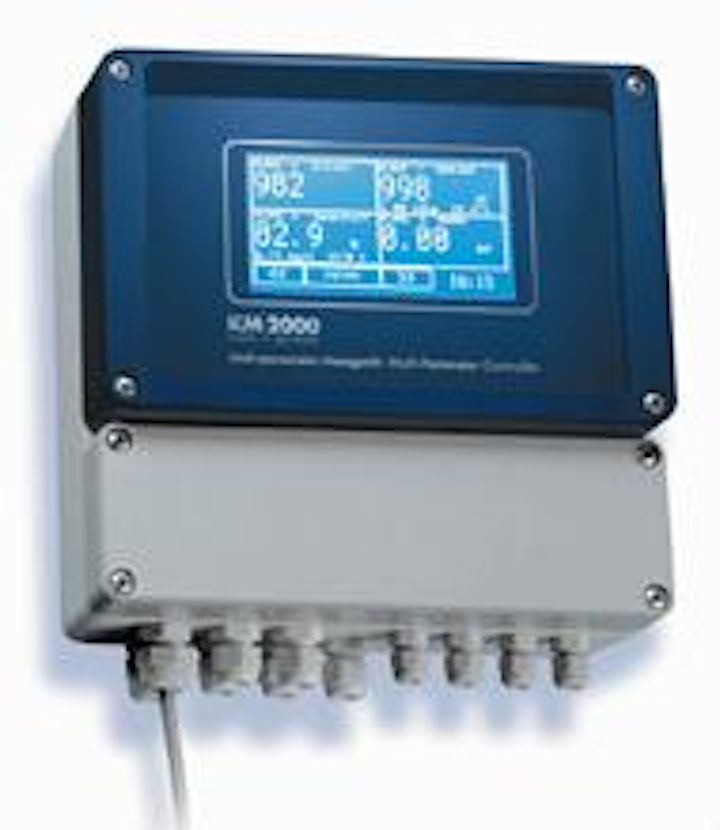 Multi-parameter system supports analytical techniques
The Multi-Parameter System KM 2000 is a customised system that measures, processes and controls analytical techniques. The system can handle up to 16 measuring modules in any combination to meter, evaluate, display, store and control pH, conductivity, oxygen, redox potential (ORP), temperature, chlorine, turbidity and other parameters.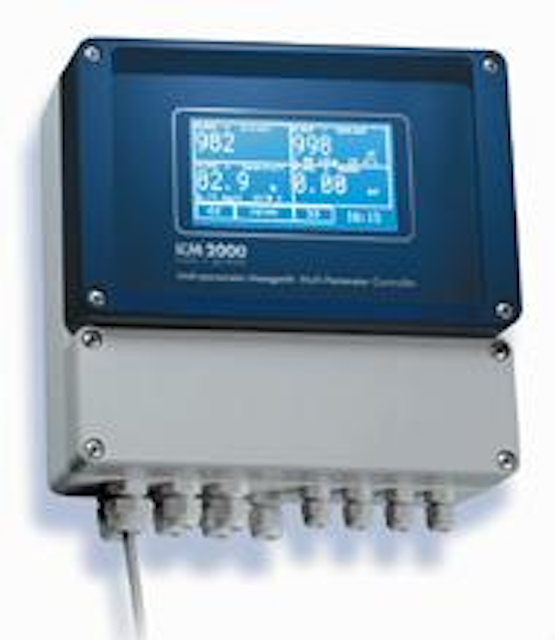 Click here to enlarge image
Based on a patented modular bus compatible system structure, intelligent measuring and active modules are connected via CAN-bus together and to a central unit by plug and play. The central unit of the system is the controller KM 2000, which features insertion of up to four measuring modules. Twelve measuring modules and active modules with bus connection to the KM 2000 expand the system as external modules. Active modules are interface modules for data outputs, DAC modules for analogue current outputs 0(4) ... 20 mA and relay modules for switching, alarm timer and control tasks.
The combination of simultaneous processing of several parameters with the KM 2000 system features more information about the process by evaluating correlations and differences between parameters. The system provides identical operation surface of the instrument for all parameters, high data safety, correct documentation and open system structure for easy installation and extension.
KM 2000 supports common calibration and continuous sensor monitoring procedures in addition to relevant temperature compensation methods. The standard version contains four floating relay outputs for simple alarm, regulating and control tasks. All measured data and status information are transmitted via serial bi-directional RS-232 or RS-485 interface in connection with the PC software program MV remote for displaying, storage and further evaluation and calculation. Data is stored in the integrated data logging system of the KM 2000. A data recorder shows the measured data curve of the main parameter from each measuring module for the last 24 hours on the touch screen.
Sensortechnik Meinsberg GmbH
Ziegra-Knobelsdorf, Germany
Low-cost tube detects free residual chlorine
The Gastec Free Residual Chlorine Detector Tube No. 222 measures a wide range of 0.1-10 ppm free residual chlorine in a solution with a detector tube. No technical training is required to perform an accurate field test of free residual chlorine. Break off both ends of the tube and immerse the tube vertically into a sample of liquid. The tube works on the principles of capillary action so no pump or pump maintenance is required. A quantitative length-of-stain colour change is produced that is read like a thermometer. A calibration scale is printed on each tube to provide onsite results. Users can pinpoint problem areas in four minutes. Gastec Solution tubes offer an inexpensive method for testing contaminants in a solution, requiring only a Gastec Solution Detector Tube and a clean container.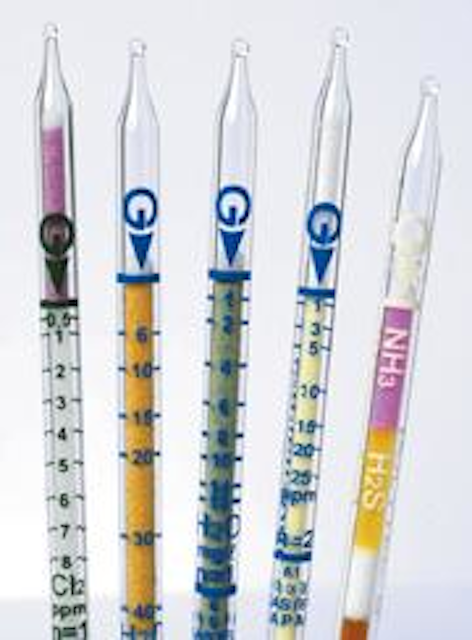 Click here to enlarge image
Nextteq
Tampa, Florida, USA
---
Clarification
Please note that Hydro-Comp Enterprises Ltd of Nicosia, Cyprus, wishes to clarify information presented in the article "Challenges in implementing billing and customer services systems in Egypt" published in the April 2003 issue of WWI. Only the US Agency for International Development (USAID), not the Egyptian and Dutch governments, is funding the Middle Egypt Utility Institutional Strengthening Program. The prime contractor of the project, Planning and Development Collaborative International (PADCO) provided source material used in the article, and a disclaimer should have been published with respect to USAID.
---
Data logger features line-powered modem
The latest IP67-rated Pulsar Telelog stand-alone waterproof data logger, fitted with a V22bis line-powered modem, makes the system safe for automatic meter reading and remote data acquisition from water meters without power concerns. The Pulsar Telelog accumulates input pulses from digital sensors, and sends condition alarms on input state changes or out of limits sensor readings.
The Telelog connects water meters, gas meters, electricity meters, environmental monitoring gauges, overflow (level) or leak detection, door contacts, access monitoring, programmable logic controllers and more units for energy management and data acquisition. Optional extras include analogue inputs and SMS facilities for condition monitoring to mobile units.
Jekyll Electronic Technology Ltd.
Aldermaston, Berkshire, UK
Gear motors generate 30% more torque
Click here to enlarge image
The new M-32 Gear Motor for use on the company's Flexflo® A-100N Peristaltic-type, and Chem-Feed® C-1100 Series Diaphragm-type metering injectors generate 30% less heat and 30% more torque than the company's smaller gear motors. This motor is used on RPM injectors, and will now be in use on all Chem-Feed C-1100 125 and 250 RPM injectors, and Flexflo A-100N 45 and 60 RPM injectors. The M-32 gear motor is a UL recognised component and meets UL 1004 and UL 2111.
Blue-White Industries
Huntington Beach, California, USA
Rugby laser fully automatic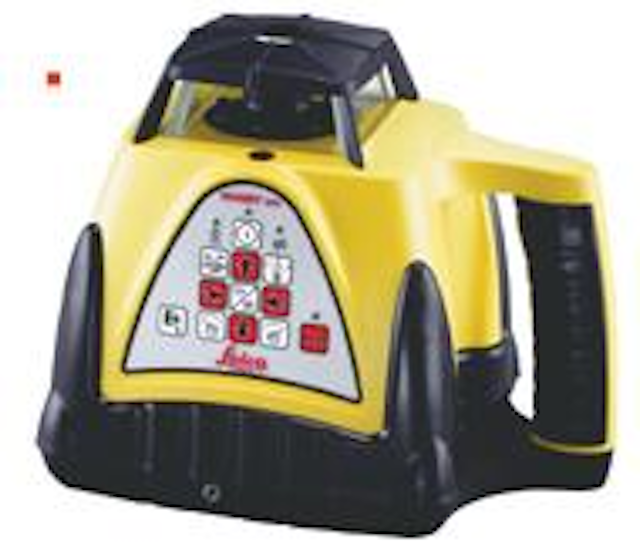 Click here to enlarge image
The Rugby 200 horizontal and vertical dual-axis laser for interior and general construction applications is fully automatic in both positions. The laser features a bright, visible beam with a working range of up to 300 metres, plus a plumb beam for 90° layout work and a plumb-down feature for set up over a point. It features adjustable head speeds, scan mode, an optional full-function remote control and a carrying case that allows the laser and wallmount bracket to be stored fully assembled.
The Rugby 200 is built with the same ergonomic and structural standards as the Rubgy 100 and 100LR models.
Leica Geosystems GR LLC
Grand Rapids, Michigan, USA