Fitting the pieces: selecting materials for membrane plants
Lead Project Engineer for the design and permitting of the Tampa Bay Desalination Facility, Christopher Kuzler, explains the material selection process...
Nov 1st, 2003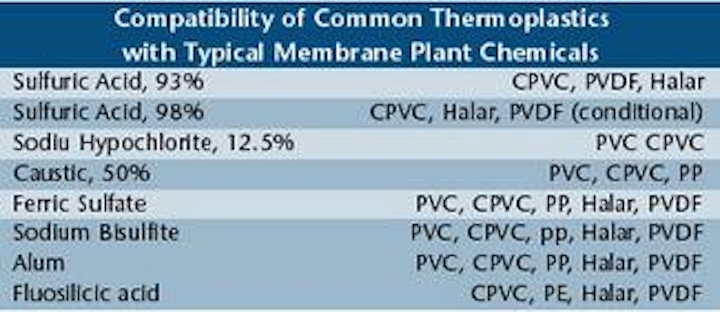 By Christopher Kuzler, P.E
The selection of materials is the key to success whether one is designing a 25-million gallon per day (mgd) seawater facility, such as the Tampa Bay desalination plant or a two-mgd brackish membrane facility.
Four main areas of the plant must be considered when specifying materials for a membrane facility - piping, pumps, valves and miscellaneous hardware. Each area must be carefully considered within the context of the source water and other intervening factors that influence processing and, ultimately, product water quality.
The Tampa Bay desalination plant was originally designed to take 44 million gallons of once-through cooling water from the Tampa Electric Company Big Bend power plant. The salinity of the source water from Tampa Bay ranges from 16-34 ppt on average. The temperature of the water from the power plant to pretreatment ranged from 98º-105 °F.
In selecting the materials for the plant, the main concerns included corrosion, chemical compatibility, strength, material availability, installation costs, and maintenance.
Typically, major components are constructed of metal or thermoplastic materials. Metals commonly found in membrane plants are iron alloys such as cast/ductile iron, carbon steel, stainless steel or copper/nickel alloys.
Generally, stainless steels are iron-chromium alloys with better corrosion resistance than carbon steels. One of the main factors of their corrosion resistance is the development of a thin, adherent, stable chromium rich oxide film of the surface that protects the metal beneath it. When choosing a stainless steel, many factors need to be considered including the level of chlorides in the water, temperature, flow velocity, dissolved oxygen and added chemicals. No simple "cookbook" approach exists.
Teflon®, low-density polyethylene, and ultra high molecular weight polyethylene are also commonly used in membrane plants for chemical storage tanks, seals, gaskets and diaphragms, and piping and valves.
One needs to consider pressure, temperature, chemical compatibility, NSF approval, cost, and availability when choosing a thermoplastic. Material selection must be considered on a case-by-case basis and specifications for similar-sounding materials vary by manufacturers.
Piping, pump and component parts must not only be compatible, they must work well under specific conditions anticipated for the plant under design.
High-density polyethylene (HDPE) was used in the Tampa plant for the 48-inch raw seawater intake piping and the 54-inch concentrate disposal piping due to the water's salinity/ chloride level and relatively low pressures in the systems. The high pressure piping that feeds reverse osmosis (RO) trains is constructed of Zeron 100®, a super duplex stainless steel manufactured by Weir Materials & Foundries, based in England. Other materials that were considered and perform as well in seawater applications include Allegheny-Ludlum's AL6XN® and Avesta's 254-SMO®. The cartridge filter vessels and the high pressure piping on the RO skids were constructed of AL6XN. A combination of polyvinyl chloride (PVC) and fibreglass reinforced plastic (FRP) pipe was used for the lower pressure process water applications, and PVC, CPVC, HDPE and Kynar were used for chemical feed piping. The final product water is delivered for use through a ±15-mile, 42-inch ductile iron transmission main.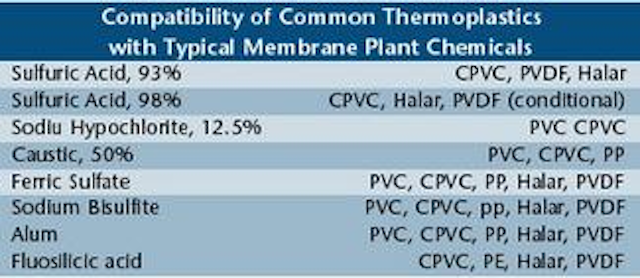 Click here to enlarge image
The primary parts of all of the seawater pumps in the facility were constructed of 2507 super duplex stainless steel. Pumps used for less corrosive services were constructed of 316 stainless steel. The final product water pumps are constructed with standard cast iron-bronze.
Valve material selection centred on salinity and service pressure. Super duplex stainless steel was used in high salinity/high pressure service primarily due to its corrosion resist-ance and strength. In high salinity/ low pressure applications, valves with nickel-aluminium-bronze disks and lined cast iron bodies were used. PVC valves were used in low salinity/low pressure applications, and 316 stain-less steel was used for low salinity/ high pressure applications. In all cases, the available materials for the smaller wetted parts inside the valve was critical.
Monel and Hastelloy were used primarily for miscellaneous hardware in seawater applications and marine environments. Gaskets in high-pressure seawater applications were constructed of Inconel 625. In less corrosive environments, 316SS was chosen for miscellaneous hardware.
Operators can look forward to minimal maintenance and long-term serviceability once materials are properly chosen and placed throughout the membrane facility.
---
Author's Note
Chris Kuzler, vice president and environmental engineering department manager at King Engineering Associates, Inc., a consulting firm in Tampa, Florida, USA, served as lead project engineer for the design and permitting of the 25-mgd Tampa Bay desalination facility.