Advanced digestion projects gain in UK
New generation advanced digestion projects in UK reduces volatile matter and produces more net biogas for energy needs.
Jun 1st, 2006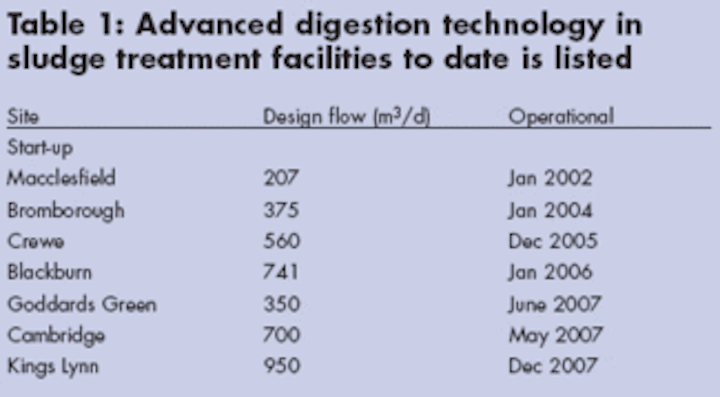 New generation advanced digestion projects in UK reduces volatile matter and produces more net biogas for energy needs.
The UK company Monsal signed three major contracts to supply advanced digestion technology and pre-design for the sludge treatment centers for Southern Water at Goddards Green (Crawley) and for Anglian Water at Cambridge and Kings Lynn - two leading UK water utilities.
These advanced digestion projects are the first to be awarded in AMP4 (Asset Management Plan 4), which demonstrate the progression in this investment cycle from traditional single-stage digestion to more resilient and higher performing multi-stage biological processes for the UK.
The facilities will incorporate the patented United Utilities Hydrolysis process via their technology partner Monsal. Hydrolysis technology has been operating highly effectively at the Macclesfield and Bromborough sites for four years with an overall average Volatile Solids (VS percent) reduction of 59 percent for both sites. The process can be configured to meet treated or enhanced sludge quality by running in two operational modes. The UK standards of treated and enhanced sludges are similar to the USEPA Class B and A, respectively. The success of these full-scale plants on reliably meeting the more demanding market requirements has also led to an increase in uptake of this technology in other UK water utilities.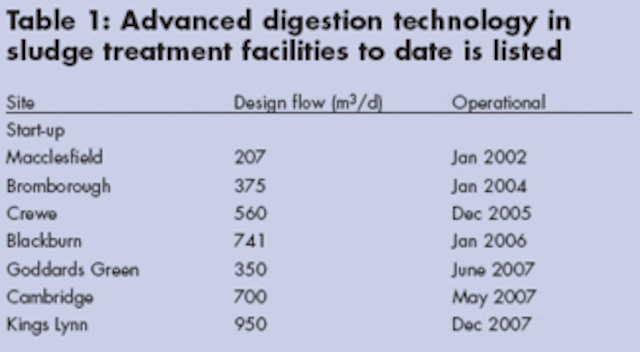 Click here to enlarge image
Integration of such pre-treatment technologies, which optimizes the hydrolysis and acidification stages, is gaining favor with UK water utilities. Three of the ten water utilities have committed to investment in this technology with Monsal while additional projects will follow later this year.
The plug flow reactor configuration used in the process ensures optimal conditions for both pathogen reduction and hydrolysis reactions prior to anaerobic digestion. The pioneering work between United Utilities and Monsal in developing the process was acknowledged in 2004 by the award of the IChemE water prize and winning the national Utility Week magazine 2005 Utility award for best technology.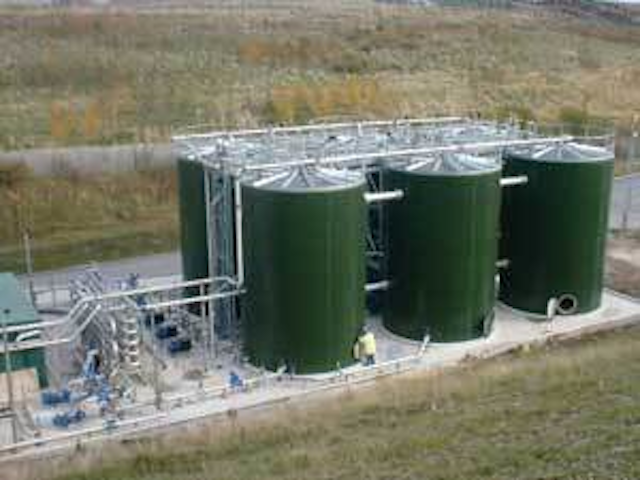 Advanced digestion using biological hydrolysis is already committed with three UK water utilities
Click here to enlarge image
"Integration of advanced digestion technology at sludge centers confers the following strategic benefits" said Prof. Gerald Noone, Newcastle University and Monsal. " It 'future proofs' the whole activity of sludge recycling and disposal by improving the bacteriological quality of the treated sludges, further improves the vital odor suppression role by increased % Volatile Matter reduction and in doing so leaves less residual sludge and more net biogas for energy production."
The site at Goddards Green in Southern Water is a high-rate digestion facility and is designed to treat a maximum sludge throughput of 350m3/d at 8 percent DS or 10,220 TDS per annum with an average of 285 m3/d at 7 percent DS. Goddards Green operates two digesters nominally 1,900 m3 each, and under average operational conditions the digester will operate at 4.0 kgVS/m3.day (13 days retention) rising to a peak organic loading of 4.8 kgVS/m3.day (11 days retention). Monsal installed the original digester heating system in 1999, which uses its concentric tube heat exchangers. These have successfully operated with thick sludge (up to 8 percent DS) for over six years at Goddards Green.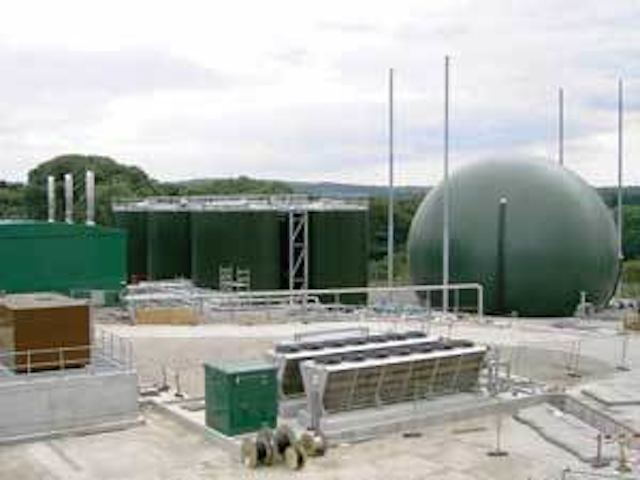 Hydrolysis reactors at Blackburn - 59 percent VS destruction, 10-day retention, 3 x 2500 m

3

operational digesters; Class A final product

Click here to enlarge image



The most recent largest site in United Utilities (at Blackburn) has been on line since January 2006. The plant treats on average 14,000 TDS/annum with the capacity to treat up to 21,600 TDS/annum. The process delivers an enhanced (Class A quality) final sludge product and is currently achieving over 58 percent VS destruction.
United Utilities' Treatment Process Development Manager Dr. Son Le explained: "The plant is currently operating with only three of the original four digesters since start up, giving an average retention time in the digesters of only 10 days since January. With two days retention in the hydrolysis reactors at the current design flow, we thus have an overall retention in the plant of only 12 days. The current operational digester loading is over 4.0 kg/VS.m3.day against the company conventional standard of 2.75 kg/VS.m3.day for single stage digestion. The process is very robust and has achieved high levels of VS destruction, currently 58.9 percent VS while meeting the statutory enhanced quality standard. United Utilities has been extremely pleased with the process and are committed to implementing the technology at more sites." Our four advanced sites incorporating hydrolysis technology now average 58 percent VS percent reduction compared with 45 percent across the company as a whole and in total process on average 40,000 TDS per annum."
The Goddards Green advanced digestion facility is scheduled for completion in June 2007. Cambridge and Kings Lynn advanced digestion facility is scheduled for completion in May and December 2007, respectively.
Author's Note
Aidan Cumiskey is the managing director of the UK company Monsal and can be contacted by email at: aidancumiskey@monsal.co.uk. The author would like to thank Prof. Gerald Noone (Newcastle University/Monsal) and Dr. Son Le (United Utilities) and for their valuable contributions in the preparation of this article.