Spearheading Singapore's Water Revolution
Singapore has long been heralded as the global water hub and leading nation when it comes to water management.
May 21st, 2014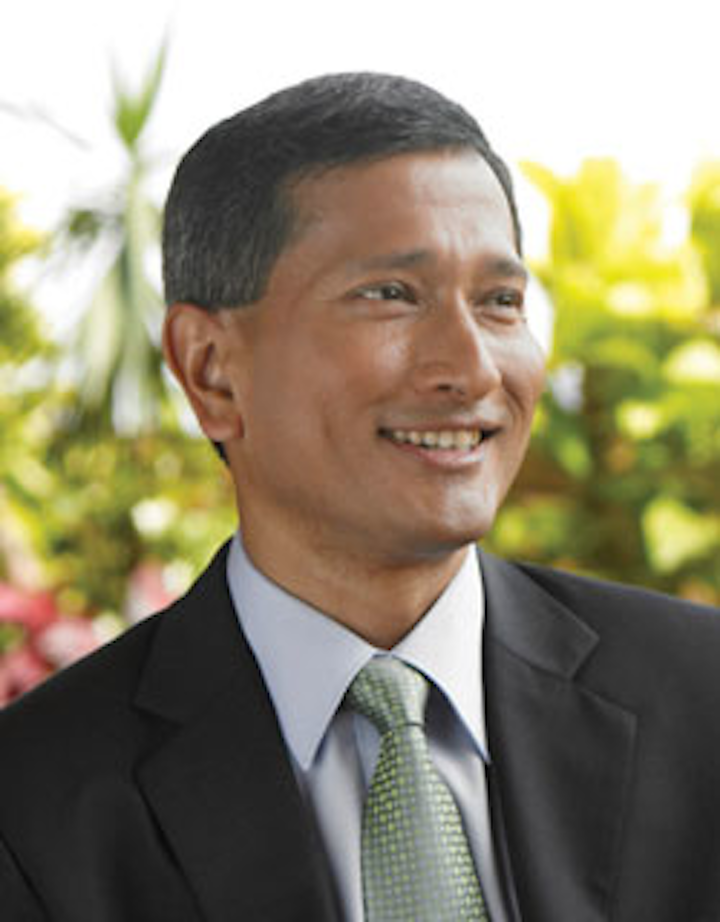 Singapore has long been heralded as the global water hub and leading nation when it comes to water management. However, facing one of the driest starts to the year, the city-state's water infrastructure has been stretched to full capacity.
Tom Freyberg speaks exclusively to Dr Vivian Balakrishnan, minister for environment and water resources about how he plans to keep Singapore ahead as a water leader.
Water & Wastewater International (WWi):February was the driest month in Singapore since 1869. How have these conditions affected water supply in Singapore and what measures have been put in place for contingency water supply? Are both Singapore's desalination plants operating to full capacity and does this mean additional desalination capacity will be needed sooner in the nation if dry conditions continue?
Dr Vivian Balakrishnan, minister for environment and water resources, Singapore (VB): Singapore experienced a prolonged dry spell from mid-January to mid-March, with little rain. February 2014 was the driest month in Singapore since 1869. To ensure that Singapore's water needs were met during the dry period, PUB operated the desalination and NEWater plants at close to full capacity. Together, desalinated water and NEWater can meet about half of the current water demand. The reservoirs were topped up with NEWater to maintain adequate buffers for extended dry periods.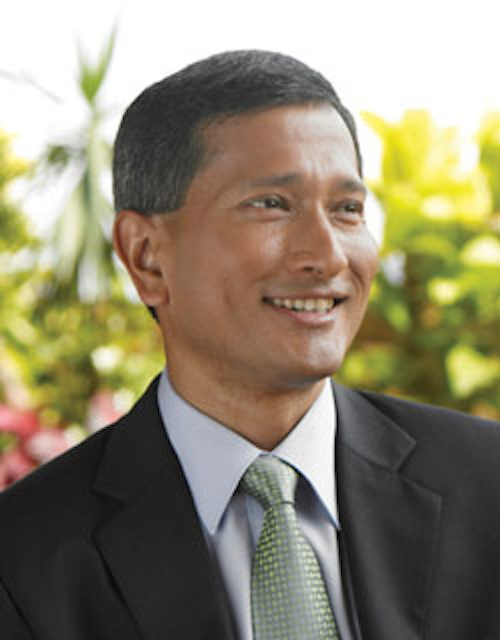 Dr Balakrishnan, 52, has been a member of Parliament since 2001. He studied Medicine at the National University of Singapore
Singapore's investments in NEWater and desalination over the years have diversified our sources of water supply and strengthened our water security. It is worthwhile to note that the additional capacity was developed within the last decade. In fact, the most recent desalination plant which added 70 mgd to our overall capacity only came online about six months ago.
In tandem with efforts to ramp up supply, we also encouraged members of the public, households and businesses to play their part in conserving this precious resource.
For the non-domestic sector, this included stopping leaks promptly, stopping vehicle washing, stopping the use of high-pressure water jets and hoses for washing activities, stopping unnecessary watering of plants and turf, gardens and lawn, and switching off water features, fountains, water play areas and cascades.
In the longer-term, we are looking at increasing our NEWater and desalination capacity. For NEWater, we have recently called a tender for the construction of another 50 mgd NEWater plant at Changi and that is slated for completion by 2016. For desalination, we are actively studying the expansion of our desalination capacity over the near term.
WWi:One of the country's "Four taps" is imported water from Johor, Malaysia. How much water is still imported from Malaysia and does Singapore intend to reduce this reliance?
VB: Water has always been an existential issue for Singapore, especially since our independence in 1965. The Independence of Singapore Agreement (also known as the Separation Agreement) signed between the governments of Singapore and Malaysia on 9 August 1965 guaranteed the 1961 and 1962 water agreements.
The 1962 agreement, that allows us to draw up to 250 million gallons per day till 2061, remains in force. Our early years were fraught with a series of water challenges including flooding, sanitation and pollution problems.
Investments in critical environmental and water infrastructure had to compete with the pressing need for economic development. Notwithstanding this, the provision of safe and adequate supply of water has always been a top priority. A key success factor has been an integrated approach to managing the complete water cycle. Singapore now has a robust and diversified water supply with the Four National Taps.
These four taps include: local catchment water, imported water, NEWater (Singapore's brand of ultra-pure, high-grade reclaimed water) and desalinated water. In particular, NEWater and desalination are not dependent on rainfall and thus are more weather-resilient. Today, NEWater and desalination can meet up to 55% of Singapore's water needs, and we target to increase this to up to 80% before 2060.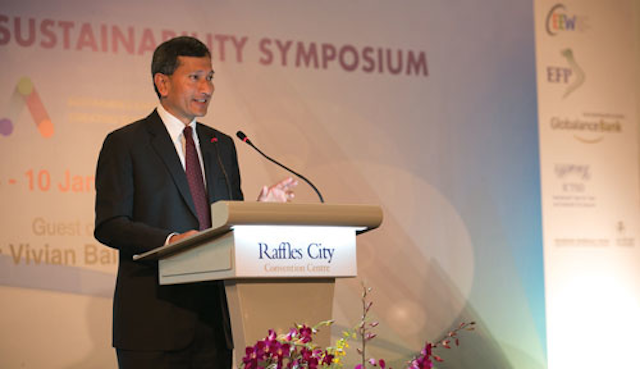 Dr Balakrishnan says that February 2014 was the driest month in Singapore since 1869. Both the desalination and NEWater plant were operated at full capacity as a result
WWi: In PUB's Water for All plan, it states that NEWater capacity will be tripled and desalination capacity increased progressively by 2060. How does this translate into investment and business opportunities for private companies?
VB: Singapore has been working with the private sector for years on infrastructural projects and solutions to more effectively produce water. Some of the major projects include the DTSS and the Marina Barrage, which saw extensive involvement from consultants, EPC (Engineering, Procurement and Construction) companies, contractors and technology providers. The two desalination plants in Singapore, as well as two of our existing NEWater plants are designed, built, owned and operated (DBOO) by private sector companies.
The NEWater plant for which we are in the midst of calling tender will also be constructed under the DBOO approach.
Through an integrated approach to water management and investments in water technology, Singapore has overcome its intrinsic challenges and turned its water vulnerability into a strategic asset.
Recognising that the local expertise and technology would be valuable to communities around the world in need of environmental and water management systems and effective water solutions, the Singapore government has incorporated water into its national growth plan. The Environment & Water Industry Programme Office (EWI) was established in 2006 to promote research and development in the field, grow the industry and position Singapore as a global R&D base for water solutions.
With a funding of S$470 million from the National Research Foundation (NRF) over a period of 10 years, the EWI is well poised to meet its objective - to grow Singapore into a global hydrohub for leading-edge technologies and furthering Singapore's vibrant research community.
Today, we have a thriving cluster of over 130 water companies and 26 research centres. The EWI also accelerates the formation and growth of start-ups through financial incentives and mentoring. Funding opportunities for both basic and applied R&D projects are abundant, as are programmes for expediting commercialisation of their results. In efforts to recruit young researchers, the EWI also offers PhD scholarships for research on water technologies.
Beyond funding, Singapore is also a global test-bed for new ideas and technologies. International water companies appreciate Singapore for providing access to PUB's water facilities and infrastructure for testing of their products and solutions. There is synergy in constructive collaboration with PUB and local research institutes. Such R&D collaborations range from basic research in the laboratory to reliability and full-scale testing in demonstration plants.
In fact, Singapore seeks to foster the growth of these innovations by facilitating the testing of products, processes, systems and services. By establishing proven track records, new technologies can become competitive in the global water market.
PUB has many facilities – including its waterworks, water reclamation plants, NEWater plants, reservoirs and stormwater canals – that can be made available as industrial test-bedding sites for both public- and private-sector innovators.
Internationalisation is also a key pillar of the EWI strategy to grow Singapore into a global hub for water technology. Singapore's investments in water infrastructure and technology locally have enabled local companies to participate in these projects, thereby building their expertise and track record in these areas. This has allowed them to grow and expand their businesses in Singapore and abroad.
EWI works closely with government agencies such as PUB and IE Singapore to assist Singapore-based water companies in internationalising and growing their business overseas through promotional-led initiatives such as overseas trade missions as well as profiling Singapore based companies at international forums.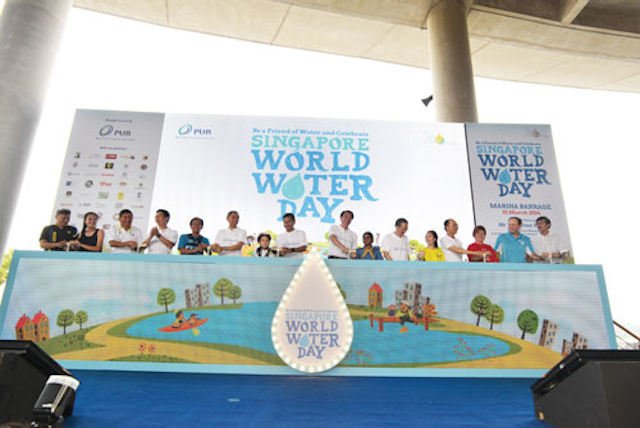 The minister for environment and water resources taking part in World Water Day 2014 activities
WWi: Singapore's Deep Tunnel Sewerage System (DTSS) project has been highly regarded around the world, with similar projects now taking place in London, Abu Dhabi and Qatar. What is the progress of Phase 2?
VB: We have embarked on the planning for Phase 2 of the Deep Tunnel Sewerage System, and we will appoint the consultant for the engineering services in a month's time.
A super highway for used water management, the DTSS was conceived in the 1990s as a long-term solution for Singapore's used water collection, treatment, reclamation and disposal needs. The concept of the DTSS is to use deep tunnel sewers to convey used water entirely by gravity to centralised water reclamation plants (WRPs) located at the coastal areas.
Used water is then treated and further purified into ultra-pure, high-grade reclaimed water called NEWater, or discharged to the sea through the outfalls.
Phase 1 of the DTSS, comprising the North and Spur Tunnels, the associated link sewers, the Changi WRP and outfall, was completed in 2008. A NEWater factory, located on the rooftop of the Changi WRP, was built in 2010 to facilitate large-scale water recycling.
DTSS Phase 2 will extend the deep tunnel system to cover the western part of Singapore, including the downtown area and major upcoming developments such as Tengah Town.
Once Phase 2 is in place by 2022, the existing conventional WRPs at Ulu Pandan and Jurong, as well as intermediate pumping stations, will be progressively phased out and the land freed up for higher value development. A NEWater factory to be integrated with the Tuas WRP will similarly be built to facilitate water recycling.
The DTSS is a more cost-effective solution than renewing and expanding the legacy used water infrastructure.
It would also free up land for other developments in Singapore. In the long term, it is envisaged that the integrated used water system will consist of three centralised WRPs: Changi WRP in the east, Kranji WRP in the north and Tuas WRP in the west to serve Singapore's used water needs.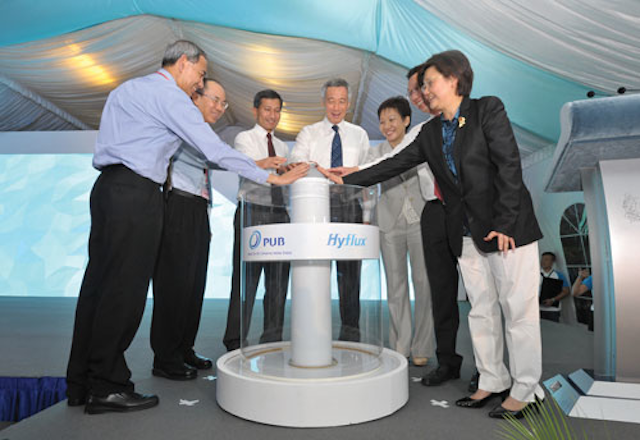 Minister Balakrishnan at the launch of Singapore's second desalination plant – Tuaspring. He says the city-state is actively studying the expansion of desalination capacity over the near term
WWi: During our video interview in Tianjin, China, last October, you mentioned that the right price for water encourages water respect and conservation. What advice would you give to utilities that need to increase costs to bridge the financial gap between water production costs and prices?
VB: Given the constraints in Singapore, the price of water should reflect the full cost of producing, treating and distributing water, as well as the higher cost of supplying water through desalination and water recycling (i.e. NEWater).
The pricing of water is one of our key strategies to manage the demand of water. It is important to get the price right so that people understand that water is a scarce resource and will conserve it accordingly. Just as important, the right price provides assurance that adequate funding will be available for the necessary infrastructure in the long run.
Apart from the pricing of water, we also mandate water conservation requirements and promote and encourage ownership and voluntarism through community activities.
WWi: Singapore is known as a water hub, globally, for innovation. How do you plan to continue to keep Singapore ahead of the field during your term as minister for the environment and water resources?
VB: Over the last half of a decade, we have successfully implemented all our plans to expand desalination, water recycling and optimised water catchment areas. R&D will be vital in ensuring a sustainable water supply for the future as we look for more cost-efficient and effective ways of producing water.
The key thing that has changed in the last 10 years, with the advent of membrane technology, is that energy, and not water, is now the limiting factor. As long as you have energy, you can produce water.
This shift from a dependence on water into a dependence on energy means that the key challenge now and in the future will be how we manage energy – the production of energy, the cost of energy, and the security of energy.
In Singapore, we have been looking at ways to substantially lower the energy consumption in water production and treatment. These include projects to demonstrate the use of electrochemical technology to desalinate seawater using half the energy; and develop a technology that utilises waste heat to produce drinking water from seawater.
Some exciting R&D in this area is based on biomimicry or mimicking the biological processes by which mangrove plants and euryhaline fish extract seawater using negligible amounts of energy.
Another research area is biomimetics, where aquaporins are embedded on, or in, membranes. These proteins are nature's way of shuttling water in and out of cells while blocking out salts using minimal energy.
Singapore plays a key role in forging dialogue amongst the policymakers, water experts and industry leaders on water issues, challenges and solutions, through hosting the Singapore International Water Week (SIWW), a meeting place for the thought leaders and significant stakeholders in the water industry, and a global platform for the sharing and co-creation of water solutions.
Since its inception in 2008, SIWW has gained traction as one of the leading water events in the world. The next edition of the SIWW will be held this June and we look forward towards more insightful dialogue and discussions with global water leaders.
---
Tom Freyberg is chief editor of WWi magazine. For more information on the interview, email: tomf@pennwell.com