Testing the waters
Rapid hygiene testing helps control the development of biofilm, a source of Legionella pneumophila and other bacteria, in cooling towers, showers, whirlpools and spas.
Aug 1st, 2002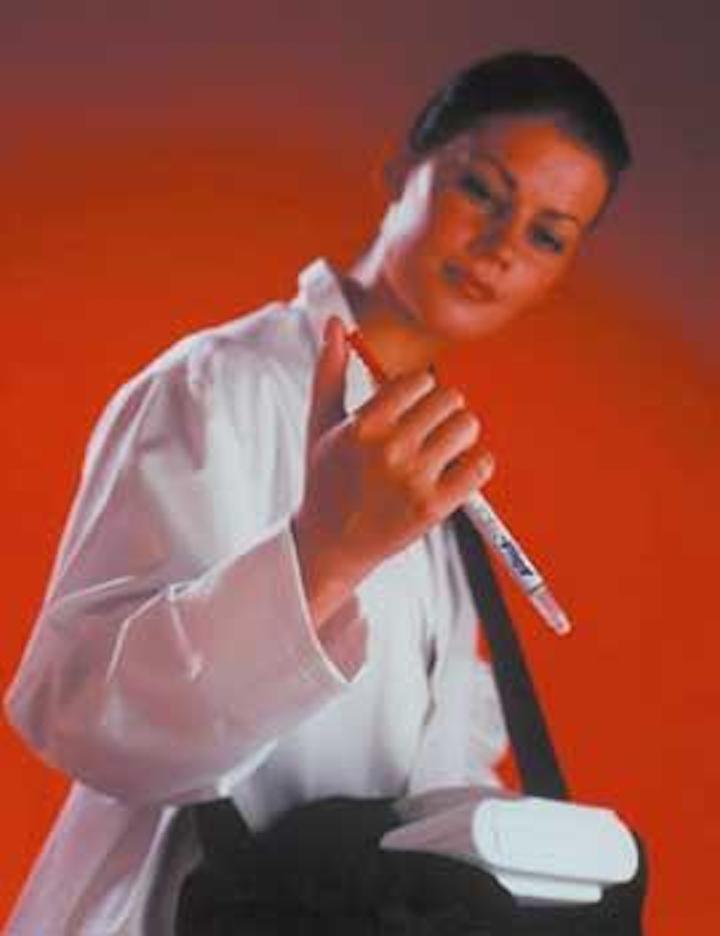 By Colin Hunt
Results of a water hygiene survey in swimming pool and spa environments illustrate the need for rapid hygiene testing technology in the water treatment industry.
The water hygiene test Aqua-Trace? measures contamination levels in aqueous environments.
Click here to enlarge image
Sensitive Water Solutions, based in Bagland, Wales, UK, initiated a trial using rapid hygiene testing systems from the UK company Biotrace Ltd in six swimming pool and four spa pool sites together with two steam rooms. Two rapid hygiene products developed by Biotrace were used in the trial: Clean-Trace®, a surface cleanliness test and Aqua-Trace®, a water hygiene test. Both products measure cleanliness and contamination levels in swimming pool and spa environments.
A range of surface and water samples, were taken from a number of spas, swimming pools and steam rooms. Free chlorine and total bromine levels were recorded to indicate the disinfectant present within the water.
Results of the survey clearly showed that some points were heavily contaminated and that real time hygiene monitoring could have benefits in monitoring, improving and optimising the cleaning. Surprisingly high levels of contamination in areas, such as steam room ceilings and spa balance tanks, were detected.
Traditionally, hygiene in swimming pool and spa baths is tested using technology that takes 24 to 72 hours to obtain results. Many people may have used these facilities within this waiting period and contamination levels and bacteria in the water may have multiplied and produced biofilm and bioburden, which could result in infection. Providers of pool and spa services need to know quickly that their cleaning regime has been effective and that their facilities are safe for public use.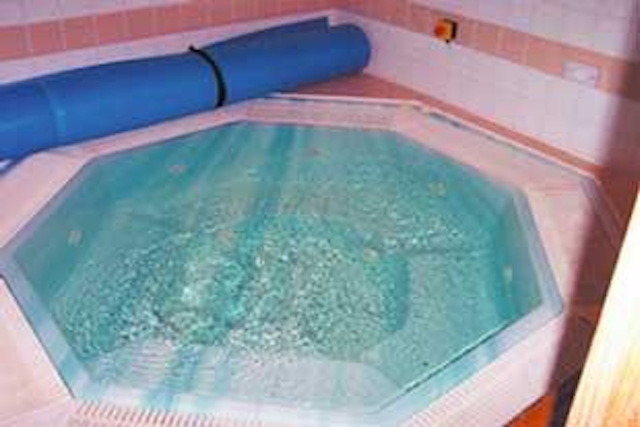 Biofilms can flourish in aqueous environments if areas are missed during cleaning and disinfection.
Click here to enlarge image
The technologies used in this trial are based on adenosine triphosphate (ATP), which is the chemical that causes the firefly to glow, and is found in all living cells. So, if it is present in large quantities on a surface or in water, some microbes, bioburden or biofilms may be present - creating a potential breeding ground for bacteria.
The technology typically involves a sample being taken using a simple test from a surface or a water sample. The test is activated and then measured in a luminometer, which assesses the light emitted by the sample. More light indicates higher ATP; therefore contamination is present.
Microbiological activity, in particular biofilms, can flourish in an aqueous medium providing there are nutrients present and surfaces on which to adhere. In swimming pool environments, water filtration and treatment with chlorine and bromine reduce such build up; therefore minimise contamination and viable bacteria to controllable levels. However, when areas are missed during the cleaning process, gross contamination can reach a level that impairs the effects of filtration and chemical dosing.
Robbie Phillips of Sensitive Water Solutions concluded: "The immediate results not only enabled water treatment staff to verify the effectiveness of their current cleaning regimes but also alerted trial participants to hygiene risk areas which would have otherwise been undetected and alerted managers to areas where hygiene problems might emerge. Armed with this insight we believe the commercial water sector needs to take a far closer look at the potential of rapid hygiene testing."
Author's note:
Colin Hunt is the international product manager of Hygiene Monitoring at Biotrace Ltd, located in Bagland, near Port Talbort, Wales, UK.