Sludge management shifts to reuse through innovative thermal solutions
Sludge management has received widespread attention in the media, public forums, and in a range of technical and political debates.
Jun 1st, 2005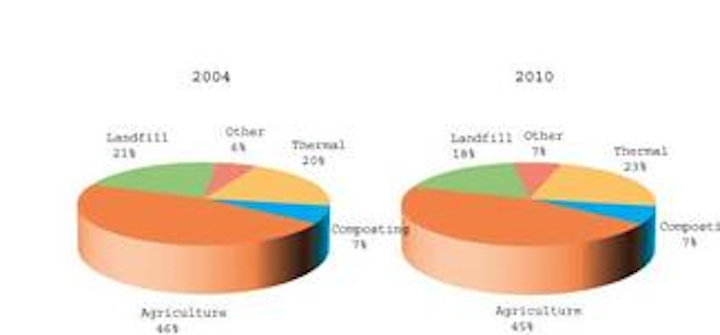 Sludge management has received widespread attention in the media, public forums, and in a range of technical and political debates. Particularly in Europe, the issue has become topical following increasingly stringent legislation and growing pressures from regulators, the public and other environmental stakeholders. Public debate on sludge disposal is marked by a concern for safe application of sludge on agricultural land. While agricultural application still continues to provide the most economical route for sludge, health concerns have fuelled recent debates on sludge disposal. As a result, more advanced treatment processes have begun to pave a way for sludge reuse and recycling, including materials and energy recovery.
The key drivers for the European sludge treatment equipment market have been the Urban Waste Water Treatment Directive, the Landfill Directive (Council Directive 1999/31/EC) and the Sewage Sludge Directive (86/278/EEC), which stipulate the discharge of waste substances by regulating their composition and content.
These three regulations have shaped the methods of treating and patterns of disposing sludge in the European region. The Landfill Directive stipulates that material with an organic content greater than 5% cannot be disposed on a landfill area. This directive has seriously affected sludge disposal routes and precipitated a shift away from the traditional dependence on landfills to more innovative solutions that in-turn further propel demand for enhanced sludge treatment methods.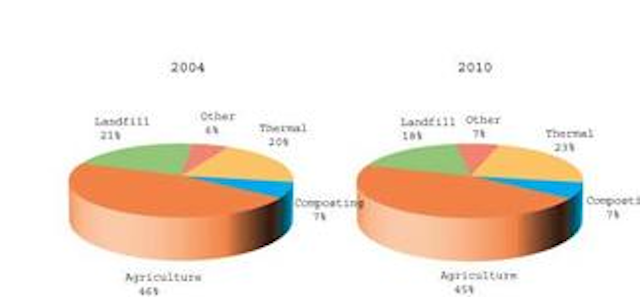 Figure 1: Percentage of sludge volumes by disposal channels (Europe), 2004 & 2010 Source: Frost & Sullivan
Click here to enlarge image
Figure 1 presents the main routes for disposal of sludge indicating the percentage of volume by disposal channel.
Agriculture remains the mainstay of sludge disposal routes in Europe, but a growing trend favours thermal routes, which indicates a growing market for new and innovative solutions. An advanced level of pre-treatment is crucial for safe sludge reuse in agriculture while sufficient pre-drying is required for thermal applications. Customers project much of future investment going into sludge-related activities while pilot projects continue to pave away for newer technologies. A clear shift towards higher value solutions is pushing market growth for sludge drying equipment further.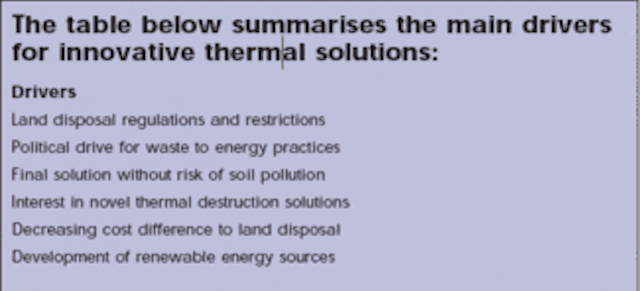 Click here to enlarge image
A stable outlet route in the form of agricultural application has meant that the continuous investments in innovation and novel solutions have bolstered the drying segment in the sludge treatment equipment market. A desire for pathogen-free sludge in agricultural application and dryness for thermal reuse have further prompted demand for emerging technologies such as belt dryers and rotary dryers from companies that have responded to these legislative and market pressures.
Sludge treatment has now depended more on advanced treatment solutions including drying and other thermal treatment processes. Figure 2 indicates the growing share of drying technology in the European sludge treatment equipment market signifying the shift in balance towards more effective and clean disposal routes across Europe. Frost & Sullivan further anticipates that this technology segment will continue to grow at a compound annual growth rate of 7.5%, which is well above the average market growth rate.
Emerging market trends
Sludge reuse as fertiliser and fuel in addition to the possibility of recovering valuable minerals, such as phosphate, promise valuable applications for sludge drying technologies. Rotary dryers have been successful with the fertiliser option since they result in a high level of pathogen kill and granulation through a single step process as well as being easy and safe to operate.
Sludge reuse as fuel promises an interesting option. Thermally dried sludge can be used as alternative fuel in coal-fired power plants or cement plants. In addition, "energy recycling" has also emerged as an attractive option for sludge drying itself since the drying process requires stable inputs of energy while in operation. Under consideration currently are projects that can use energy generated from big thermal units such as cement or power plants to a waste incinerator or waste steam thus providing the required input for drying. Belt dryers and fluid bed dryers constitute this category of "energy-friendly" technology that could potentially make use of waste energy for drying sludge.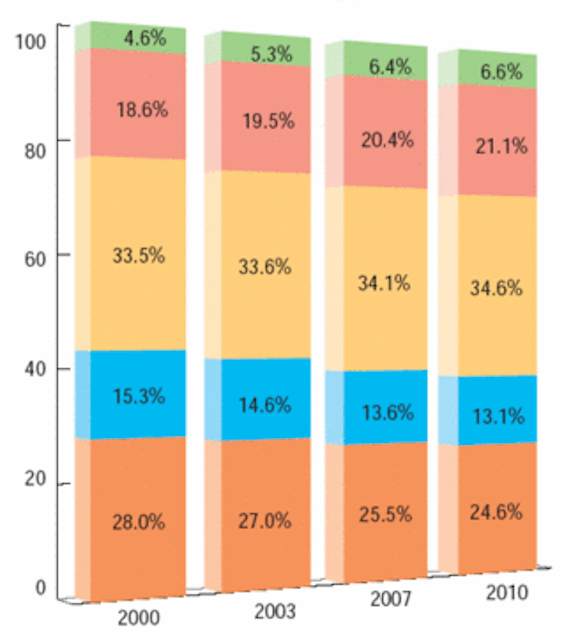 Figure 2: Sludge treatment equipment market: percentage of revenues by product segment (Europe), 2000-2010 Source: Frost & Sullivan
Click here to enlarge image
The European leader for sludge drying technologies, Andritz has already commenced its first few projects in this direction and envisages a promising future in this market. The Austrian company developed an innovative drying procedure by which the dewatered sludge is dried without using primary energy (see sidebar). This dried sewage sludge granulate is further used as fuel for the cyclone furnace to produce the heat for the drying process.
The sludge treatment and disposal market is benefiting from continuous innovation and technological breakthroughs. Given this creative scenario, it is likely that resource conservation, reuse and material recovery will form the critical backbones of this market. Suppliers will benefit from maintaining a keen eye on market developments and evolving customer requirements.
Author's Note
Suchitra Padmanabhan is an industry analyst for Frost & Sullivan, an international market research company located in London, England.
Cyclone furnace burns sludge granulate for drying process
A group of young entrepreneurs in Upper Austria attempted to generate a new business field and to take charge of sewage sludge disposal on a commercial level. Their idea was to accept dewatered sewage sludge from associations and disposal companies in the neighbourhood, and to use it by applying a thermal process.
In March 2004, EKT (Eferdinger Klärschlammtrocknung GmbH) placed an order with the Austrian company Andritz to construct a new system for thermal sewage sludge use in a Greenfield installation. The EKT order had to be processed in 12 months with only four months allowed for installation work. Start-up began on schedule despite this short installation period. EKT accepts only dewatered sludge from sewage plants; the degree of dewatering extends from 25% to 35% DS. This wide range takes its toll on the system but can be handled with the Andritz Eco-Dry process.
The Andritz-EcoDry process for sewage sludge use has the following characteristics:
Dewatered sewage sludge is dried without using primary energy (oil or gas).
This dried sewage sludge granulate is immediately used as fuel for the cyclone furnace to produce the heat for the drying process.
Thermal use yields only ash as residual material, and this ash meets all the requirements for landfilling in a residual material or bulk material dump.
The dried granulate is crushed with a fine crusher and fed to the cyclone furnace pneumatically through nozzles. The organic content is completely burnt in the furnace and the ash is discharged as residual material. This cyclone type has long been used for burning coke and as melting furnace for the steel industry, and now, for about ten years, has been applied for burning sewage sludge granulate on a large industrial scale. In addition, hot gas cyclones have been used in many sectors of the base material industry (in cement factories, the chemical industry, etc.). Their characteristics are compactness, with no mechanically powered moving parts inside, sturdiness, and simplicity of operation, handling and maintenance.
With a heat exchanger, drying and combustion are separated, and the result is ease of control for both systems. Heat extraction systems with steam or thermal oil are also a feasible option. The choice of the system depends on customer requirements and the drying technology used.
The exhaust streams from drying are cleaned directly via a biofilter, and the offgas from combustion passes through a flue gas dry cleaner (operated with active coal and lime - often also used in waste burning systems on a large industrial scale) before they reach the chimney. This process minimises odours and emissions. The offgas requirements of the 17th (German) regulation on emission protection and TA-air are not only permanently met with this cleaning process. Even better values are achieved.
The Andritz Eco-Dry process combines proven technologies for drying and incineration of sewage sludge. The EKT order demonstrates that the Andritz system has essential advantages in terms of environmental care and economic efficiency. As agricultural uses are being limited, resulting in a need for other disposal options, the Andritz Eco-Dry system can offer private disposal companies and small communities a suitable technology for sludge disposal.
The specific process advantage of the cyclone furnace - most of the ash results directly from the process and is not contaminated by flue gas scrubbing chemicals - means that it can be used for extracting phosphorus.

Author's Note Suchitra Padmanabhan is an industry analyst for Frost & Sullivan, an international market research company located in London, England.