UK Ceramic Membrane Trial to Disprove High Capex Concerns
High investment costs have prevented widespread use of ceramic membranes for drinking water treatment. An 18-month trial recently started in the South West of England aims to change this. As Tom Freyberg finds out, results from the project could be a game-changer for the industry and traditional polymeric membranes.
May 1st, 2013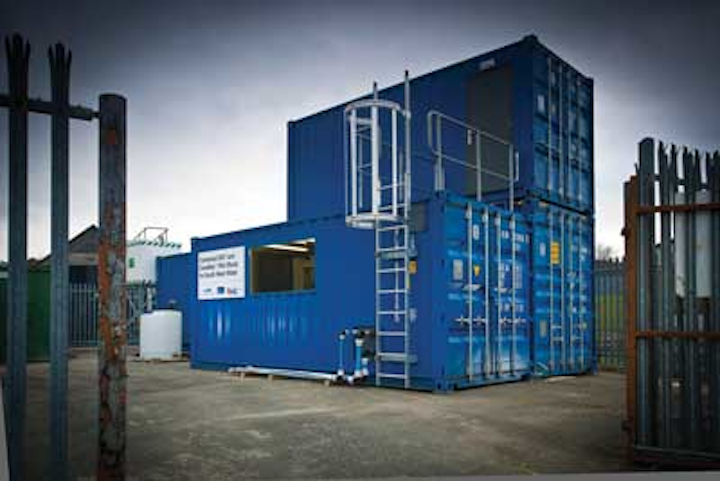 High investment costs have prevented widespread use of ceramic membranes for drinking water treatment. An 18-month trial recently started in the South West of England aims to change this. As Tom Freyberg finds out, results from the project could be a game-changer for the industry and traditional polymeric membranes.
The UK might still be trying to shake off winter in the first quarter of the year, but one water utility has started a trial which should be seen as brighter news.
South West Water based in South West England provides water and wastewater services in Devon, Cornwall and small sections of Dorset and Somerset. Although it owns and operates 29 water treatment works to serve 1.6 million residents, some infrastructure is coming to the end of its life.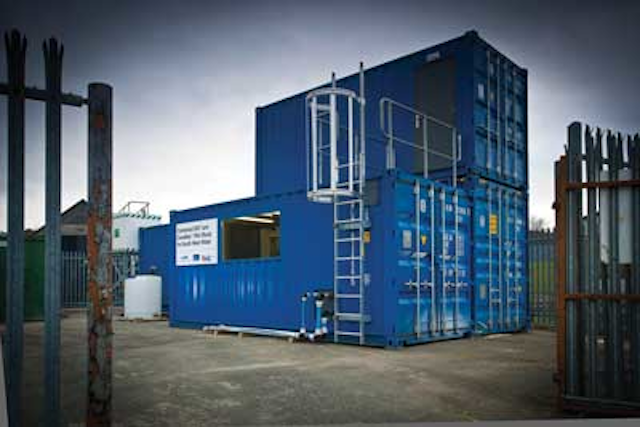 The South West Water trial will treat 140 m3/day of surface water
"There is a need to continually maintain existing treatment assets and as they were built in the 1950s, the maintenance and operation costs are rising so we're looking at an investment over the longer term to keep bills down," Chris Rockey, science and water quality manager at South West Water tells WWi magazine.
The utility started a trial in March in bid to start exploring new technologies to upgrade its assets. Tests began treating 140 m3/day of surface water using PWN Technologies' Suspended Ion Exchange (SIX) as a pre-treatment to ceramic membranes (CeraMac). Testing will last until August 2014 with several test objectives (see box out).
Singapore experience
Although this is first trial of its kind in the UK, and Europe, elsewhere in Singapore a similar trial plant has been producing water for 18 months. The S$5million ceramic membrane demonstration plant was built at Singapore's national water agency PUB's Choa Chu Kang waterworks. The 1200 m3/day plant is using ceramic membranes supplied by Japanese company, Metawater.
Results showed that during the first six months of operation, the ceramic membranes could operate at a flux of 200 lmh when treating clarified water. The CeraMac could operate with a filtration cycle of 30 minutes followed by five second backwash. When the demonstration plant was operated with pre-ozone, the flux, which was 200 lmh without ozone at the start of the ozonated testing runs, was increased to 240 lmh, 274 lmh, and finally to 315 lmh with ozone.
Prior to this, the first pilot trial of the ceramic membrane technology in Singapore was conducted at the Bedok NEWater Factor from 2007 to 2009. It was in Singapore where South West Water's Rockey first saw the ceramic membrane system in operation.
"I was lucky enough to visit the CeraMac demonstration plant in Singapore," he says. "It seemed to be performing very well and better than their expectations – a different situation compared to how we were planning on using the system. The design and the build were very elegant and it appeared to be operating very efficiently."
Power in numbers – nearly 200 elements in a vessel
The major difference between this ceramic membrane installation and others is CeraMac: having 192 membrane vessels grouped together in a single vessel. PWN Technologies claim this "block" design enables the operator to literally push it harder and enable an increased backwash of up to 5 bar, to clean the membranes, with a downtime per backwash of only a few seconds.
It is also energy savings where the industry believe be a big benefit of the block concept.
"They've got 192 elements in this vessel – they say when you do the backwashing, the downtime is less because although each of the individual elements goes through the same cycle, by doing them all at once you've only got one valve actuation rather than 192 valve actuations," says Dr Graeme K Pearce, principal at Membrane Consultancy Associates.
South West Water Ceramic Membrane Test Objectives
a) Determine the operating conditions for optimum treatment of the surface water for dissolved organic carbon (DOC) removal with SIX.
b) Determine the sustainable operating parameters (i.e., flux, backwash interval, cleaning interval) that can be achieved by ceramic membranes when filtering water that has been pre-treated with suspended ion exchange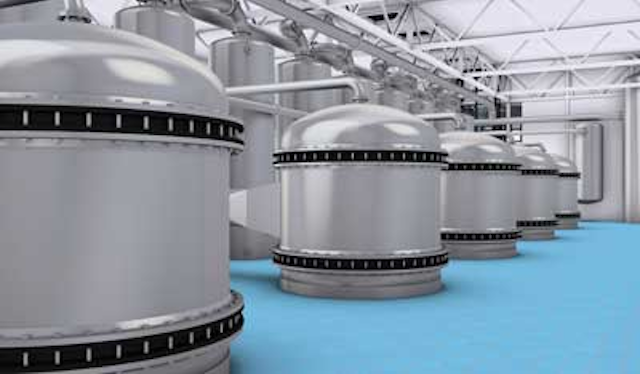 ion exchange (SIX) -Ion exchange followed by ceramic membrane microfiltration will provide an absolute barrier for particles right down to 0.1 of a micron
c) Collect operational and water quality data over several seasons to test the performance when treating a variety of feed water qualities (the Burrator blend, River Tavy, and River Tamar supplies).
d) Observe how the processes respond to changes in raw water supplies (e.g., switching from Burrator blend supply to river supply).
e) Collect relevant operational data to establish the design parameters which can be used to develop a preliminary design and cost estimate for a full-scale facility.
f) Provide data for the Drinking Water Inspectorate (DWI) and/or other regulatory agencies for approvals.
g) Gain experience (i.e., SWW staff) in operating and maintaining both processes.
"Each time the valves go through their sequence of opening and closing, you have you allow a few seconds so they don't slam open and shut to cause water hammer. It all adds up to downtime…you're saving the energy requirement and also money on valves – instead of 192 small ones you instead have one big one."
Using less stainless steel and requiring a small space to have the membranes also add up to energy and cost savings. PWN Technologies believes this could amount to between a 60-90% saving compared to a conventional set up.
Ceramic strength and lifecycle costs
Although not used widely to produce drinking water, ceramic membranes boast higher strength and fouling resistance properties compared to traditional polymeric membranes. So why aren't they more commonly used? It has come down to the age-old concern of cost.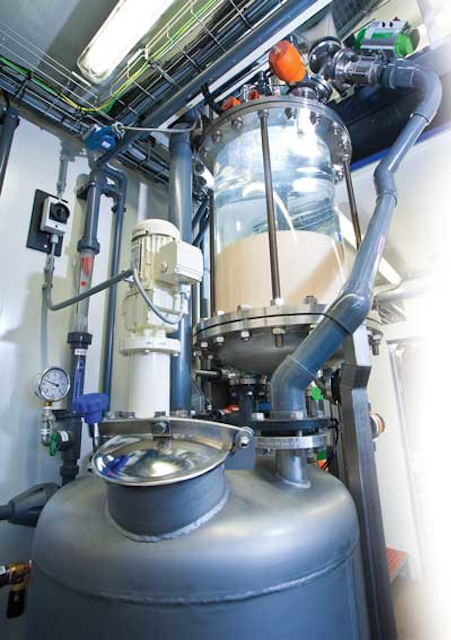 Objectives of the trial in England include to determine sustainable operating parameters that can be achieved using the technology
"The initial Capex argument has put everybody off," says Pearce. "In drinking water plants they have looked at whole lifecycle costs for a long-time. When polymeric membranes were introduced say 10-15 years ago suppliers were talking about lifecycle costs. It was hard to talk about membrane lifecycle costs when the industry didn't have a track record. Now, we've had 10-15 years experience with polymeric, lifecycle costs are taken more seriously. Ceramics now face the same challenge and that is why they have had difficulty getting a foothold in the market."
Pearce believes that by bundling nearly 200 membranes together in one unit, the technology supplier is addressing this cost issue head on.
"This is where PWN Technologies is going to make an impact," he adds. "By putting so many elements into one vessel, it knocks the capex of the system down quite a bit, therefore making it more palatable to buy into the low operating cost part of the story."
It is also on membrane replacement costs usually associated with water plants where the company believes operation and maintenance (O&M) money can be saved.
"These membranes can't really break," PWN Technologies CEO Jonathan Clement tells WWi magazine. "With polymeric membranes you have a cost to replace the entire lot of the membranes every five to eight years. With ceramic membranes you don't have a replacement cost – they last indefinitely."
Clement says from the data available, the ceramic membranes should last 20 years. "Regarding the ceramic material, there's very little evidence over the present installations to show any degradation over a 20 year period," he says.
Cautionary note
Robust, fouling resistant, long-life, low O&M costs – surely this sounds like a recipe for winning membrane solution and addresses previous concerns with the technology? However if this technology isn't being used widely, there must be one downside?
"One slightly cautionary note is that it appears the membranes have a long life and indication is that they have a long life," adds Pearce. "Yet it is a new technology so it might be that there are some lifetime effects that aren't apparent at the moment. It may be that in the long term the membrane lasts from a mechanical durability point of view but there may be slight irreversible losses of performance."
He adds: "You may well find, as with polymeric elements, that you get little contaminant particles burrowing their way into the structure and they're so fine they can't find their way out again. Over time you will lose permeability and performance and won't be able to do anything about that. It might that you lose performance so you might want to change it from that point of view."
In this scenario, it would perhaps not be advantageous to run the membranes for 20 years if performance was being hampered and one area where actually replacing elements would be better.
International roll out
With the Singapore trial now complete and England pilot underway, Clement is positive about the commercial roll out of the technology and long-term future
"We are now looking at a full scale plant in Singapore, which will be an upgrade," he says. "We are already doing trials in Melbourne, Australia and in discussions with San Jose in California. They've already done the testing and are interested in the full roll out of our technology."
It's also worth mentioning the company's Andijk III plant is set to open in the Netherlands later this year. Costing 60 million euros, it will have a capacity of 120,000 m3/day and use the ion exchange and ceramic membrane combination.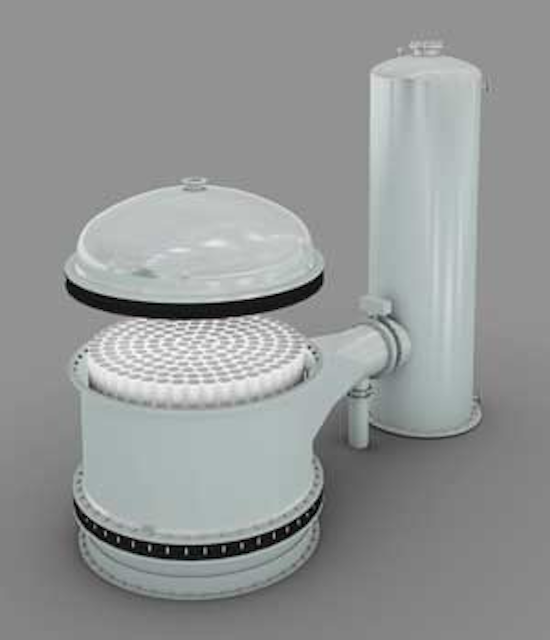 By grouping 200 elements into one vessel, PWN claims this will cut down on the amount of energy needed when backwashing the membranes
Regarding South West Water, the PWN CEO says the final goal is to end up building a full scale plant and the testing is "one step along the way".
Rockey confirms the utility's plans to upgrade its drinking water infrastructure.
"We have a long-term strategic vision to move from the existing site in Plymouth, Devon that was built in the 1950's where we're piloting," he says. "We plan to move to an alternative location and build a full scale plant but at the moment it's pending how our AMP6 submission discussions go with Ofwat. Our long-term desire is to replace our existing treatment works with something that is a better fit for the challenges we face now and in the future."

Others remain positive on the impact this facility's results could have on the wider water industry.
"The Netherlands has been looking at using membranes for drinking water treatment since the 1980s and have done lots of tests and demonstrations, so PWN comes from a strong background," says Pearce. "I think it's potentially a big development. It would be strong to say a game-changer but who knows, it could be of great significance."
As was seen in Singapore, 18-months may seem like a long time to pilot a technology, yet it goes extremely fast. PWN Technologies has a positive story to tell from its trial at PUB's Choa Chu Kang waterworks and looks set to deliver on a full scale commercial plant. The same is likely with South West Water in the future.
The grouping of the ceramic membranes together – saving energy and materials required – is a different take on water filtration that could change the current views that ceramic membranes are too expensive compared to traditional polymeric elements.
The snow clouds may still be holding back spring in the UK but the future looks bright for ceramic membranes and drinking water production.
Author's note: Tom Freyberg is chief editor of WWi magazine. For more information, please email: tomf@pennwell.com