Role of Ultra Mobile PCs in Water Utility Management
Portable, rugged PCs running full operating systems and enterprise software will see a growing role in water utility management
Sep 1st, 2008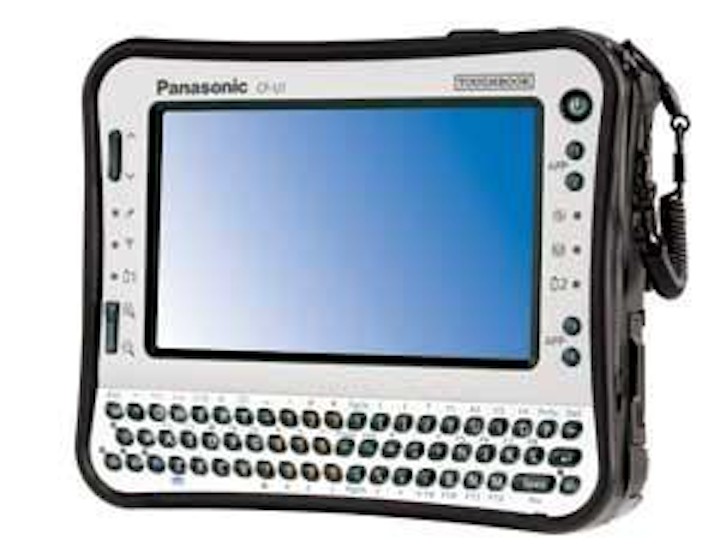 Portable, rugged PCs running full operating systems and enterprise software will see a growing role in water utility management
by Thell Gillis
Water utility management continues to advance in its use of new methods and technologies. Managing municipal water or wastewater systems requires a sophisticated toolset to be handled efficiently. To meet that need, a wide selection of automated systems and software have come into the market recently. These systems feature the ability to manage mobile workforces, assets, maintenance and databases designed to handle the large amounts of information that can be involved.
Water utility management workers are part of a growing segment of what can be called "walking workers," workers who are completely mobile for large parts of their working day and have to work in environments hostile to technology. A recent study by the IDC says that nearly 75% of the U.S. workforce will be considered "mobile" by the end of 2011.
For the most part, people have thought of the mobile worker as laptop-toting traveling executives or mission-critical workers like police officers, soldiers, utility linesmen, or those requiring vehicle-mounted computers. But there is a rapidly growing segment of workers who are mobile either on foot or driving automobiles and moving their systems in and out of their vehicles several times a day.
These "walking workers," including water utility management workers, can benefit to a large degree from having information at their fingertips. On a daily basis, they perform an increasingly complex and data-driven job, and do so in some of the most extreme work conditions imaginable. It is indisputable that putting powerful computing into the hands of these individuals can vastly increase efficiency, reduce costs and enhance safety.
Unlike road warriors — business travelers going from place to place on planes, trains, and automobiles who can easily carry and stow a notebook computer — people working on their feet or in changing environments have traditionally had little access to mobile digital data. Because they spend nearly all of their time away from a computer workstation, they increasingly need access to up-to-the minute digital information.
In the relatively rare instance when these workers have had access to mobile data, it's been via handheld devices with limited storage capacity and sub-par functionality. However, very often these men and women need advanced integrated peripherals such as RFID sensors, bar-code readers, and other features that are essential for the type of work they do, none of which have been available on even top-of-the-line consumer devices. In fact, most handheld devices don't even run Windows XP (let alone Vista), so using robust applications requires extensive software development to the WinMo6 mobile platform (for instance), which is sub-optimal.
Putting powerful computing into the hands of [water utility workers] can vastly increase efficiency, reduce costs and enhance safety.
To find a more ideal solution, experiments have been run with a new breed of handheld computer: the Ultra Mobile PC, or UMPC, which has become increasingly popular with a subset of leading-edge consumers often referred to as "early adopters." But when enterprise users have tried out early versions of the UMPC, results have been varied at best because the UMPCs that have been available up to now, while small enough to meet the level of portability sought by these walking workers, are inadequate from a durability and usability standpoint. They lack the upfront, thumb-friendly, backlit QWERTY keyboard that makes data input fast and easy, as well as state-of-the-art LCD technology for sunlight viewability.
A New Breed of CPU
One of the major barriers to bringing fully functional UMPCs into the field has been the unique processor requirements. To be mobile in a small form factor, a processor must be fast while being physically small and consuming relatively low amounts of power. Intel has made substantial headway in this area with the release of the Atom® chip, which allows manufacturers to build small, powerful devices capable of running full-featured operating systems offering a wide variety of Internet connectivity with power-efficient technologies that enable extended battery life to enhance productivity.
UMPCs with the Atom chip hit the market this year, and could prove to be among the most important developments for improving the efficiency of the walking worker. The chip promises to enable computer makers to design and deliver UMPCs with an unprecedented set of specifications.
Now that new chip technology allows UMPCs to realize their full potential from a processing and power consumption standpoint, other considerations that are important for the walking worker must be taken into account.
Fully rugged ultra-mobile computers, such as this one from Panasonic, feature durable, sealed casing, robust battery life, embedded wireless technologies, and daylight-readable screens.
Click here to enlarge image
First and foremost, walking workers need fully rugged ultra-mobile computing with durable, sealed casing, robust battery life, embedded wireless technologies, and daylight-readable screens. Fully rugged UMPCs will deliver the reliability that enables walking workers to be productive regardless of working conditions.
Why Rugged UMPCs?
One of the main challenges facing managers of the walking workforce is ensuring that the tools they use are durable. The cost of having a device fail in the hands of a walking worker is far greater than the time it takes for the unit to be repaired. The inability to handle drops and inclement weather kills the effectiveness of UMPCs lacking a sealed, all-weather, and rugged design for use in a wide variety of conditions. It's important also to look at how the system is engineered. Are the rugged features add-ons, or is the handheld computer engineered entirely from the inside out for maximum durability?
Any system designed for walking workers should undergo at least drop-testing using the same military specification (e.g., MIL-STD 8120F) test procedures required of the types of rugged notebook computers that have become commonplace for road warriors and vehicle-mounted deployments. As with these rugged notebook solutions, a rugged UMPC provides users with a significantly lower total cost of ownership. The cost of mobile computer failure goes far beyond the repair itself, including: lost productivity and revenue, the impact of reduced customer service on organizational reputation and the intangible cost of the hit to employee morale. It's frustrating when the tools with which you've been provided let you down, and fully tested, truly rugged solutions can prevent that from happening.
Conclusion
Consumers have had access to "pocket PCs" for several years, but because of their relative fragility, inadequate memory, and limited usability, these devices have not been adopted by mainstream business users, let alone by walking workers who could benefit most from real-time data access. Mainstream consumer UMPC products — even those with a wide range of innovative features — continue to receive criticism by industry insiders who bemoan inconvenient keyboards, unreadable screens, and poor battery life. Most important, attempts to bring these delicate objects into contact with the inhospitable conditions in which walking workers operate (such as extreme heat, cold, moisture, dust and the like) have been sub-optimal at best and disastrous at worst.
Water utility management workers will require a highly portable device with features such as an LCD touch screen, a digital camera, and identification technologies such as an RFID sensor. In almost any case, the devices that walking workers are supplied with will have a "fanless" design, eliminating a major point of failure; "hot-swappable" batteries that enable battery replacement without disrupting operation; and solid state drives that provide protection from bumps and drops. Finally, these users will need reliable mobile Internet connectivity offered by WiFi and WWAN for tasks such as remote water management and central database access. They'll also need their UMPC to be housed within a rugged package for maximum durability for the environment in which they work.
As companies begin empowering their walking workforce with the computing power that will make them successful, they must take a hard look at the mobile devices under consideration to be sure that they are up to the task.
About the Author:
Thell Gillis is a Senior Manager of Market Development for Workforce Automation at Secaucus, NJ-based Panasonic Computer Solutions Co. He can be contacted at (888) 223-1012 or via e-mail at thell_gillis@us.panasonic.com.