Letting Business Processes Drive Technology Implementation
Anyone who has ever been part of a multi-department implementation of information technology is intimately familiar with what I like to call "trench warfare.
Apr 1st, 2008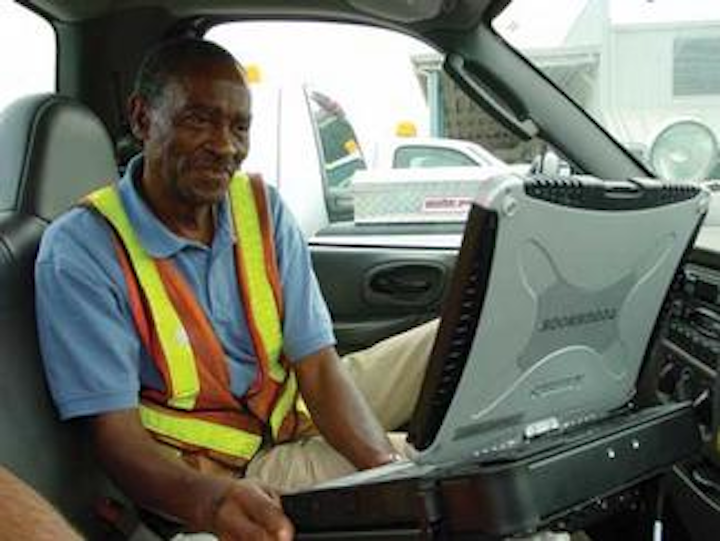 by Chip Harris
Anyone who has ever been part of a multi-department implementation of information technology is intimately familiar with what I like to call "trench warfare." Using the term "warfare" may seem a bit extreme, but the imagery is appropriate. Most utility organizations are very functionally oriented; everybody is used to operating in their own spheres of influence within the overall operation — their "trench," if you will. Rarely do these trenches move, and any attempt to extract people from them faces massive resistance.
The problem with trench warfare is it creates some distinct challenges for business technology implementations. The most successful technologies are those that improve business processes spanning multiple departments. Yet, these are the technologies that face the most opposition from trench warfare. So, what's the solution?
In my experience the best way to overcome these challenges is to employ cross-departmental business processes within the implementation itself. This process-based approach helped ensure our success during a recent implementation of customer and field service management technology for the city of Charlotte.
In the Trenches
The city of Charlotte provides water/sewer services, as well as billing for stormwater, for more than 700,000 customers in Charlotte, Mecklenburg County. We have a large customer base for a city of our size and generate approximately 183,000 service orders per year. Like many utilities, we are under constant pressure to improve the cost efficiency of our operations, support a continually growing customer base, and provide excellence in customer service. Furthermore, we must do this in an environment with increasing costs associated with both labor- and capital-intensive work while simultaneously balancing the political pressure to minimize rate increases.
As the Business Systems Division manager for the city of Charlotte, I'm responsible for supporting the utility management system: customer information system (CIS), billing, customer service center, and field service management programs. My team and I cover a lot of waterfront throughout the utility and stormwater operations, providing day-to-day functional support for these systems.
In researching technologies to help meet our business objectives, it became clear that our utility's operations department was very functionally oriented. Many of the employees within the department had grown accustomed to living in their individual trenches, and this was contributing to a lack of efficiency. In addition, the work processes and supporting technologies we had in place were not helping. In fact, in some instances they were making the situation worse, requiring a lot of manual "hand-offs" which tend to decrease efficiency and increase the potential for errors.
For example, our billing was done with a home-grown mainframe system. Billing was essentially all it did; it was not engaged in the operational aspects at all. So, as you might imagine, we had a plethora of other work order systems and shadow systems and spreadsheets that were being used throughout the operation. Clearly, with a utility our size, this was hindering more than helping. It reinforced the silos, and it did not leverage the cooperation and collaboration that would give us the improvements we needed in order to be more efficient and cost-effective.
The inefficiencies were even more apparent in our field service processes. There were situations where our field techs would report to work at 7:30 a.m. but might not get out into the field until 9:00 a.m. The lost time was spent assembled in a room waiting for service orders to be prepared. Because the service orders were paper-based, the techs had to come in early to make sure the paperwork got back in the right hands. All of this was non-value-added, and it caused backlogs, which negatively impacted not only efficiency but morale and customer service as well.
Focus on the Process
As we began to put technology solutions in place to rectify these issues, we learned a very valuable lesson. We had selected software solutions from Ventyx (formerly Indus International), which had delivered excellent business results for our industry peers. But, as we started testing the software, we were focusing on what the documentation said it would do, rather than whether it would help us reach our goals. We found that just putting the software in place wasn't necessarily going to make everything work well.
During our initial CIS implementation in 1999, we had one of our SBAs develop and document business processes, just to get it done. There was little engagement with operations folks in this effort. Later, as we moved forward and began focusing more on business process improvement, we realized that the silo approach in the organization was deeply entrenched, resulting in a lot of manual hand-offs and inefficiencies. We knew that, in order to achieve higher levels of business results with the software, we needed to use a process view and better engage middle management and field resources.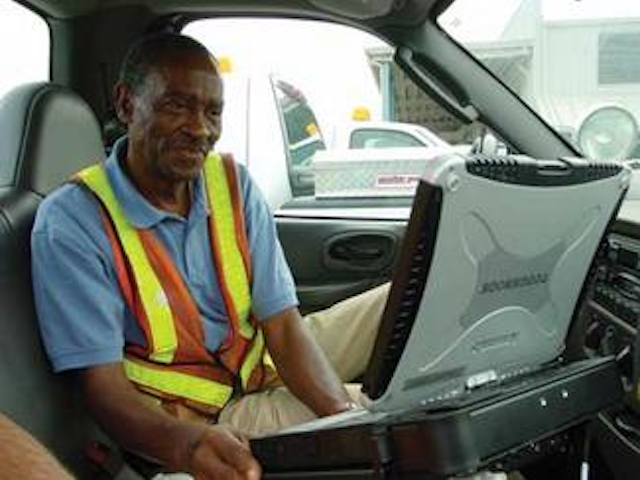 With its new system, the City of Charlotte is able to dispatch service orders electronically to mobile devices in the field.
Click here to enlarge image
In order to get the organization un-"trenched," we were very intentional about implementing the software along the business process lines we had laid out. We also realized that, in order for this approach to be successful, we had to turn the mirror on ourselves. If we were to improve business process across the organization, we had to start with ourselves. So, I made the decision to reorient our implementation team along those process lines. We had done a number of process improvements in the operations areas, so we oriented the functional team along business process lines verses aligning them within the operational areas from which we pulled them when we originally formed the core team. And that made a huge difference.
For example, one member of the team was an SBA who used to be a meter reader. That was his trench. He didn't know much about what happened upstream and downstream from him. But, as we worked with the software, gaining experience with it while we worked on process improvement projects, we saw the opportunity to change that orientation. Not only could we leverage the software to improve our processes, we could also leverage the broad experience of various processes within our team to improve our software implementation. We intentionally engaged operations personnel in the development of "as-is" and "to-be" business processes to ensure completeness and get buy-in. The sum of these efforts paid off for us. Those business processes were the driving force throughout the project and the implementation went much more smoothly.
Benefits to the Business Process Approach
Staying focused on the business process provided us with many benefits. For example, because of our business process focus and flexible Web-based CIS (Customer Suite) from Ventyx, our customers can better utilize our 311 call center for utility needs, both city-wide and county-wide. And, our CSRs can see on one Customer Suite screen all of the information they need to answer the vast majority of questions they receive. As a result, our efficiency is increased and our customer satisfaction is improved.
As we integrated the Customer Suite solution with Ventyx's Service Suite, we were able to dispatch service orders electronically to mobile devices in the field. As a result, not only did we greatly reduce our backlog, we eliminated the non-value-added back-office activity and increased the overall effectiveness and efficiency of employees — and improved their morale.
Our process-oriented approach provided numerous benefits including the following:
Provided focus for business requirements gathering, testing, training, and report development
Focused the system to meet the business needs across the divisional boundaries
Increased efficiency, eliminating redundancies and duplication of efforts
Ensured a higher level of coordination among the various divisions
Promoted business process and systems ownership
Minimizing non-value-added activity in the field, eliminating some redundant field work, and reducing the amount of customer service calls resulted in an estimated savings in excess of $260,000 in the first year we went live with the combined Customer Suite and Service Suite solution. Extrapolating that out for the rest of our short-cycle work, we anticipate our annual savings will likely exceed $1 million once we deploy the solution across the other service orders.
There are numerous "soft" benefits as well. For example, after engaging various utilities personnel within our process-oriented implementation, we are all working much more closely together.
The technology has also provided specific benefits, such as streamlining delinquency. Our delinquency schedule was a laborious monthly activity, but with the new functionality, which simply tracks the billing cycle, we've been able to basically eliminate it. That makes my team more effective because, instead of having to be the police, we can be a partner like we need to be.
In some instances, the intangible benefits have improved adoption of the technology itself. For instance, the personnel we recruit to do field work are often not highly technical — many have never even used a computer. However, as they get involved with the technology and see how it improves their productivity, they become more comfortable with using other technology tools in the field that might have been intimidating in the past.
How to Leverage the Business Process Approach
As you can see, treating our technology implementation as a business process improvement practice generated real results for us. However, there are a few things that you must keep in mind in order to make this approach truly effective:
• Solidify the process. If you take nothing else away from this article, remember this: You've got to be solid on the business process above all else. We used a very intentional process, mapping out as-is and to-be business processes, aligning our functional support along those lines, and establishing ownership of the entire process line beyond the support team. Involvement, buy-in, and ownership among utilities middle management and field personnel are key.
• Plan. Project planning pays off. Plan for known as well as unknown variables, but don't forget that there are also "things you don't know that you don't know."
• Practice. Planning is important, of course, but you won't know how well you've planned until you practice. Our tech team practiced our conversion to the latest software 20 times to make sure we got it right.
• Engage management at the highest level. A high-level view of your overall business processes is critical to real process improvement. Executive engagement and buy-ins are critical. Don't just engage them at the beginning and the end, however; get their sign-off on milestones throughout the process. You can't over-communicate to management.
• Stay focused. The importance of staying focused on project goals and objectives may seem obvious, but it's easy to be distracted by seemingly critical ancillary activities. Don't just agree to project goals and objectives, write them down. If there is a question about whether an activity is needed, refer back to them. If the activity doesn't get you closer to them, it's not a priority.
In summary, I think that you'll find that following this simple advice will help you complete your projects on time and within budget, improve key business processes, and reduce cost of ownership for your technology solutions. It certainly did for us!
About the Author:
Chip Harris is business systems division manager for the city of Charlotte, NC.