Virtual Customer Service Integration: A Web Reality
Although a number of utilities still print and mail their bills, many offer the ability to view and pay a bill over the web, also called Electronic Bill Presentment and Payment (EBPP).
Apr 1st, 2008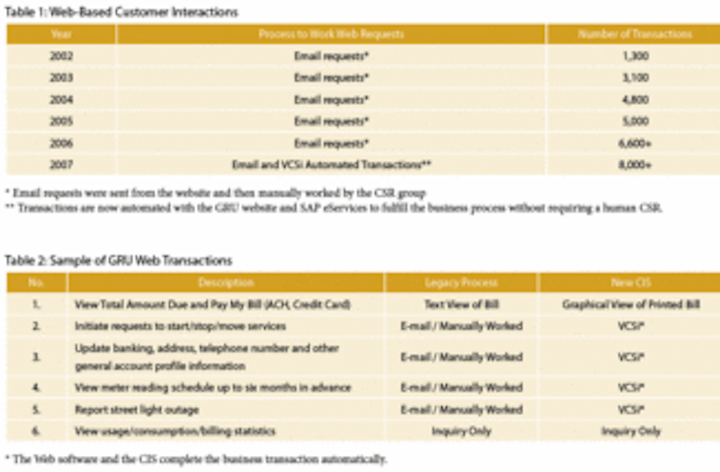 by Rick Cutter
Although a number of utilities still print and mail their bills, many offer the ability to view and pay a bill over the web, also called Electronic Bill Presentment and Payment (EBPP). A few years ago, EBPP technology was cutting-edge, and as a result, many Customer Information System (CIS) vendors created their own web-based payment feature specific to their CIS. Third-party vendors created add-on solutions to enable EBPP for older CIS systems.
CIS vendors succeeded in creating a generic means to pay bills over the web, but utility customers wanted to see an online version of the bill that looked exactly like the printed bill. To solve that problem, many utilities are now using a combination of technologies. Typically, CIS companies partner with vendors that specialize in bill printing technology, which can print a bill and also render an exact electronic copy that is then associated with the utility customer's bill.
Skywire Software (Frisco, TX) is one such firm; they use their own bill printing technology to generate an exact copy of the printed bill in an electronic format such as Adobe PDF. Levelone, Pitney Bowes Group1, Metavante, Total Billings and others also provide full-featured billing and electronic bill solutions for utilities.
Most CIS vendors are well on their way to providing good web capabilities, with leading firms offering the ability to complete web-based customer requests without even requiring a call center representative. This advanced level of web automation is known as Virtual Customer Service Integration (VCSi).
VCSi provides key benefits to utilities that are willing to evaluate the possibilities and develop a systematic approach to introducing the capability to their customers.
According to Jeremy Schultz, System Integration Manager at Cayenta (Vancouver, BC), "We are seeing a real trend where utilities are looking for web capabilities above and beyond just paying the bill."
Cayenta, which is a division of Harris Computer Systems, provides a CIS featuring what they call a Customer Self Service Web portal. The portal enables automated business processes such as requesting a service order, registering for new service and requesting levelized billing, among other features. With direct integration to the CIS, these actions are all processed online by the customer — without requiring any action from a customer service representative (CSR).
A recent SAP implementation is also using VCSi. Gainesville Regional Utilities (GRU) is based in Gainesville, Florida, home of the University of Florida and over 50,000 students. In late August and early January, a time GRU calls RUSH, a large number of these students move into apartments, resulting in a very busy season when nearly a third of GRU's customer base turns over. Based on this and a number of other factors, GRU decided to embrace the Web to support its utility business.
Bob Bergdoll, director of customer operations for GRU, is considered a visionary when it comes to serving GRU's customers. Based on his recommendations, GRU started implementing Web Self Service using its legacy CIS in late 2002. The initial functionality allowed customers to initiate requests to start, stop and move service directly from the GRU website. Once these transactions were captured over the website, e-mails were used to enable the customer service department to complete the transactions manually in the CIS.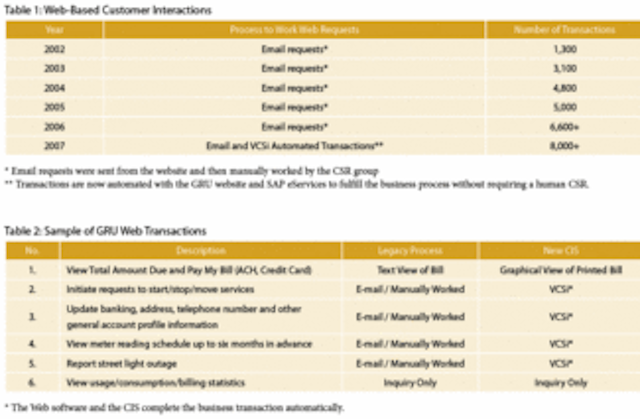 Click here to enlarge image
With a customer base of tech-savvy college students, it made sense for GRU to be an early adopter of Web technology. The capability significantly improved GRU's ability to serve customers in a timely manner, and despite its manual nature, this approach allowed GRU to drive calls to the web and improve the CSR's ability to solve customer issues in an organized manner.
GRU recently decided to overhaul its CIS and chose SAP's Industry Solutions for Utilities, Customer Care & Services. GRU also implemented a module called eServices, which is SAP's module for integrating the Web with core SAP applications. GRU selected Deloitte to provide implementation services.
The new system not only allows for the original functionality, but also provides automation all the way through the fulfillment process; CSRs no longer have to manually complete the transactions. This capability accounted for over 8,000 turn-ons and turn-offs in 2007, just about one-third of all of GRU's RUSH transactions (see Table 1).
Customer service managers may contend that customers deserve a personal touch, that automation denies customers access to a well trained CSR when trying to make decisions. These are valid points; however, GRU's research found that its customers simply wanted accurate bills, reliable utility service and an easy way to request service. The Web provides an efficient way to deliver these things, especially in a territory that has a high Internet adoption rate and high turnover of customers.
Points to Consider
At GRU, use of the web did not reduce call center traffic. Call volume remained approximately the same, but a new 24×7 communication channel was opened up. Using the Web now allows for business to be conducted by "absent," or non-resident, customers (e.g., parents of students, absentee landlords). ACH payments over the web account for 13% of all payments each month; on par with in-person payments.
About the Author:
Rick Cutter is one of the founding members of AAC Utility Partners, which specializes in providing technology consulting services to the utility industry. Cutter has worked in the IT sector for over 18 years, focusing on utilities for the past 10 years. He can be reached at 803-361-1377 or via e-mail at Rcutter@TeamAAC.com.