Briefs
Black & Veatch will design and oversee construction for one of the largest energy recovery projects of its kind  ...
Sep 1st, 2009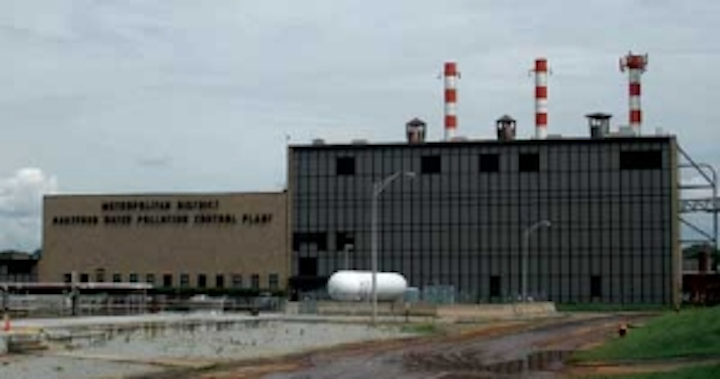 Black & Veatch addresses nexus of energy, water at Hartford wastewater treatment plant
OVERLAND PARK, KS — Black & Veatch will design and oversee construction for one of the largest energy recovery projects of its kind on the U.S. East Coast for the Metropolitan District Commission (MDC) in Hartford, CT.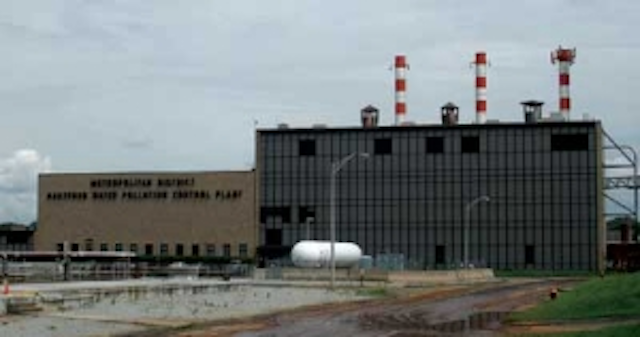 Incinerator building of the Hartford Water Pollution Control Facility.
Currently, biosolids produced at the 80-million-gallon-per-day Hartford Water Pollution Control Facility, the largest of four wastewater treatment plants operated by the MDC, are burned in multiple hearth incinerators. Black & Veatch will implement necessary upgrades to the incinerators and processing system, as well as design an energy recovery facility that captures heat from the incinerators to produce steam. That steam will power a turbine and produce an estimated 1.5 megawatts of electricity per hour, approximately 40 percent of the facility's annual electricity consumption.
"There is a growing interdependence between energy and water and the sustainable infrastructure applications needed for producing or treating both," said Len C. Rodman, Chairman, President and CEO of Black & Veatch. "When completed, the facility will convert renewable biosolids generated from wastewater treatment processing into power, significantly reducing the facility's demand on the local area's power grid and reducing its overall energy costs."
---
San Francisco PUC enables billing services for water, wastewater customers, replaces legacy CIS
REDWOOD SHORES, CA — The San Francisco Public Utilities Commission (SFPUC), which provides water, wastewater and municipal power services to San Francisco, has implemented Oracle® Utilities Customer Care and Billing to replace a legacy customer information system (CIS) and assist in its initiative to improve customer service, expand customer choice and streamline revenue management functions.
With the new system, SFPUC will provide billing services to more than 172,000 water and wastewater customers and will benefit from operational efficiency improvements due to automated process capabilities, tighter data integration and tracking of work orders and customer case management. SFPUC expects to streamline revenue management by consolidating billing and collection for services such as power and other miscellaneous utility billing processes currently managed by other systems.
---
South Florida Water Management District to implement SAP budgeting tool
MIAMI BEACH, FL — The South Florida Water Management District (SFWMD) is implementing SAP's new Public Sector Budget Formulation (PBF) tool. With the assistance of Meridian Partners, an SAP Services Partner, the District is the second government agency in North America to implement the PBF tool. With this application, managers will be able to make informed decisions with real-time insight, automated processes, improved transparency and optimization of scarce resources. "With PBF, we will be able to create a flexible work plan and manage a budget that accurately targets the essential projects and processes needed to protect the competing interests of the environment, residents and commerce in South Florida," said Chief Financial Officer Paul Dumars.
---
Itron to provide advanced metering solution for Glendale Water and Power
LIBERTY LAKE, WA — Itron Inc. has signed a contract with Glendale Water and Power to provide the California-based utility with advanced metering technologies for its electric and water operations.
Itron's solution for Glendale, which serves a combined 120,000 customers, consists of OpenWay® electricity meters, Water SaveSource™ endpoints and Itron Enterprise Edition™ (IEE) Meter Data Management (MDM) software.
OpenWay provides a two-way communication network between the utility and each meter, enabling interval data collection, time-of-use metering, load-limiting remote disconnect and reconnect, outage detection, net metering capability and ZigBee® home area network connectivity to empower customers to participate in energy management, conservation and distributed generation.
Water SaveSource offers advanced data logging capabilities that support conservation efforts by influencing customer consumption behavior and managing compliance of mandated measures. Its leak sensor technology reduces non-revenue water losses and associated production costs with proactive leak detection capabilities of the entire distribution system.
---
Burbank expands use of mobile GIS for one-call locating
CARLSBAD, CA — Burbank Water and Power (BWP) has expanded its use of GO! Sync Mobile GIS to receive, locate, manage, and complete underground service alert (USA) tickets. The technology leverages BWP's geographic information GIS for a streamlined, automated, paperless workflow.
BWP is already using the technology in both its electric and water departments for viewing, sketching, and inspecting. With the expanded use, BWP expects to improve its USA ticket operations. Using mobile GIS, locators with laptops receive service alert tickets sent from the state's one call center. Color-coded tickets are available in electronic format, displayed on a map. As status is updated, the tickets are automatically synchronized with BWP's enterprise database, which is used for storage, analysis and reporting.
---
Knoxville Utilities Board upgrades GIS solution to support water, public services
KNOXVILLE, TN — The Knoxville Utilities Board (KUB) will replace its geospatial data system with Telvent's ArcFM™ Geographic Information System (GIS) and ArcFM extensions to support its four public services.
Municipally-owned KUB currently provides electric, gas, water, and wastewater services to more than 439,000 customers in Knox County, TN, and parts of seven surrounding counties. KUB chose ArcFM GIS to improve utility system models and process efficiency, and ultimately enhance its service to customers and community.
---
DC WASA develops award-winning technology to manage public hydrant data
WASHINGTON, DC — The District of Columbia Water and Sewer Authority (DC WASA) received a Special Achievement in GIS (SAG) Award for its innovative use of GIS technology for managing data on public fire hydrants. Selected from more than 300,000 organizations worldwide, DC WASA received the award at the 2009 ESRI International User Conference (ESRI UC) in San Diego, CA.
DC WASA maintains the hydrants and related infrastructure used by DC Fire and Emergency Services (DC FEMS) for fire suppression in the District of Columbia. The Authority had already been using GIS technology, but in 2006, DC WASA set out to create a more integrated enterprise GIS framework. A DC WASA in-house technical team integrated GIS technology into the Authority's existing Computerized Asset and Maintenance Management System enabling DC WASA's operations department to share the data, features, and functions of both GIS and asset management systems.
DC WASA and DC FEMS personnel use the system, which utilizes mobile computing technology, to collect and extract geographical location and condition assessment data on fire hydrants. This provides near real-time status information for asset replacement planning and execution.
---
Emerson continues automation project for Chicago water district
PITTSBURGH, PA — Emerson Process Management has received a contract for the second and third phases of a four-phase, multi-year project to modernize the automation and controls at facilities operated by the Metropolitan Water Reclamation District of Greater Chicago (MWRDGC).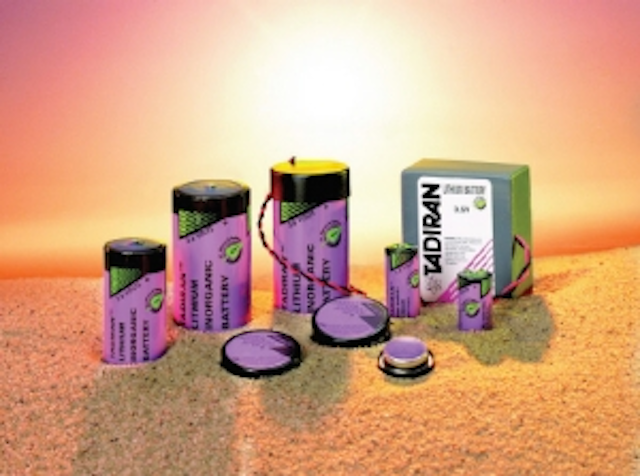 Emerson's Ovation® expert control technology will monitor and control solids processes at the MWRDGC's Stickney Water Reclamation Plant, Mainstream Pumping Station and associated remote pumping stations and reservoirs that are part of the wastewater collection system.
Emerson will install its Ovation® expert control technology to monitor and control solids processes at the MWRDGC's Stickney Water Reclamation Plant (WRP), Mainstream Pumping Station and associated remote pumping stations and reservoirs that are part of the wastewater collection system. Hardware, software, programming, factory testing, training and on-site startup and testing, as well as extended maintenance and service are all included in the contract.
The solution will collect and integrate information about surrounding pumping stations and stormwater retention reservoirs. This will provide WRP operators at a central location with vital information about influent and other variables from these remote facilities. In all, the systems will monitor and control approximately 24,000 I/O points.