World Water Works receives AAEES Honor Award for Environmental Sustainability
World Water Works received AAEES' Honor Award for Environmental Sustainability.

Aug 14th, 2013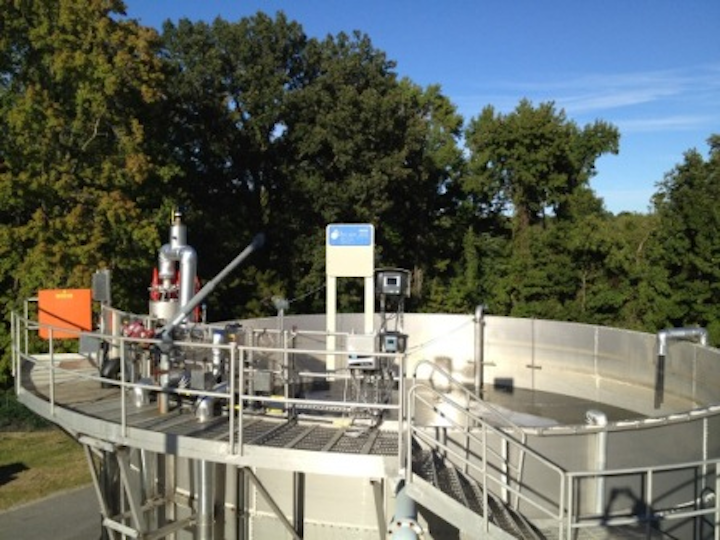 OKLAHOMA CITY, OK, Aug. 14, 2013
Deammonification Wastewater Treatment
World Water Works, Inc., a leading designer and manufacturer of wastewater treatment solutions and Virginia utility Hampton Roads Sanitation District (HRSD), received the American Association of Environmental Engineers and Scientists (AAEES) Honor Award for Environmental Sustainability, for implementation of the first DEMON® sidestream deammonification system in North America. The efficient and ecofriendly DEMON® process had previously been used only in Europe.
HRSD's York River Treatment Plant proved a perfect candidate for the system because its existing sequential batch reactors (SBR) and equalization tanks could be easily retrofitted for the process. This allowed simple and inexpensive installation of DEMON® in less than four months. Successful operation has continued since early January.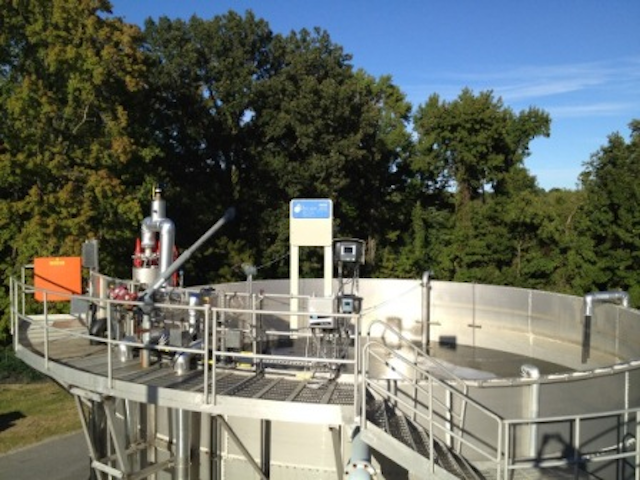 The DEMON® sidestream deammonification system

DEMON® removes ammonia from wastewater in a biological process that features ammonia oxidizing bacteria (AOB), which convert half the ammonia to nitrite. A second anaerobic biological process uses Anammox bacteria to convert the combination of nitrite and remaining ammonia directly into nitrogen gas. This system reduces energy requirements by 60 percent compared to traditional nitrogen removal processes, eliminates the need for all chemicals, and produces 90 percent less sludge. The system also features a low carbon footprint.
The process is seeded with Anammox bacteria, which aids in a quick start up of a system rather than cultivating bacteria from scratch. This factor has proven to be an obstacle for other deammonificationtechnologies. To retain the Anammox bacteria, a unique patent pending separation device provides enrichment of the specialized slowly growing Anammox biomass. The device enhances process robustness and treatment capacity and provides resilience despite changes in wastewater quality.
For other articles on the DEMON® technology, please reference the below links:
Breeding Better Bugs: Is Tiny Bacterium the Next Big Thing in Nitrogen Removal?
Product Focus: New nitrification technology helps WWTP reduce energy, sludge requirements
Algae-Based Wastewater Treatment
World Water Works also announced its recent investment in Aquanos Energy, Ltd, an Israel-based company that designed an algae-based wastewater treatment process for wastewater purification and renewable energy production.
Aquanos' technology captures the symbiotic relationship between bacteria and algae. Bacteria supplies carbon dioxide to the algae, algae provides oxygen to the bacteria, and both remove impurities from wastewater. This natural process reduces a wastewater treatment system's operational costs by 40 to 60 percent and significantly reduces capital expenditures.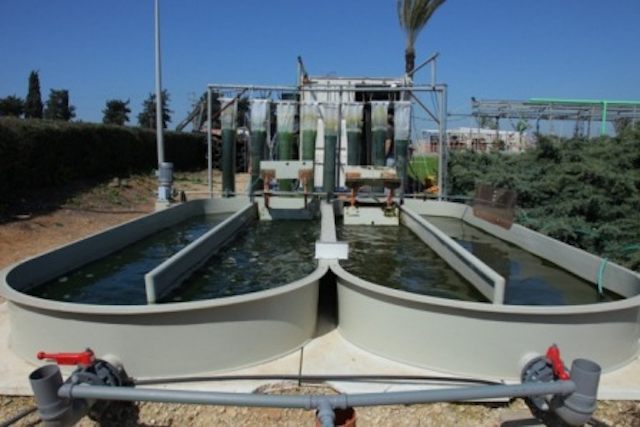 The algae-based wastewater treatment process

World Water Works can further enhance and optimize the Aquanos process using its AHTO™ (Algae Harvesting Technology -- Optimized) expertise along with Moving Bed Biofilm Reactors (MBBRs). WWW's goal is to deliver lower cost wastewater treatment while producing high grade sellable products from this process.

About World Water Works, Inc.
World Water Works is a leading manufacturer of specialized process and wastewater treatment technologies. With a focus on cost effective performance, flexibility, and durability, the company works alongside clients to create the most appropriate treatment solutions. Since its founding in 1998, the company's technology has cleaned more than 12 trillion gallons of water, facilitated the reuse of more than 1.8 trillion gallons and recovered millions of pounds of resources. For more information about World Water Works and its products, contact the company at 4000 SW 113th Street, Oklahoma City, OK 73173, at 800-607-7873, or visit their website at www.WorldWaterWorks.com.
###