World Water Week: Drip-irrigation leader receives Stockholm Industry Water Award
The 2013 Stockholm Industry Water Award was given to Netafim on 9/3 at a ceremony during World Water Week in Stockholm.
Sep 6th, 2013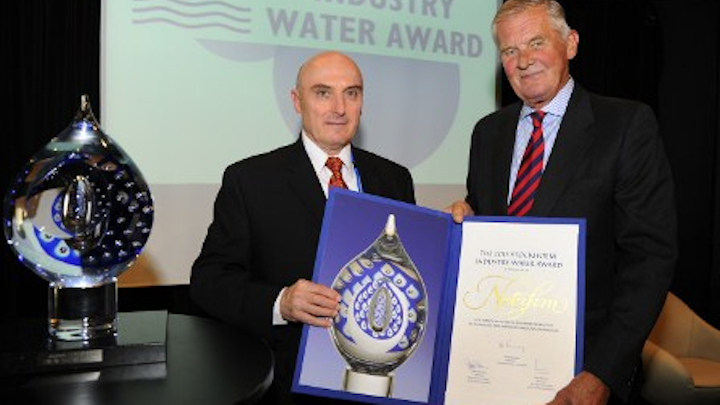 Stockholm, Sept. 6, 2013 -- The 2013 Stockholm Industry Water Award was given to Netafim, a provider of drip and micro-irrigation technology, on 9/3 at a ceremony during the 23rd World Water Week in Stockholm.
In the next few decades until 2050, global demand for water is expected to increase by 55 percent. Agriculture stands out as the world's thirstiest sector, accounting for 70 percent of global freshwater withdrawals. Finding ways to use this water more effectively is one of the industry's most urgent challenges as water scarcity is listed as a primary global risk by scientists, business leaders and civil society. Today, more than ten million hectares of farmland are irrigated with drip irrigation, dramatically improving water, energy and labor productivity. The use of drip irrigation typically halves water use compared to other irrigation solutions, and at the same time increases crop yields.


2013 Stockholm Industry Water Award. (Photo: Cecilia Östberg, Exray)
On receiving the prize, Netafim's President and CEO Igal Aisenberg said, "This great honor recognizes not only what drip technology has achieved till now, but also, more importantly, what it can and should achieve in the future. Given the world's rapidly-growing population and subsequent increase in demand for food and water over the next few decades, drip will significantly contribute to fighting
water scarcity
and improve food security. The road ahead is long, but we're committed to continue partnering with public and private organizations in helping to reduce water usage and make the world more sustainable."
Netafim has designed a specific solution for small holder farmers in developing areas. The Family Drip System, a gravity-based drip irrigation system, eliminates the need for labor-intensive bucket irrigation and saves water. Beyond innovating technical systems, Netafim cooperates with local organizations to provide training, capacity building and transfer knowledge to help farmers in developing countries maximize their yields with existing resources.
In, Niger, for example, application of the Family Drip System enabled farmers to more than triple their production of select fruits and vegetables.In India, Netafim's community irrigation systems and training programs in sustainable food production have helped over 40,000 small farmers reduce waste on their farms and increased their incomes by 20 percent over three years.
About the Stockholm Industry Water Award
The Stockholm Industry Water Award honors the business sector's contribution to sustainable water management. It recognizes improved performance in production processes, new products and management, as well as innovative approaches in water and wastewater technologies which together help to improve the world's water situation. The Award was established in 2000 by the Stockholm International Water Institute in collaboration with the Royal Swedish Academy of Engineering Sciences and the World Business Council for Sustainable Development. Learn more at www.siwi.org/prizes/stockholm-industry-water-award.
###