Russian refinery wastewater treatment to be enhanced with new technologies
Bashneft will incorporate GE's membrane bioreactor, electrodialysis reversal and reverse osmosis technology to treat wastewater from its Ufaneftekhim oil processing complex.

Oct 15th, 2013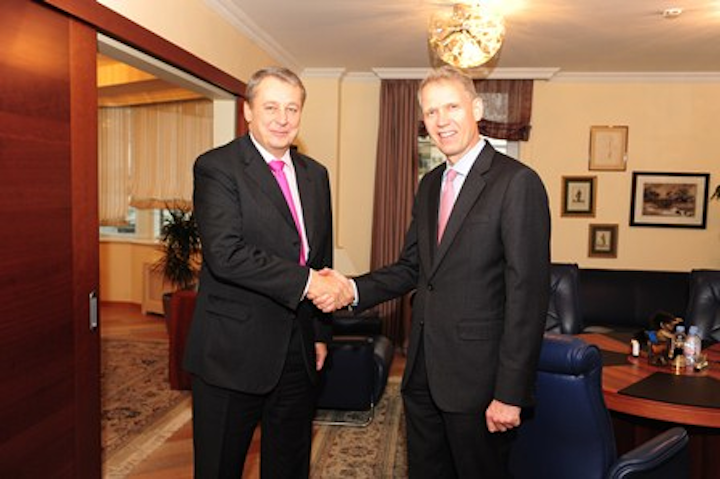 MOSCOW, RUSSIA, Oct. 15, 2013 -- Bashneft, one of the largest oil companies in Russia, will incorporate a new membrane bioreactor (MBR), electrodialysis reversal (EDR) and reverse osmosis (RO) technology to treat wastewater from its Bashneft-Ufaneftekhim oil processing complex and other enterprises of the Northern Industrial Block of Ufa. Strict discharge regulations and the need to reuse the treated water led Bashneft to choose GE's technology for its new wastewater treatment plant.

A successful pilot study of different technologies was conducted by GE in cooperation with Bashneft and State Unitary Enterprise -- Institute of Petroleum Refining and Petrochemistry of the Republic of Bashkortostan in April-July 2013, which demonstrated technological feasibility of refinery wastewater purification in compliance with the strict requirements of environmental legislation of the Russian Federation. Based on the pilot's performance and further techno-economic calculations, Bashneft chose GE's MBR, EDR and RO as the core technology of the modernization project for a biological treatment plant (BTP) of the Bashneft-Ufaneftekhim branch.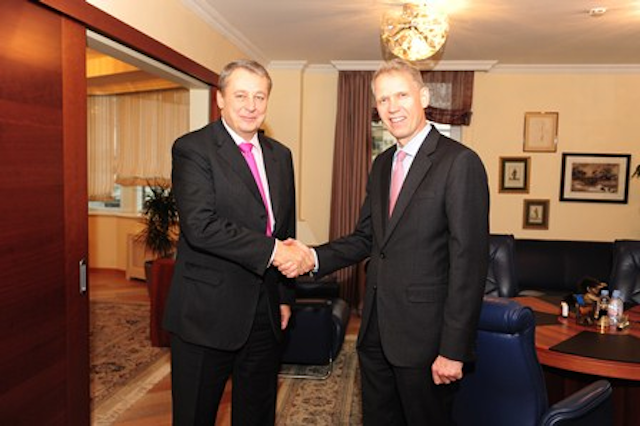 On October 9, Alexander Korsik (left), president and chairman of the management board, OJSC Oil Processing Joint-Stock Company Bashneft, and Heiner Markhoff (right), president and CEO -- water and process technologies for GE Power & Water, met in Moscow.(Photo credit: GE)
In the framework of the project, GE will use its ZeeWeed MBR technology, EDR, RO, and ion exchange polishing technologies. A feature of this process is the absence of primary clarification tanks and secondary clarifiers. At the exit from the
aeration
tanks, the activated sludge is separated from treated water using ZeeWeed 500 ultrafiltration membranes. Waste solids dewatering is performed on compact centrifuges. All of the above make it possible to reduce the area of purification facilities and exclude any chance of contaminant release into the environment.
About GE
GE (NYSE: GE) works on things that matter. The best people and the best technologies taking on the toughest challenges. Finding solutions in energy, health and home, transportation and finance. Building, powering, moving and curing the world. Not just imagining. Doing. GE works. For more information, visit the company's website at www.ge.com.
About GE Power & Water
GE Power & Water provides customers with a broad array of power generation, energy delivery and water process technologies to solve their challenges locally. Power & Water works in all areas of the energy industry including renewable resources such as wind and solar; biogas and alternative fuels; and coal, oil, natural gas and nuclear energy. The business also develops advanced technologies to help solve the world's most complex challenges related to water availability and quality. Power & Water's six business units include Distributed Power, Nuclear Energy, Power Generation Products, Power Generation Services, Renewable Energy and Water & Process Technologies. Headquartered in Schenectady, N.Y., Power & Water is GE's largest industrial business.
Follow GE Power & Water and GE's water business on Twitter @GE_PowerWater and @GE_Water.
###