Culligan opens IL expanded facility for development of global water treatment solutions
Culligan has opened an expanded facility in Libertyville, IL, for the engineering, manufacturing and assembly of water treatment technologies.

Jul 30th, 2013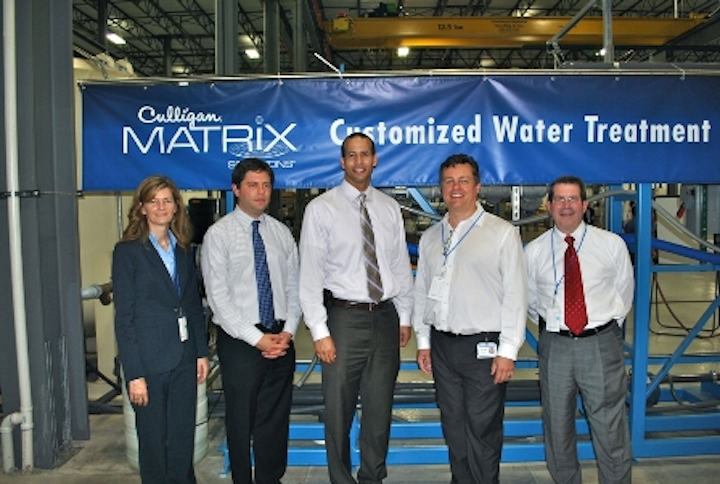 ROSEMONT, IL, July 30, 2013 -- A new expanded facility from Culligan, a company offering advanced filtration and water softening solutions, has recently opened in Libertyville, Ill., dedicated to the engineering, manufacturing and assembly of water treatment technologies and solutions for the global water market.

The expansion features 217,000 square feet of prime manufacturing, assembly, warehousing and office space. Approximately 75,000 square feet is dedicated to manufacturing -- triple the capacity of Culligan's previous facility.

Dan Seals, Deputy Director of the Illinois Department of Commerce and Economic Opportunity, joined Allan Connolly, Chief Operating Officer, Culligan, representatives from the United States Department of Commerce, local government and the Illinois business community at the opening ceremonies. Distinguished attendees included Julie Carducci, Office Director, United States Department of Commerce, International Trade Administration, Commercial Service, and Terry Weppler, Mayor, Libertyville, Ill. The 280 guests also included customers, members of Culligan's dealer network, and suppliers from throughout the region.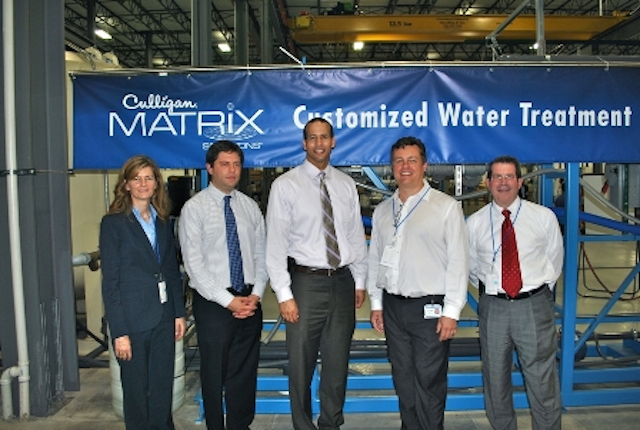 Representatives from Federal, state and local government joined Culligan's Chief Operating Officer Allan Connolly (second from right) in opening ceremonies for the expanded Libertyville facility. (PRNewsFoto/Culligan International)

Besides tripling the manufacturing space, the Libertyville facility also features two full bays of assembly floor space for large jobs, with lifting capacity of 50,000 lbs (two 25,000 lb cranes) plus a second crane area with 10,000 lbs of lifting capacity. This floor provides the space needed to execute large, complex capital projects that include Culligan's portfolio of technologies used in industrial markets such as oil & gas, food and beverage, and energy and power. In addition, the expanded space enables Culligan to assemble as many as five mobile water treatment containers at one time, speeding delivery for customers who need mobile solutions for fast response, supplemental, temporary, or emergency situations.

The Libertyville facility also provides additional office space, enabling Culligan to bring together design and application engineers and project managers in one location, streamlining the development of solutions for clients across a wide array of industries.

Approximately 70 employees work at the Libertyville facility. In all, Culligan employs more than 200 people in Illinois including staff at its global headquarters located in Rosemont, representing the majority of its U.S.-based staff and approximately 10 percent of its employees worldwide. Company representatives anticipate that the new facility will generate a number of jobs in the Libertyville area. In addition to direct company employees, Culligan has 35 dealers in Illinois, each of which has its own group of employees.
About Culligan

Founded in 1936 by Emmett Culligan, Culligan International Company is a world leader in delivering water solutions that will improve the lives of their customers. The company offers some of the most technologically advanced, state-of-the-art water filtration products. Culligan's products include water softeners, drinking water systems, whole-house systems, and solutions for business. Culligan's network of franchise dealers is the largest in the world, with over 800 dealers in 90 countries. For more information visit: www.culligan.com.
###