NEW PRODUCTS
Eighteen months after its European introduction, ABB Instrumentation's new FCM2000 Coriolis mass flowmeter is now available in the U.S. market...
Jul 1st, 2004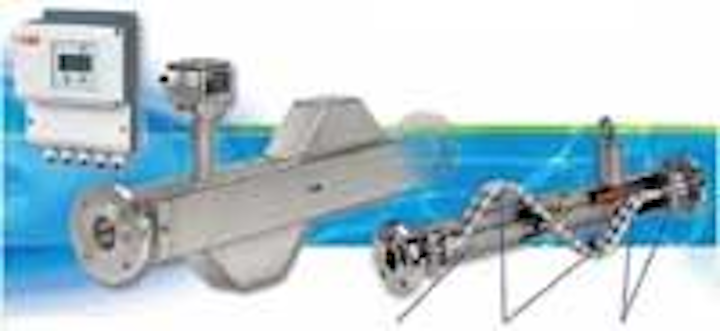 Coriolis mass flowmeter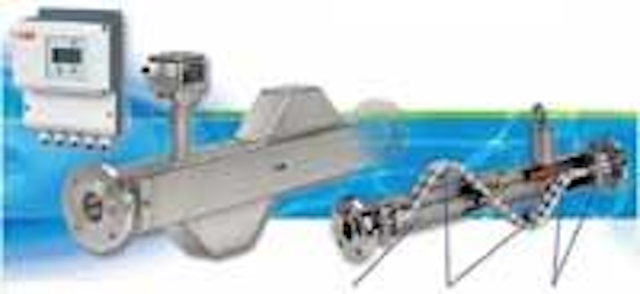 Click here to enlarge image
Eighteen months after its European introduction, ABB Instrumentation's new FCM2000 Coriolis mass flowmeter is now available in the U.S. market, targeting liquid flow applications in chemical, food and beverage, refining, and petroleum industries. The FCM2000, or "TrioMass," series flowmeter offers simultaneous measurement of mass flow rate, process density and process temperature.
ABB Instrumentation
Warminster, PA
Tel: 215-674-6580
Web: www.us.abb.com
Enclosures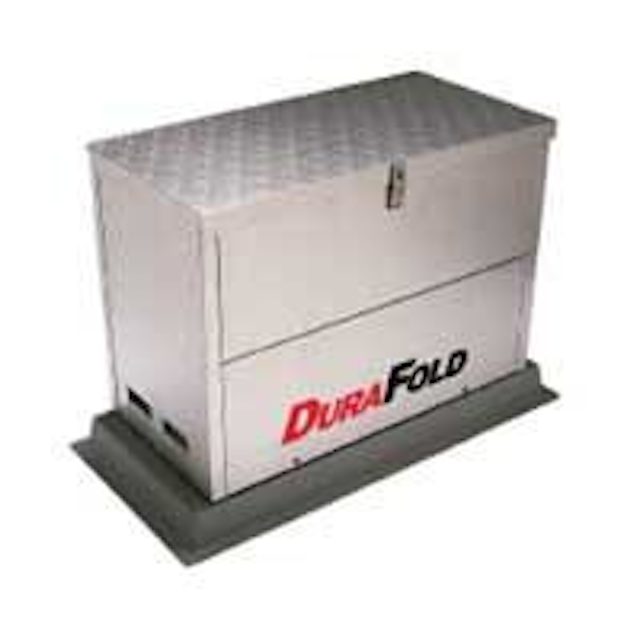 Click here to enlarge image
Hot Box has introduced DuraFold™, a new enclosure that ships and stores flat and can be erected more quickly than the company's modular enclosures. The enclosures are designed to protect above-ground valves, meters and pumps.
Hot Box
Jacksonville, FL
Tel: 800-736-0238
Web: www.hot-box.com
Pump monitoring, control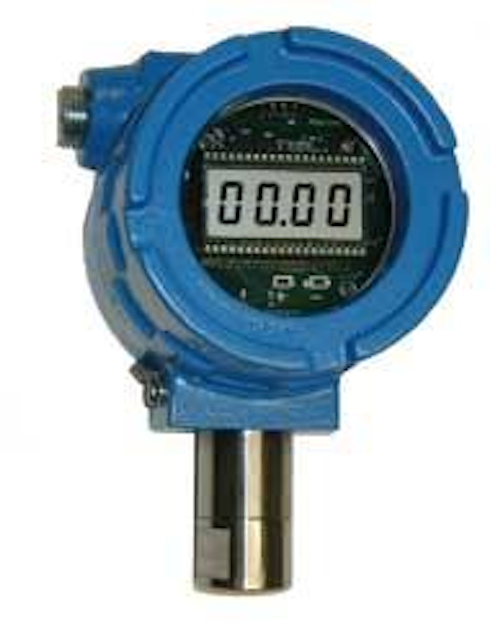 Click here to enlarge image
To address the increasing need for remote monitoring and control of sewage lift stations, Sigma Controls' Myriad series of microprocessor based pump controllers are fully SCADA ready, out of the box. The company's Infilink remote monitoring software package provides full remote monitoring and control of pump stations. It permits remote users to view pump status, alarms, run times, etc., and to acknowledge alarms, alternate pumps, remove a pump from control and change all system setpoints.
Sigma Controls, Inc.
Perkasie, PA
Tel: 215-257-3412
Web: www.sigmacontrols.com
Disc coupling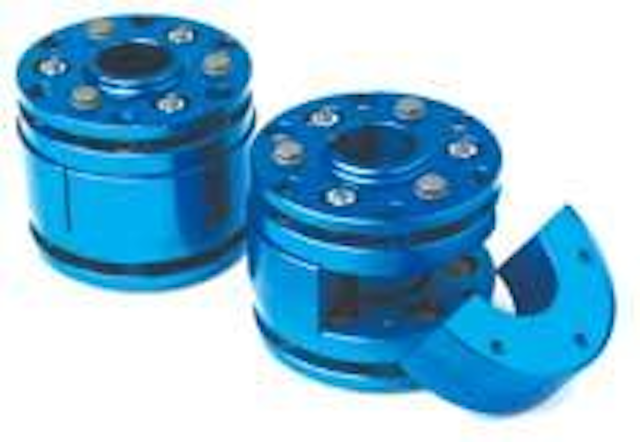 Click here to enlarge image
The Lovejoy®/Jaure Split-Spacer Disc coupling, or SXCS, features a closed-coupling design and is suitable for use in any application currently using a gear type coupling. The new coupling requires no lubrication. The design is torsionally stiffer due to its spacer-wall thickness and features zero backlash. Bore capacities range from 90-6 through 302-6 and larger sizes are available upon request. A two-piece radial removable spacer allows the end user to replace the disc pack without moving equipment, eliminating any alignment issues.
Lovejoy, Inc.
Downers Grove, IL
Tel: 630-852-0500
Web: www.lovejoy-inc.com
Chemical feed flowmeter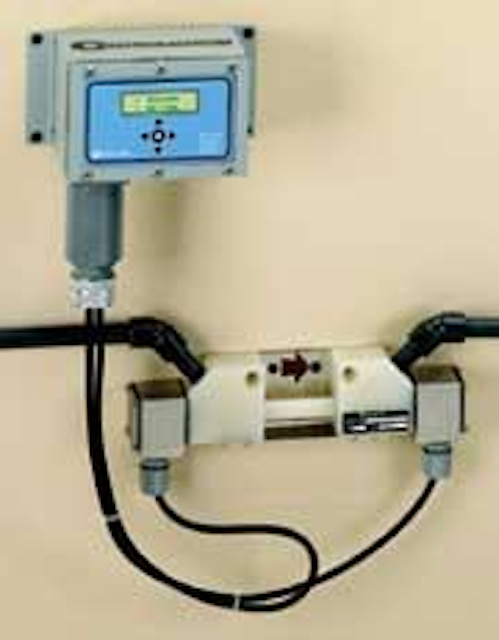 Click here to enlarge image
Controlotron System 1020FT Flow Tube Transit-Time Flowmeter is designed for very low flow chemical feed applications. The non-wetted transducer flow tube design, constructed of CPVC or PVDF Kynar tube material in 3/8'' and 3/4'' sizes, and 1/2'' in 316 stainless steel and PFA Teflon, allows the flowmeter to be used on the most aggressive chemical applications. Accuracy and repeatability is maintained over a very wide flow range. A 3/8'' CPVC or Kynar flow tube will maintain its ±1.0% accuracy over a flow range from 1 gph to 300 gph.
Controlotron
Hauppauge, NY
Tel: 631-231-3600
Web: www.controlotron.com
Sulfide control
Click here to enlarge image
The use of hydrogen peroxide and iron salts are both proven methods for treating sulfide for odor and corrosion control in collection systems. US Peroxide has integrated these two methods in a synergistic fashion that results in improved performance, lower iron consumption and significant economic benefits. This new proprietary technology is known as Peroxide Regenerated Iron Sulfide Control™ or PRI-SC™.
US Peroxide, LLC
Atlanta, GA
Tel: 404-589-9381
Web: www.h2o2.com
Submersible level transducer
Ametek U.S. Gauge has added to its level measurement product line with the release of the Model SDT low-cost submersible level transducer. The solid-state transducer is specifically designed for direct submergence in many types of liquid. It indicates the level of liquid by continuously measuring hydrostatic pressure via its sensing element, an ion implanted silicon semiconductor sensor with integral Wheatstone Bridge circuit. Once the sensor measures the pressure, its data is converted to 4-20 mA output signal (other outputs are available).
Ametek U.S. Gauge/PMT Products
Feasterville, PA
Tel: 215-355-6900
Web: www.ametekusg.com
CEDI module
Ionpure Technologies has introduced a new hot water sanitizable LX™ continuous electrodeionization (CEDI) module. Called HWS-I for "Hot Water Sanitizable Instant", this new improved module greatly simplifies the hot water sanitization process. The company has demonstrated that 85°C water can be fed instantaneously (up to 30 psig/2.06 bar) while sanitizing the new HWS-I module, and quickly switched back to cool feed.
Ionpure Technologies, Inc.
Lowell, MA
Tel: 866-876-3340
Web: www.ionpure.com
Lab-scale degasifier
Membrana has commercialized a new laboratory-scale degasifier designed to debubble a variety of solutions. The new 1 x 5.5'' MiniModule contactor is smaller than the typical Liqui-Cel® Extra-Flow contactor designs. This MiniModule was developed to process liquid flows from a few ml/min to 500 ml/min. These small contactors are rated to 60 psi at ambient temperatures. The contactor uses John Guest® quick connect fittings. It replaces an older style MiniModule that had a lower capacity.
Membrana
Charlotte, NC
Tel: 704-587-8596
Web: www.celgard.net
Portable gas monitor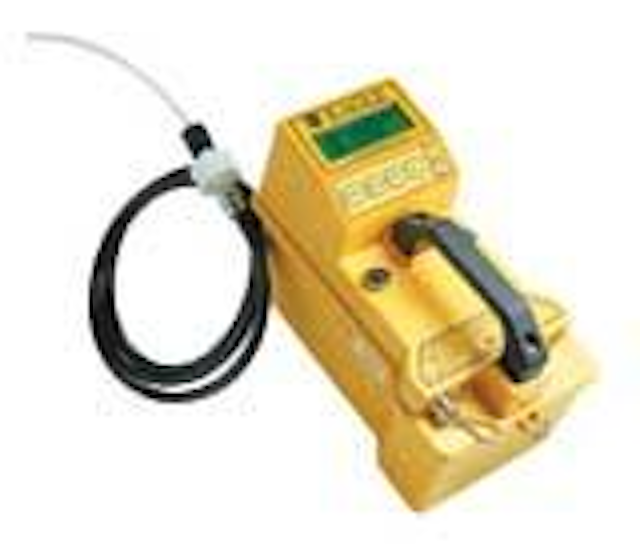 Click here to enlarge image
With over 250 versions available, the Eagle is a versatile, rugged, and reliable portable gas monitor. It is available from RKI Instruments. The portable instrument has a simultaneous readout of up to six combinations of gases never before offered in a portable gas detector.
RKI Instruments, Inc.
Hayward, CA
Tel: 800-754-5165
Web: www.rkiinstruments.com
Colorimeters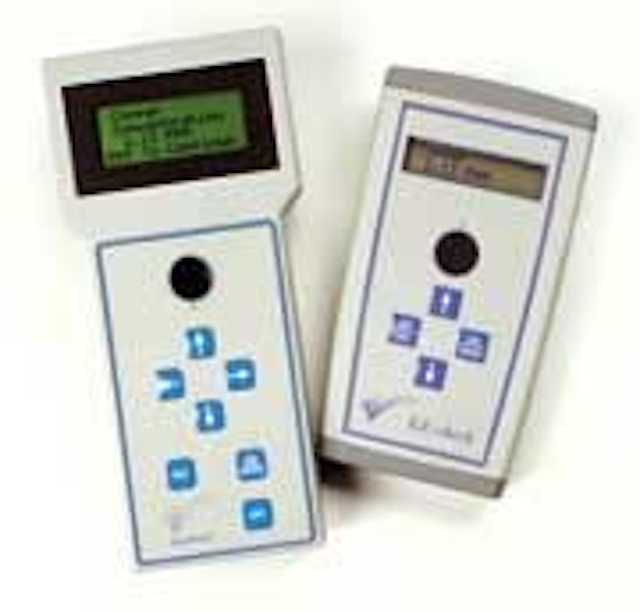 Click here to enlarge image
Hydrodyne Systems has been manufacturing water testing instruments for over 25 years. Features for the company's colorimeters include data logging and downloading capabilities and use of the company's patented Curve Fit Technology, eliminating the need for factory re-calibration. The instruments are available in single test parameter models up to multi-parameter models factory programmed with over 60 tests including; arsenic, chlorine, fluoride, iron, turbidity, and many more. Hydrodyne Systems
Milford, OH
Tel: 800-543-9283
Web: www.hydrodynesystems.com
Measurement, control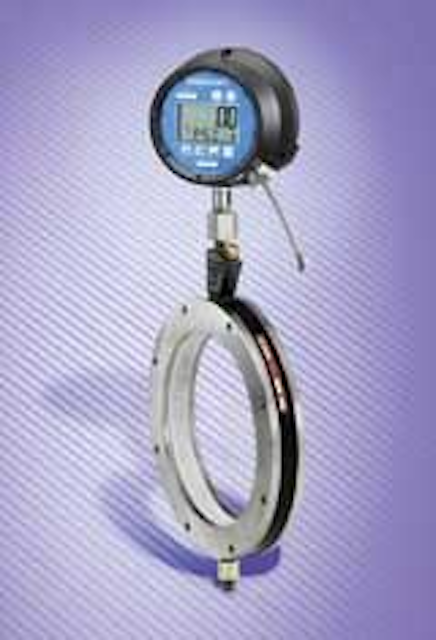 Click here to enlarge image
Dresser Instruments manufactures gauges, thermometers, switches, transducers, transmitters, data loggers, calibration equipment and isolators for pressure measurement and control. Product brands include Ashcroft®, Heise®, Willy™, ebro™ and Weksler®.
Dresser Instruments, a Div. of Dresser Inc.
Stratford, CT
Tel: 203-378-8281
Web: www.dresser.com
Wireless data modems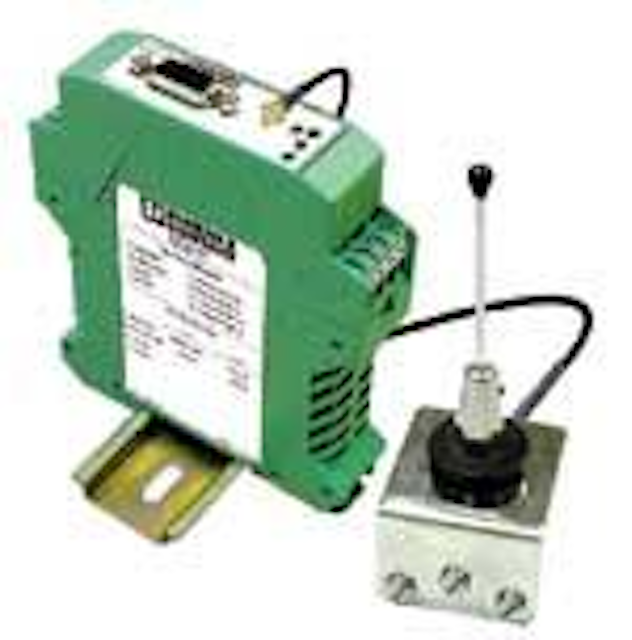 Click here to enlarge image
The new Rad-Data series of wireless modems from Phoenix Contact are designed to move RS-232, RS-422 and RS-485 serial data in industrial applications. The series is an interoperable line of DIN-rail mount, license-free ISM band frequency-hopping radios. Class I, Div 2 approved, these radios perform across wide temperature ranges and accept a broad range of DC power voltages.
Phoenix Contact Inc.
Harrisburg, PA
Tel: 800-322-3225
Web: www.phoenixcon.com
Energy monitoring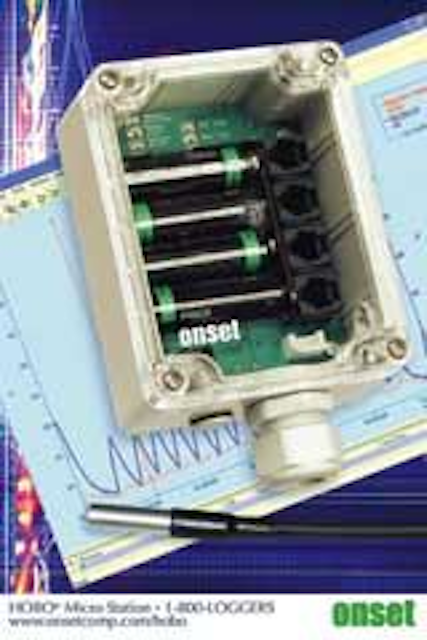 Click here to enlarge image
Onset Computer Corp. has introduced the HOBO® Micro Station, multi-channel data logger for indoor energy monitoring applications. Designed with a flexible system architecture, the logger can accept pulse or analog inputs from a wide range of specialized third-party sensors – such as power meters and flow meters – as well as the company's full suite of plug-in Smart Sensors. This suite includes sensors for measuring and recording temperature, relative humidity, solar radiation, barometric pressure, and other parameters.
Onset Computer Corp.
Bourne, MA
Tel: 800-564-4377
Web: www.onsetcomp.com/hobo
Pump replacement parts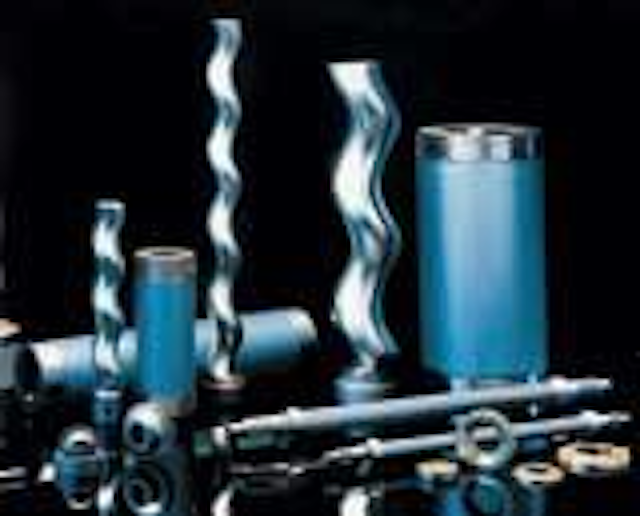 Click here to enlarge image
Genuine Moyno® replacement parts ensure that the company's pumps continue to provide the original performance and service life. The company's replacement parts consistently meet all product design parameters, quality standards, manufacturing tolerances and ISO 9001 certified control processes. They install correctly the first time, ensure accurate form and fit to meet original product specifications and protect product warranties.
Moyno, Inc.
Springfield, OH
Tel: 877-486-6966
Web: www.moyno.com
Pipe locator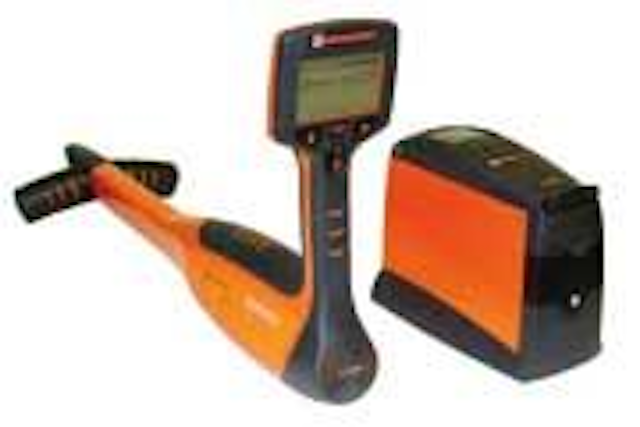 Click here to enlarge image
Metrotech has introduced the 810 Dx Pipe and Cable Locator, a single frequency instrument designed for locating all types of buried utilities. The locator features a constant current transmitter and a newly designed ergonomic receiver. Together, the "system" is more resistant to all types of weather conditions and maximizes the electromagnetic signal applied to the pipe. Using unique transmitter technology, the locater is capable of the maximum power allowed using three levels of output.
Metrotech Corp.
Sunnyvale, CA
Tel: 408-734-1400
Wireless monitoring
Bullhorn® Wireless Remote Monitoring, available from American Innovations, is an inexpensive means of monitoring water and waste water related remote equipment with wireless technology. The system can monitor wells, pumps, lift stations, storage tanks, effluent overflow, pressure, pH, temperature, flow meters and collect scheduled reads (like meter reads). Its instant notifications by fax, page and/or email inform users immediately when the status of a piece of equipment has reached a pre-programmed alarm situation.
American Innovations
Austin, TX
Tel: 800-229-3404
Web: www.aimonitoring.com
Stormwater treatment
The Washington State Department of Ecology recently approved a stormwater treatment technology that uses Storm-Klear™ water clarification products to address heavy stormwater runoff on construction and industrial sites, and in other settings. Storm-Klear with sand filtration is the first technology to pass Ecology's stringent new environmental regulations for stormwater runoff. Manufactured by Vanson HaloSource, the product is a natural chitosan-based biopolymer made from crustacean shells.
Vanson HaloSource
Redmond, WA
Tel: 425-974-1931
Web: www.vanson.com
Pest control
Strike Ultra from Zoëcon Professional Products, a division of Wellmark International, has received EPA approval for expanded label claims. The product can now be applied over a shorter time interval during the low flow period to target key pests. Its formulation features Methoprene, an insect growth regulator which prevents future generations of flies without disrupting a plant's operations. Precision Control Technology (800-920-1001) is the exclusive national distributor for the Strike product line.
Wellmark International
Schaumburg, IL
Tel: 847-330-5368
Web: www.wellmarkinternational.com
Reporting software
Thermo Electron has developed a new software package for environmental reporting, EnviroLab™ Forms. Designed to complement the company's Finnigan™ DSQ GC/MS family of single quadrupole mass spectrometers, the software gives environmental laboratories a choice of 10 reporting formats. Specifically written for the EPA methods performed on Finnigan GC/MS systems, the software is a new, layered application that can be applied to data from Xcalibur® 1.3 and above.
Thermo Electron Corp.
Austin, TX
Tel: 800-532-4752
Web: www.thermo.com
Fluoride monitor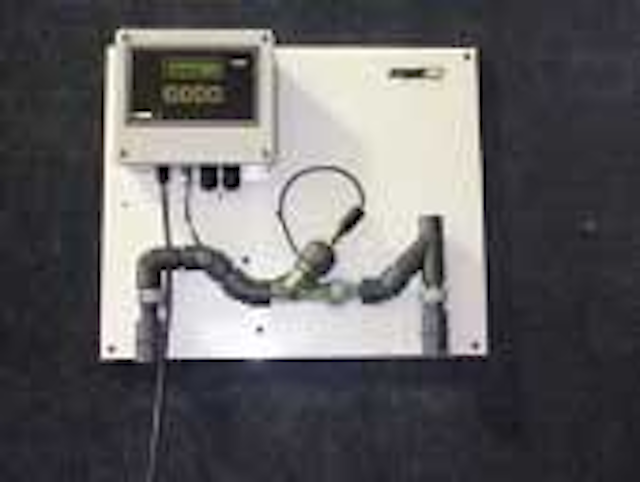 Click here to enlarge image
Eagle Microsystems has introduced its new Model PFC-1000 Fluoride Monitor for water treatment applications. The unit is designed for wall mounting with a specific ion electrode mounted in a transparent flow-through assembly. The standard unit is ranged for 0-2 ppm with other ranges available. The all-digital display instrument, built on the Premier Series electronic platform, has a menu driven 2 line x 16 character, backlit LCD display and a 4-pushbutton operator interface.
Eagle Microsystems, Inc.
Pottstown, PA
Tel.: 800-780-8636
e-mail: infor.microsystem@verizon.net
Line stopping
Major service disruptions and shutdowns of critical water, wastewater and gas distribution systems for general maintenance and repair can now be eliminated with Severn Trent Services' new Insta-Dam line stopping system. The system incorporates patented "stopper" technology including cylindrical and bullet shapes to temporarily block the flow of water or gas in pipes ranging in size from 3/4" to 4". Suitable for cast iron, asbestos cement, steel pit cast, ductile iron and plastic (C900 and IPS PVC) pipe, the line stopper is rated to 100 psi. It can be handled by one person at any location, including overhead pipe installations.
Severn Trent Services
Fort Washington, PA
Tel: 215-283-3478
Web: www.severntrentservices.com
Scrubber packing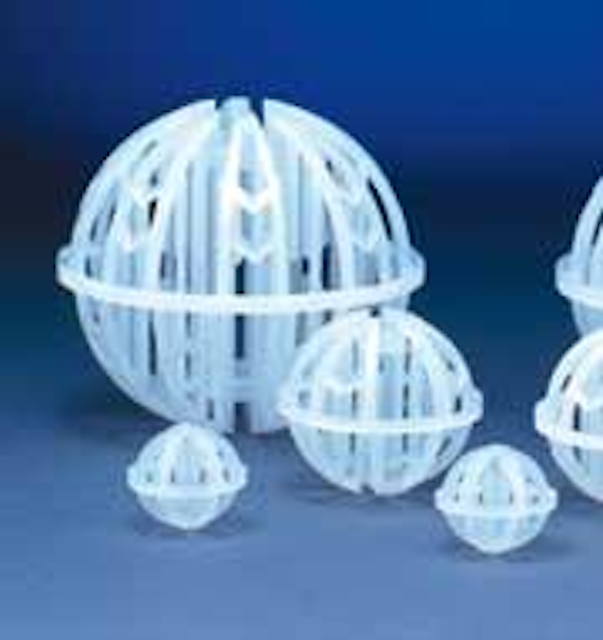 Click here to enlarge image
Jaeger Tri-Packs® are hollow, spherical packings constructed of a network of ribs, struts, and drip rods. Their geometry provides the optimum balance between open area and surface area – offering efficiency for all types of scrubbing and stripping applications and achieving high mass transfer rates. Available in four nominal sizes, 1'', 1 1/4'', 2'' and 3 1/2'', and in numerous thermoplastic resin choices, there is a size and material available for numerous applications.
Jaeger Products, Inc.
Houston, TX
Tel: 800-678-0345
Web: www.jaeger.com
Dosing Pumps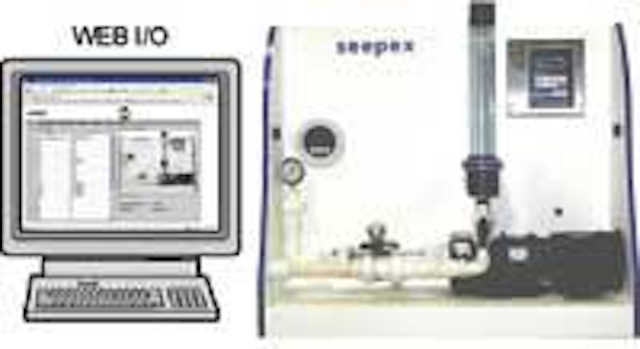 Click here to enlarge image
seepex progressive cavity pumps are available in packaged skids. Flows range from 1 cc/min to 20 gpm on standard skids. 1000:1, constant torque turndown is now available through advanced AC motor technology. The skids can deliver thin to highly viscous liquids as well as corrosive and solid laden chemicals. Available in titanium, Hastelloy and stainless steel, these systems are ideal for NaOCl, FeCl2, flocculants and other fine chemical injection.
seepex, Inc.
Enon, OH
Tel: 800-695-3659
Web: www.seepex.com