NEW LITERATURE
The new 2004 Fluid Metering Web site covers the company's line of dispensers and metering pumps for laboratory, industrial, process and OEM applications.
Mar 1st, 2004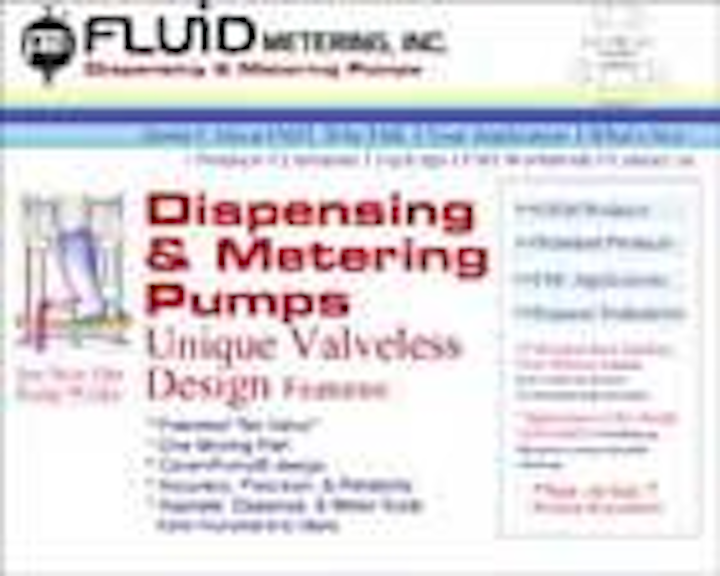 Dispensers, metering pumps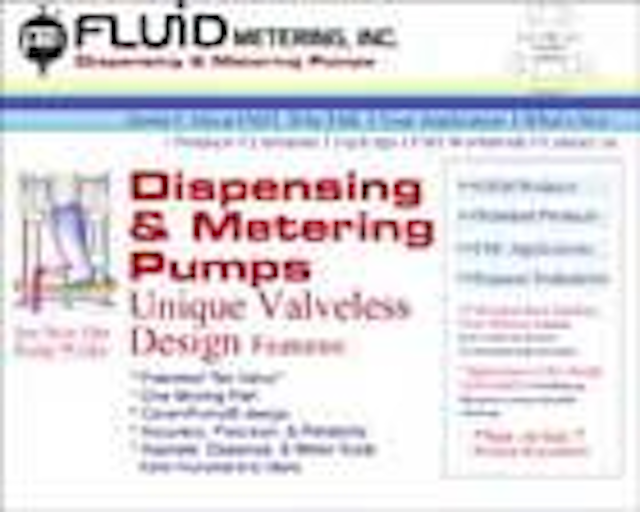 Click here to enlarge image
The new 2004 Fluid Metering Web site covers the company's line of dispensers and metering pumps for laboratory, industrial, process and OEM applications. In addition, the website provides expanded technical support including sections for technical FAQ's, sales literature & instruction manual downloads, and "Application of the Month" case histories. Featured products include the new IDS2000ARH Precision Low Volume Industrial Dispenser, STRH Stepper Motor Dispenser with micrometer volume adjustment, Q3CKC-W Isolation Gland Pump for air sensitive fluids, and QCSC-TC Stainless Steel Pump Heads with sanitary flange connections.
Fluid Metering, Inc.
Syosset, NY
Tel: 800-223-3388
Web: www.fmipump.com
Flowmeter catalog
TTI has just completed a revised Ultrasonic Flowmeters catalog, and it is available free upon request. The new 20-page catalog features detailed specifications, accessories & options, and illustrations for each product. The company's ultrasonic flowmeters measure a wide range of flows – from ultra-pure water to sewage, pulp, plastics, and more. Installation and maintenance are straightforward and inexpensive, because the transducers are clamped to the outside of the pipes.
TTI Inc.
Williston, VT
Tel: 800-235-8367
Web: www.ttiglobal.com
Pump catalog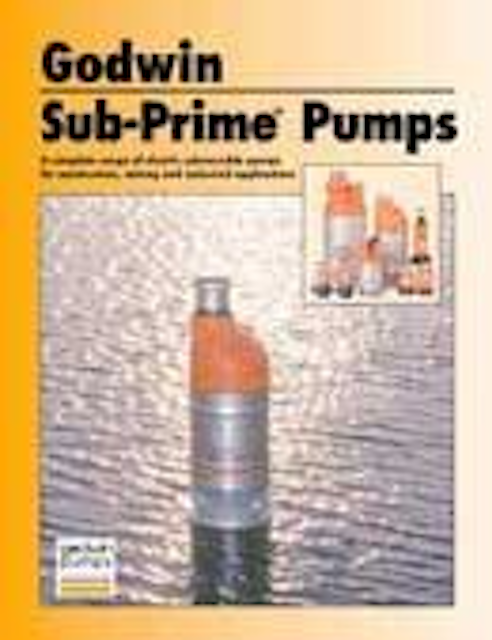 Click here to enlarge image
Godwin Pumps offers a full color catalog featuring its complete line of Sub-Prime electric submersible dewatering, trash, and sludge pumps. The catalog includes pump specifications by model, performance curves and applications photos. The pumps are available in 1/2 to 90 horsepower with flows to 5,000 gpm, heads to 375 feet and solids handling to 3.2'' in diameter.
Godwin Pumps
Bridgeport, NJ
Tel: 856-467-3636
Web:www.godwinpumps.com
Agitators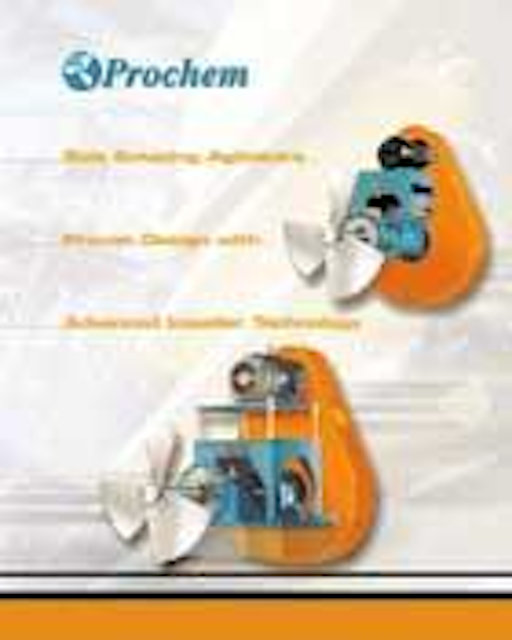 Click here to enlarge image
Chemineer is offering a new bulletin describing its line of Prochem® PB and MD side-entering agitators, along with its VM top-entering models. The four-page, full-color bulletin includes photographs and detailed information on product design, features, benefits and performance. Prochem PB and MD agitators are side-entry units featuring the new Maxflo® WSE hydrofoil impeller for efficiency and energy conservation. The PB agitators feature a pillow block bearing design; the MD agitators incorporate a modular design which includes easily accessible shaft bearing cartridges.
Chemineer, Inc.
Dayton, OH
Tel: 937-454-3200
Web: www.chemineer.com
Cleaning, safety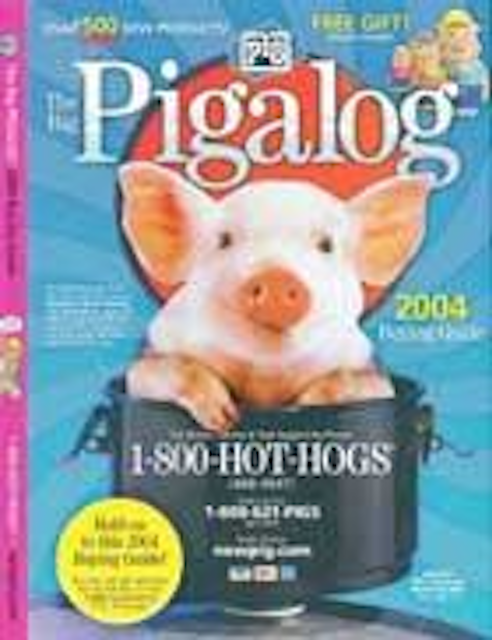 Click here to enlarge image
New Pig features more than 500 new products in its 2004 Pigalog® Catalog buying guide. The 400-page, full-color catalog offers more than 4,500 products for cleaning, spill containment and safety. Among the many new products featured are the portable "stow and go" vehicle spill containment kit, and the Pig® Mobile Container Kit for oil spill response on land or water. In addition, the catalog includes Plant and Personal Safety sections; Selection Guides and Charts; and Tech Tips.
New Pig Corp.
Tipton, PA
Tel: 800-468-4647
Web: www.newpig.com
Corrosion control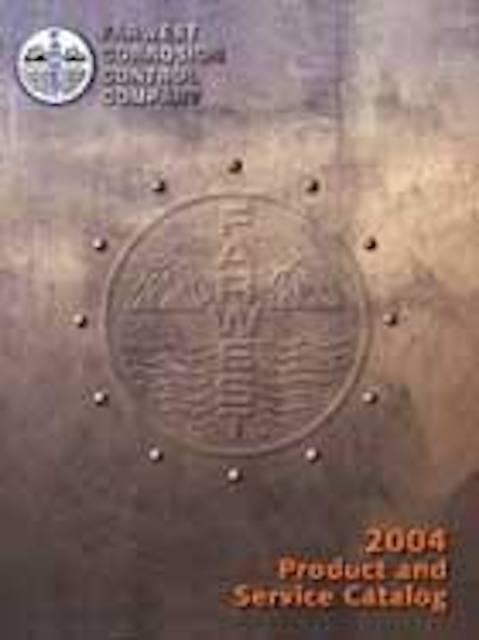 Click here to enlarge image
The new 2004 Product and Service Catalog from Farwest Corrosion Control offers an extensive line of corrosion control products and cathodic protection materials for a variety of industries. The catalog is a resource for products such as impressed current anodes, galvanic anodes, cathodic protection backfills, power supplies, grounding, cable & connections, test stations, reference electrodes, instruments & test equipment and much more.
Farwest Corrosion Control Co.
Gardena, CA
Tel: 888-532-7937
Web:www.farwestcorrosion.com
Aluminum fittings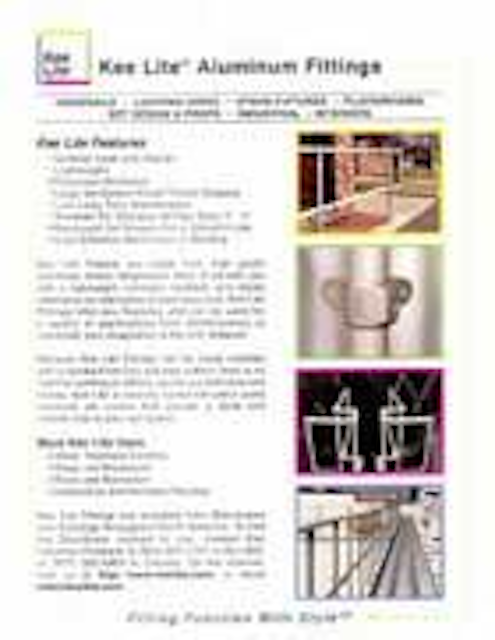 Click here to enlarge image
Kee Industrial Product has published a new eight-page catalog describing its line of Kee Lite® aluminum fittings for railings and other tubular pipe structures. The new catalog includes four new swivel socket and member fittings, one new Size 9 (for 2'' dia. Standard pipe) heavy-duty rectangular flange, and one new Size 6 (for 1'' dia. Standard pipe) combination socket tee and crossover fittings. Four other fittings in Size 9 and 12 other fittings in Size 6 have been added to the existing line.
Kee Industrial Products Inc.
Buffalo, NY
Tel: 800-851-5181
Web: www.keelite.com
Hydrologic data analysis
The U.S. Geological Survey has released new software for hydrologic data analysis. This new software library was designed to enable USGS scientists and others to conduct a wide range of statistical and graphical analyses of hydrologic data. The library is designed for use with the proprietary statistical package S-PLUS for Windows. The USGS library may be downloaded at no charge from the USGS web site at
http://water.usgs.gov/software/ library.html.
U.S. Geological Survey
Temperature measurement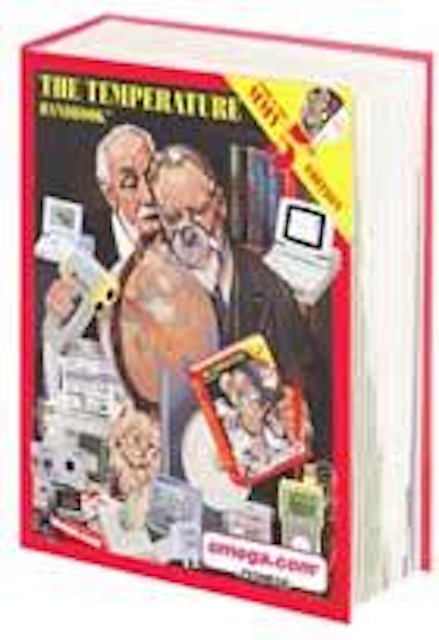 Click here to enlarge image
Omega has released Volume MMV™ Temperature Handbook 5th Edition. It offers detailed information and specifications on over 40,000 products for process measurement and control featured on over 1,800 pages. The New 5th Edition contains the latest technology and new products in temperature measurement and control including thermocouples, RTD's, thermistors, new infrared products, embedded Internet controllers, paperless recorders, test equipment, calibration services, handheld instruments, new connector designs, thermocouple wire, data acquisition, humidity, transmitters, panel meters and displays and technical books and articles.
Omega Engineering, Inc.
Stamford, CT
Tel: 203-359-1660
Web: www.omega.com
Communication systems
Click here to enlarge image
RACO has released a white paper offering information that aids in selecting a communication platform for remote monitoring applications. The paper discusses the advantages and disadvantages of three specific platforms: landline, cellular wireless, and control channel cellular. To ensure that the appropriate platform is chosen, and to help plant managers and engineers make important decisions regarding communication infrastructure, a clearly defined set of business objectives, application requirements and communication delivery criteria must be established and carefully evaluated.
RACO Manufacturing and Engineering Co.
Emeryville, CA
Tel: 800-722-6999
Web: www.racoman.com
Mag-drive pumps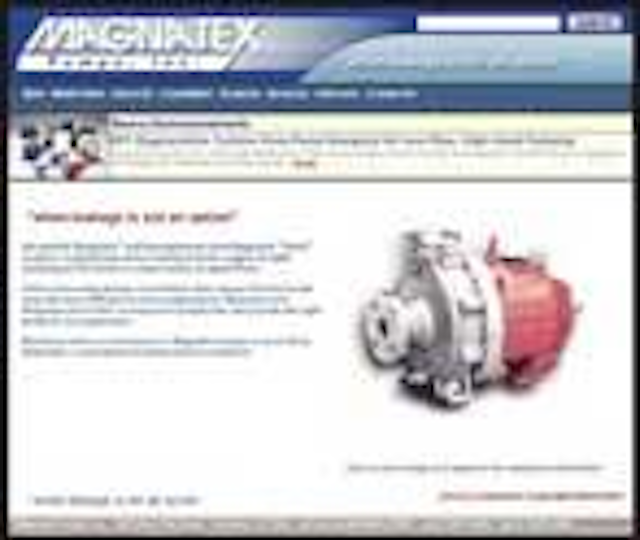 Click here to enlarge image
Magnatex® Pumps has launched a new interactive website that features its line of Magnatex® and Texel® sealless, mag-drive pumps. The new site offers a comprehensive overview of both metallic and fluoropolymer-lined, sealless pumps, including product features and benefits, animated internal fluid flow paths, full-color cutaway product views, technical and maintenance information, performance curves and e-mail contact access.
Magnatex® Pumps, Inc.
Houston, TX
Tel: 713-972-8666
Web: www.magnatexpumps.com
Odor control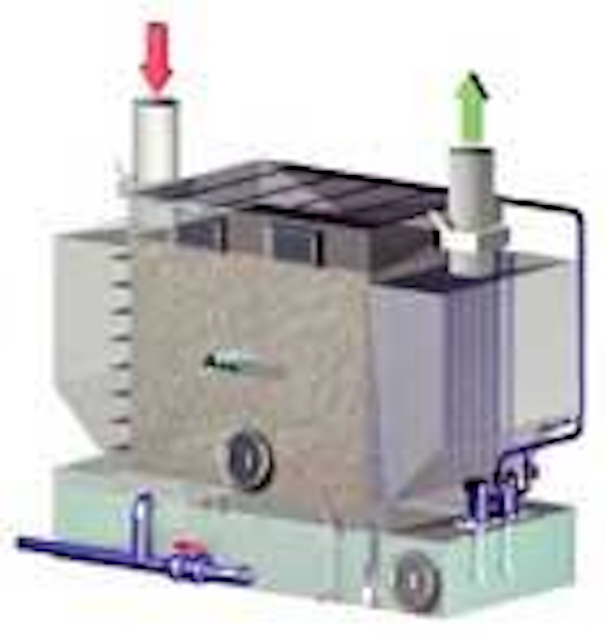 Click here to enlarge image
The Duall AroBIOS™ Bioscrubber System, a biological air pollution control technology, is the subject of a new 4-page, full color brochure. The systems remove odors and gaseous contaminants such as ammonia, hydrogen sulfide, and other reduced sulfur compounds without the use of chemicals or incineration methods. They have a low profile design and use a non-degradeable AroPAC™ biomedia. They are factory pre-assembled with mixed flow exhausters and produce environmentally safe by-products.
Duall Division
Owosso, MI
Tel: 989-725-8184
Web: www.dualldiv.com