PRODUCTS & SERVICES Water Sampling & Monitoring
Universal Flow Monitors' new CalPoint™ – a vortex shedding flowmeter and temperature transmitter for monitoring both flow and temperature in water treatment ...
Sep 1st, 2004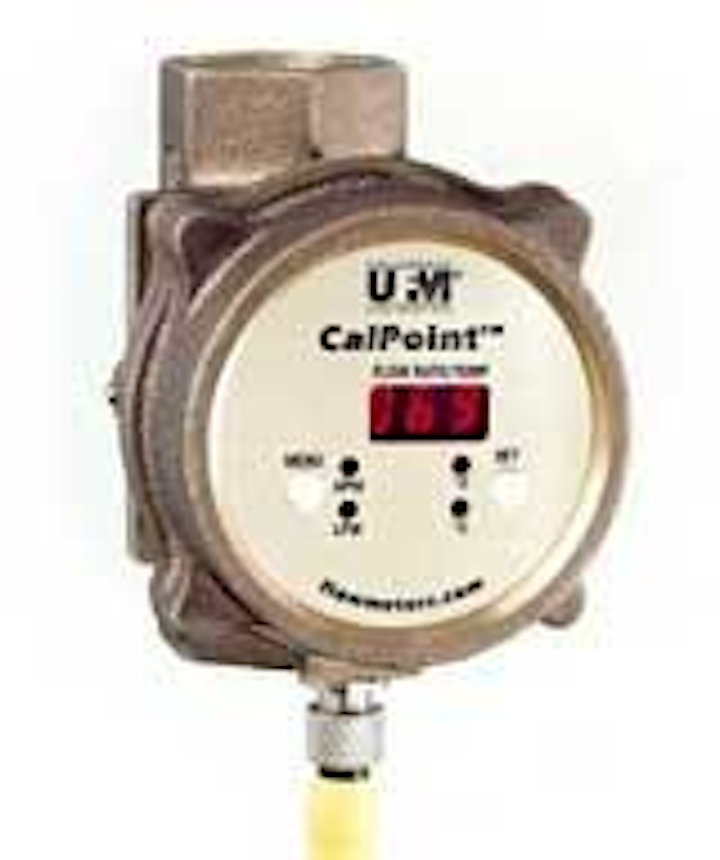 Flowmeter/temp transmitter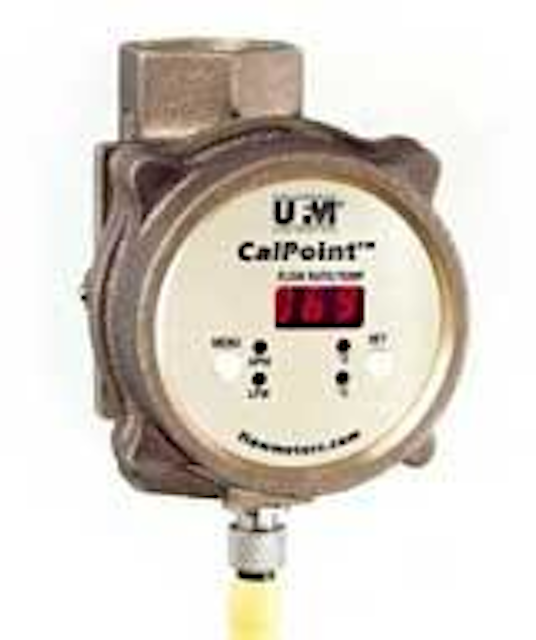 Click here to enlarge image
Universal Flow Monitors' new CalPoint™ – a vortex shedding flowmeter and temperature transmitter for monitoring both flow and temperature in water treatment – efficiently measures flow rate and temperature in dilution water and similar water treatment applications. Repeatability is ±1 percent of actual flow and ±0.25 percent of actual temperature. This high repeatability results in consistent flows and temperature transmissions that help provide process control.
Universal Flow Monitors Inc.
Hazel Park, MI
Tel: 248-542-9635
Web: www.flowmeters.com.
Panel meter indicators
Click here to enlarge image
Love Controls introduces its new compact panel meter indicator series, LCI132. The 3-1/2 digital panel meter indicators, housed in a compact 1/32 DIN package, feature full-size panel meter performance in an ultra-compact package. Designed for flexibility, it can be easily programmed to the scale you need. Other features standard include: high accuracy and IP65 (NEMA 4X) front panel.
Love Controls/Div. of Dwyer Instruments Inc.
Michigan City, IN
Tel: 219-879-8868
Web: www.love-controls.com
pH/ORP digital controller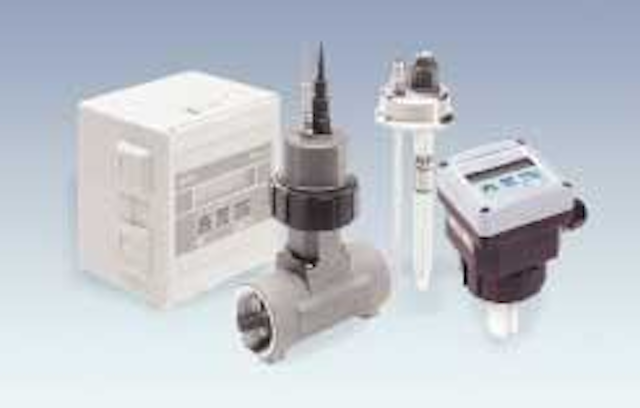 Click here to enlarge image
Analytical Measurements offers a full line of pH and ORP (Redox) instrumentation as well as replacement probes/sensors. This new Digital Indicating Controller can be configured to monitor and control either pH or ORP. Standard features include a large digital display readable from over 50' as well as a two-point controller.
Analytical Measurements
Hillside, NJ
Tel: 800-635-5580
Web: www.analyticalinstruments.com
Microbial assessment kits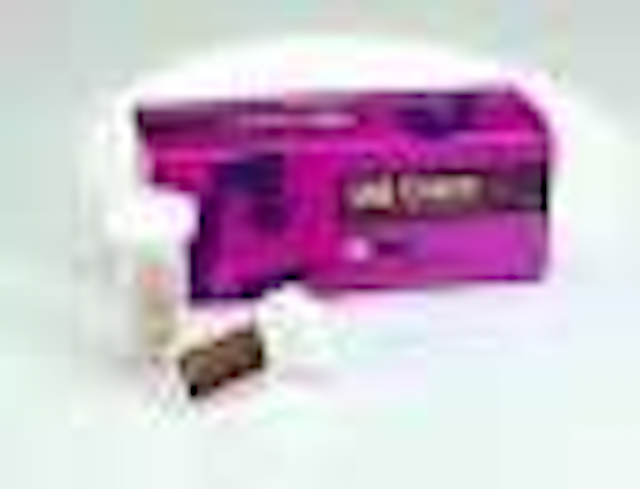 Click here to enlarge image
Sani-Check BF from BioSan is designed to monitor for microbial contamination. The kits are complete, ready to use and no special equipment or training is necessary. Microbial contamination in aqueous industrial environments can be responsible for failures in productivity resulting in economic loss.
BioSan Laboratories Inc.
Warren, MI
Tel: 800-253-6800
Web: www.biosan.com
Monitoring water safety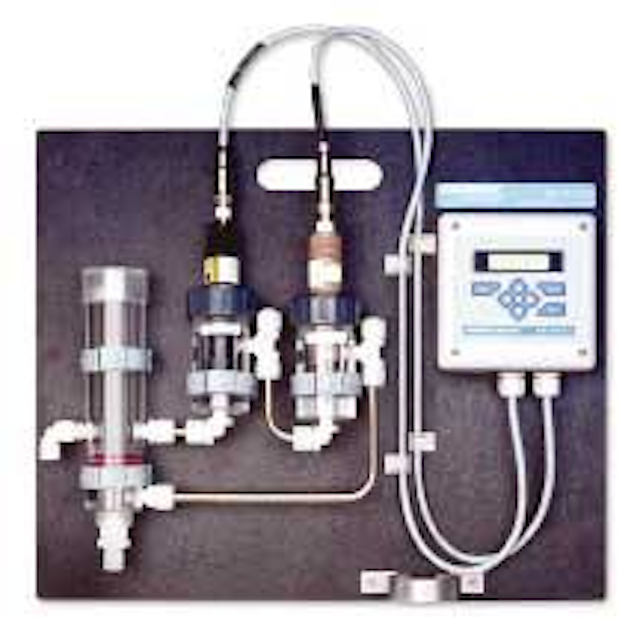 Click here to enlarge image
Emerson Process Management introduces the Rosemount Analytical Water Quality Monitoring Solution, a multiparameter system for measuring pH, ORP, conductivity, dissolved oxygen, chlorine (free, monochloramine, or total), ozone, temperature, turbidity, and particle index – all in one simple-to-use, plug-and-plumb package. Designed to withstand rigors of a real-world water distribution environment, single-point units are also available for applications where just one parameter needs to be measured or monitored.
Emerson Process Mgmt.
Irvine, CA
Tel: 800-854-8257
Web: www.emersonprocess.com/raihome/
NIST-traceable data loggers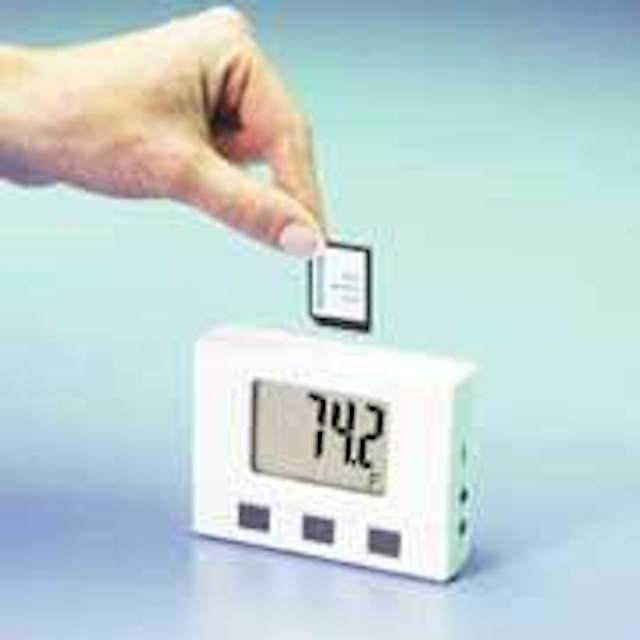 Click here to enlarge image
Dickson's low cost Midsize Display Temperature and Temperature/ Humidity Data Loggers (SM300/ TM320/ TM325) now feature ±0.8°F temperature accuracy, making them its highest accuracy loggers with a display. Also featured: High/Low alarm; Min/Max jumbo display; super high-speed USB 2.0 connectivity; one-step data transfer with removable SD Flash memory cards; one second sample rate; and data storage of 32,000 sample points.
Dickson Company
Addison, IL
Tel: 800-323-2448
Web: www.dicksonweb.com
Custom water test kits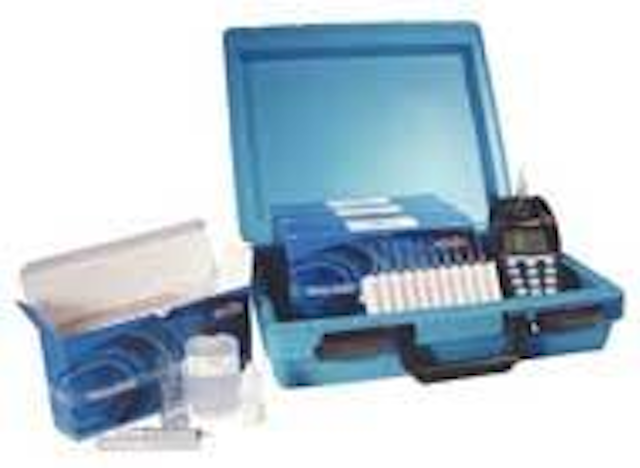 Click here to enlarge image
Now you can custom build your own lab or field water quality testing system using the new CHEMetrics V-2000 Multi-Analyte Photometer and a choice of over 40 analytes. Lightweight and portable, it's pre-programmed to read test results from patented, self-filling reagent ampoules. Data storage and download capabilities make this photometer, and the company's wide range of testing analytes perfect for field or lab.
CHEMetrics Inc.
Calverton, VA
Tel: 800-356-3072,
Web: www.chemetrics.com
PID pH controller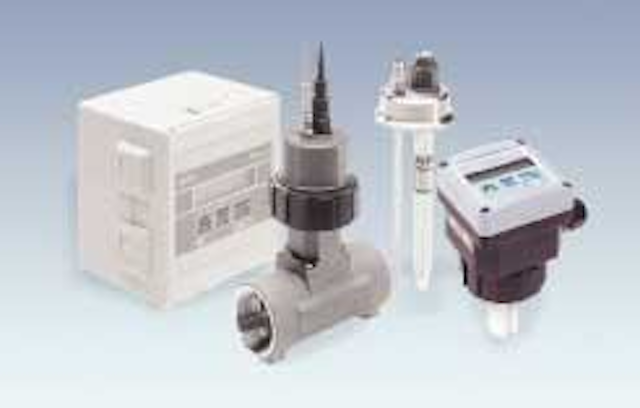 Click here to enlarge image
Burkert's Digital PID pH-Controller Type 8205 features: a 0-14 pH measurement range and ± 0.2% accuracy in 1/2" to 4" lines, plus tank mount applications; a 4-20mA output signal of actual pH value; choice of relay, transistor or triac pulse outputs for base and acid injection; a separate dedicated alarm output relay for use as interlock function preventing out-of-spec discharge or as a low/high pH alarm. Offering on/off and continuous process control, it combines a flat glass sensor and PID-controller/display within a single, splash-proof, plastic NEMA 4 enclosure.
Burkert Contromatic Inc.
Irvine, CA
Tel: 949-223-3100
Web: www.burkert-usa.com
High velocity flow switch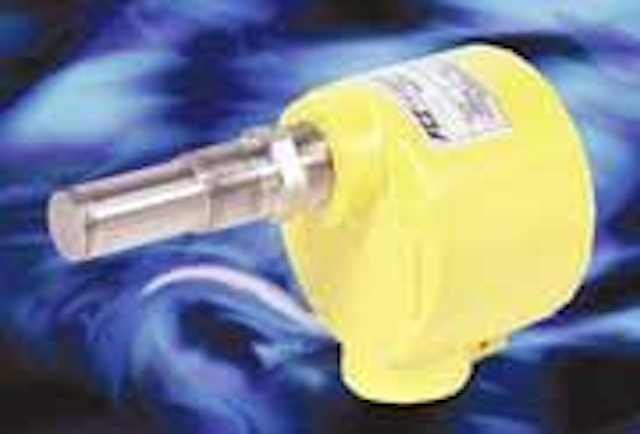 Click here to enlarge image
Process engineers looking for a rugged flow switch with a wide flow range, accuracy and fast response time will find the NuTec™ FS2000H Flow Switch introduced by FCI sets a new industry benchmark for performance and economy in demanding applications. Highly dependable, this unit provides precise, rapid control in liquids, slurries, gases and air.
Fluid Components Inc.
San Marcos, CA
Tel: 800-863-8703
Web: www.fluidcomponents.com
Gas detection system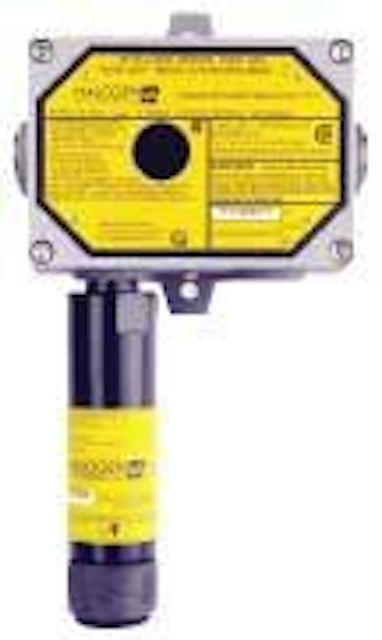 Click here to enlarge image
The Jupiter gas detection system (Model HVS4000) is the newest product from Halogen Valve Systems. The HVS4000 monitors and reports a variety of information about hazardous and toxic gases to a SCADA system or other electronic monitoring equipment. Features include indication of sensor life, 250VAC - 8 amp settable relays, three-digit visual display, dual redundant MODBUS communications and 4-20mA proportional gas level output.
Halogen Valve Sys. Inc.
Irvine, CA
Tel: 877-476-4222
Web: www.halogenvalve.com
AMR transmitter
New from Hunt Technologies is the TS1 FOCUS Endpoint, an automatic meter reading (AMR) transmitter that integrates seamlessly into the Landis+Gyr solid-state Focus™ meter. The result of a joint product development project with Landis+Gyr Inc., this unit monitors power consumption using the energy pulse signal from the meter, then transmits usage and demand data to the utility or plant operator.
Hunt Technologies Inc.
Pequot Lakes, MN
Tel: 218-562-5525
Web: www.turtletech.com
Optical turbidity measurement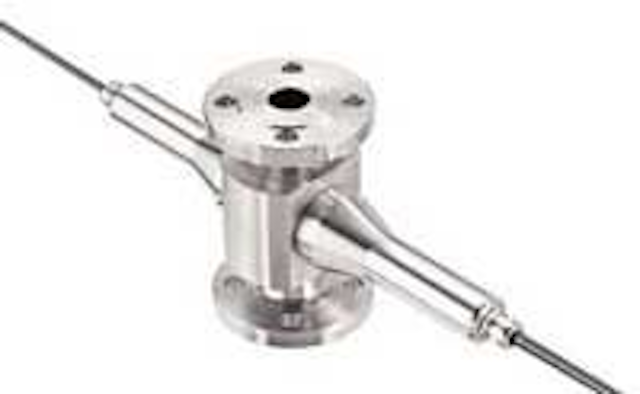 Click here to enlarge image
Mettler-Toledo Ingold's new forward and side scatter turbidity system for the measurement of turbidity in process liquids cover extremely low concentrations of turbidity. The addition of this product completes the Ingold turbidity product line with all measurement ranges covered. The optical system, with Trb 8300 F/S transmitter and InPro8400 and InPro8500 sensor series, is designed for demanding applications in the chemical process, beverage and biopharmaceutical industries.
Mettler-Toledo Ingold
Bedford, MA
Tel: 781-301-8808
Web: www.mt.com
DPD free-chlorine test strip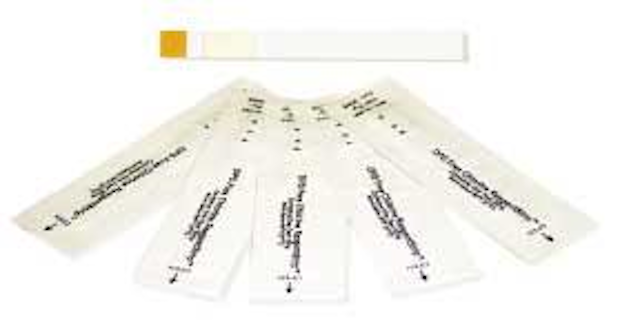 Click here to enlarge image
Industrial Test Systems' latest breakthrough is its DPD-1 ReagentStrip for Free Chlorine, which offers users a new, more convenient, delivery system for DPD. With the system there are no more tablets to crush, powders to spill, glass ampoules to break, or dispensers that release irritating dust. All required reagents are precisely measured and impregnated on a test strip pad. Simply dip the strip into a 10ml water sample for 20 seconds with back and forth motion, remove, discard the strip, and immediately read in your chlorine meter. Compatible with a wide range of existing meters from manufacturers such as Hach, LaMotte, Orion, WTW, and others.
Industrial Test Systems Inc.
Rock Hill, SC
Tel: 800-861-9712, ext. 207
Web: www.sensafe.com
Portable VOC detection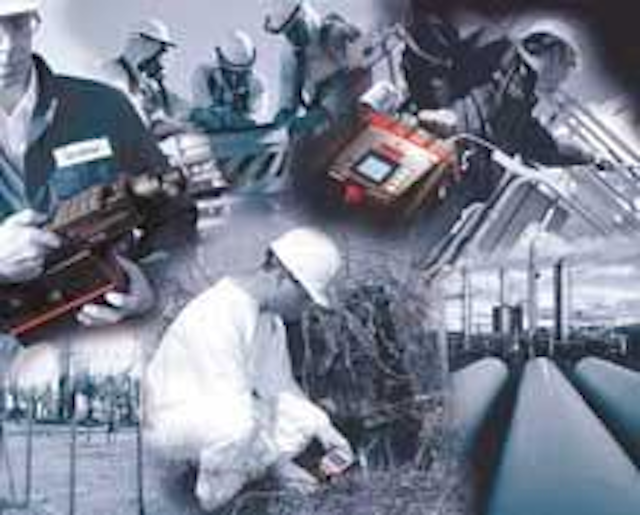 Click here to enlarge image
With a full line of hand-held and portable VOC detection devices, Photovac Inc. instruments include the 2020PRO™ Photoionization Monitor, MicroFID™ Flame Ionization Monitor, PetroPRO™ and Voyager™ Portable Gas Chromatographs. The 2020PRO, with PID technology, is a portable, ergonomically designed instrument for onsite, rapid VOC detection in air, water and soil.
Photovac Inc.
Waltham, MA
Tel: 781-290-0777
Web: www.photovac.com/pr
Portable gas monitor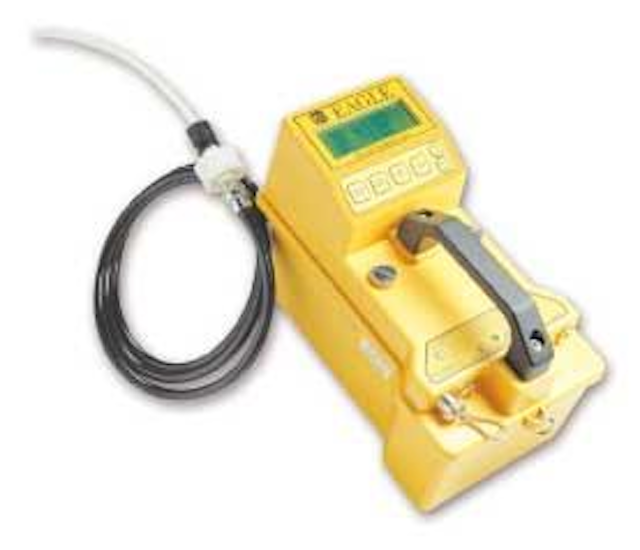 Click here to enlarge image
With over 250 versions available, the Eagle from RKI Instruments is one of the most versatile, portable gas monitors on the market. Features include simultaneous readout of up to six combinations of gases, including the widest range of detectable super toxic gases such as PH3, Cl2, NH3, HCl, HF, O3, etc. Standard features include ppm and LEL hydrocarbon detection, autocalibration, an industrial strength internal sampling pump with a 125' range and automatic low flow pump shut off, 30 hours of continuous operation on alkaline batteries, and methane elimination switch for environmental applications.
RKI Instruments Inc.
Hayward, CA
Tel: 800-754-5165
Web: www.rkiinstruments.com
Differential pressure gauge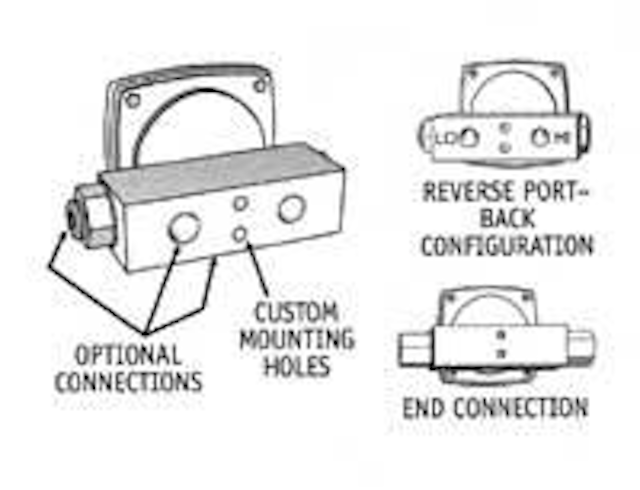 Click here to enlarge image
The new model 120 Series "Filter Minder" piston-type differential gauge from Mid-West Instrument is specially designed for seawater applications. For protection, the 120 gauge materials include aluminum bronze or monel. Differential pressure is sensed by movement of a floating piston magnet against a calibrated spring. The gauge pointer, outside the pressure housing, follows movement of the piston magnet to indicate differential pressure.
Mid-West Instr.
Sterling Heights, MI
Tel: 586-254-6500
Web: www.midwestinstrument.com
Wireless industrial connectivity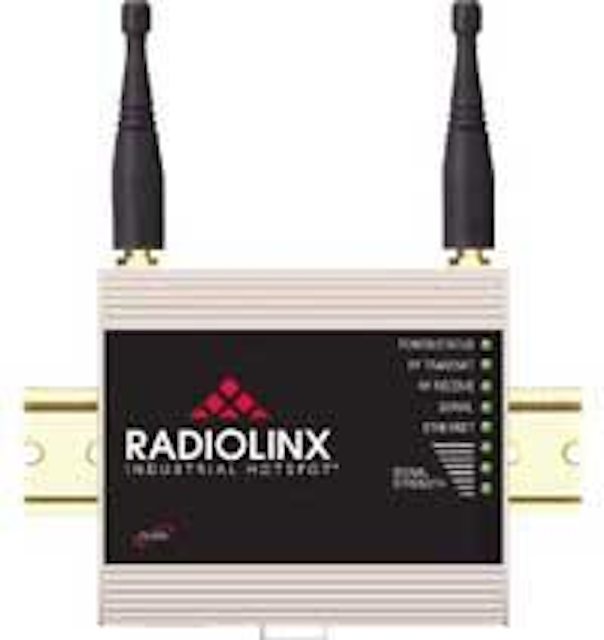 Click here to enlarge image
Get real-time, remote wireless connectivity with RadioLinx Frequency Hopping Ethernet and serial options, and with the ultra-fast RadioLinx Industrial Hotspot™; all with ProSoft Technology's complete communications expertise, support and accessories. The RadioLinx line now includes four 2.4 GHz wireless solutions: 1) RLX-FHE – Simultaneous support of all Ethernet 802.3 compliant protocols including: TCP/IP, Ethernet/IP, and Modbus TCP/IP; 2) RLX-FHES – Connect serial and Ethernet devices to one RadioLinx network, encapsulate common serial protocols in TCP/IP Ethernet packets, and convert Modbus RTU to Modbus TCP/IP for PLC-to-PLC messaging; 3) RLX-FHS – Advanced support for leading serial protocols including Modbus, DF1, DNP 3.0, and ASCII with data rates to 115 kbps full duplex; and 4) RLX-IH – Industrial grade high-speed wireless Ethernet links for fixed devices and plant-wide connectivity for mobile users/devices.
ProSoft Technology Inc.
Bakersfield, CA
Tel: 661-716-5100
Web: www.radiolinx.com
Chlorine residual monitor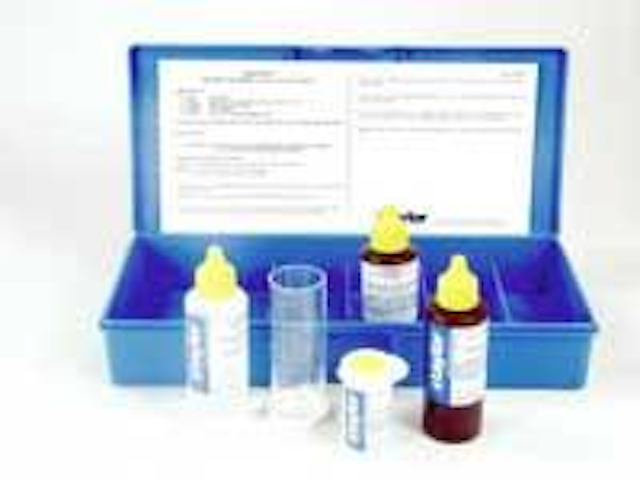 Click here to enlarge image
Taylor Technologies offers the K-1515-C for monitoring chlorine residuals in industrial water systems. Its FAS-DPD titration provides several benefits over other test methods: you can read both free and combined chlorine from 0 to 20 ppm; it provides excellent sensitivity (your choice of 0.2 or 0.5 ppm increments); an endpoint color change from vibrant pink to colorless doesn't require you to perform color matching (a plus for the 6-8% of us suffering from red-green colorblindness); it can determine a low concentration of combined chlorine even in the presence of a high concentration of total chlorine.
Taylor Technologies Inc.
Sparks, MD
Tel: 800-837-8548
Web: www.taylortechnologies.com
Conductivity electrodes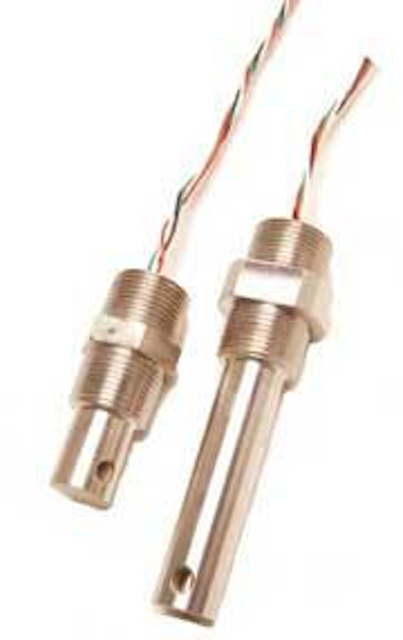 Click here to enlarge image
Sensorex is now offering a line of stainless steel conductivity sensors ideally suited for boiler blowdown and other high temperature conductivity applications. Two models with 3/4'' threaded bodies provide the user a choice of insertion depths for in-line mounting. Model CS675HTTC has 1'' insertion depth suited for mounting the sensor in a 3/4 tee. Model CS676HTTC offers 3'' insertion depth and is suited for mounting the sensor in a 1'' steel cross. All models can also be supplied with optional automatic temperature compensation (ATC).
Sensorex Corp.
Garden Grove, CA
Tel: 714-895-4344
Web: www.sensorex.com
Pneumatic actuator accessories
Click here to enlarge image
The latest accessories from Ultraflo provide additional automation to its full line of pneumatic actuators. New or updated accessories include 4- and 3-way solenoid valves, pneumatic positioners, electro-pneumatic positioners, valve status monitor and proximity position indicator. Especially significant, all pneumatic actuator accessories mount directly to Ultraflo pneumatic actuators and comply with NAMUR recommendations VDI/VDE 3845.
Ultraflo Corp./A Unit of Bray Int'l Inc.
St. Genevieve, MO
Tel: 800-950-1762
Web: www.ultraflovalve.com
Enhanced web controller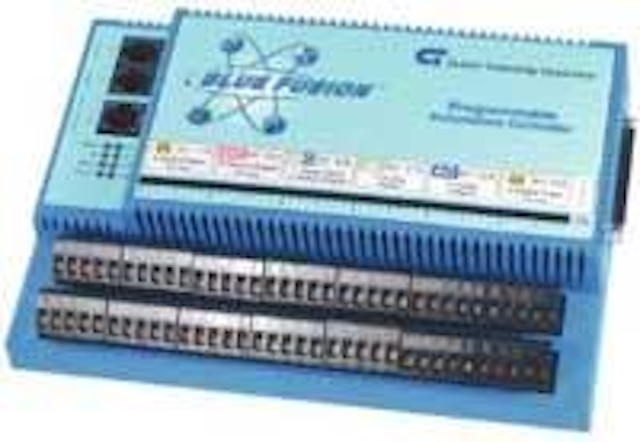 Click here to enlarge image
Control Technology, a manufacturer of automation controllers that integrate motion control, I/O, user interfaces and enterprise connectivity, has added the Model 5200 to its Blue Fusion™ line of web enabled automation controllers. This model features numerous enhancements, including: Built-in web server enables users to securely monitor, control and upgrade processes via Internet access; multi-unit expansion racks enable users to control larger applications with up to 192 I/O points and up to six axes of motion.
Control Tech. Corp.
Hopkinton, MA
Tel: 508-435-9595
Web: www.ctc-control.com
Dosing control, monitoring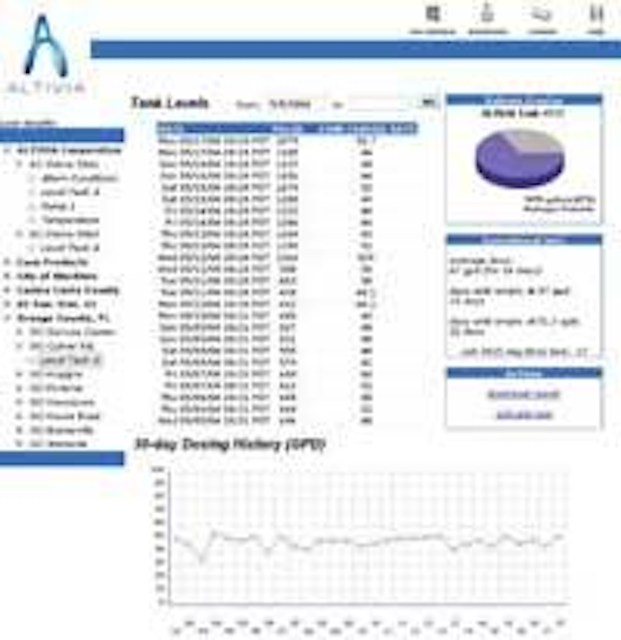 Click here to enlarge image
Altivia's A-Tracks™ Telemetry Solution is a monitoring and control system designed to remotely manage chemical dosing programs. Each remote unit allows level measurement of up to 16 tanks, provides high/low level alarms, leak detection, and is capable of controlling multiple pumps both locally and remotely for flow pacing.
Altivia Corp.
Houston, TX
Tel: 866-258-4842
Web: www.altivia.com
Ultrasonic clamp-on flowmeter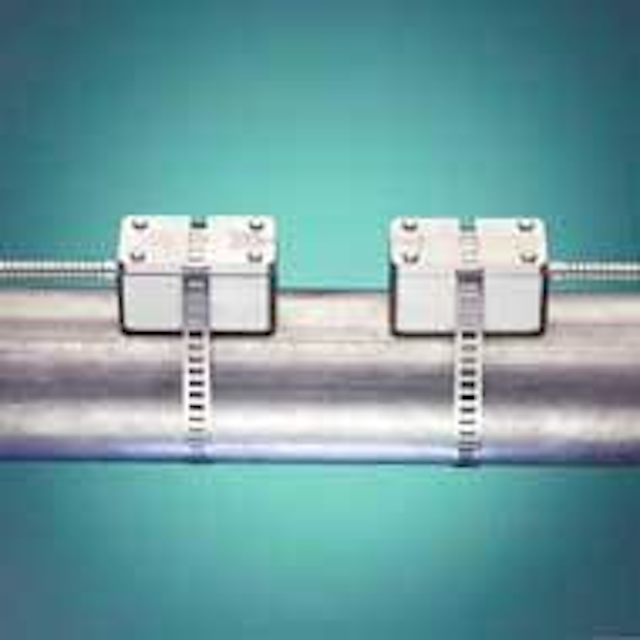 Click here to enlarge image
Flexim's Model ADM 7207 offers a re-designed 4-channel, clamp-on ultrasonic flow meter with expanded capabilities, to measure fluids with sonic waves. Unique new capabilities include: Dual microprocessor with 1K Hz signal sampling and signal processing; automatic sensor recognition; easy-to-understand interactive programming; three transducer sets cover pipe sizes ranging from 1/8" - >200"; built-in mass flow and energy flow computer; measures simultaneously up to four pipelines; measurement in almost any kind of pipe material for water & wastewater applications.
Flexim Instruments
Oakland, CA
Tel: 510-420-6995
Web: www.flexim.com
Self-healing ring module
Click here to enlarge image
The new 2C32 EOTec Dual-Channel Self-Healing Ring Module from Weed Instruments improves operation of fiber optic rings on ControlNet's redundant A and B communication channels to reduce downtime in process plants. DIN Rail-mounted on each "node" of a fiber optic ring network, the module allows fiber media redundancy by detecting and redirecting data to a secondary fiber path when a fiber break (on either channel) occurs, maintaining message integrity and timings.
Weed Instrument Company Inc.
Round Rock, TX
Tel: 512-434-2850
Web: www.weedinstrument.com
Ion analyzer system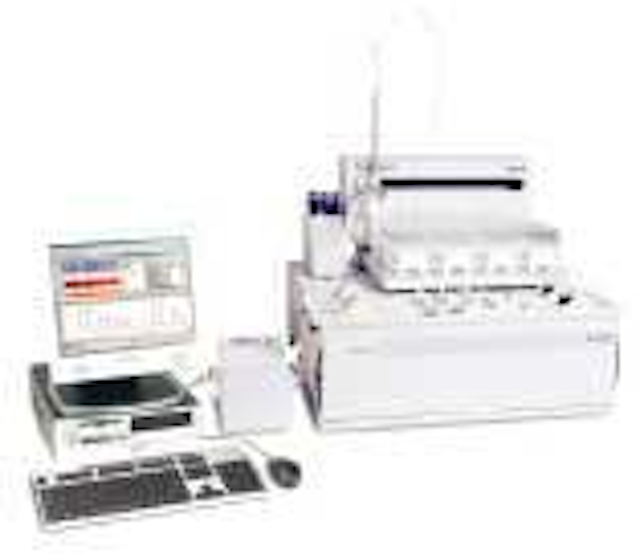 Click here to enlarge image
The QuikChem® 8500 is the latest update to Lachat's ion analyzer system. It uses flow injection analysis (FIA) and features high sample throughput coupled with simple and rapid method changeover to maximize productivity in determining ionic species in a diversity of sample matrices, from sub-ppb to percent concentrations. This product has over 400 methods for environmental, agronomic and industrial applications, including EPA approved methods.
Lachat Instruments
Loveland, CO
Tel: 800-247-7613
Web: www.lachatinstruments.com
Multifunction hybrid flowmeter
System 1010N provides accurate, non-intrusive mass and volumetric flow measurement in full pipes. Simple to install as no pipes are cut or operations interrupted, the flowmeter is field programmable for two modes of operation: Wide-Beam™ Transit-Time or Reflexor (Fast Fourier Transform Doppler) for quick adaptation to changing conditions. Transit-Time operation is the preferred mode for relatively homogeneous liquids in 1/4" - 360" pipes, with an accuracy of up to 1/2% of flow.
Controlotron Corp.
Hauppauge, NY
Tel: 800-275-8479, x235
Web: www.controlotron.com
Conductivity test kit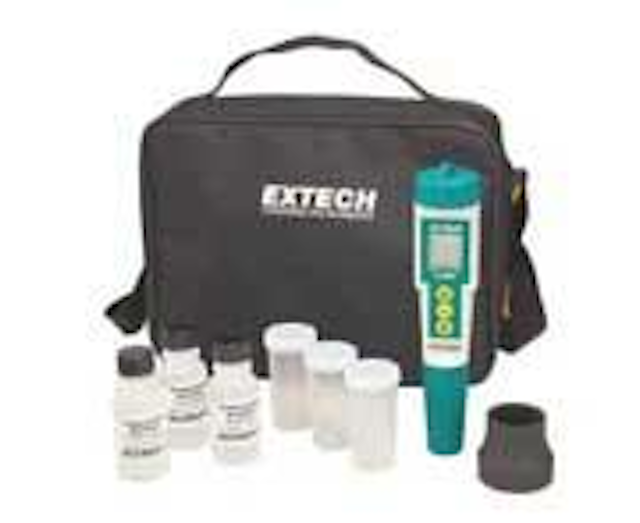 Click here to enlarge image
The new ExStik® Conductivity/ TDS/ Salinity Kit, Model EC410, provides the meter, conductivity cell and all the accessories and standards needed for measurements in any aqueous solution including tap water and wastewater. All the necessities are assembled into a convenient carrying case.
Extech Instruments
Waltham, MA
Tel: 781-890-7440
Web: www.extech.com
Portable infrared analyzer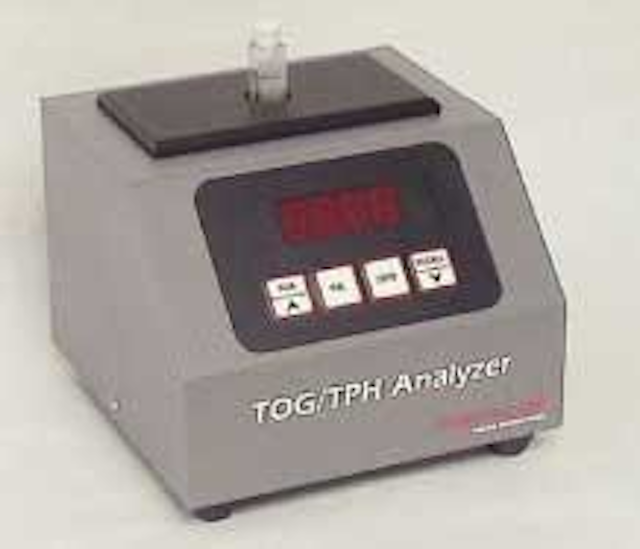 Click here to enlarge image
The InfraCal 10mm Quartz Cuvette Holder Analyzer, Model CVH – from Wilks Enterprise – was one infrared instrument used for developing a new ASTM test method recently approved for measurement of recoverable oil and grease and nonpolar material by infrared determination. The recently approved new standard test method for measuring total oil and grease (TOG) and total petroleum hydrocarbon (TPH) concentration levels in water and soil – ASTM Method D 7066 - 04 – covers use of dimmer/trimer of chlorotrifluoroethylene (S-316) as a replacement solvent for Freon for this analysis.
Wilks Enterprise Inc.
South Norwalk, CT
Tel: 203-855-9136
Web: www.wilksir.com
HMI/SCADA w/desktop software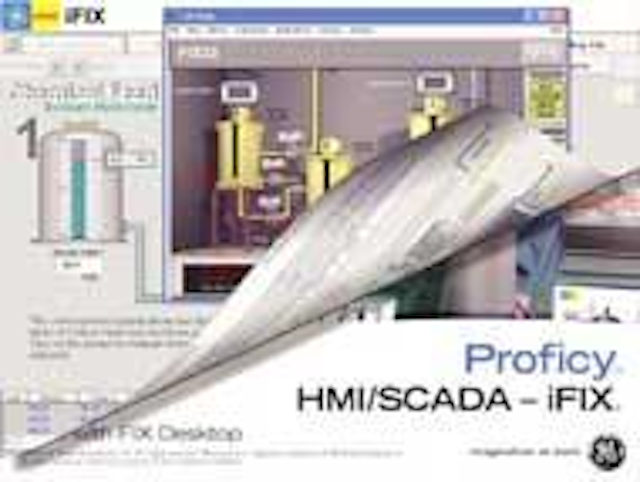 Click here to enlarge image
The new Proficy™ HMI/SCADA iFIX® with FIX® Desktop software, from GE Fanuc Automation, enables users of FIX software to take advantage of the many advanced database and connectivity features of Proficy iFIX, while continuing to view and control plant-wide processes in existing graphics environments.
GE Fanuc Automation Americas Inc./
A Unit of GE Infrastructure
Charlottesville, VA
Tel: 800-433-2682
Web: www.gefanuc.com