Chainsaw System Offers New Way to Cut Pipe
A new chainsaw-based technology for cutting utility pipe is suited for in-ground pipe repairs, valve installations and other events ...
May 1st, 2011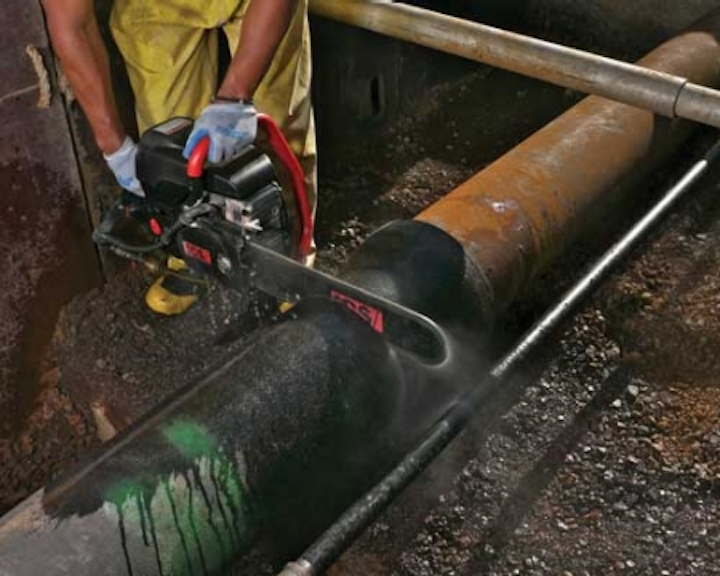 A new chainsaw-based technology for cutting utility pipe is suited for in-ground pipe repairs, valve installations and other events that require pipe to be cut. The system allows workers to cut pipe in a single pass, in a smaller trench than other cutting systems.
Available from ICS, a manufacturer of Diamond Chain Technology and concrete cutting chainsaws, PowerGrit® chain uses a proprietary diamond coating on a patent pending chain design, coupled with a durable chain platform designed specifically for pipe cutting applications.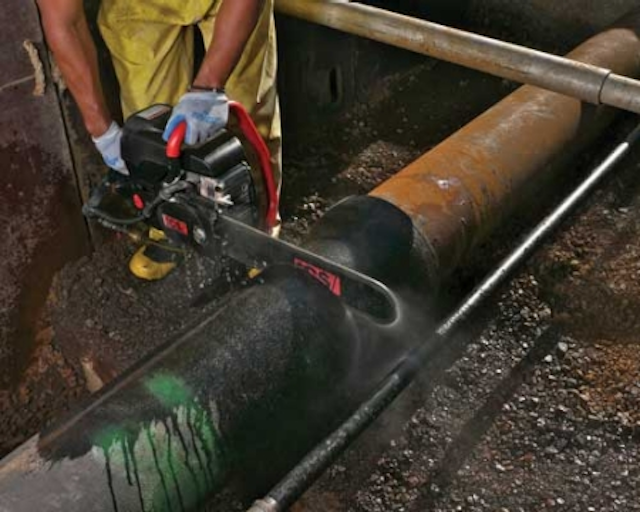 The diamond coated PowerGrit® chain can be used on either hydraulic or gasoline powered saws.
The chainsaw platform allows the ability to cut pipe from a single side, standing above the pipe. This reduces the overall need for excavation. Further, this ability allows pipe to be cut in tighter spaces, or when placed next to another utility, such as gas lines, telecom lines or some other impediment.
The PowerGrit chain can be used on a properly equipped gas-powered saw or hydraulic-powered saw, depending on the desires of the municipality or contractor. ICS offers the 695F4/PG gas-powered model which is powered by a 94 cc, 2-cycle, 6.4 hp engine designed to run in a wet-cutting environment. The saw is available with a 16" chain option. The hydraulic model, 880F4/PG, is available with either an 8 gpm or 12 gpm hydraulic motor and offers chain lengths of 15", 20", and 25".
The hydraulic saws can be operated by portable power packs, also available from ICS, or can be tied into an existing hydraulic system such as a backhoe or utility truck as long as the system is providing the necessary hydraulic flow and pressure. Hydraulic power offers the added benefits of no exhaust fumes in the ditch and the ability to completely submerge the saw if necessary with no loss of cutting performance.
Speed of cut is approximately 3-5 minutes per cut on 10" diameter ductile iron pipe. The chain will cut most types of pipe, including ductile iron, cast iron, PVC, HDPE, Insituform lining and concrete pipe. Chain life varies greatly depending on the operator and pipe material, but the manufacturer states the chain will last between 20 and 30 cuts in 10" ductile iron pipe. The number of cuts that can be made with a single chain increases in softer materials such as PVC and HDPE.
Both the hydraulic and gasoline saws are powerful enough to allow the operator to perform the cut in a full pipe (even under pressure) without any loss of speed, such as is often experienced with circular blades due to drag from the water in the pipe. Further, the beltless, chain-based system completely avoids any issues with belt slippage.
The system is cooled and lubricated with water that is forced through laminated channels in the guide bar, keeping the bar and chain cool, as well as flushing particulates out of the chain and cooling and lubricating the bearings in the nose sprocket. Proper water supply lengthens chain and bar life. When a standard water supply is not available, a small (15-25 gallon) plastic water tank with 12v pump is an ideal solution to provide clean, portable water to the saw.
Either chainsaw system can also be used with the ICS concrete cutting chain, allowing the municipality or contractor to get additional uses out of the saw. The concrete cutting chain is suited for small openings, pipe taps, curb cuts and other applications requiring deep cuts in concrete, stone and masonry.
For more information on PowerGrit and ICS, visit www.powergrit.com.IWW
More Industrial WaterWorld Articles
Past IWW Issues