A Beverage for All Occasions
Reject recovery RO technology from Siemens Water Technologies selected to reduce water usage at large New England beverage bottler
Oct 1st, 2009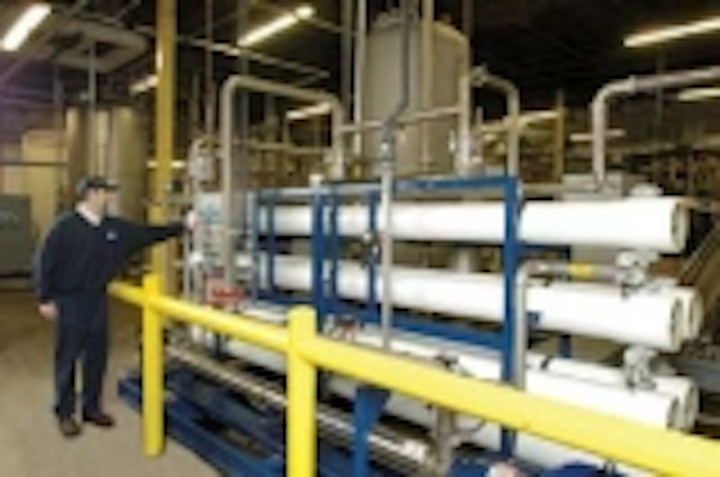 • Reject recovery RO technology from Siemens Water Technologies selected to reduce water usage at large New England beverage bottler
by Trude Witham
When CPF Inc./Northeast Hot Fill Co-op Inc., of Ayer, MA, wanted to minimize its water and sewage costs while producing purified bottled water, it chose a system with reject recovery reverse osmosis (RO) technology. The company had been using two independent single-pass RO treatment trains, which fed a product water storage tank. Each RO system operated at 75% recovery, and the remaining 25% was sent to drain. With reject recovery, the plant water system now operates at a recovery rate of over 90%.
The plant produces Aquafina bottled water and about 80 different flavors of soft drinks, including Pepsi, Diet Pepsi, Mountain Dew, Sierra Mist, Mug Root Beer, Tropicana Twister, Schweppes ginger ale, Dr. Pepper and Lipton iced teas. Operating around the clock, the plant employs 150 people. One of the largest U.S. bottlers, it churned out 26 million cases of finished beverage in 2006 – eight million of which were the Aquafina brand.
To meet water quality specifications, Northeast Hot Fill installed two single-pass RO systems, followed by continuous electrodeionization (CEDI). For more efficiency, it added a reject recovery RO system to treat reject water from the primary RO. Product water from the recovery RO is producing water quality better than city water. This recovered water is then sent to the plant's lime coagulation treatment system, and eventually used as ingredient water for carbonated soft drinks.
The reject recovery RO system is fed with 23 m³/hr of water from the storage tank, which has reject water from the primary RO. A UV sterilization loop ensures a low microbial count in the tank. Antiscalant is added upstream to prevent membrane scaling. The RO product water (14 m³/hr) is chlorinated and sent to the lime coagulation unit, while the RO reject water (9.1 m³/hr) is sent to drain.
According to plant quality control manager James Carhart, they're able to use the recycled reject in carbonated beverage production since the water quality is better than product water from traditional lime coagulation treatment methods.
---
About the Author: Trude Witham is a senior technical writer with Siemens Water Technologies, which is based in Warrendale, PA. Contact: foodandbeverage.water@siemens.com or www.water.siemens.com
More Industrial WaterWorld Issue Articles