Products & Services: Sludge Handling & Processing
Collection of sludge handling & processing related products and services.
Oct 1st, 2016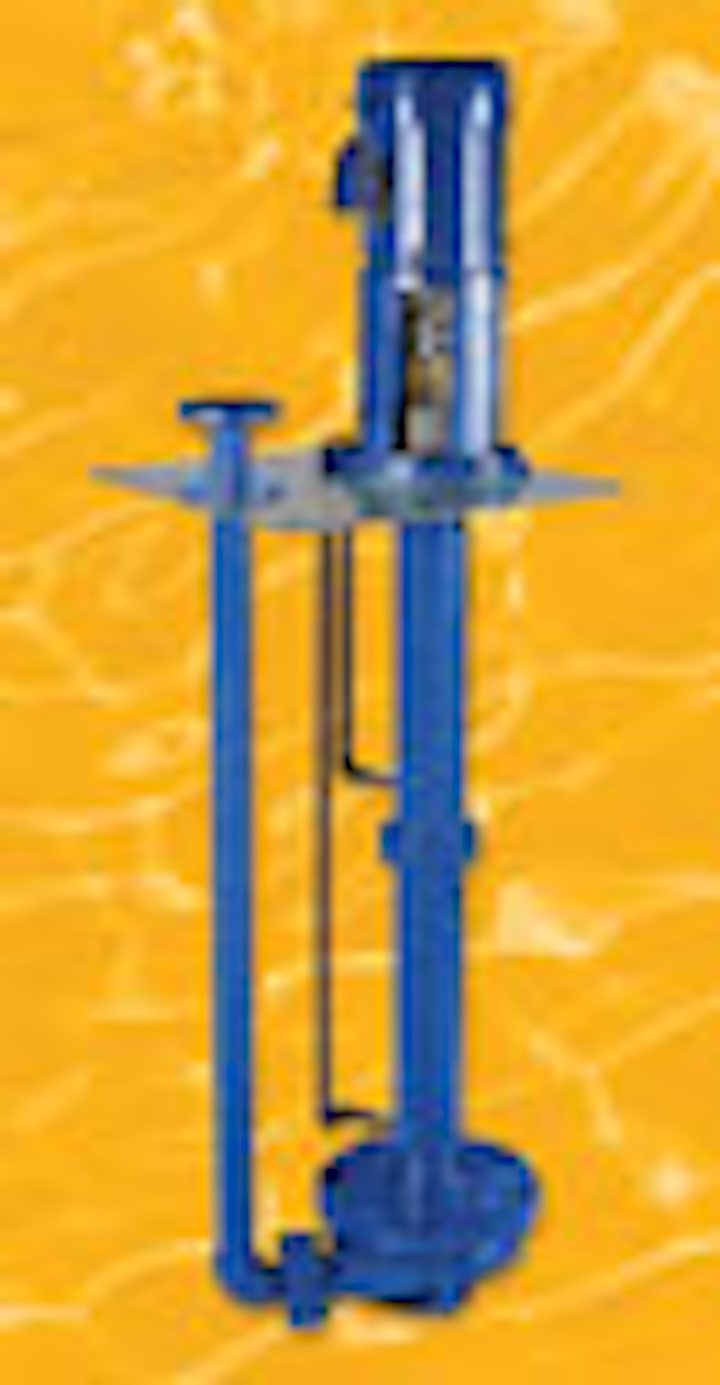 Unrestricted flow

Vertiflo Pump Company's Series 900 Industrial Vertical Immersion Vortex Sump Pump features a vortex design, which provides an unrestricted flow since the impeller is not normally in contact with the solids being pumped. Applications include chemical slurries, fragile food processing solids, paper and pulpy solids, petroleum and oils, and textiles. Solids handling up to 4" diameter spheres. Designed for long life in severe services with heads to 170 feet, temperatures to 350°F, and pit depths up to 26 feet deep with flows to 1,600 GPM. Construction options include cast iron, 316 stainless steel fitted, all 316 stainless steel, Alloy 20 and CD4MC.
Vertiflo Pump Company
Threaded isolation ring
The Type 82 threaded isolation ring is equipped with 1/2 to 2 NPT threaded pipe connections. It is designed for smaller piping applications too narrow to accommodate an internal isolation ring. Also referred to as a "barrel seal," this economical flow-through design eliminates traps where clogs can form, thereby reducing the need for frequent maintenance. A smooth, flexible wall expands under pressure to displace isolated fill fluid into the measurement device. A choice of internal elastomer materials, fill fluids and housing materials (including 316 stainless steel) ensure compatibility with a wide range of process media and environmental conditions.
Ashcroft
Portable dewatering and sludge pumps
Allegro Industries offers four models of dewatering and sludge pumps. The pumps offer continuous operation at low water levels and extended dry runs without overheating the motor. The DC Submersible Dewatering Pump is a totally enclosed, submersible dewatering unit. Watertight o-ring seals keep the pump's internal parts completely dry and deliver up to 43 gpm for rapid dewatering and instant prime. It can operate on any 12-volt truck or automobile battery, and the low 30 amp draw allows for an hour of operation without starting the engine.
Allegro Industries
Submersible dewatering pump
Xylem's 25-kilowatt (30-horsepower) Flygt 2190 mid-sized submersible dewatering pump is built to handle tough, abrasives-laden liquids. The pump is available with two impeller options: the signature "Dura-Spin" safeguards against wear by sweeping abrasive particles away from the impeller neck while the semi-open impeller increases uptime by preventing fibrous solids from obstructing the pump. The pump's conical trim sleeve restores clearances to near-original condition, boosting pump performance, while robust cable entry ensures safe, continuous operation.
Xylem
Plunger pump
Cat Pumps' model 67102 is the latest addition to its family of high-pressure plunger pumps. With a performance rating of 100 gpm/378 lpm at 1,000 psi/69 bar, the 67102 is designed for high-flow applications. The 67102 features an alternate rating of 80 gpm/302 lpm at 1,200 psi/83 bar. Features include: cast duplex (SCS11) inlet and discharge manifolds for high corrosion resistance; V-Packings and low pressure seals completely lubricated and cooled to increase service life; oversized crankshaft bearings with greater loading capacity for long bearing life; and low unswept volume to maximize volumetric efficiency, reducing energy costs and providing consistent flow.
Cat Pumps
Fused cast basalt linings
ABRESIST® fused cast basalt linings are a mineral-based, wear-resistant material that protects material handling and processing components conveying abrasive materials. ABRESIST abrasion-resistant linings and tiles are produced by melting volcanic rock, casting into shaped tiles or cylinders, and annealing at carefully controlled temperatures to attain the desired hardness. Virtually any shape or size lining can be produced. These cast basalt linings can be used up to temperatures of 350°C/662°F. The linings are highly effective in hydraulic and pneumatic conveying systems, with some installations lasting more than 30 years.
Kalenborn Abresist Corporation