New Products
Compilation of new products for the industrial water market
Jan 7th, 2015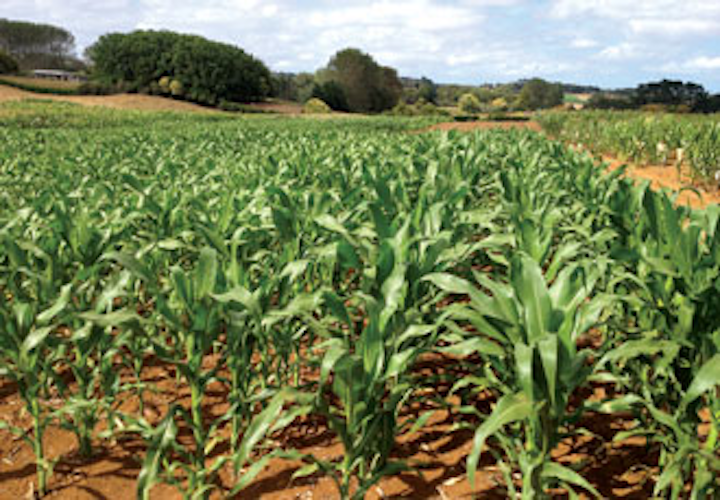 Corn oil recovery
U.S. Water has launched the first in what will be a series of products developed for the biofuels industry specific to corn oil recovery. COR™ NS is a new, non-sorbitol-based product line developed by the company's Ethanol Process Technologies team to aid in the extraction of corn oil as a co-product for biofuels plants. The product is available for use immediately with development and inclusion of additional products to the COR NS line in the coming months. For more information, visit www.CornOilExtraction.com.
U.S. Water
www.uswaterservices.com

Progressive cavity pump parts
Universal Parts for progressing cavity pumps are now available worldwide from the Process and Flow Technologies division of NOV Mono. With a company focus on quality products, proven reliability and off-the-shelf availability, the Universal Parts range contains a wide variety of parts suitable for other brands of PC pumps. The pump parts are manufactured in-house to exacting standards and offer a competitive alternative when operators need spares quickly.
Moyno Inc.
www.moyno.com

Hydrocarbon monitor
Modern Water has launched PetroChek, a new portable or online crude and refined hydrocarbon monitor designed to detect crude oil or refined hydrocarbon spillages. It can be used to monitor oil spills, airport pollution run-off and hydrocarbons in effluent. Further, the monitor uses fluorescence to identify Poly Aromatic Hydrocarbons, which are inherent in crude and refined hydrocarbons within both fresh and marine water systems. PetroChek is very sensitive to low hydrocarbon concentrations and is ideal for real-time monitoring, either as a portable unit, in-situ or online (with a flow cell arrangement).
Modern Water
www.modernwater.com

Boiler feedwater sensor
Engineers responsible for maintaining boiler operations will find the new Model DO90 Trace DO2 Sensor from Electro-Chemical Devices (ECD) is designed for the continuous and highly accurate measurement of trace levels of dissolved oxygen, helping to maintain oxygen-free boiler feedwater and reducing corrosion. The Model DO90 is a lead-silver galvanic sensor with a durable PFA Teflon® membrane. As a digital sensor, all of the signal conditioning, calibration and diagnostic functions are performed inside of it. Its signal is noise-free, and it features zero calibration and air calibration.
Electro-Chemical Devices
www.ecdi.com

Double diaphragm pumps
Crane Co.'s DEPA DH® line of aluminum, air-operated, double-diaphragm pumps has been expanded to include sizes DH50 and 80, with the advanced flanged range now including five sizes certified to ATEX Zone 1. The pumps deliver superior performance and are available with unique design features, including flexible multi-port connections providing up to 25 installation options; maintenance in place, reducing downtime by 25% and required parts by 30%; innovative flange design, providing a well-defined diaphragm clamping mechanism for consistent lifetime wear; and high-efficiency free-flow-path technology, increasing applications and enhancing energy efficiency by 37%.
Crane Co. ChemPharma & Energy
www.craneco.com

Hydropower in-line turbine
SOAR Technologies' In-Line Turbine (ILT) is a product line of small, highly-efficient hydropower generation units. Designed for use within new or existing water systems, these turbines are site-specific for maximum efficiency but share common parts for competitive pricing and lead time. Multiple sizes are available from 4" to 24", covering flows from 100 to 30,000 GPM and heads from 25' to 400'. ILT's come standard with variable flow wicket gate technology to improve efficiency over a wider flow range but also are available in a fixed vane configuration.
SOAR Technologies Inc.
www.soartechinc.com

Vacuum boom tube, hose options
Two new vacuum boom tube and hose design options for Vacall's AllExcavate hydro excavation models now allow customers to select between three different boom and intake hose or tube options that best fit their needs and preferences. The vacuum forces generate up to 27" HG and up to 5,800 CFM. Used in combination with the machine's high-power water jetting forces, the AllExcavate can effectively loosen and remove dirt, rocks and other material from around water, sewer, gas, and other utility lines, as well as around foundations where mass excavation is not possible or practical.
Vacall
www.vacallindustries.com

Truck model chassis
Vactor Manufacturing has introduced the Cat CT660 and Kenworth T880 Class 8 truck model chassis options for the company's HXX HydroExcavator®. The CT660 features a sloped hood, wraparound windshield, heated mirrors, and halogen headlights. The cab's aluminum alloy construction provides longer life and improved productivity, and the interior includes sound insulation, tuned cab air suspension system and an ergonomic dash and center stack. Shorter bumper and axle settings on the T880 provide a tighter turning radius and greater maneuverability, and large, bonded-style windshield and cowl-mounted side mirrors provide increased visibility.
Vactor Manufacturing
www.vactor.com

Cut-resistant tub sleeve
Wells Lamont Industrial has introduced its Cut-Resistant Tube Sleeve (KRG), which provides ANSI Level 4 cut resistance and outstanding flame-resistant properties. This highly reusable sleeve is made from Kevlar® and other high-performance materials to provide superior comfort and protection. The 2-ply tube design offers outstanding cut resistance while further reducing total cost of ownership since the sleeve is made to withstand multiple launderings. The KRG sleeve is available in multiple sizes with or without a thumb hole. It is sold by the dozen pair.
Wells Lamont Industrial
www.wellslamontindustrial.com

Mass flow meter
Sensirion AG's SGM70xx mass flow meter is based on a microthermal measuring principle suitable for applications in the residential market. The SGM70xx is available for G1.6 and G2.5 gas meters and boasts impressive reliability, long-term stability, dust and dirt resistance, and a compact design that enables easy integration in gas meters. The meter is digital, temperature-compensated and pressure-corrected. It is also fully calibrated for air and natural gas and has a standard connection and I2C interface. The SGM70xx features software and hardware tested both in the field and by GWI to compensate for the various gas mixtures.
Sensirion AG
www.sensirion.com

pH/ORP sensors
The new SD7000 Series Differential pH/ORP Sensors from Sensorex offer water, wastewater and process plant operators a unique yet proven sensor technology. These sensors deliver more accurate results with lower overall cost of ownership than conventional sensors. The SD7000CD model is a direct replacement for Hach®/GLI and Aquametrix analog 5-wire pH and ORP sensor models. Less maintenance for operators, minimized down time, longer sensor life, and overall greater reliability is the hallmark of this differential sensor design.
Sensorex
www.sensorex.com

Diesel pumps
Xylem has announced that its Godwin range of powerful diesel pumps is now available with Tier 4 engines, which reduce air pollution by minimizing particulate matter and nitrogen oxides, as well as delivering enhanced engine control and reduced engine noise. Tier 4 engines are now required under EPA's Clean Air Act: emissions standards for diesel engines. Manufacturers are currently required to abide by Final Tier 4 regulations for 25- to 74-horsepower engines. Tier 4 diesel engine technology is available within Xylem's Godwin dewatering pump equipment for sale or rental.
Xylem Inc.
www.xyleminc.com

Chlorine sensor
Bürkert is expanding its broad spectrum of sensor types with the additional option of connecting the new Type 8232 chlorine sensor to the individually configurable MultiCELL measuring system. To supplement the new availability of the Type 8619 in a version with a plastic body, the multichannel transmitter/controller can be used with a wide range of sensor types and offers flexible mounting options. Type 8619 offers a measuring system for connection to diverse sensors for different measurement, control and dosing tasks and is ideal for water treatment or the production of foods and pharmaceuticals.
Bürkert Fluid Control Systems
www.burkert-usa.com

Centrifugal pumps
Franklin Electric's AG Series cast iron centrifugal pumps are designed for challenging water transfer applications in industrial, commercial and agricultural markets. The AG Series is equipped with standard JM and JP motor frames along with a stainless steel shaft sleeve to prolong the life of the pump. They are available to fit models ranging from 3 to 75 hp, with flow ratings from 50 to 1,000 GPM, with a maximum shut-off pressure of over 175 psi. Optimized via CAD modeling and simulation, the pumps' updated flow design offers improved energy efficiency, enhanced durability and extended operating life in clean water applications.
Franklin Electric Co. Inc.
www.franklin-electric.com

Differential pressure transducer
American Sensor Technologies has released explosion-proof and non-incendive versions of its differential pressure transducer model AST5400. The company added CSA certifications for Class I/Division 1 and Class I/Division 2 to the product series in order to satisfy market demands for differential pressure measurement. It is capable of measuring line pressures up to 5,000 psi (350 bar), providing an output signal of analog voltage or 4-20 mA. Material options include 316L stainless steel, Inconel 718 and Hastelloy C276. The AST5400 provides high-performance measurement for applications such as monitoring filters or dryers, ensuring flow or calculating torque.
American Sensor Technologies
www.astsensors.com

High-performance coating
Cortec's CorShield™ VpCI®-386 HP's Nano-VpCI® formulation contains a mixture of non-toxic organic inhibitors and pigments that offer extended coating protection and provides a nanoparticle composite polymer barrier that retards the reaction of metal ionization. Economical, environmentally friendly and easy to handle, the formulation's corrosion resistance has been improved by replacing traditionally used toxic materials with more effective, non-toxic, heavy-metal-free corrosion inhibitors. Further, it eliminates worker exposure to organic solvents and of fire hazards in confined areas and provides a fast-drying primer/topcoat film that forms a tough, non-flammable, protective barrier developed to protect in both indoor and outdoor conditions.
Cortec Corporation
www.cortecvci.com

Rugged tablet
Janam Technologies has announced the launch of XT1, a light and rugged mini tablet that supports the Android™ operating system. The XT1 combines best-in-class technologies with a sleek and rugged form factor, providing mobile workers with the information they need to make better informed decisions, increase customer satisfaction and improve operational efficiencies. Equipped with integrated 2D barcode scanning technology to eliminate the challenges often associated with camera scanners or bulky sled attachments, it is designed to improve worker productivity in field sales, field service, healthcare, hospitality, and retail markets.
Janam Technologies LLC
www.janam.com

Submersible pumps
BJM Pumps® has announced the release of the new patent-pending SKG Series submersible pumps, designed and engineered for superior solids handling. The pumps can easily shred items previous considered very difficult or near impossible to pump. The robust construction and newly designed Dual Shredding System offers solids handling technology available for 2-, 3- and 5-HP submersible pumps. The hardened impeller and plate materials provide maximum wear resistance for long service life, and hardened cast iron construction stands up to rough handling and pumping gritty water.
BJM Pumps
www.bjmpumps.com

Centrifugal pumps
Subaru's PKX line of centrifugal pumps offers durability for demanding job sites and utilizes high-quality, heavy-duty materials. The self-priming pumps are available in 2-, 3- and 4-inch models and are powered by a Subaru EX Series overhead cam engine, providing maximum performance, lower emissions and better fuel economy. An abrasion-resistant, cast-iron, three-blade impeller ensures long life, while a hardened cast-iron volute effectively withstands debris sucked through the strainer. The volute design pumps water straight into the cavity for fast priming. The carbon ceramic seal is self-lubricating and provides many hours of trouble-free service.
Subaru Industrial Power Products
www.subarupower.com

Industrial valve
Flowrox's new SKW valve, the Slurry Knife Wafer, is designed to enhance current pipeline equipment and processes using enhanced technology for fluid control. It was developed for use in the mining, oil and gas, power, minerals and metallurgy, and wastewater industries, where abrasive or corrosive slurries, powders or coarse substances are processed. The valve is engineered at full-bore with no flow restrictions, allowing processes with abrasive or corrosive fluids to move without compromising performance. This allows the valve itself to become an integral part of the pipe and to process the same fluids in harsh conditions.
Flowrox Inc.
www.flowrox.us

DC motor, control package
Groschopp has introduced a reliable, robust and economical brushless DC motor and control package. Its family of brushless DC motors and gear motors has been tested for pairings with the brushless DC control product line, giving engineers a motor and control package designed for optimal operation. Groschopp's brushless motors are highly efficient and provide high power density, all in a compact design. The closed-loop controls are designed to deliver commutated power and variable speed control, maintaining excellent speed regulation over a wide range of loads.
Groschopp Inc.
www.groschopp.com

Harmonic filter models
MTE Corporation has announced its new 600 V, 60 Hz and 690 V, 50 Hz harmonic filter models available from 6 to 786 amps, providing mitigation solutions and options to damaging and costly harmonics. Operating at over 99% efficiency, MTE's Matrix AP harmonic filters address the demand for improved power quality, providing users with efficient harmonic mitigation in a passive filter. Incorporating MTE's patented Adaptive Passive technology, the filters are able to quickly adapt their impedance in response to changing electrical loads. Further, the Matrix AP maintains filtering performance over a wider load, including mitigating harmonic distortion at low loads.
MTE Corporation
www.mtecorp.com

Trace metals analyzer
The SafeGuard™ water quality analyzers from Aqua Metrology offer automated trace metals analysis for industrial processes through the use of Nano-Band or Meniscus sensor technology. The easy-to-use analyzers provide measurements in less than 30 minutes with accuracy up to 1 ppb. The SafeGuard enables users to obtain real-time data on trace metal contaminants while saving precious time and money by eliminating the need to send samples to an outside laboratory. It has a very high correlation with ICP-MS, typically < ± 10%. Through available options, one analyzer can be used to measure multiple trace metals contaminants.
Aqua Metrology Systems
www.aquametrologysystems.com

Bearing isolator
One of the major causes of pump downtime is contamination of the bearing lubrication system. Flowserve Corporation's new Bearing Gard bearing isolator can significantly reduce contamination, in part due to the addition of static shut-off technology. The company has also developed a faster manufacturing process to provide same-day manufacturing and shipping, even on custom bearing isolator orders. The isolators support pumps serving chemical processing, petrochemical, biofuel, corn processing, pulp and paper, oil and refining, power, water and wastewater, mining, and other industries.
Flowserve Corporation
www.flowserve.com