Pumps, Motors, Drives
Collection of sludge handling and processing products and services
Aug 29th, 2014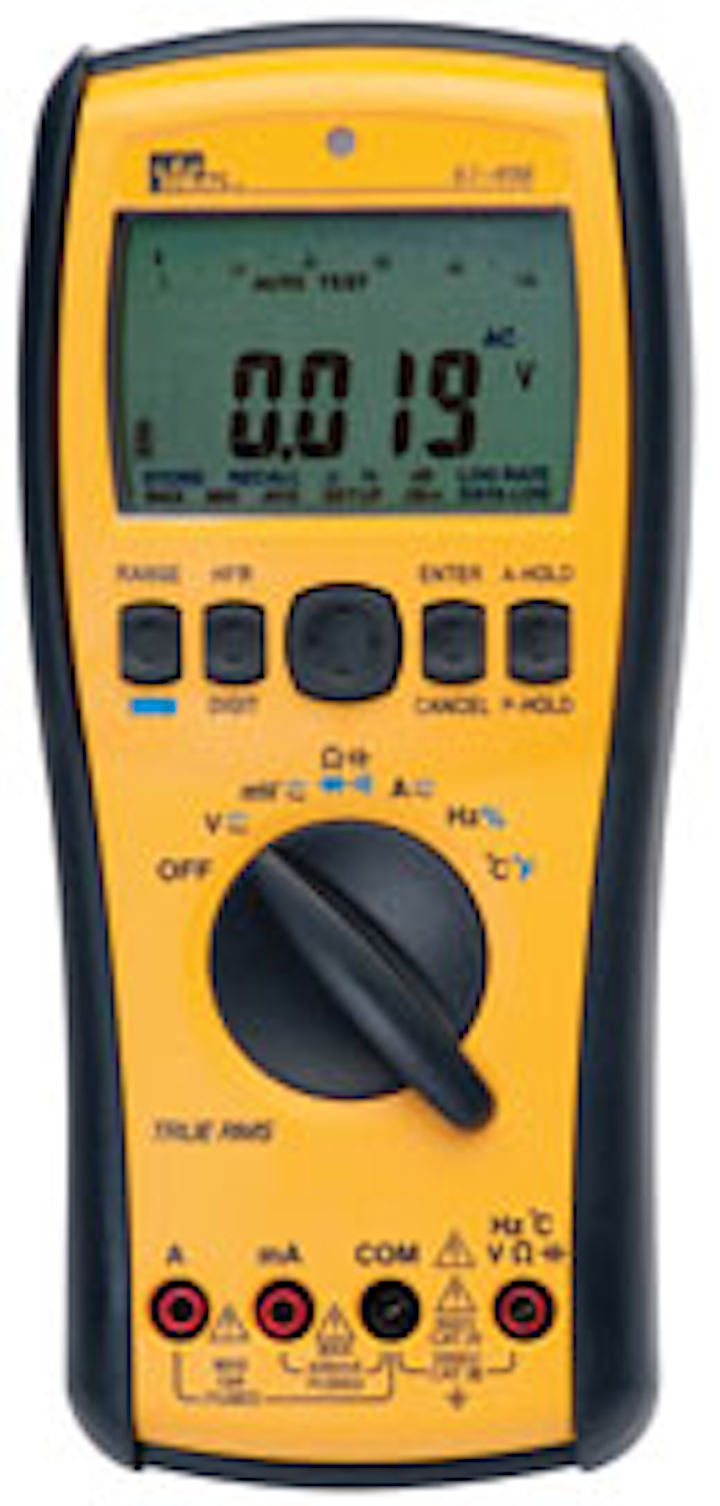 Multimeter
With IDEAL INDUSTRIES' 490 Series Multimeter, electricians can diagnose problems in power distribution systems, electro-mechanical equipment and motor drives on the plant floor, as well as perform a range of preventive maintenance tasks for maximum productivity and minimum downtime. It is feature-rich with True RMS readings for error-free testing; Auto AC/DC voltage (1,000V) and current mode with frequency indication; auto selection for resistance/continuity/diode/capacitance; and data acquisition and logging of up to 20,000 records when used in unattended monitoring of signals over time.
IDEAL INDUSTRIES INC.
www.idealindustries.com
Motor controller
Mitsubishi Electric's MMP-T32 motor controller protects motor branch circuits from overload or phase loss during short-circuit conditions. It incorporates low-voltage circuit breakers and thermal overload relays in a single unit for greater motor protection than a standard motor starter, while reducing the number of required devices and eliminating about 50% of the wiring.
Mitsubishi Electric Automation Inc.
www.MEAU.com
Visit Mitsubishi Electric at WEFTEC.14 - Booth 4351
Bolt-on pump package
BBA Pumps has introduced the bolt-on pump package that can be bolted onto any object or structure and offers maximum performance at minimal cost. These units feature the BA-C pump of your choice coupled to a diesel engine, including the control panel, and mounted on a high-quality, galvanized subframe. These auto prime pumps have a capacity of 100 m3/hour to a maximum of 1,750 m3/hour (7,700 gallons per minute, or GPM) and a head up to a maximum of 250 mwc (800 ft).
BBA Pumps
www.bbapumps.com
Electric motors
Baldor's new line of energy-efficient electric motors include the Large AC – GPM induction motor available up to 1,500 HP and in stock ratings of 250 – 1,000 HP; 2,300/4000-volt; totally-enclosed, fan-cooled (TEFC); foot-mounted designs. Custom motors are available in 250 – 1,500 HP; 460; 575; 2,300/400-volt; TEFC; foot-mounted designs. The motors fit pumps, fans, conveyors, and compressors requiring high torque. Features include an all cast iron construction, a drive-end slinger, insulated opposite drive-end bearing, winding RTDs, provisions for bearing RTDs, and a ground lug in the conduit box.
Baldor Electric Company
www.baldor.com
Visit Baldor at WEFTEC.14 - Booth 2729
Industrial pumps
Grundfos' LFE frame-mounted, end-suction pump and VLSE vertical in-line, split-coupled pump are now available for sale in the U.S. Ideal for new commercial HVAC/R applications and retrofits, the fully-integrated, intelligent LFE and VLSE pumping systems feature the MLE variable-speed motor in ranges from 3 to 30 horsepower (HP) in 3,600 revolutions per minute (RPM) and 3 to 25 HP in 1,800 RPM. The LFE and VLSE offer a systems approach, which, through intelligent technology, adapt precisely to current demand to deliver performance, energy efficiency and reliability.
Grundfos Pumps Corporation
us.grundfos.com
Visit Grundfos at WEFTEC.14 - Booth 3429
Sanitary pumps
Moyno® Sanitary Pumps offer superior performance features with high quality, reliability and application versatility. The pumps are ideal for any setting where bacteria and contamination must be avoided and/or frequent clean-up is required in food processing, dairy, pharmaceutical, cosmetics, and chemicals. Features include standard mechanical seals, and all 150 standard models meet 3A sanitary requirements with no modifications necessary. In addition, a combination close-coupled/open-throat design is offered in a standard model.
Moyno
www.moyno.com
Visit Moyno at WEFTEC.14 - Booth 3118
Cooling water pumps
Sulzer can contribute to the optimization of power plants with its cooling water pump (CWP) range type SJT/SJM that helps reduce the investment and operational costs and shorten the lead time of the cooling water pumps. The pumps are "engineered-to-order," single-stage, mixed-flow vertical pumps, with semi-open impellers available in sizes starting from 750 mm (30") up to 1800 mm (72") nominal impeller diameter and for specific speeds between 90 to 155 (Ns 4639 to 7990). The SJT/SJM range can also be used in the water market and other markets.
Sulzer Ltd.
www.sulzer.com
Visit Sulzer at WEFTEC.14 - Booth 3515
Rotary lobe pumps
Boerger's Rotary Lobe Pumps are self-priming, valve-less, reversible, positive-displacement pumps ideal for permeation and back-pulse applications with membrane bioreactors (MBRs). The reversibility of the pump unit reduces the amount of valves, pipes and programming. It is ideal for MBR processes because of wide flow ranges and ratios, as well as handling of low NPSHa (varying transmembrane pressures [TMPs] of the submerged membranes during permeation), allowing large amounts of entrained air in the permeate.
Boerger
www.boerger.com
Visit Boerger at WEFTEC.14 - Booth 4234