Products & Services: Sludge Handling & Processing
Collection of Sludge Handling and Processing products and services.
Nov 3rd, 2014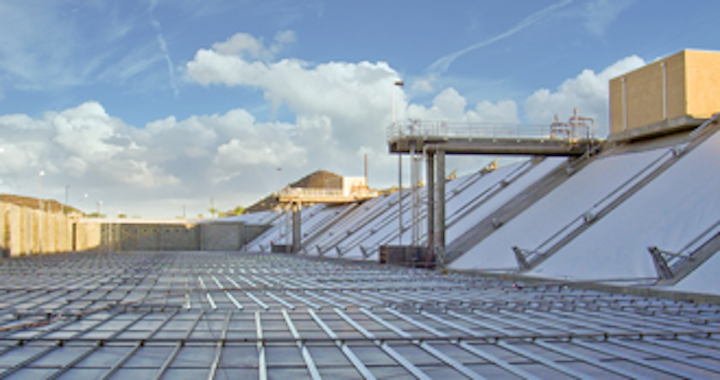 Sludge removal
The ZICKERT Shark™ Sludge Scraper from WesTech Engineering provides an innovative solution for sludge scraping in rectangular tanks and lamella plate clarifiers. It is based on the forward and return movement of dynamically-designed rake sections. During the return movement, the wedge-shaped parts of the sections slide under the sludge blanket, providing continuous and uninterrupted sludge transport. The Shark performs well in all sedimentation processes, including grit chambers, and has a robust and simple design with few moving parts.
WesTech Engineering Inc.
www.westech-inc.com

Sludge blanket level detector
Markland's automatic sludge blanket level detector monitors and controls interface levels in sedimentation basins and clarifiers, as well as automates sludge removal when treating wastewater biosolids. It allows users to program desludging pumps to operate only when necessary, preventing carryover, optimizing feed density for improved filter press/centrifuge performance, and bettering outflow for reuse. In DAF units, it adjusts the surface skimmer speed to match the thickness of the floating sludge layer, and in SBRs, it controls the decant valve to minimize cycle times.
Markland Specialty Engineering
www.sludgecontrols.com

Grinder
Featuring competitive new elements such as a durable ductile iron frame and an improved high-pressure pipe flanged seal, the newly-optimized SEWER CHEWER® grinder from Grundfos is key to efficient and reliable solids conditioning in wastewater and sludge-handling systems. As part of Grundfos's Ready-to-Ship program, SEWER CHEWER grinders are available for rapid delivery, providing a quick solution for raw sewage, wastewater, sludge, and processing waste.
Grundfos
www.grundfos.us

Solids, sludge conditioning
Moyno's EZstrip TR Muncher® offers an ideal solution to solids grinding and sludge conditioning. With the ability to maintain the grinder in place without removing the equipment, maintenance is reduced by more than 70%. It features equal thrust offset cutters that capture and reduce large solids for effective maceration; an angled cutter stack "upflow" design that rejects hard materials; a cantilever design that eliminates the need for lower mechanical seals or bearings; a built-in trash trap that can catch any rejected materials; and a PLC to protect against damage and overloads.
Moyno Inc.
www.moyno.com

Sludge mixer
Sodimate's MBV sludge mixer is designed for the mixing of sludge and lime to achieve Class A or Class B stabilized sludge. The dual-shaft compact mixer can easily be adapted to existing or new sludge stabilization processes, and two rotating shafts facilitate the blending. Each paddle is orientable and can be shaped and fabricated according to the sludge characteristics and dry solids content. The mixer can be integrated into a complete Sodimate turnkey system that includes a storage container, chemical feed system and sludge conveyor, and is ideal for fertilizer and landfill applications.
Sodimate Inc.
Solids separation
Salsnes Filter manufactures solids separation technologies featured with both enclosed and open modular systems, unlimited design flow capacity and the option to install indoors or outdoors. The company's SFK systems are open for concrete channel installation and can be installed into existing concrete chambers. SF systems, however, are free-standing and enclosed, requiring only a concrete slab for installation. These units can be easily retrofitted into an existing plant or integrated into new construction. The rotating filtermesh removes >50% TSS, and >20% BOD from the effluent, producing drier sludge (20%-30% DM).
Salsnes Filter
www.salsnes-filter.com

In-line thickener
The In-Line Thickener from Prime Solution continuously and automatically increases sludge concentration for sludge and slurry to an exact solids level for further processing or disposal. Features and benefits include a small footprint, low purchase price, easy installation into existing piping, contained airtight system, continuous and automatic operation, expandability, and minimal power requirements.
Prime Solution Inc.
www.psirotary.com

Sludge dewatering
BDP Industries is a supplier of sludge dewatering equipment and has a strong line of solid/liquid separation products for the municipal and industrial market, including the pulp & paper and mineral sectors. The company offers belt presses, gravity belt thickeners, lime stabilization services, and rotary concentrators to meet a variety of sludge processing and management needs.
BDP Industries
www.bdpindustries.com

Sludge screening, grinding
The Dimminutor® from Franklin Miller provides effective, automatic screening and grinding of wastewater solids in straight-through channels and wet wells. The unit reduces plastics, wood, rags, and other solids to fine bits, enhancing plant operation and improving the reliability of pumps and other downstream equipment. As its three bidirectional rotary cutters intermesh at close clearance with stationary cutters, solids are finely reduced to a size small enough to pass through a sizing screen. The Dimminutor has an intrinsically open design to handle high flow rates with low head-loss.
Franklin Miller
www.franklinmiller.com

Sludge reduction
Bio Energizer® from Probiotic Solutions® is a specialized Micro Carbon Complex that is used in municipal and industrial systems to reduce sludge, odor, BOD/COD, FOG, and costs in wastewater treatment plants and lagoons. The product biochemically oxidizes sludge in wastewater lagoons while remaining online and continuing to work, further reducing the lagoon sludge blanket without the need for draining, drying, dredging, handling, or hauling. When used in activated sludge plants, it can increase volatile solids destruction and improve decant volume and settleability for greater digester and reactor capacity, giving operators more capacity to waste solids.
Probiotic Solutions
www.probiotic.com

Small range pumps
Atlas Copco has introduced a new small range of WEDA pumps to provide fast and efficient dewatering. The WEDA04 and WEDA08 provide drainage pumping, with the WEDA08S for sludge pumping and the WEDA04B for low suction pumping. The 08S is designed for difficult sand and mud applications. Equipped with a 750-watt electric motor and a vortex cast-iron impeller, particles and debris up to 25 millimeters can go through the pump housing with minimal wear. The sludge pump's three-bolt disassembling design makes it easy to maintain.
Atlas Copco
www.atlascopco.com

Grinding system
NETZSCH M-Ovas® grinding systems can be used wherever solid matter is broken down to prevent pipe clogging and damage to downstream equipment. Its housing carries wastewater solids to the cutting plate, where they are held and chopped by rotating blades. This low-maintenance assembly is designed for sludges with a maximum flow of 300 m3/h and a dry matter content of up to 7%. Advantages include an optimal price/performance ratio; ease of operation and simple maintenance; high operating safety due to robust construction; and low operating costs through high operating efficiency.
NETZSCH
www.netzsch-pumpen.de/en/home.html

Cake pump system
seepex offers a piping-contained cake transfer solution to replace open-air conveyor methods. The pitch, diameter and speed of the auger pushing cake into the pumping element can be adjusted to match the application, while load cells automate the process. The hopper is fitted with sensors that detect weight increases and adjust the speed of the pump accordingly, saving energy. The system is also fitted with a pressure sensor, dry running protection sensor and boundary layer injection system. An engineered control panel is included to ensure properly functioning components.
seepex
www.seepex.com

Isolator ring
The Onyx Isolator Ring provides a simple method to measure the pressure of slurries, raw sewerage, sludge, lime slurry, and other noxious and corrosive fluids. The PSW series is compatible with flanged pipe connections. Nesting inside the bolt circle of mating flanges provides accurate alignment and minimum weight at the lowest installed cost. The inside diameter of the PSW precisely matches standard pipe for smooth, unobstructed flow, self-cleaning operation and minimum turbulence and friction. The rings are available in sizes from 1/2" to 42".
Onyx Valve Company
www.onyxvalve.com

Filter presses
Toro Equipment's Draco filter presses are used to separate solids from liquids in a wide range of applications. The sludge is pumped into a series of filter chambers fitted with a permeable filter cloth on both sides. While the liquid is forced out of the sides, the filter cloths retain the solid components, leaving a filter cake deposited inside the chambers. As the chambers become full of solids, the pressure rises, and it becomes progressively more difficult to continue pumping in more of the sludge.
Toro Equipment
www.toroequipment.com

Aeration system
Compared to standard aeration technologies, Landia's AirJet system can aerate thicker sludge than some other systems. It offers simplified upkeep and does not require the tank to be drained for diffuser maintenance. Available in motor sizes from 3 kW to 18.5 kW and in submerged, vertical or horizontal versions, the system can be dry-installed outside the tank or floating under pontoons in a lagoon.
Landia Inc.
www.landiainc.com