Resource Spotlight
Compilation of print and digital information resources for the municipal water and wastewater markets.
Nov 4th, 2014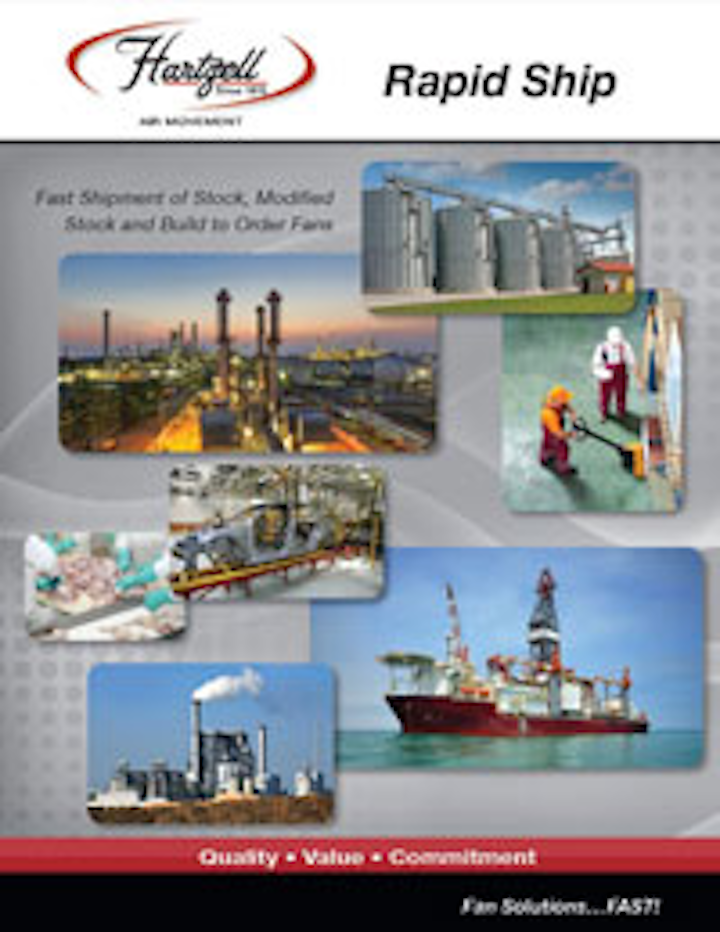 Shipping program
Hartzell has announced the launch of its 2014 rapid ship program. The program includes numerous axial and centrifugal fans capable of being installed in many different applications such as wastewater, marine, warehouse ventilation, and food processing. Some of the fans can be shipped in as little as 48 hours, while others allow users to customize a range of motors or accessories. The details of the program are outlined in Hartzell's "Rapid Ship" catalog, found on the company's website.
Hartzell Air Movement
www.hartzellairmovement.com

Product guide
Lokring Technology issued a revised version of its "Fitting Applications Guide," a hands-on manual that simplifies the fitting selection process. The guide provides consumers with an overview of the Lokring fitting, details on the technology behind the fitting, how it can and cannot be used, how to take corrosion into account, and what ASME codes the fittings meet. In addition, a pressure-temperature reference guide is included, along with what fitting to use for most standard pipe grades and types.
Lokring Technology LLC
www.lokring.com

Software suite
Exele Information Systems announced enhancements to its TopView® software suite with the release of TopView 6.18.1 with real-time value and alarm updates for its mobile web app. The update provides access to TopView alarms and monitored data values from mobile devices and web browsers. Support for any platform with a modern browser allows phone, tablet and desktop access to monitored data, alarms and alarm history. With the new release, the TopView Engine can push real-time value and alarm updates to the browser, and audible text-to-speech alarms is also available.
Exele Information Systems
www.exele.com

Product catalog
Reed's 84-page Catalog N is designed for ease of use for both the distributor salesperson and the tool user. Bullets have been added to each tool family to share key features of the product. The catalog features three pages devoted to new products. Most new tools are already available for shipment, but expected stock dates of not-yet-released products can be found through Reed's sales team or its website. Training on old and new tools is readily available from online videos, DVDs, regional managers, or Reed reps.
Reed Manufacturing Co.
www.reedmfgco.com

Online learning course
KROHNE recently introduced a new eLearning course, "Electromagnetic Flowmeters," on its learning platform, KROHNE Academy online. Participants will find a broad range of topics related to this flow measuring principle in three modules. The first covers the history and general areas of the application, measuring principle and construction of an electromagnetic flowmeter. The second comprises the material selection and special types of electromagnetic flowmeters, sizing and measuring accuracy, and their calibration. The third covers installation and grounding, limitations and advantages, and industries and applications in which they can be used.
KROHNE Inc.
www.us.krohne.com

New book
DEStech Publications announced the publication of the book "Personal Care Products and Pharmaceuticals in Wastewater and the Environment," which surveys current knowledge regarding endocrine disruptors and other hormone-mimicking compounds in the environment as a result of the disposal of cosmetics, drugs and cleaning agents. Further, it investigates dozens of biologically-active pollutants, describes their physiological effects and assesses the evidence of their impact on humans and wildlife. This is a key reference volume for environmental health, risk assessment and water/wastewater technology.
DEStech Publications Inc.
www.destechpub.com

New website
Altra Industrial Motion has launched a new multi-lingual website that features a new user- friendly interface that focuses on Altra's brands, markets and product platforms. It also includes an updated newsroom featuring information about its latest literature available, current trade show schedule and recent press releases. Within the literature section, users can view more than 100 Application Profiles based on recent Altra success stories in a wide range of markets. Enhancements have also been made to the Investor Relations and Careers pages.
Altra Industrial Motion
www.altramotion.com

New website
Pentair announced the launch of its new website, www.pentairprotect.com, which offers an improved user experience through intuitive navigation, easy search features of its extensive product lineup, and a "Request for Quote" (RFQ) tool that allows users to create project lists quickly and easily. Featuring its Hoffman-and-Schroff-branded products, the new site features a customer-first design and is available in English, French, German, Russian, and Spanish for the initial launch. Rollout for future phases will include enhancements and expanded content in Chinese, Japanese and Portuguese.
Pentair Technical Solutions
www.pentairprotect.com