New Products
Collection of new products for the municipal drinking water and wastewater markets.
Nov 3rd, 2014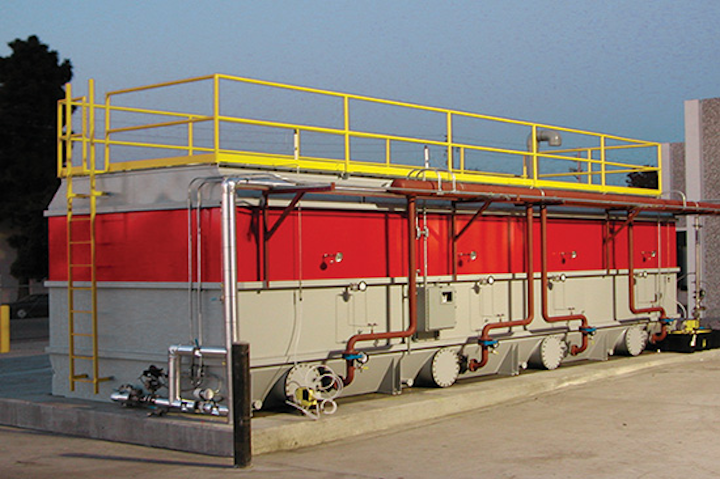 Bioreactor system
UOP LLC, a Honeywell company, has launched an integrated bioreactor system to efficiently remove organic and inorganic contaminants from a variety of industrial wastewater streams. Honeywell's UOP XCeed™ bioreactor system, based on its immobilized cell bioreactor technology, helps industrial, manufacturing and groundwater remediation facilities meet contaminant removal specifications for wastewater discharge or reuse. The system has been proven reliable and cost-effective in food and beverage, chemical and textile manufacturing, groundwater remediation, and refinery and petrochemical applications worldwide.
UOP LLC
www.uop.com

Wireless water usage monitoring
WaterSignal has announced the launch of its Generation-5-model wireless monitoring system. The new configuration creates faster connections, expands geographic reach and adds services to help customers conserve water. The system is a self-contained, non-intrusive device that continuously measures water flow in real time and sends data wirelessly to a website portal to view the water consumption by the month, day or hour. If a major leak occurs, it alerts the user by computer or smartphone that an abnormal water spike has occurred.
WaterSignal
www.watersignal.com

Wireless I/O system
OleumTech's WIO® System, an ultra-fast, bi-directional wireless I/O system for replacing industrial hardwired applications, is designed for rapid deployment by eliminating the need for trenching and running wires. This hardwire replacement system can help operators save time and installation costs while providing reliable, accurate and high-resolution signal replication. WIO System consists of a Radio Kit (900 MHz or 2.4 GHz) that can be used with Digital, 4-20 mA, and 0-10 V I/O modules for replicating signals over-the-air.
OleumTech Corporation
WIO.OleumTech.com

Copper analyzer system
Process and plant engineers responsible for treating wastewater from printed circuit board manufacturing, electronic components production and electronics plating operations will find that the new Copper Analyzer System from Electro-Chemical Devices provides a highly accurate turnkey analyzer solution. The system is designed with the new advanced T80 Universal Transmitter and precision S80 Intelligent pION Sensor. The S80 uses a cupric ion electrode cartridge that measures the activity of "free" copper ions in solution in concentrations from 1.0 ppb to 6,300 ppm.
Electro-Chemical Devices
www.ecdi.com

Pipe transit designer
Roxtec has released its free software, Roxtec Transit Designer. The new tool simplifies sealing product selection and drives efficiency. Designers and engineers just enter their cable schedule, sealing requirements, installation preferences, and preliminary opening sizes into the system, and the software generates manufacturer-approved drawings and documents such as material lists and installation instructions. Design teams can share their work online with project teams anywhere in the world, and Roxtec transit design experts are always there to help through the built-in chat function.
Roxtec Inc.
www.roxtec.com

Leak detection kit
The new Spectroline® OLK-402 Industrial Leak Detection Kit accurately pinpoints leaks in water- and water/glycol-based industrial systems. It allows inspection of the entire system under all operating conditions. At the heart of the kit is the OPTI-LUX™ 400 high-intensity, violet-light LED leak detection flashlight. Its high-output light causes dyes to fluoresce more brilliantly and with greater contrast than with standard blue light inspection lamps. This rechargeable lamp is compact and lightweight and has an inspection range of up to 25 ft. (7.6 m) or more.
Spectroline
www.spectroline.com

Electromagnetic flow meter
Badger Meter's M1000 electromagnetic flow meter combines a general-purpose detector with an advanced amplifier. The M1000 is available in an easy-to-use, "no-frills" package with a streamlined feature set for use in many industrial applications. The meter achieves an accuracy rate of ± 0.3 percent, and its rugged design ensures exceptional reliability in demanding environments. It features a non-intrusive, open-flow tube that virtually eliminates pressure loss, and with no moving parts to impede the flow stream, maintenance is kept to a minimum.
Badger Meter
www.badgermeter.com

Liquid cooler
The new Ecodry 3DK Closed Loop Liquid Cooler from Frigel serves as an alternative to conventional process cooling and is the primary component of an integrated, closed-loop intelligent cooling system that provides clean water at the right temperature to industrial processes year round. It can be configured to match manufacturers' specific requirements, delivering higher energy and water savings, environmental benefits and other advantages. The closed-loop approach can reduce water consumption by as much as 95% when used instead of a cooling tower.
Frigel
www.frigel.com

Phosphorus pollutant removal
Convergent Water Technologies' Value Added Resellers introduces PhosphoReduc Media (PRM), a unique phosphorus pollutant removal technology for stormwater runoff. PRM is a sustainable green product that transforms an industrial waste stream into cutting-edge clean water technology used to enhance phosphorus (P) reduction. PRM has a long treatment lifespan, handles a wide diversity of P concentrations, and efficiently reduces P from various flow rates with minimal land requirements and is easily combined with existing drainage and treatment systems.
Convergent Water Technologies
www.convergentwater.com

Portable meter
The SAM-1™ Smart Aqua Meter from Sensorex is designed to measure and record pH, ORP or conductivity values. The handheld water quality meter delivers accurate analytical measurements in the lab or field for environmental, education and industrial applications. It simply plugs into the headphone jack of a smartphone or tablet and connects to Sensorex smart analytical sensors. With available free App download, the SAM-1 instantly recognizes the smart sensor and provides an easy-to-use interface for taking measurements and managing data.
Sensorex
www.sensorex.com

Stainless steel enclosures
NEMA 4X stainless steel enclosures from Adalet are used indoors and outdoors to house items such as pilot devices, electronic/electrical controls, instrumentation systems, and pneumatic, hydraulic and machine tool controls. These enclosures are designed to provide protection against dust, dirt, oil, and water. They are ideal for petrochemical plants, sewage plants, marine uses, areas containing solvents, and similar environments where they are subject to frequent high-pressure hosing and generally wet conditions.
Adalet
www.adalet.com

Membrane bioreactor
GE has introduced a new membrane bioreactor (MBR) with membrane accommodating carrier (MACarrier), designed to help industrial companies meet stringent water discharge requirements and enable greater water reuse while achieving cost savings and operating efficiency. Developed in GE's China Technology Center as a solution for tough-to-treat water, the system combines a highly-efficient MACarrier with GE's ZeeWeed 500D membranes. This enhances the removal of recalcitrant organics and toxicity and can achieve a chemical oxygen demand reduction of more than 50% compared to a MBR without MACarrier.
GE
www.ge.com

Water purifiers
MightyPure® Water Purifiers from Atlantic Ultraviolet effectively eradicate contaminants, particularly in commercial and industrial applications with strict water treatment standards and where chlorine-free, deionized and/or carbon-filtered water is employed. The system utilizes germicidal ultraviolet lamps to produce short-wave radiation that is lethal to bacteria, viruses and other microorganisms present in water. The purifiers are economical and capable of purifying hundreds of gallons of water for each penny of operating cost. They come in various models, with capacities ranging from 3 to 20 gallons per minute.
Atlantic Ultraviolet
www.ultraviolet.com

Temperature sensor
Sensirion's latest temperature sensor, the STSC1, focuses on applications that require precise temperature measurement. It is suitable for consumer electronics and smart home applications, as well as for data loggers and thermostats. With low power consumption, supply voltage of 1.8 volts, and compact dimensions of just 2 by 2 by 0.8 mm, it fulfills industry requirements. The STSC1 also provides a fully-calibrated and linearized digital signal to a microcontroller. It measures temperatures from -40°C to +125°C with a typical accuracy of +/- 0.3°C.
Sensirion
www.sensirion.com

Motor controls
Groschopp has introduced a family of brushless DC motor controls for its entire product line of BLDC motors and gear motors. Designed to provide commutated power and variable speed control, these closed-loop controls provide excellent speed regulation over a wide range of loads. Compact, economical and efficient, Groschopp brushless speed controls are ideal where high torque, high speed and quiet operation are needed.
Groschopp Inc.
www.groschopp.com

Continuous blender
Munson Machinery's new HIM-306-SS High-Intensity Continuous Blender imparts low to high shear required for blending, homogenizing, de-dusting and/or de-agglomerating of dry ingredients, slurries, pastes, and difficult-to-blend materials at high rates. Homogeneous blends can be achieved in as little as 20 seconds residence time depending on material characteristics, yielding up to 1,500 ft3 (42 m3) of throughput per hour, with other models in the series offering higher or lower capacities.
Munson Machinery
www.munsonmachinery.com

Video inspection crawler
Designed to inspect pipes and passageways as narrow as 4", Envirosight's new RX95 is the latest addition to the ROVVER X line of video inspection crawlers. RX95 is based on a compact, maneuverable footprint designed to overcome obstacles, and it incorporates a digital control architecture that makes it infinitely upgradeable. It also offers steerable six-wheel drive for maximum maneuverability; onboard sensors for tilt, roll, pressure, and temperature; and a built-in selectable 412/640 Hz sonde for easy locating.
Envirosight LLC
www.envirosight.com

Solids handling pumps
BBA Pumps has introduced a new line of electrically-driven solids handling pumps. These auto prime pumps have a capacity of 100 m3/hour to a maximum of 6,500 m3/hour and offer maximum performance at minimal cost using high-efficiency pumps and IE2 electric motors. In addition to a standard control box and soft starter, the pump sets also come with a frequency converter, ensuring maximum control over the pumping process. Further, by using the GPS monitoring functionality, the pump installations can be controlled and operated remotely from a computer.
BBA Pumps
www.bbapumps.com

AC drive
The VACON® 100 X is a decentralized drive solution equipped with advanced control capabilities, and it supports both induction and permanent magnet motors up to 50 HP (37 kW). The system's UL Type 4X (IP 66) enclosure extends the range of possibilities for all outdoor installations, as well as heat, dirt and vibration. It is rated for 0 to 100% relative humidity, 3 g vibration resistance, 25 g shock for 6 ms (3M7 acc. to IEC 60721-3-31), and operating temperatures from 10°C to 40°C (up to 60°C with current derating).
Vacon
www.vacon.com

Development module
ProSoft's MVI56E-LDM module is a ControlLogix® backplane compatible module that allows Rockwell Automation ControlLogix processors to interface with relatively any Ethernet or serial device. With the available development kit DVD, the user controls exactly what this module can do. ProSoft's Linux Development Modules make it possible for users to easily develop and deploy C/C++ applications that interface with Bar Code Scanners, Legacy ASCII protocols, Terminal Port Emulation, Printer Drivers (Alarm/Status printer), or any other device requiring custom/proprietary Ethernet and serial communications.
ProSoft Technology
www.prosoft-technology.com

Industrial PCs
Phoenix Contact's Designline industrial PCs are now available with an Intel Core i7 processor in new 18.5" and 21.5" screen sizes, as well as the original 15" version. These models are IP65 rated and have a fanless design, making it possible to mount directly on the factory floor. The VESA-mounting hardware also mounts securely on the machine, improving ergonomics. For example, the device can be installed at eye level on the front and used as a hardware platform for a manufacturing execution system. Designline measures 60-mm deep and has multi-touch capability for intuitive gesture control.
Phoenix Contact
www.phoenixcontact.com

Fluoropolymer tubing
NewAge Industries' fluoropolymer tubing in PTFE, FEP and PFA are used for applications ranging from chemical feeds, food and beverage lines, wire insulation, and solvent transfer, to more complicated uses involving cryogenics, robotics, medical equipment, pharmaceutical manufacturing, and deionized and ultra-pure water transfer. The tubing is manufactured from FDA-compliant materials and provides non-stick properties for the transport of viscous or sticky materials without line clogging. Further, it offers excellent chemical and electrical properties, and both inch and metric sizes are available.
New Age Industries
www.newageindustries.com

Ultrapure water tank
Terracon Corporation has announced the introduction of a pre-engineered version of its TerraPure tank. This addition is molded from FDA-compliant linear polyethylene and is available in 125- or 250-gallon capacities. The capsule-shaped tank includes seven pre-installed fittings and provides for complete and thorough drainage. Further, its one-piece, rotationally-molded construction makes for seamless, corrosion-free containment, while a Vitron®-gasketed 6" screw lid maintains nitrogen blanket pressure. The pre-engineered tank includes fittings for common end-user connections.
Terracon Corporation
www.terracon-solutions.com

Automation controller
Schweitzer Engineering Laboratories (SEL) has announced the release of the SEL-3505-3 Real-Time Automation Controller (RTAC) that adds connections for three digital outputs and eight digital inputs. The compact and economical SEL-3505-3 provides a fully-programmable IEC 61131-3 logic engine with several built-in function blocks, including recently released PID functionality. The automation controller's dimensions, 6.96" by 5.54" by 2.25", make it ideal for cabinet or DIN rail mounting. It is designed for data concentration, protocol conversion and control applications in rugged environments.
Schweitzer Engineering Laboratories Inc.
www.selinc.com

Pump tube
Blue-White has introduced a new heavy-duty pump tube, Flex-A-Prene™, available exclusively for the company's Flex-Pro® and Proseries-M® peristaltic metering pumps. The tube has been engineered and designed for optimum performance and pressure capability. The long-lasting, dual-molded tube withstands high pressures (up to 125PSI) and retrofits onto all Flex-Flo and Proseries-M Model peristaltic metering pumps currently in the field. This exclusive clamp-less tube fitting is available with multiple connection fitting types, including 1/2" M/NPT, 1/2" barb fitting, 3/8" OD tube compression, tri-clamp, and quick disconnect. Multiple patents are pending.
Blue-White Industries
www.blue-white.com

Self-inflating tanks
CINTEC has announced a new 64,000-liter addition to its Waterwall line of self-inflating tanks. The hexagonal lagoon provides an easy-to-install, environmentally-conscious alternative to digging permanent reservoirs for hydraulic fracturing. Constructed from a PVC-coated material and internally reinforced with a specialized stitching technique, the tank is strong enough to hold massive quantities of water and durable enough to remain intact when placed on uneven ground. Approximately 9.15 m by 7.95 m, the hexagonal lagoon is constructed of 4.2-m-long walls, each with an inflated width of 335 mm.
Cintec International
www.cintec.com

pH, conductivity meters
The new Oakton® Waterproof pH 150 and CON 150 meters offer at-a-glance readings on a large, three-line LCD, which also stores up to 150 measurements along with temperature. While the built-in memory offers convenience, the calibration alarm never leaves the user guessing when it's time to recalibrate. With automatic temperature compensation (ATC), temperatures do not influence readings, providing more accurate results. Both Celsius and Fahrenheit scales are available to best fit the application. Electrode status displays pH slope or cell constant directly.
Oakton Instruments
www.4oakton.com