Pipes
Collection of sludge handling and processing products and services.


Jun 19th, 2014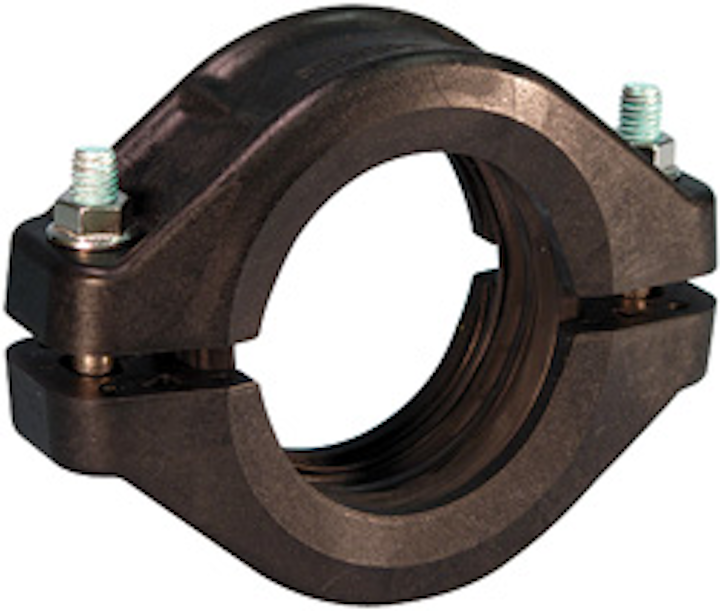 Pipe coupling
Victaulic introduced the Style 171 flexible composite pipe coupling. The Style 171 is an engineered composite coupling for use where corrosive conditions exist. Ideal for reverse osmosis (RO) skids in vertical and horizontal installations, the Style 171 enables quick and simple installation and provides substantial gains in productivity. The Style 171 creates a flexible pipe joint, accommodating expansion, contraction, and deflection in the piping system. Featuring Victaulic installation-ready technology, the Style 171 eases and speeds installation.
Victaulic
www.victaulic.com
Traveling exhibit
Hanson Pressure Pipe has taken its education outreach on the road with a demonstration trailer designed to provide public works managers, engineers and contractors with a closer look at C-303 bar-wrapped concrete cylinder pipe. The trailer includes segments of the pipe, including cross-sections and various joint configurations. Accompanying Hanson representatives at conferences and one-on-one meetings, the demonstration trailer is a key tool in teaching decision-makers about the benefits bar-wrapped pipe brings.
Hanson Building Products
www.hansonbuildingproducts.com
Pipe Wrenches
Lowell Corporation manufactures wrenches designed for pipeline work. The company's "bolt-thru" sockets eliminate bolt interference, and ratchet handles are available from 8" to 60". Sockets are available in hexagon and square sizes (inch & metric). Lowell's 8C
4-IN-1 ratcheting box wrench, for example, combines four 12-point sockets in one heavy-duty reversible ratchet wrench (1-1/4" x 1-1/8" x 1-1/16" x 15/16"). Lowell also makes strap wrenches, valve wheel wrenches, torque-limiting T-handles, and valve key sockets for turning worn valve operating nuts.
Lowell Corporation
www.lowellcorp.com
Waste piping system
GF Piping Systems has expanded the Fuseal® polypropylene corrosive waste piping system size range to include 1-1/2" to 18" for both pipe and fittings. Excellent chemical and physical properties make the Fuseal piping system the best choice for handling corrosive waste streams for a variety of applications such as dairy, food processing, beverage, chemical and industrial plants, hospital and university laboratories, institutional and pharmaceutical laboratories, and other industries where mixtures of acids, bases and solvents are drained.
GF Piping Systems
www.gfps.com
Polywrap
Polywrap from AA Thread is a cost-effective way to protect ductile iron pipe from outside corrosion. This method of protecting pipe is very easy to install and no special training or equipment is needed. As with all protection methods, proper installation is vital to success of this product. AA Thread has several forms of Polywrap, from its linear low density pipe wrap to its cross-laminated high density pipe wrap, as well as 10 MIL cross-laminated high density Joint Wrap to protect your mechanical joints from damaging the Polywrap during installation.
AA Thread Seal Tape Inc.
www.aathread.com
Pipe cutters
Reed Rotary™ cutters cut pipe safely, easily, quickly, and at a low cost. They provide a square cut and can be used in close quarters in the ditch, underwater, in noise-free zones, overhead, in racks of pipes, and more. They cut large diameter steel, most stainless steel, and ductile and cast iron pipe. The cutter's slip-on handle is used to turn the cutter around the pipe in one direction and is also used to tighten the cutter every half revolution. With good leverage from the long handle, pipe snaps off squarely before the wheel penetrates halfway through pipe.
Reed Manufacturing
www.reedmfgo.com
Socket fusion tool
McElroy has released its latest socket fusion tool for polypropylene (PP) pipe installations -- the Spider™ 125 with Universal Clamping. The unique design of the Spider 125 makes it the ideal socket fusion tool for installations using 63 mm to 125 mm PP pipe in overhead, vertical and tight work spaces. The new Universal Clamping feature allows the latest Spider 125 model to accommodate any size of pipe or coupling, eliminating the need for inserts. At 15 pounds, the Spider 125 with Universal Clamping remains a lightweight, compact device with a worm gear drive and parallel link system that brings pipes and fittings together evenly and under control.
McElroy Manufacturing Inc.
www.mcelroy.com
Elbow
The Smart Elbow® from HammerTek for pneumatic and slurry conveying systems virtually eliminates elbow wear, product degradation, plugging, surging, cross-contamination, noise, turbulence, and more, saving companies time and money and reducing downtime. The Smart Elbow is the only elbow on the market to convey by creating a true deflection zone. Due to its design, the Smart Elbow forms a slowly rotating, self-renewing ball of material, creating a gentle deflection zone causing material to change direction by deflection, not impact.
HammerTek Corporation
www.hammertek.com
Utility chainsaw
The ICS Utility chainsaw has addressed operator safety with its revolutionary grinding technology that eliminates rotational kickback and offers improved operator positioning when cutting pipe. Utilized by public and private water and wastewater departments worldwide, this patented platform, exclusively from ICS, is designed to cut a variety of materials from ductile iron to plastic pipe with far less excavation. The ability to cut up to 24" pipe completely from one side radically reduces the difficulty of the job. Complete the next job safer, faster and easier with ICS Utility chain saws.
ICS/Blount International Inc.
www.icsbestway.com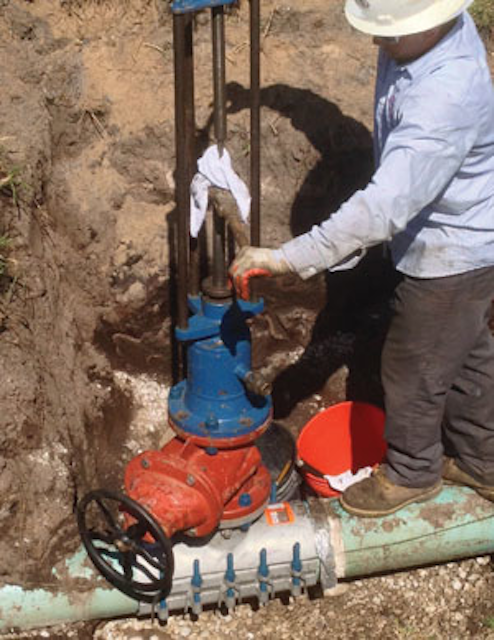 Tapping sleeve line
The Triple Tap product line from Total Piping Solutions has been extended to include line stop fittings designed to fit all commonly-used line stopping equipment. This development allows pipeline contractors to use all readily available equipment in use today. Versions with the Mechanical Joint End connection allow for elimination of the tapping valve. This unique adaptor end eliminates any alignment issues and may be used with all standard 4" to 12" MJ x MJ valves.
Total Piping Solutions
www.tps.us
Pipe solutions
Inliner Technologies provides solutions for deteriorating pipes and culverts ranging in diameter from 4" to 120". Inliner's licensees are contracted by municipalities and industrial companies to renew storm, waste and process sewer piping that have been damaged by corrosion and/or structural deterioration. Inliner has installed over 18 million feet of pipelining in the U.S. and Canada since 1989.
Inliner Technologies
www.inliner.com
Fiberglass pipe
Thompson Pipe Group's FLOWTITE fiberglass pipe for water pressure projects offers a wide range of sizes (diameters 100 mm to 4000 mm) and a flexible manufacturing process (custom diameters to provide maximum flow volumes). The pipe is corrosion-resistant (no need for linings, coatings, cathodic protection, wraps, or other forms of corrosion protection); cost-efficient; has a smooth bore and low maintenance and transportation costs; and meets ISO, EN, ASTM, and AWWA standards.
Thompson Pipe Group
www.flowtitepipe.com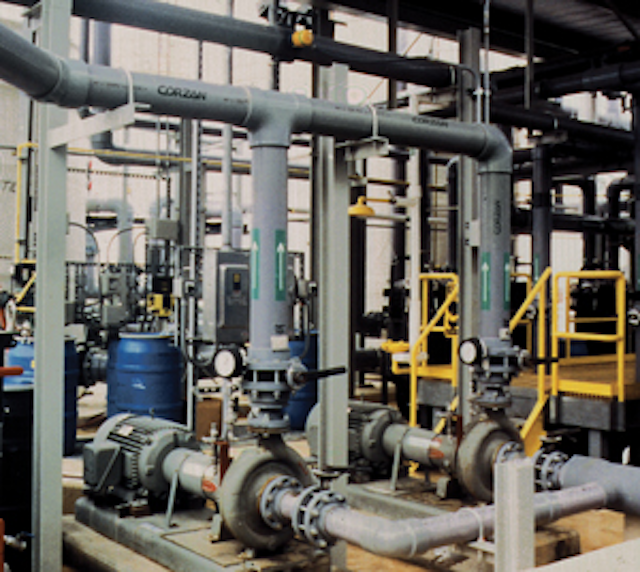 Piping systems
Corzan® HP Piping Systems are a high-impact strength system engineered with Lubrizol Corporation's specially-formulated and patent-pending chlorinated polyvinyl chloride (CPVC) technology. This corrosion-resistant material eliminates pitting and scaling while providing superior life-cycle benefits. Corzan HP Piping systems eliminate internal and external corrosion caused by industrial environments, reduce installation time and cost, offer lower life-cycle costs, and ensure optimal flow rate. The pipe and fittings are available in Schedule 80 in diameters of 1/4" up to 8".
Corzan Industrial Systems
www.corzanpvc.com
More Industrial WaterWorld Articles
Archived IWW Issues