Active Additives: A Solution for Aluminum Boiler Scaling and Corrosion
A study spearheaded by TGWT, a provider of clean technology, has confirmed that using purified tannin additives can eliminate scaling and corrosion in high- efficiency aluminum boilers.
Mar 4th, 2014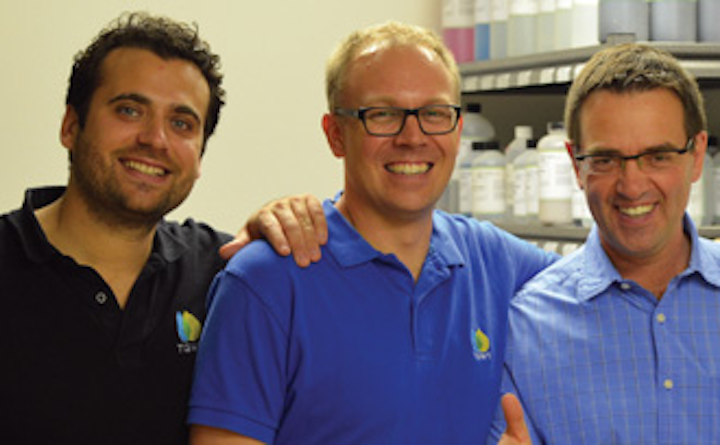 By Patrick Crow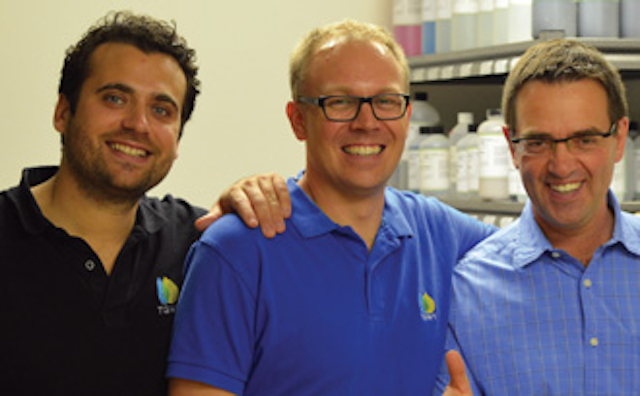 From left to right: Gary Schwartz, CEO; Louis P Cloutier, COO; and Roger Gaudreault, Ph.D., VP R&D and Innovation at TGWT.
A study spearheaded by TGWT, a provider of clean technology, has confirmed that using purified tannin additives can eliminate scaling and corrosion in high- efficiency aluminum boilers.
These boilers are becoming more commonplace as owners and operators of closed-loop heating equipment replace or revamp existing systems. Much like domestic hot water tanks, but on a larger scale, the aluminum boiler systems are commonly used in office buildings, hospitals and schools.
TGWT, which has established a reputation for steam-boiler treatment with its TG 3100 line of purified tannin additives, has developed and tested a TG3300 additive originally made for steel use in aluminum boilers.
Electrochemical department equipment at McGill University used to run TGWT's study.
Dr. Roger Gaudreault, TGWT's vice president of R&D and innovation, presented a white paper at the Association of Water Technologies conference last fall detailing laboratory testing that demonstrated how purified tannin can effectively protect closed-loop aluminum vessels.
A Natural Solution
TGWT, formerly known as Servivap Canada Inc., is a Longueuil, Quebec-based company offering purified tannin products as water treatment additives for steam boilers and hot or cold water closed-circuit systems. These additives have eliminated scaling problems for a number of businesses, including yarn and pulp & paper plants (see "Saving Energy through Boiler Water Treatment," IWW, Jan.-Feb., 2008).
Louis-Philippe Cloutier, co-founder and chief operating officer, said that purified tannins have been one of the few major advances in boiler water treatments during the last 50 years. Further, he noted that most water treatment companies offer the same array of chemicals -- sulfites, polymers, phosphates, phosphonates, and amines -- under different brand names. Each of those can be effective for specific applications, but each has its limitations.
Purified tannins have a number of advantages over hard chemicals. They are renewable, non-toxic, non- flammable, and biodegradable. In the boiler, they form a dynamic, homogenous, iron- and/or aluminum-tannate(s) film protecting the metal surface from corrosion. Non-purified tannins have been available since the 19th century, but natural impurities have restricted their effectiveness. As such, TGWT overcame that technological challenge with its process to purify tannins extracted from tree bark.
Accordingly, this approach changed the way the molecules reacted under pressure and temperature, enhancing tannin's properties as an oxygen scavenger and as a medium for fixing the non-stabilized hardness in water. TGWT has further refined its product line for use in the North American market. Cloutier explained, "In Europe, water is more expensive, and industrial users usually have a better mechanical pretreatment for it."
Feedback from the Field
Bob Games, president of Klear Water Management of Wheeling, W.Va., is one of 20 TGWT distributors in the United States and is also a blender for some of them. He has seen successful results in steel boilers during his two-year association with the purified tannin products. Games said a quarter-inch of scale had accumulated on one of his customer's steam boilers before the tannin treatment. "Within six months, the boilers were almost clean," he explained. "A recent inspection has shown them to be down to bare metal now."
Games added that another customer decided to use purified tannin in its new boilers. "Their engineers said they expected to get 82- to 85-percent efficiency from the boilers, but since they fired them up, they've been maintaining 92-percent efficiency across the board," he said. "After the product was used for a year, the local natural gas distribution company called our customer. They wanted to come out and inspect the meter because the customers' natural gas usage had dropped 25 percent."
According to Games, purified tannin produces a drier, improved steam quality that allows better heat transfer. "I think it has a lot to do with the effect that the tannin has on surface tension," he said. "It interferes with that surface tension so that the water doesn't erupt in the boiler so violently; that causes the steam to be much drier and more efficient."
Games also stated that purified tannin is not only more effective and requires less energy, but it's a naturally- occurring "green" biodegradable product as well. Further, he said that Klear Water has eliminated all of its conventional boiler treatments: "We're using purified tannins exclusively across the board."
Aluminum Is Hot
A recent trend in the North American boiler industry has been the growing use of high-efficiency condensing boilers made of aluminum. TGWT said these boilers require different water treatment methods than used for carbon-steel hot water boilers. The ideal pH for water inside an aluminum boiler is between 7 and 8.5, but the water flows a few feet farther into a carbon steel pipe, where the ideal pH is between 10 and 11. That complicates the water treatment solution.
Cloutier said that sales of aluminum boilers for smaller-scale applications have grown exponentially in the past five years, to the point that aluminum is now mainstream for the new or replacement units within that market subset. "They are smaller, less expensive, more efficient, and use less energy than steel boilers," he explained. "But many of these people doing retrofits have paid no attention to the water treatment side and the challenge of two different metals with different pHs. They don't realize that changing the boiler to aluminum is like changing everything."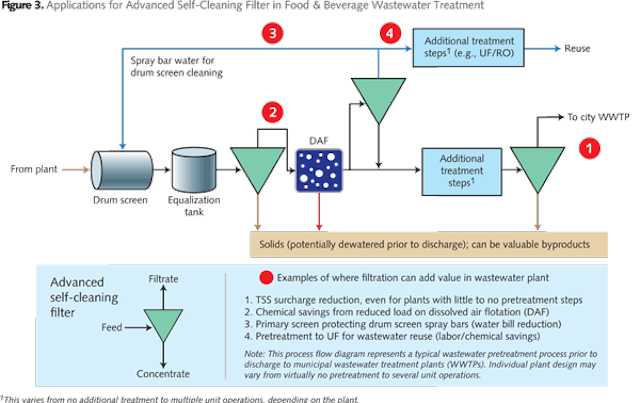 Thin quartz disc specifically made of aluminum (Al 1100) to run Quartz Crystal Microbalance testing at McGill University on TGWT's product.
Although TGWT's main product is still purified tannins for steel boilers, the company was quick to recognize the need for a specialized product serving closed loops, especially those with aluminum boilers. Cloutier said feedback from TGWT's clients indicates that "some products on the market may have been okay, but some were disasters. Tannin provides better performance than you can find anywhere else in the market."
Scientific Validation
TGWT's purified tannins have been used in about 50 aluminum boilers to date. Cloutier said Gaudreault's white paper both confirmed the good results that TGWT has seen in the field and elevated the scientific understanding of the effects of purified tannin in aluminum boilers.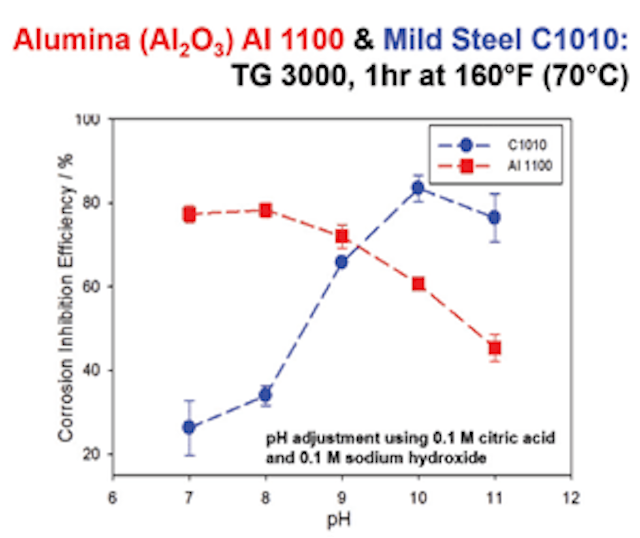 Corrosion inhibition efficiency as a function of pH on aluminum (Al 1100) and Mild Steel (C1010) treated with TGWT's tannin.
Gaudreault, who has a Ph.D. in chemistry, collaborated with researchers at McGill University's chemical engineering department in Montreal to perform the research and to write the scientific paper. Cloutier said that about a thousand people attended the Association of Water Technologies meeting, and Gaudreault's work was of such interest that about a fifth of them audited his presentation.
The abstract of the paper noted, "High-efficiency condensing boilers employed by many hot-water, closed-loops often contain significant quantities of aluminum construction components, and an ideal water treatment technology for aluminum protection is still challenging to many water treatment companies. We have to comply with manufacturers' water specifications in terms of pH and chemistries in order to minimize corrosion rates on different alloys in the systems and also ensure the validity of the manufacturer's warranty program."
The paper reviewed some of the complexities and interactions that occur at metal/water interfaces and discussed different investigative methods employed, including electrochemical corrosion studies and quartz-crystal-microbalance with dissipation monitoring to characterize the protective tannin-based layer.
"We were able to demonstrate that TGWT tannins form a protective layer that prevents aluminum corrosion in a pH range from 7.0 up to 9.0, i.e., above manufacturers' specifications (7.0 to 8.5). Moreover, corrosion inhibition efficiencies up to 80 percent were obtained for aluminum (pH 7 to 9) and mild steel (pH 10 to 11). The optimum pH/corrosion inhibition efficiency of a closed-loop aluminum/mild steel boiler system, using tannin-based chemistry, would be about 9 pH or lower."
The paper said that the TGWT-purified tannins quickly adsorb and reach equilibrium within about 15 minutes. Although all tannin molecules rigidly bind to the metal surfaces, the amount adsorbed is highly pH dependent. "However, between pH 7.0 and 9.0, their adsorption behavior is different than some conventional tannins. The practical implications on the corrosion inhibition efficiency have to be further investigated. Hence, effective tannin molecules must be carefully selected." Gaudreault's research is continuing. "I can tell you that we have seen even better results in the laboratory since this paper was presented," he said.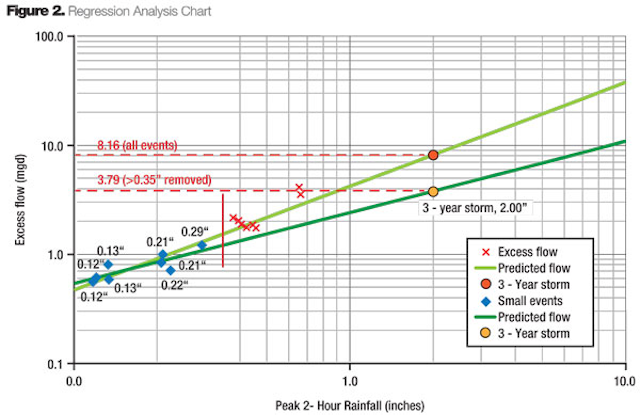 Patterson-Kelley, P-K MACH aluminum condensing boilers treated with TGWT's tannin for more than three years, installed at a major hospital.
Selling a Better Mousetrap
Cloutier said that acceptance of purified tannins is developing within the somewhat-ossified boiler industry. Because the use of ordinary tannins is an old technology, some boiler operators have been slow to discern the advantages of purified tannins.
"The toughest part is to convince customers that someone in the boiler world actually has made a breakthrough on the chemical side for the first time in 50 years. The second hardest thing is to convince them that our product can protect their equipment while allowing it to operate above the ASME guidelines."
Cloutier added that when purified tannins are added to boiler water, the operating improvements are obvious. The real benefits, however, are hidden inside the vessel. "A steam boiler is a lot like a submarine. It's bolted up tight, and the customer can't see what's happening inside," said Cloutier. "They have to wait three to six months before they can open the ports and see the transformation. Hence, customers usually want to implement the product on a larger scale."
TGWT guarantees to buy back unused purified tannin if customers are not satisfied. It will also accept payment by sharing a boiler's energy savings with the customer. "Usually when we arrive at that point, people prefer to buy the product instead of sharing the savings with us. They quickly realize that their savings will exceed the cost of the product itself," Cloutier said.
TGWT has developed an online tool that enables potential customers to enter their boiler-room operating data, run an energy analysis, and receive predictions of how purified tannins could change their energy usage and improve efficiency.
Cloutier said that word-of-mouth has been TGWT's best sales tool. "Initially, people came to us because they heard they could save money by using our purified tannins. But in the last few years, large companies have begun putting more emphasis on finding green solutions. The fact that we have a natural product could prove to be our best advantage."
About the Author: Patrick Crow covered the U.S. Congress and federal agencies for 21 years as a reporter for industry magazines. He has reported on water issues for the past 15 years. Crow is now a Houston, Texas-based freelance writer.