Water Briefs
Updated research from The McIlvaine Company projects the world market for large-scale reverse osmosis systems will jump nearly 50% over the next four years.
May 1st, 2008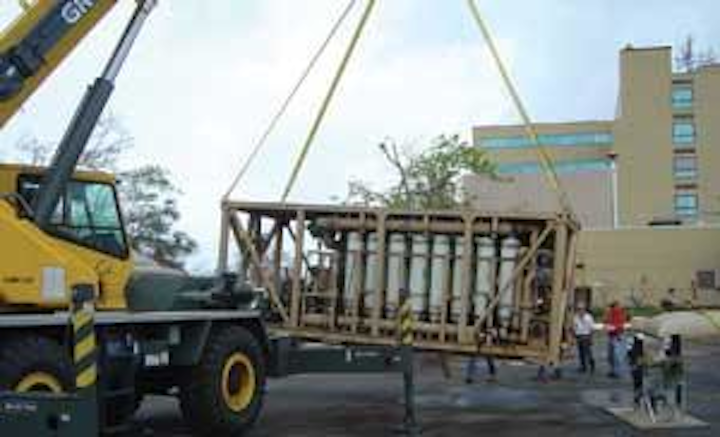 McIlvaine: RO market forecast 50% growth by 2012
Updated research from The McIlvaine Company projects the world market for large-scale reverse osmosis systems will jump nearly 50% over the next four years. In its online report "RO, UF, and MF World Markets," McIlvaine estimates world RO equipment and membrane sales will reach $5.6 billion in 2012 vs. $3.8 billion in 2008. The greatest growth will be in the area of desalination, especially in Asia and the Mid-East.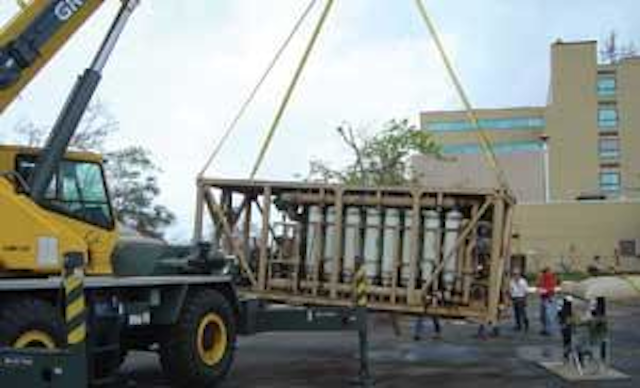 The U.S. Department of Defense's Expeditionary Unit Water Purifier (EUWP) system consists of 16 TARGA®-10 hollow fiber UF cartridges from Koch Membrane Systems mounted on two skids for airlifting in a C-130 transport plane to provide 100,000 GPD of potable water for reconstruction, humanitarian aid and disaster relief.
Click here to enlarge image
Basin Water, WESA to provide mining water treatment
Basin Water Inc. announced the execution of an agreement with Water & Earth Science Associates Ltd. (WESA), of Toronto, to provide process design and equipment for mining water treatment at a site in northeastern Ontario, Canada. This agreement represents Basin Water's first large order for an ion exchange system in the industrial market following its acquisition and integration of Mobile Process Technologies Co. in September 2007.
Eco-Tec wins CBNG produced water treatment contract
Eco-Tec recently was awarded a contract to supply a coal bed natural gas (CBNG) water treatment system to Marathon Oil, through one of its wholly owned subsidiaries, for a production sites in Northeast Wyoming. A key element of responsible CBNG resource development is management of groundwater produced during extraction – the function of Eco-Tec's RecoPur® Water Treatment System.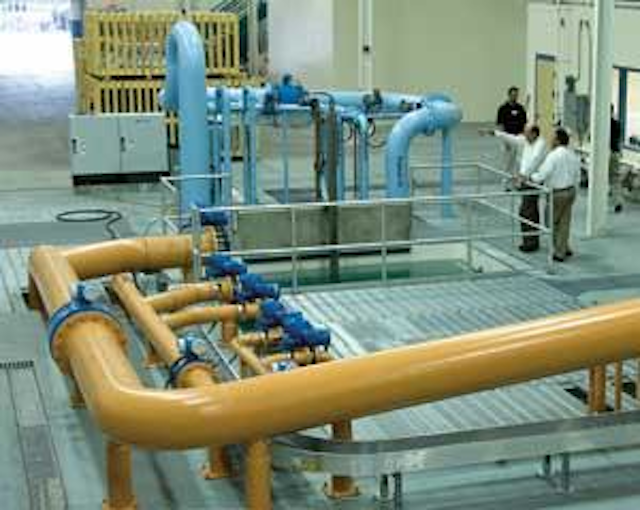 Wilo has added a new innovation to its German-engineered EMU pumps – the "Made In The USA" label. Now, pumps (up to 12-inch discharge) are cast, machined, assembled and tested in the USA. Pictured is the hydraulic test pit at the Wilo Submersible Technology Facility in Thomasville, GA.
Click here to enlarge image
RG Global starts up CBM plant for Yates Petroleum
RG Global's Catalyx Fluid Solutions division announced its first plant for Yates Petroleum Corp. to treat discharge water from coal bed methane wells has begun production after successfully passing the Wyoming DEQ water quality tests in preceding weeks. Near Gillette, WY, in the Powder River Basin, the plant – which is expected to cut treatment costs by 50% – employs ion exchange technology that cleans water more cost efficiently and with less waste byproduct than other methods.
Argonide/Toyota joint presentation highlights WQA
Headlining the industrial water agenda at this year's WQA Aquatech expo in Las Vegas , Argonide Corp.'s Henry Frank and Toyota Motor Manufacturing's Rick Lancaster presented a joint paper on application of Argonide's NanoCeram electropositive water filters in the carmaker's North American factories. The presentation reflected growing importance of water use reduction, reuse and recycling in the industrial environment. Toyota is highly committed to be the world's "greenest" company and water-use minimization throughout their manufacturing facilities is an integral part of those efforts.
Bionomic to upgrade NJ sewerage sludge combustion process
Bionomic Industries Inc. has been awarded a contract by C&H Industrial Inc. to design and furnish one WESP HEI™ (Wet Electrostatic Precipitator) to act as an emission polishing device before final gas treatment in a Durr regenerative afterburner. The new WESP will be installed downstream of existing venturi and tray scrubber units. The WESP is designed to remove PM 2.5 sub-micron particulates and heavy metals from a municipal sludge combustion unit.
KOCH to increase RO element production capacity
Koch Membrane Systems has invested in a new production line at its Wilmington, MA, facility that will more than double manufacturing capacity for its reverse osmosis (RO) and nanofiltration (NF) elements. The planned production line will supplement existing RO element production lines at the company's manufacturing facility in San Diego, CA, and is scheduled to be fully operational in mid-2009.
Volvo plant wins Virginia's top environmental award
Volvo Trucks North America's New River Valley Plant (NRV) won Virginia's highest environmental award – a Gold Medal and Governor's Flag – for employing advanced technology to recycle and reuse 70% of the wastewater generated by the plant's production activities. The system uses two forms of membrane filtration technology, RO and nanofiltration, to remove contaminants and return water to the desired level of quality.
Toray adds new buildings to accommodate growth
Toray Membrane USA Inc. added two new buildings adjacent to its existing manufacturing facility in Poway CA, for growing manufacturing and storage requirements. Building Two is 12,000 square feet and will be used as a raw material warehouse and offices for the finance department. The site – which now totals 30,000 square feet – also added its fourth automated rolling machine for production of spiral wound RO elements. The winder, which can produce 4", 8" and 16" diameter membranes, was to be fully operational by the end of April 2008.
Siemens to supply FGD scrubber system at three Mirant plants
The Shaw Group has selected Siemens Water Technologies to provide a system to treat wastewater from flue gas desulfurization scrubbers being constructed at Mirant Mid-Atlantic's Dickerson and Morgantown Power Plants and Mirant Chalk Point's Chalk Point Power Plant. The system will remove suspended solids, heavy metals and organics from the scrubber waste stream so that the water can be safely discharged. Located in Maryland, the wastewater projects are scheduled to begin operation in 2010.
Top process control vendors laud wireless standard
Leading suppliers of HART-based process automation products commented in a joint letter on the new WirelessHART standard released last fall as part of the HART 7 specification. Members of the ISA100 Standards Committee have formed a WirelessHART Convergence Subcommittee. Signatories included ABB's Sean Keeping, Emerson's Mark Schumacher, Endress+Hauser's Frank Hils and Siemens' Hans-Georg Kumpfmueller. The multi-vendor, interoperable wireless standard was defined specifically for requirements of process field device networks. It was initiated in early 2004 and developed by 37 HART Communications Foundation (HCF) companies.
---
WATER HEADLINES
Among other recent headlines at www.industrialww.com, see:
Aquatech wins water contract at Canada cogeneration plant
Hydraulic Institute names Sulzer Pumps' Michael Cropper member of year
WWEMA honors EPA administrator Johnson
CDM, CH2M Hill, Malcom Pirnie, Kennedy/Jenks among AAEE awardees
HDR acquires Texas engineering firm Claunch & Miller Inc.
Georg Fischer acquires Toronto's Alfa Plastics
ISO publishes International Workshop Agreement on water security
Duperon CEO recognized as Michigan manufacturer of year
MIOX names Reynolds new marketing VP
CH2M Hill launches world's largest submerged-membrane plant in San Diego
Hydro International acquires grit removal specialist Eutek Systems
aton provides critical audits for wastewater facilities
Cadmus Group merges with Quantec LLC
Doosan Hydro Technology recognized by GWI, IDA
NSF International launches new beverage quality program
ITT pump optimization services lower cost of ownership
Germany's Schauenburg Group acquires Sensidyne
Argonide NanoCeram-PAC water filters certified to NSF Standard 53
H2O Innovation buys Virginia's WTI, lands mining, oil industry contracts
Industrial Defender recognized for cyber security market leadership
SCADAgroup buys Adaptive Instruments Corp. of Hudson, Mass.
Alberici acquires Atlanta water infrastructure contractor WWPS
Dover establishes Pump Solutions Group
Black & Veatch tops NCE global rankings for water, power consultancy
BioteQ starts second of six mining water projects with Jiangxi Copper
Jacobs receives contract from NOVA Chemicals for Joffre site in Canada
GE helps Valero Energy avoid high purity capacity shortage at refinery
PPG, Plymouth to distribute wastewater technology to automotive OEMs