New Products
A datasheet is now available for the new ADS Spider™, a "place-anywhere" alarm monitoring system with optional battery pack ...
Jan 1st, 2008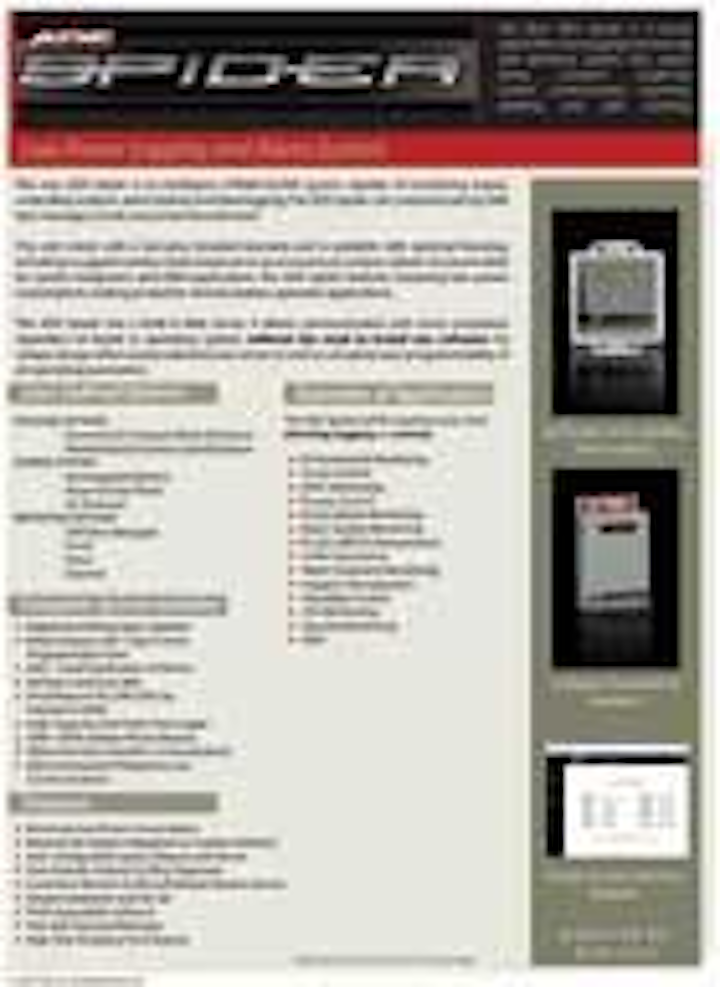 Remote monitoring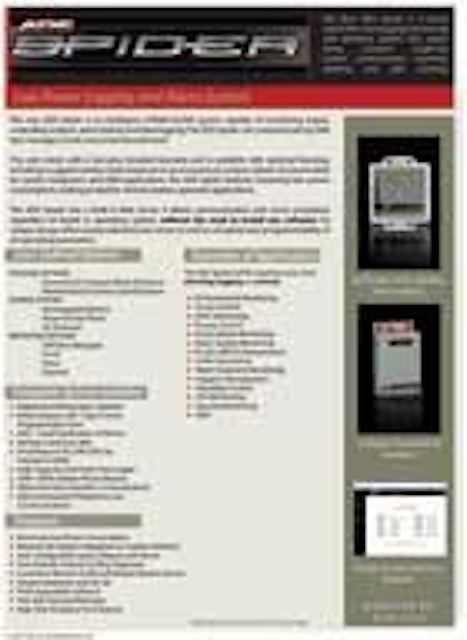 Click here to enlarge image
A datasheet is now available for the new ADS Spider™, a "place-anywhere" alarm monitoring system with optional battery pack, remote data access and customer-driven alarm and notification specifications. The stand-alone, compact, single-box system requires no user software. It operates from a Web server built into the monitor. This allows direct communication with most computers regardless of brand or operating system. ADS LLC, A Nova Technologies Company, Huntsville, AL, 800-633-7246, www.adsenv.com
Infrared thermometer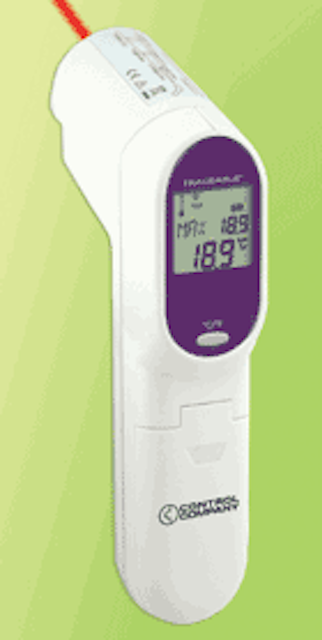 Click here to enlarge image
Control Company's new Traceable® Infrared Thermometer Gun takes instant, less-than-a-second, temperature readings of any surface. Unique design permits one-handed "point-and-shoot" readings. Uses include food preparation, pharmaceuticals, electronics, safety inspection, laboratories and any liquid or solid. Control Company, Friendswood, TX, 281-482-1714, www.control3.com
GS/MS lab analysis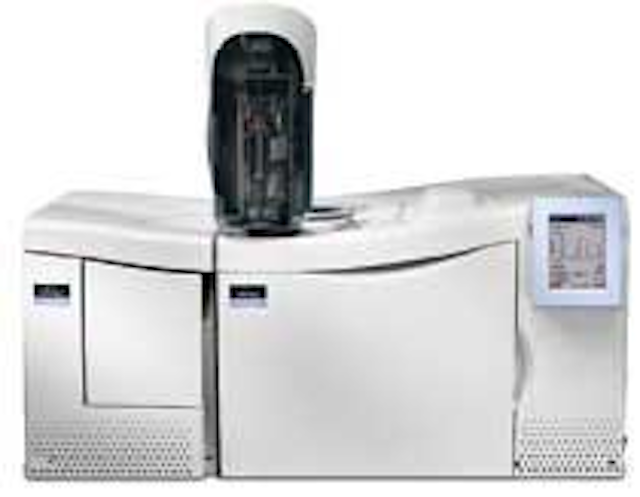 Click here to enlarge image
PerkinElmer introduces the Clarus® 560 D gas chromatograph/mass spectrometer (GC/MS) to offer another option for lower-volume laboratories' routine application needs. This instrument combines the diffusion-pump capabilities currently on the high-end Clarus 600 D MS with the robust Clarus 500 GC enabling low-throughput laboratories to conduct reliable, cost-effective analyses. It also includes a robust, flexible GC autosampler, an intuitive touch-screen interface and dual channels for additional application work, while maintaining a compact footprint for minimal bench space. PerkinElmer Inc., Waltham, MA, 877-754-6973, www.perkinelmer.com
Corrosion control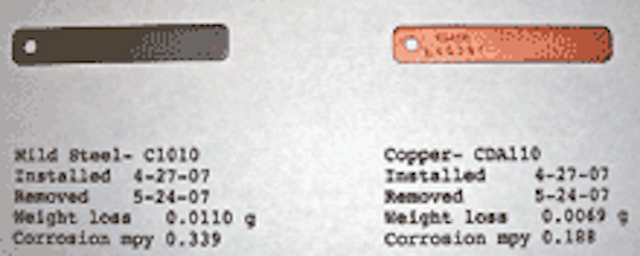 Click here to enlarge image
AS Inc.'s technology, the AS-8310 treatment program, provides excellent mild steel corrosion control. A tin compound, tolytriazole, HEDP, and poly carboxylate polymer fed at a maintenance level of 100 ppm, it's formulated to be highly competitive with less environmentally sensitive treatment and can successfully replace phosphate based corrosion inhibitors. The treatment can improve heat transfer, due to cleaner surfaces creating lower scaling potential, and can significantly reduce microbiologically induced corrosion (MIC). AS Inc., Santa Rosa, CA, 800-399-8141, www.asi-corrosioncontrol.com
Softener sanitization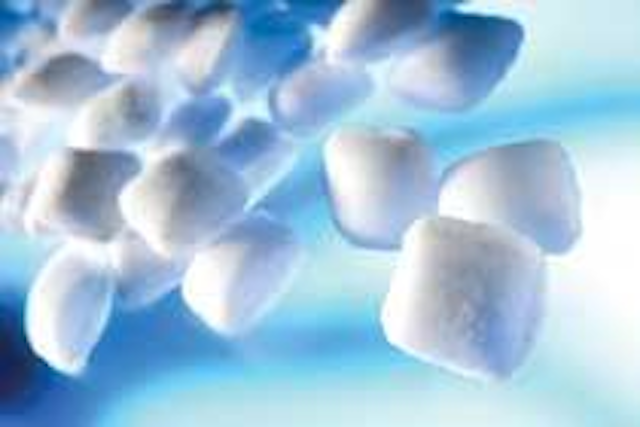 Click here to enlarge image
Water softeners are needed as pre-treatment stages for pure-water generation systems, but they also harbour a risk –ion exchange resins offer a large surface area for the growth of microorganisms that could contaminate water with high germ counts that could endanger production processes. With the germ-reducing regeneration tablets Sanisal P, Christ Water Technology Group has developed a simple and safe method for sanitizing water softener resins and brine tanks with significant advantages over conventional chemical or thermal sanitization methods, including no need for system shutdown during the process. Christ Water Technology Americas LLC, New Britain, CT, 860-223-0623, www.christwater-americas.com
Ceramic repair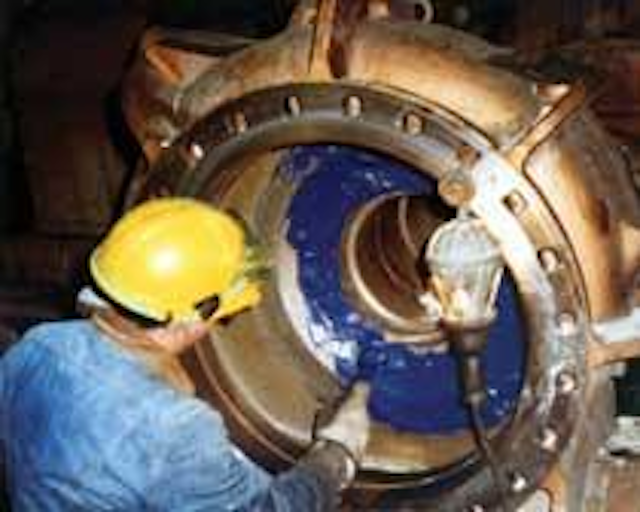 Click here to enlarge image
Ceramic Repair Putty™ from Devcon is a fast, economical way to repair or rebuild worn or damaged process equipment. This alumina-filled epoxy compound is engineered to form a smooth, long-lasting barrier against abrasion, corrosion, cavitation and chemical attack. The putty improves performance of critical equipment such as pump casings, impellers, suction plates, tube sheets, heat exchangers, condensers, water boxes, valves, chutes, tanks, hoppers, fan housings, etc. Devcon, Danvers, MA, 800-933-8266, www.devcon.com/76
Calcium hardness monitor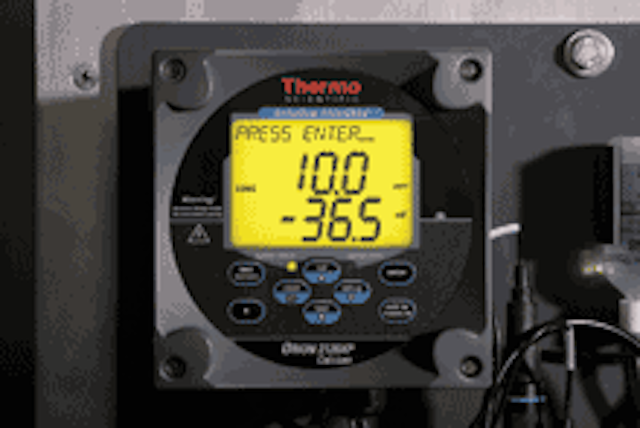 Click here to enlarge image
Offering superior protection from the costly effects of scale upon ultra-pure water systems, the new Thermo Scientific Orion 2120XP calcium hardness monitor is the latest product in the next generation of on-line water analysis products for customers in the power and drinking water markets. The new monitor offers users high accuracy and versatility and is suitable for personnel of all skill levels. It's built to withstand the wear and tear of continuous water analysis monitoring while maintaining its original sensitivity and efficiency. Thermo Fisher Scientific Inc., Beverly, MA, 617-275-6553, www.thermo.com/process
Harmonic distortion
Danfoss Drives has engineered a new Active Filter solution that virtually eliminates harmonic distortion in water and wastewater applications for maximized grid capacity, as well as system wide operational efficiency and reliability. The solution is built on Danfoss' VLT variable frequency drive technology and engineered to mitigate harmonics to a lower level than passive and 18 pulse options. It will do so from any point of installation, either at the drive or the common point of coupling. Danfoss Drives, Milwaukee, WI, 800-621-8806, www.danfossdrives.com
Trenchers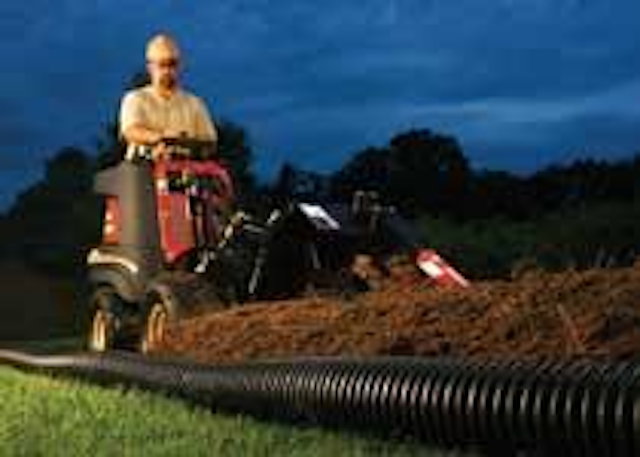 Click here to enlarge image
The Ditch Witch® organization introduces a new family of trenchers. The new Zahn™ series consists of three power units and set of compatible front ends that will revolutionize the industry. One of these machines is the Zahn R300, which is designed to be more powerful, more productive, and faster than any trencher in the 30-hp class. Its power unit includes a Kohler® gas engine, operator's console and articulation joint that enables the front end to perform like a dedicated unit. The two-wheel-drive unit powers two types of front-end trenchers, while its four-wheel-drive InterChange counterpart accepts up to seven types of front ends: trencher, plow, dumper, tiller, backhoe, stump grinder, and a tool carrier that can drive more than 40 quick-change attachments. The Charles Machine Works Inc., Perry, OK, 800-654-6481, ditchwitch.com.
Digital panel meter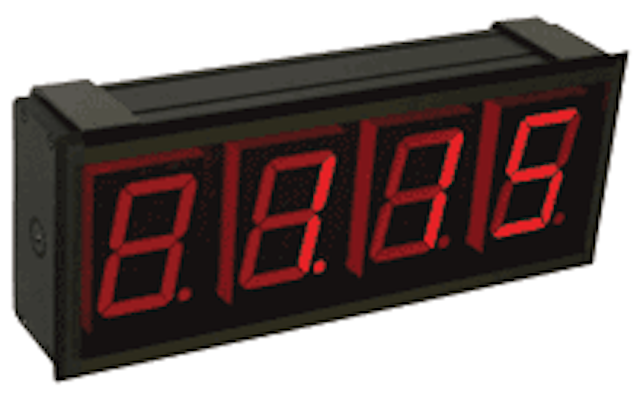 Click here to enlarge image
The new rugged Series DPMX Digital Panel Meter with universal power supply is an ideal tool for most types of process measurement. It can easily be viewed from across a room or in dark areas. The 2.3" LED segments are available in red, green, or blue. These panel meters come equipped with a universal power supply and user selectable process inputs to fit most applications. Dwyer Instruments Inc., Michigan City, IN, 800-872-9141, www.dwyer-inst.com
Process monitor & controller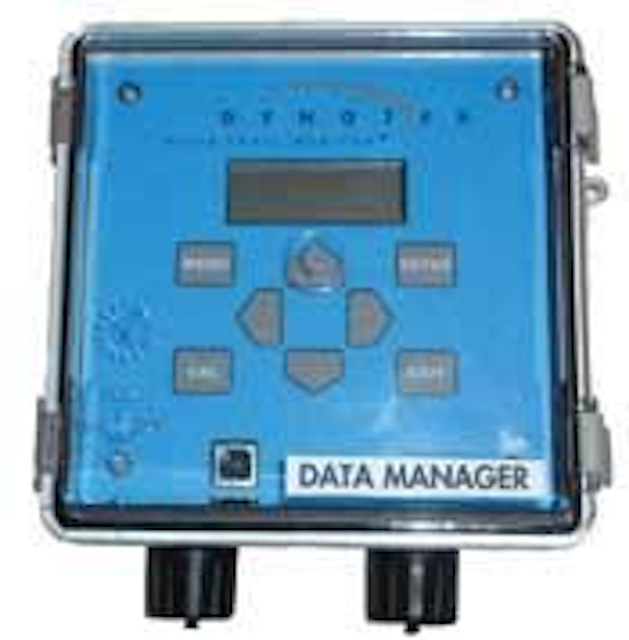 Click here to enlarge image
The wall-mountable Data Manager 700™, a programmable controller, monitor and datalogger for use with process, flow and water instrumentation includes large panel-mounted controls for easy gloved operation. Intuitive programming functions allow quick setup for both real-time and long-term monitoring of process, water level and flow operations. High/low alarm outputs enable integrated pump control. Dynotek, Arvada. CO, 303-234-1409, www.dynotekflm.com
Conductivity sensor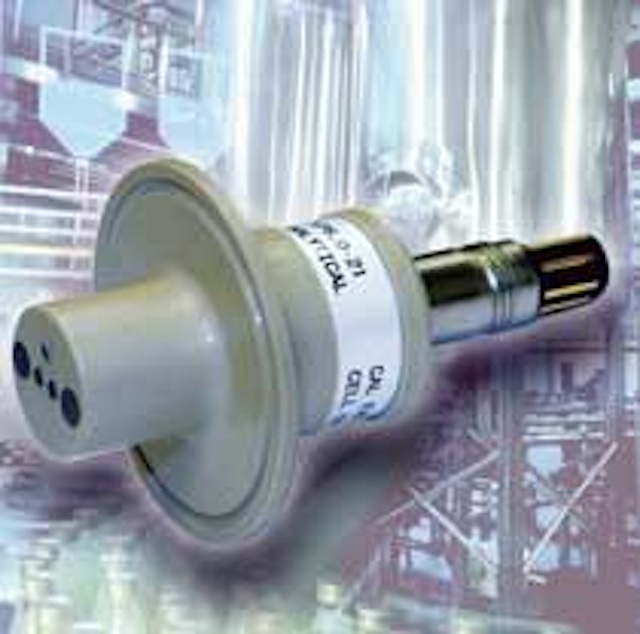 Click here to enlarge image
The Rosemount Analytical PUR-Sense™ Model 410VP conductivity sensor offers the industry's widest conductivity measurement range, providing exceptional linearity between 0.1 µS/cm to 600 µS/cm. The easy-to-install, four-electrode contacting sensor is designed for sanitary applications in the food & beverage and life sciences industries. Compatible with the Emerson Model 1056 Intelligent Analyzer, it's manufactured from FDA compliant materials, meets 3A and EHEDG hygienic standards, and is available with a range of sanitary process connections. Rosemount Analytical Inc., Emerson Process Management, Irvine, CA, 800-854-8257, www.emersonprocess.com/raihome/liquid/
Tank baffles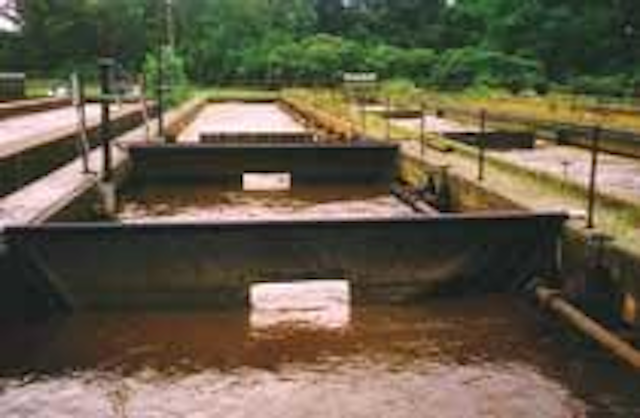 Click here to enlarge image
Environetics Director II tank baffles are designed for tank-based waste treatment operations. They're custom manufactured from heavy-duty reinforced geomembrane materials to improve flow patterns in new or existing circular or rectangular tanks. It's a cost effective upgrade for activated sludge systems to provide dramatic savings in energy costs by reducing power requirements. The baffles are dependable and designed for low maintenance. Environetics Inc., Lockport, IL, 815 838-8331, www.environeticsinc.com