Shredding Waste into Profits: Grinders Help Waste-to-Energy Facilities Stay Productive
Many facilities that process difficult liquid/solid combinations now rely upon dual-shafted grinders on the inlet side of pumps to ensure continuous flow and prevent blockages. These powerful shredders apply several tons of cutting force at peak loads, breaking down tough solids or rags and turning them into smaller particles that can flow easily through pumps and pipes. Using a capable, intelligently designed industrial grinder will help business owners shred waste into profits and keep their waste-to-energy operation running smoothly.
Jun 18th, 2015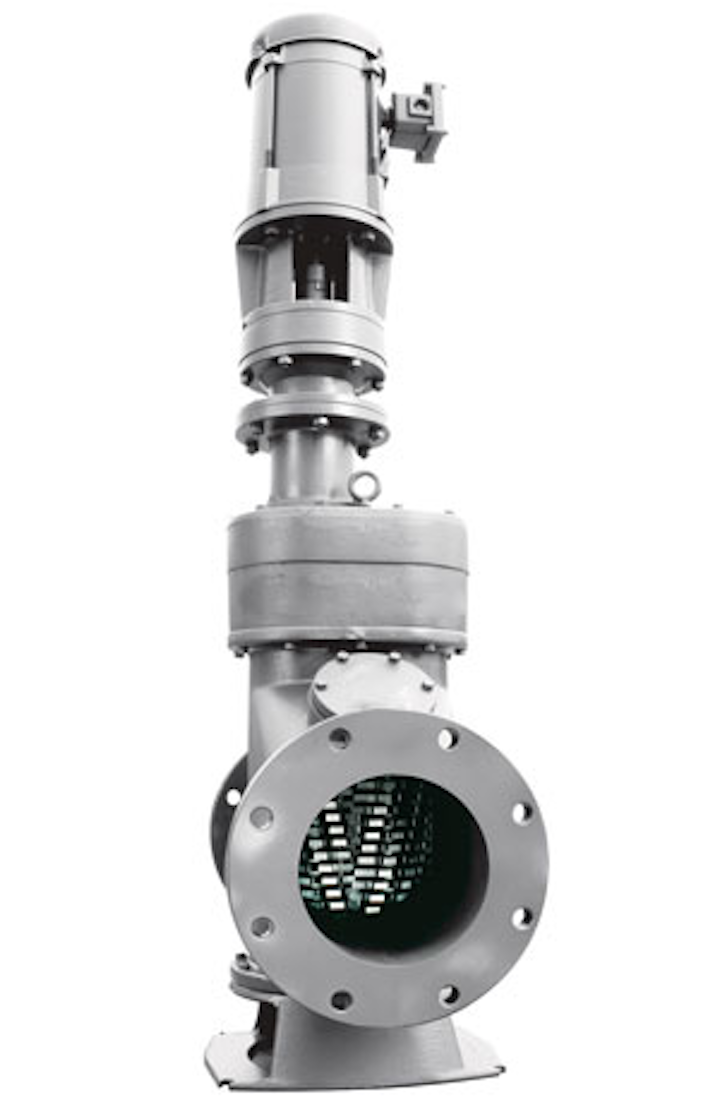 By Alec Mackie
Handling difficult liquids such as sludge, grease or fluids laden with solids in waste-to-energy operations presents a challenge that can impact the entire system if left untreated. When flow is interrupted by debris or large solids blocking a pump or pipeline, the waste conversion process can break down within seconds -- and the time and cost to deal with a complete clean-out, shutdown and restart could be astronomical.
Thankfully, this situation can easily be avoided. Many facilities that process difficult liquid/solid combinations now rely upon dual-shafted grinders on the inlet side of pumps to ensure continuous flow and prevent blockages. These powerful shredders apply several tons of cutting force at peak loads, breaking down tough solids or rags and turning them into smaller particles that can flow easily through pumps and pipes. These grinders are used to protect a wide variety of pumps, including centrifugal, chopper, rotary lobe, and progressive cavity pumps.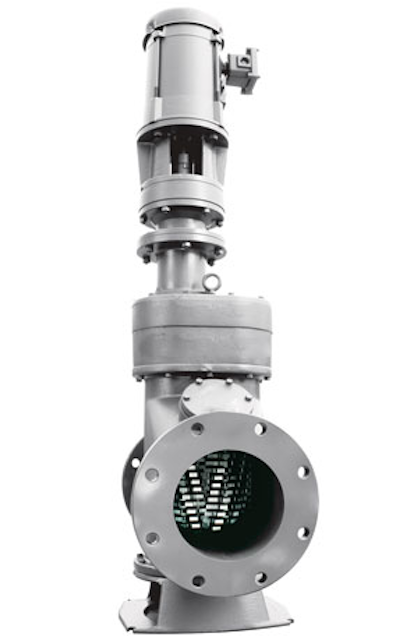 The 3-HYDRO-IX dual-shafted grinder from JWC Environmental's Monster Industrial division.
Dual-shafted grinders were originally developed for wastewater treatment, including sludge pumping. Since then, these grinders have been installed in a variety of applications beyond wastewater, such as manure, food waste, and biofuels processing.
Operation
Dual-shafted grinders employ low-speed, high-torque grinding to break down the troublesome solids. This approach has been found to be much more effective in dealing with the wide variety of solids in waste streams, including stringy rags, tough stones and other inorganic materials. Systems that utilize high-speed cutting blades, such as macerators, cannot deliver the same cutting force as dual-shafted grinders. Macerators also tend to become clogged with stringy material or get damaged by hard solids or waste streams with moderate grit.
Dual-shafted grinders comprise two rows of hardened, steel cutters that rotate toward one another. The cutter teeth actively grab solids and pull them through the cutter stack, shredding them into smaller pieces. The shafts also rotate at different speeds, so the cutters interact like a pair of scissors -- slicing the solids rather than crushing them; this helps ensure a consistently small particle size (most pieces are 1/2-inch or smaller). Top and bottom shaft bearings and robust mechanical seals prevent shaft deflection or seal failure when grinding in high-solids conditions.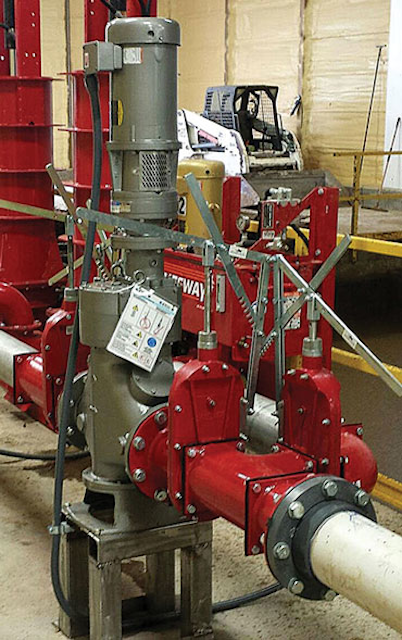 Example of an installed 3-HYDRO-IX within a manure pipeline.
For in-line, dual-shafted grinders, the system comes in two parts, ensuring an efficient and streamlined installation. The flanged steel housing is bolted into the pipeline at both ends, and a removable cutter cartridge, including two shafts of cutters, the gear reducer and motor, slides down into the housing. This simplifies maintenance inspections and repairs since the cutter cartridge can be removed and the pipeline can be put back into service.
JWC Environmental is a specialist in this technology and has developed a range of grinders, known as Monster grinders, for in-line and hopper-fed shredding applications. The Monster Industrial® division of JWC offers a complete lineup of engineered systems for waste-to-energy plants and is available with additional debris removal features such as rock traps, screens, compactors, and automated controllers to monitor the system.
The largest Monster Industrial grinder can be installed in pipelines up to 20 inches in diameter and process up to 6,800 gallons per minute. For maximum energy savings and operating efficiency, the grinders use only a 3-, 5- or 10-horsepower motor depending on the amount of flow.
Grinder operation is handled by a PLC-based central control panel, which monitors the unit and protects it against unexpected items that might cause damage -- such as a wrench or piece of steel rebar. When the controller senses an amperage spike, the cutters will stop, reverse and then try grinding again. The unit will automatically try the forward and reverse sequence three times in order to clear tough solids.
Farm Waste Fuels Innovation
To see the future of sustainable farming, one need look no further than BioTown Ag (Reynolds, Ind.). This technology-driven, environmentally-conscious farm focuses on eliminating the impact from past agricultural practices by exploring new frontiers in food production.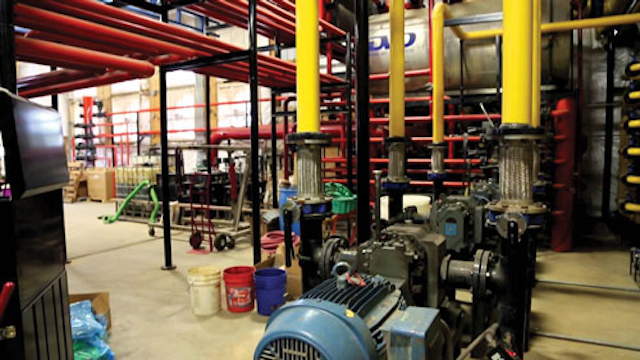 BioTown Ag's anaerobic food waste and manure digester converts waste into energy, fertilizer and soil. Image courtesy of BioTown Ag.
To meet its sustainability goals, BioTown incorporated an anaerobic food waste and manure digester to convert waste into energy, fertilizer and soil. Optimizing the efficiency of the digester requires more organic material than what the farm produces, so the company accepts organic byproducts from neighboring industries. This solution is a win-win for all parties: local companies have a greener disposal option for their food waste, and BioTown is able to keep its digester running at peak efficiency.
The methane gas produced by the digester is used to power the farm's three generators, while the fertilizer and soil that the digester produces are used on-site or sold locally. Each year, BioTown reduces CO2 emissions by 44,000 tons, landfill waste by 128,000 tons and wastewater by 36.5 million gallons. Incorporating this digester within its farming operation provides a host of benefits that ripple throughout the community. Local businesses have a sustainable disposal option for their organic waste, and the extra energy the farm doesn't use is sold back to the power grid.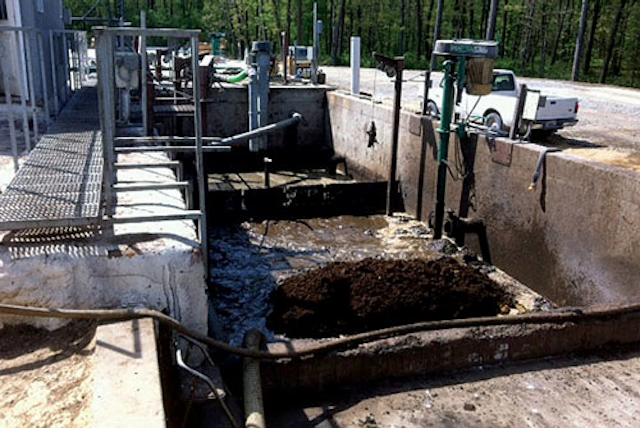 Manure and biosolids being mixed with water at the beginning of the digestion process. Image courtesy of Indiana Public Media. Photo by Joe Hren.
It's crucial that waste material flows uninhibited through the system because any downtime due to equipment failure can be costly and time-intensive to the entire operation. Within the digester are three chopper pumps that keep manure, organic waste and water flowing throughout the closed-loop process. Smaller solids can pass through the pumps without causing clogs, but if larger pieces of debris are left untreated, the whole system comes to a halt -- which is exactly the problem workers at BioTown were experiencing a few years go.
Along with the organic waste that goes in the digester, items like water bottles, wood and rock can end up in the feedstock mix during transport. Those items easily clog pipelines and pumps, and operators are required to manually unclog the chopper pumps to get the system running again. At BioTown, clogs within the chopper pumps were occurring every few days, which required a complete shutdown of the digester. And the tasks of cleaning and rebuilding the system were both unpleasant and potentially hazardous.
After researching available solutions, BioTown purchased a 3-HYDRO-IX from JWC's Monster Industrial division and installed it into the pipeline that flows into the feedstock mixing tank. Since the installation, the company's maintenance crew hasn't had to manually unclog the pumps, and the farm has purchased a second Monster grinder to keep up with increased capacity.
Grinding Beyond Wastewater
Sludge handling and debris reduction are just the beginning of a dual-shafted grinder's capabilities. Those running a waste-to-energy business have a lot on their minds -- worrying about pump and pipeline clogs shouldn't be one of those things. Using a capable, intelligently-designed industrial grinder will help business owners shred waste into profits and keep their waste-to-energy operation running smoothly.
About the Author: Alec Mackie is the marketing manager for JWC Environmental.
---
From Grease to Green Energy
In recent years, the appeal of using restaurant grease as a feedstock source for green energy projects has steadily grown. The product is nutrient-rich and can be used to enhance cogeneration systems. Further, using grease as a digester feedstock is an incredibly sustainable recycling practice, as little use exists for it in its raw form for other applications.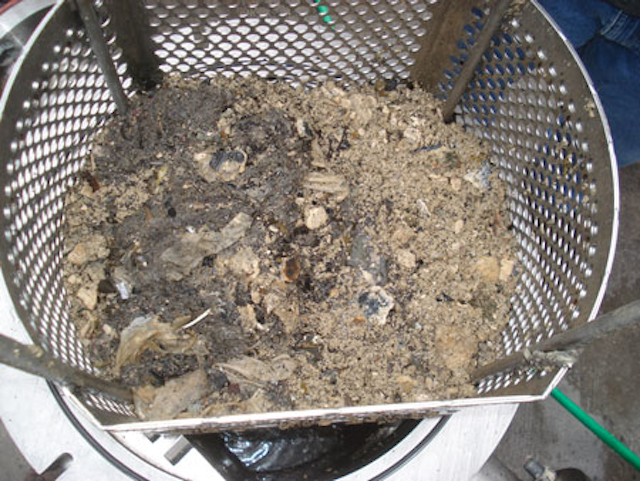 Restaurant grease, for instance, is readily abundant, and owners work with a vacuum truck service to collect liquid from grease traps at restaurants and deliver it to the biofuel or treatment plant. Vacuum truck owners also receive incentives for grease hauling -- another sustainable recycling system that benefits all involved parties. Cities with these types of systems feed the grease right into sludge digesters at water resource recovery plants. The grease mixes with sludge and increases the amount of methane produced, which, in turn, increases the power output of their cogeneration plant.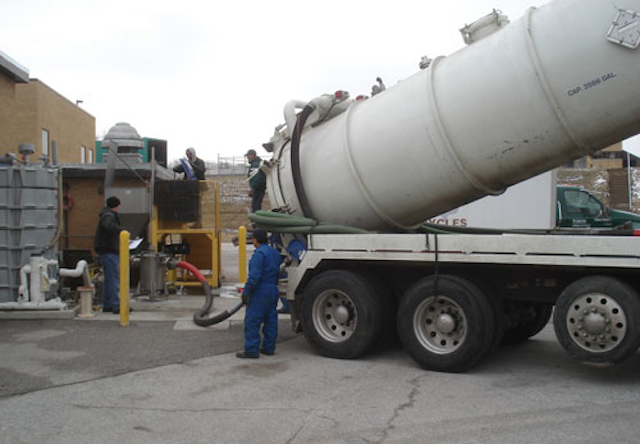 Problems at these plants can arise if the grease is too thick, or full of debris, to flow through the system. Without a heavy object trap and grinder on the discharge side of the grease truck, debris can enter the tank and get pulled into the grease pump, causing a blockage or severe pump damage. This results in continual maintenance at significant cost due to lost operations and pump repair.
Recently, this situation arose at the wastewater treatment plant in the city of West Lafayette, Ind. In 2009, the plant seized a revenue-generating opportunity for the thousands of gallons of grease the facility receives per month --sometimes upward of 18,000 gallons -- by installing a grease-receiving station. The plant soon found that, without a grinder on the discharge side of the grease trap, debris entering the grease tank would get pulled into the pump and cause blockage, equipment damage and unscheduled maintenance.
To solve the problem, the plant installed a JWC Environmental Heavy Object Trap (HOT). The HOT (model GRS) features an adjustable bar screen with 1/2-inch (12-mm) spacings, ideal for catching debris before reaching the pump. As grease is unloaded from a truck, the debris is captured by the HOT bar screen and allows the grease to flow freely through the pump without process interruption.
Since the installation of the HOT, the West Lafayette plant has significantly reduced the amount of debris being discharged into the grease tank. In addition, the easy-to-clean bar screen has reduced operator maintenance and repair expense, decreasing downtime for the facility. The system removes the trash and ensures the smooth flow of grease into the processing system, and that's just the way plant managers like it -- maximum flow, minimum problems.