New Products
Compilation of new products for the industrial water market.
Jun 19th, 2015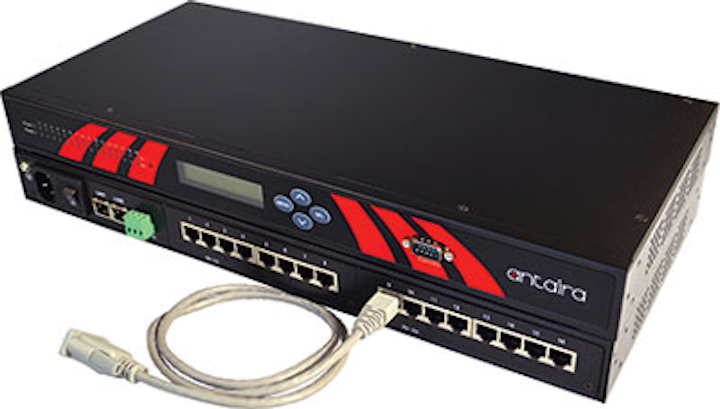 Serial device server
Antaira Technologies' new STE-7xx series is a 1U 19" rack-mount-type, serial-to-Ethernet device server designed to transmit any standard serial RS232 or RS422/485 data through the ubiquitous TCP/IP Ethernet based network. This series comes with optional models supporting 8 (STE-708) or 16 (STE-716) serial COM ports with 2.5 KV serial optical isolation protection for serial data. The new STE-708 and STE-716 are embedded with dual independent IP address LAN (10/100Tx) ports to support any mission-critical application with built-in dual subnet mode.
Antaira Technologies
www.antaira.com

AODD pumps
Wilden® has announced the release of 430 and 830 Advanced™ FIT 316 stainless steel AODD pumps. Featuring superior corrosion resistance in aggressive chemical applications, the pumps have been specifically designed to be direct replacements for existing Wilden 38-mm (1-1/2") and 51-mm (2") Advanced pump installations. The pumps feature superior flow rates and easy installation and fit bolt-to-bolt and pipe-to-pipe in existing fluid-handling piping systems to provide increased performance with no re-piping necessary.
Wilden Pump and Engineering
www.wildenpump.com

Remote sensing system
The SignalFire Remote Sensing System™ integrates an open architecture mesh network that allows users to choose the preferred sensor type for an application as well as mix sensor types in the same network. Depending on conditions of the operating environment and tank content, the right sensing technology might be float, pressure sensor, ultrasonic sensor, piezoresistive sensor, or air/guided wave radar. SignalFire's sensing system communicates and powers virtually any sensor with 4-20 mA, 1-5 V, Modbus, Hart, or digital IO.
SignalFire Wireless Technology
www.signal-fire.com

Ozone test
CHEMetrics has announced the release of its new Ozone Vacu-vials® Kit (K-7433) employing the Indigo method. The product enables bottled water producers to quickly and accurately test for residual ozone following the disinfection process. The CHEMetrics product employs an innovative self-zeroing feature that eliminates the need to generate a reagent blank every time tests are conducted. Further, the results can be read in any spectrophotometer that accepts a 13-mm round cell, enabling operators to use their existing laboratory equipment.
CHEMetrics Inc.
www.chemetrics.com

Pressure transmitters
American Sensor Technologies has received SIL2 certification for its 4-20 mA pressure transmitters with hazardous location ratings including explosion-proof, intrinsically safe and non-incendive areas. The SIL (Safety Integrity Level) certification was conducted through Exida and meets IEC 61508 standards. Nine products from the company are available in SIL2 configurations. The SIL process and rating simplify what systems use to predict failure and system maintenance. SIL2 devices have seen greater importance in upstream applications to ensure safety and reliability requirements are met.
American Sensor Technologies
www.astsensors.com

Ammonia monitor
Analytical Technology's Q46N Free Ammonia Monitor is designed for the continuous measurement of free ammonia, total ammonia and monochloramine. It is intended for monitoring chloraminated water to minimize the amount of excess ammonia in the system. The Q46N has a fast response time for real-time ammonia measurement and provides continuous, real-time updates for better process control. It utilizes a simple chemical system with three inexpensive reagents, which are required for operation.
Analytical Technology Inc.
www.analyticaltechnology.com

Panel-mount controller
Walchem, an IWAKI America company, has announced the new W100P Panel-Mount Controller, which provides an economical and reliable way to keep a water treatment program under control. It features a large display with icon-based programming and multiple language support that makes setup simple. This compact 1/4 DIN panel-mount enclosure with universal sensor input provides extraordinary flexibility, as it can also be used with almost any type of sensor needed. Four control outputs also allow the controller to be used in more places than other entry level models.
Walchem, an Iwaki America company
www.walchem.com

Gear motor
Baldor Electric has announced a new addition to its gear-reducer product offering, the Baldor-Dodge® Vertical GearMotor, which is built on a standard low-pole-count induction motor platform utilizing proven, highly efficient Dodge planetary gearing. Further, the meter offers a cost-effective alternative to common low-speed vertical pump drive technologies. The product line is available in six sizes for vertical pump speeds approximately 100 RPM to 500 RPM. The GearMotor also has torque ratings of 550,000 in-lbs. to 7,000,000 in-lbs. and approximate power ratings of 750 HP to over 25,000 HP, depending on output RPM.
Baldor Electric Company
www.baldor.com

Thermal mass flowmeter
The new ST102A Air/Gas Thermal Mass Flow Meter from Fluid Components International features an advanced dual-element averaging system, improving installation repeatability and accuracy for larger diameter pipes and ducts. The ST102A meter overcomes various flow profile concerns with a simple, economical, dual-element averaging system. The transmitter electronics average the input from two independent flow elements into a single output. Each flow element can be independently configured for insertion length and process connection to allow installation flexibility.
Fluid Components International
www.fluidcomponents.com

Ceramic filtration, flotation
The akvoFloat™ from akvola Technologies is an energy-efficient, ceramic, flotation-filtration water clarification process. The company has

successfully completed two pilot tests of its technology for two different applications: one for SWRO pretreatment and the second for oilfield produced water treatment. The akvoFloat combines ceramic-based micro-flotation and micro-filtration in one tank, achieving high energy-efficiency, ease of use, reliability, and footprint reduction -- providing high-quality water with up to 90% lower energy consumption and 20% lower footprint than other technologies.
akvola Technologies
www.akvola.com

High-performing linings
Stonhard's Stonchem series delivers high chemical protection against ultra-corrosive environments, resisting organic and inorganic acids, and oxidizing chemicals and solvents. With the use of high-performing resin chemistries, Stonhard offers exceptional lining protection to perform under extreme physical conditions with the Stonchem series. Stonchem linings are seamless, resinous systems that protect underlying substrates from a broad range of chemicals, including most fuels, salts, oils, alkalis, acids, and petroleum. Stonchem systems are also NSF-61 potable water approved.
Stonhard
www.stonhard.com

Isolation valves
Clark Solutions has introduced its Model CTV-K and Model CTV-R Molded 3-Way Isolation Valves ideal for demanding low-flow applications where minimum size and internal volume are desired. The CTV-K Isolation Valves feature PEEK valve bodies, and the CTV-R Valves feature PPS valve bodies. Both models have PTFE isolation diaphragm materials to allow compatibility with aggressive media. Standard design features include low power consumption, continuous duty cycle, and Perfluor soft elastomeric seals, which handle particulate matter well.
Clark Solutions
www.clarksol.com

Industrial security system
Check Point Software Technologies has announced the extension of its comprehensive Industrial Control Systems (ICS) security solution with a new 1200R security gateway appliance; enhancements to granular visibility and control of SCADA networks; and SCADA-aware threat detection and prevention. The 1200R is a new, purpose-built, ruggedized security gateway appliance for harsh environments and remote deployments such as those found on plant floors, at remote electrical substations and at power generation plants.
Check Point Software Technologies Ltd.
www.checkpoint.com

Liquid level switches
Endress+Hauser has released Liquiphant FTL31 and FTL33 liquid level switches based on vibrating tuning fork technology. The sensors are excellent replacements for float switches or conductive, capacitance and optical sensors. The FTL31 is designed for the chemical, oil and gas, and other industries, while the FTL33 is more suited for use in the food and beverage and pharmaceutical industries. Both sensors also work in areas where those measuring principles are not suitable due to conductivity, build-up, foam, turbulence, flow conditions, or air bubbles.
Endress+ Hauser
www.us.endress.com

Nanofiltration membrane
GE has announced the new seawater sulfate removal (SWSR) nanofiltration membrane for the upstream oil and gas market. The technology eliminates almost all sulfate from injection water in offshore oil production and removes sulfate to drastically reduce scale and corrosion in the injection well. It also has exceptional fouling resistance due to its three-layer membrane design and smooth surface. The SWSR series is an advancement of GE's DK series nanofiltration membrane and provides a high transmission of sodium chloride into the permeate water.
GE
www.ge.com

Antimicrobial solid tablets
Dow Microbial Control, a business group of The Dow Chemical Company, has received approval from the EPA for its solid form of KATHON™ 7 TL Antimicrobial solid tablets. The tablets are packaged in a water-soluble film that dissolves rapidly with no residue, significantly reducing potential user contact with the active ingredients while providing the same performance as the liquid KATHON antimicrobials. This new product provides water treatment professionals with a convenient new option for microbial control of smaller cooling systems.
Dow Chemical Company
www.dow.com

Industrial software
With its new V13 Sinema Server software release, Siemens is simplifying the monitoring of industrial networks. The software automatically detects all Profinet and Ethernet devices within a network and enables a clear visualization of them in a web browser. Version 13 is also able to directly read out information from Simatic Controllers and connected Profinet devices. This affords maintenance personnel an overview of all device conditions and connections at any time, allowing even extensive networks encompassing up to 50,000 nodes to be efficiently monitored.
Siemens AG
www.siemens.com

Remote speaker microphone
Motorola's new PAX wireless remote speaker microphone (RSM) allows users to maintain critical communications even on remote job sites. Designed for customers who work outside their vehicle and depend on a mobile radio, the RSM pairs instantly with the Bluetooth-enabled Mobile Microphone (Bluetooth Gateway). This RSM works up to 100 meters line-of-sight away from the radio, and the plug-and-play solution takes only seconds to set up. The RLN6552 includes the Wireless Remote Speaker Microphone with battery (RLN6544) and the Mobile Microphone with the Bluetooth Gateway (PMMN4097) system.
Motorola
www.motorolasolutions.com

Spectrofluorophotometer
Shimadzu Scientific Instruments has released its high-performance RF-6000 spectrofluorophotometer. Delivering high speed, stability and sensitivity, and incorporating new intuitive LabSolutions RF software, the RF-6000 is ideal for challenging applications in such markets as chemicals, environmental, pharmaceutical, foods, and life sciences. The RF-6000 offers high sensitivity and signal-to-noise ratio (SNR; SNR ≥1,000 RMS and ≥350 peak-peak), allowing for low limits of quantitation, easily achieving quantitation of fluorescein to concentrations of 1 × 10-13 mol/L.
Shimadzu Scientific Instruments
www.ssi.shimadzu.com

Piston pumps
Scientific Systems has launched its Next Generation Product Line, which includes seven new classes of pumps, including the LS Class, consisting of reliable single-headed, positive displacement piston pumps with low pulsation and high accuracy. With micro-stepping motor technology and a single-piston pump mechanism, the LS Class exceeds the performance of more expensive units at a fraction of the cost. These pumps are ideal for a wide variety of uses, including biocompatible separations, semi-prep liquid chromatography, numerous HPLC applications, metering, dispensing, and general laboratory use.
Scientific Systems Inc.
www.ssihplc.com

Synchrophasors
Schweitzer Engineering Laboratories recently added synchrophasors to its SEL-735 Power Quality and Revenue Meter. With synchrophasors, users can now collect real-time measurements of electrical quantities from every SEL-735 Meter across their system. They can use synchrophasor data to perform wide-area control, validate system models, determine stability margins, maximize stable system loading, detect islanding, record system-wide disturbances, and visualize dynamic system responses. The SEL-735 supports the latest version of the synchrophasor standard, IEEE C37.118-2011 Class P.
Schweitzer Engineering Laboratories Inc.
www.selinc.com

Pressure-boosting system
The Grundfos Hydro MPC BoosterpaQ® is a fully-integrated and compact pressure-boosting system that offers multiple configurations -- with up to six pumps in parallel -- to accommodate industrial applications. The new CU 352 intuitive graphical interface controller makes the system user-friendly, while ensuring efficient operation. Using actual pump-curve data, it helps to optimize energy consumption by controlling/staging the number of pumps in operation, as well as the speed of the individual pumps, in order to continually adjust the performance of the system to variations in demand.
Grundfos Pumps Corporation
us.grundfos.com

Frequency inverter
NORD now offers the SK 180E frequency inverter, which focuses on the essential functionality that is necessary for pumps and conveyor technology. The SK180E is energy-efficient and cost-effective and offers both significant savings as well as outstanding performance. NORD designs, develops and produces AC Drives, and with the introduction of the SK180E series, a continuous range of performance is now available including optional features to simplify the drive selection process for a wide variety of applications.
NORD Gear Corporation USA
www.nord.com

Ball valves
Actuated 3-piece stainless steel ball valves from Valtorc International are available with electrical or pneumatic actuators for full automation. Valve sizes range from 1/4" to 4" in NPT (threaded), socket or butt-weld connection ends, and ISO mounting assures a proper fit for actuation. With a swing-out design for easy maintenance, the valves are also available in 2- or 3-way configurations and are available in full port flow patterns up to sizes 4". Available end connections include threaded, socket weld, butt-weld, and flanged.
Valtorc International USA
www.valtorc.com