Products & Services: Filtration
Collection of filtration products and services.
Feb 23rd, 2015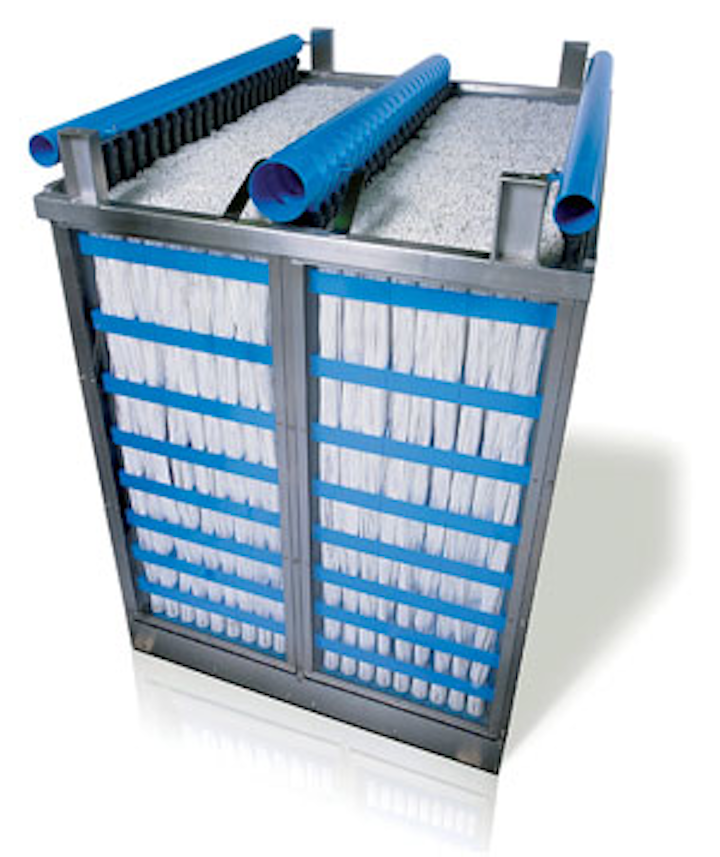 Ultrafiltration membrane bioreactor
Koch has announced its PURON® MBR ultrafiltration membrane bioreactor series, ideal for industrial wastewater treatment to reduce energy, minimize downtime and increase flux in a cost-efficient manner. This patented module features reinforced polyvinylidene fluoride hollow fibers that are fixed only at the bottom, virtually eliminating the buildup of hair and fibrous materials. Solids and particulates, including bacteria, remain on the outside, while permeate is drawn through the membrane to the inside of the fibers. PURON systems have a low energy demand, and the robust braided membrane fibers of the modules lead to minimal downtime and breakage.
Koch Membrane Systems Inc.
www.kochmembrane.com
Ultrafiltration booster module
The BMS booster module from Grundfos is designed for reverse osmosis, filtration and ultrafiltration, pressure boosting, and water supply for high-flow and pressure applications in industrial and wastewater systems. Its design focuses on simplicity by removing maintenance-heavy components and facilitating easy access to all vital parts. In addition, a permanent magnet motor has improved pump efficiency by up to 5%. The permanent magnet motor is capable of speeds between 4,000 and 5,500 rotations per minute, controlled by a variable frequency drive that consistently operates at the optimal duty point, guaranteeing energy-efficient operation at all times.
Grundfos Pumps Corporation
us.grundfos.com
Dual treatment system
Aqua-Aerobic's Aqua BioMax dual treatment system is ideal for low-flow applications involving, for example, construction sites and industrial wastewater. Combining rotating biological contactor (RBC) technology with cloth media filtration, the unit utilizes multiple RBC disks that are vertically-mounted and closely spaced on a steel shaft, providing a large surface area for bio film growth. The disks rotate out of the wastewater to provide aeration for efficient biological oxygen demand (BOD) removal and nitrification. A cloth media drum filter follows the RBC to collect and remove the biological solids prior to the effluent discharge.
Aqua-Aerobic Systems Inc.
www.aqua-aerobic.com
Ultrafiltration
Degrémont Technologies-Aquasource's Ecoskid™ system provides an ultrafiltration solution that involves passing water through porous and hollow fiber membranes for the removal of particles such as turbidity, bacteria and viruses. The membrane wall acts as a filter for all particles larger than 0.01 micron, and the result is a pure water with a turbidity lower than 0.1 NFU. The Ecoskid works on a patented dead-end filtration mode. Thanks to its exclusive process, the unit does not require any backwash pump or backwash tank to run its backwash cycles.
Degrémont Technologies
www.degremont-technologies.com
PVDF/Polypro bag housing
Ideal for use in pure, ultra-pure and corrosive applications, Rosedale's Generation II filter housings incorporate a unique one-piece, seamless body with flows to 100 gallons per minute. It is rated to 100 psi at +150°F and offers excellent resistance to corrosion. An easy-to-remove cover and basket make bag change-out quick and clean. No special tools are needed, and the filter is back in service in a matter of minutes.
Rosedale Products Inc.
www.rosedaleproducts.com
Self-cleaning water filter
The 180C (clamp-style) filter from Forsta Filters boasts a more compact and lightweight alternative to the standard 180 series. The 180C series offers a first-stage coarse protection screen and a second-stage fine screen. The line accommodates simple online installation, with the water-saving advantage of using only a single 1" flush valve. Flush volume is as little as 4-12 gallons per backwash, depending on the selected model. These filters are ideal for industrial applications where installation footprint, weight or flush volumes are of concern.
Forsta Filters Inc.
www.forstafilters.com
Water treatment plant
The Trident® HS package water treatment plant from WesTech provides multi-barrier protection for difficult-to-treat surface water, groundwater, industrial process water, and tertiary wastewater. The Trident system design consists of packaged high-rate settling, adsorption clarification, mixed media filtration, and optional ultraviolet disinfection. These innovations allow the Trident to handle very high raw water turbidity and solids loading and achieve total organic carbon reductions of up to 70% or more. In addition, all of these benefits can be achieved with a nearly 50% reduction in waste production.
WesTech Engineering
www.westech-inc.com
Self-cleaning filters
Bernoulli System's multi-basket self-cleaning BMG-range filters reduce a number of elements in natural water sources and protect sensible process equipment from clogging and fouling. By using multiple smaller filter baskets in one filter body, the systems offer fine filtration down to 100 microns, even at large capacities. The filters serve as pre-filters and act as an additional protection for finer filtration technologies such as ultrafiltration and multimedia filtration. With desalination, they also act as pre-filters before reverse osmosis. The filters are used in power generation, petrochemicals, steelmaking, pharmaceuticals, pulp & paper, and food & beverage.
Bernoulli Systems
www.bernoulli.se/en
Automatic filters
The Amiad SAF Series includes sophisticated, easy-to-operate, automatic filters, with a self-cleaning mechanism driven by an electric motor. The filters support flow rates of up to 400 m³/h (1,760 GPM), with various screens designed to cover a range of 800-10 micron filtration degrees. Further, they are available in inlet/outlet diameters of 2" to 10". Raw water enters the filter inlet through the coarse screen, which protects the cleaning mechanism from large debris. The water then passes through the fine screen, trapping dirt particles that accumulate inside the filter. Next, clean water flows through the filter outlet.
Amiad Water Systems
www.amiadusa.com
Membrane brine concentrator system
Oasys Water's Membrane Brine Concentrator (MBC) System, a complete forward osmosis offering, is a solution for high-salinity industrial wastewater that uses membranes and the principles of osmosis to separate water from salt and other dissolved solids at a fraction of the energy and cost of traditional evaporation. The MBC system can desalinate 4,000 barrels of water per day and is ideal for the oil and gas industry where it can achieve up to 85-percent water recovery, discharging brine of concentrations up to 25 percent salt.
Oasys Water
www.oasyswater.com
Sediment filters
AXEON SDF-Series Sediment Depth Filters are available in 2.5" and 4.5" diameters and provide an economical option for numerous pre- and post-filtration applications. SDF cartridges can be used as a single stage of filtration for particulate reduction or as an integrated stage of filtration within a water treatment system. These filters are engineered to create an outside-in flow that allows the outmost layer to capture larger-sized particles and the inner layer to capture the stated micron rating of the filter. In addition, the trapping of various-sized particles layer-by-layer provides a high dirt-holding capacity.
AXEON Water Technologies
www.axeonwater.com
Ultrafiltration module
The W20 Liqui-Flux® Ultrafiltration Module from Membrana is offered with 91 m2 of membrane surface area and allows customers to build ultrafiltration systems using fewer modules and less equipment with its high filtration surface area. The module is a durable and robust ultrafiltration system that can process flow rates of 4.5-14 m3/h in a single device. Further, the module utilizes the proven UltraPES™ membrane in an inside-out flow configuration and delivers consistent, high-quality filtration. Many systems using Liqui-Flux are currently operating in process water and pre-treatment to RO applications around the world.
Membrana
www.membrana.com
Media filter
The Fuzzy Filter® from Schreiber is a high-rate, compact, modular, and applicable filter for various applications. The filter uses a nominal 30"-deep media bed comprised of individual 1.25"-diameter compressible synthetic fiber spheres and achieves a high rate of solids removal down to 4 microns. By utilizing violent air scour in conjunction with positive media retention, the filter media cleans easily with very little wash water and without media loss. The Fuzzy Filter is available in sizes from 2.25 to 64 ft2 with flows ranging from 0.13 to 3.68 MGD at a loading rate of 40 GPM/ft2.
Schreiber LLC
www.schreiberwater.com
Reverse osmosis elements
DOW FILMTEC™ ECO elements offer rejection and flow performance for industrial water needs by using new membrane chemistry and low-dP feed spacers that deliver significantly lower energy costs and reduced chemical consumption in downstream polishing costs. With an industry-leading performance rejection of 99.7% at 150 psi, the elements provide robust performance over a longer element life, which means less impact on the environment and less strain on the bottom line. DOW FILMTEC ECO elements are offered in ECO-400i, ECO-440i and ECO-500i configurations.
Dow Water & Process Solutions
www.dow.com
Drum screen system
The Screenmaster RT internally-fed drum screen from Franklin Miller employs a rotating drum to provide effective fine screening of a variety of materials. The unit's cylindrical screen is constructed of perforated stainless steel, wedgewire or filter cloth. As the material is fed into the unit's inlet, it is distributed along the internal screen surfaces by a weir, which moves the solids along the screen length as the drum rotates. The liquids are then discharged out the unit's bottom, and the solids are conveyed to the unit discharge flange. Drums up to 60" diameter and 156" (4 m) length are offered.
Franklin Miller Inc.
www.franklinmiller.com
Bag filter
Unlike traditional metal and plastic filters, Hayward's patent-pending FLV Series Bag Filter features a one-piece, injection-molded, thermoplastic, glass-filled polypropylene body with true union end connections and an ergonomic cover design with a liquid-displacing dome, vent valve and drain plug. Offered in Platinum GFPP with FPM seals, the units are offered in simplex, duplex, triplex, and quadplex units. True union end connections in sizes 1-1/4" to 4", the FLV Series can accommodate filter bags or a single 7" cartridge or five 2-1/2" cartridges. Applications include chemical processing, food and beverage, metal plating, aquaculture, and water and wastewater.
Hayward Industries Inc.
www.haywardflowcontrol.com