WATER BRIEFS
Emerson Process Management has supplied over 1,500 Rosemount® pressure and temperature transmitters for use in the Sakhalin II offshore oil and gas production project in the Sea of Okhotsk.
Nov 1st, 2005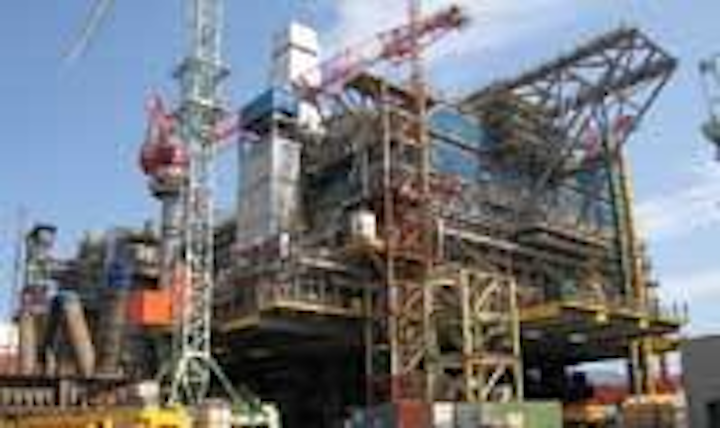 Emerson wins Russian oil & gas contracts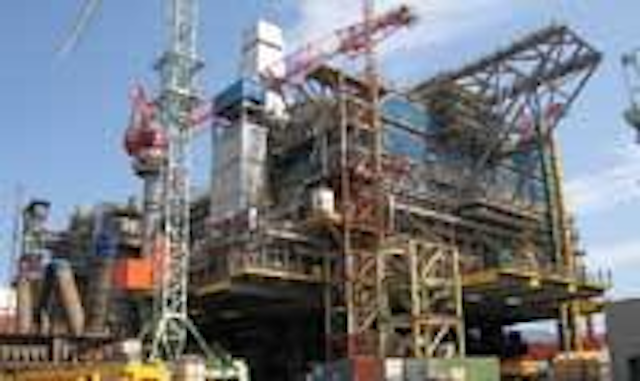 Click here to enlarge image
Emerson Process Management has supplied over 1,500 Rosemount® pressure and temperature transmitters for use in the Sakhalin II offshore oil and gas production project in the Sea of Okhotsk. Situated near Sakhalin Island north of Japan, the area faces harsh environmental conditions that challenge measurement instrumentation with temperatures from -45 to +40°C.
Airport chooses Parkson for deicing runoff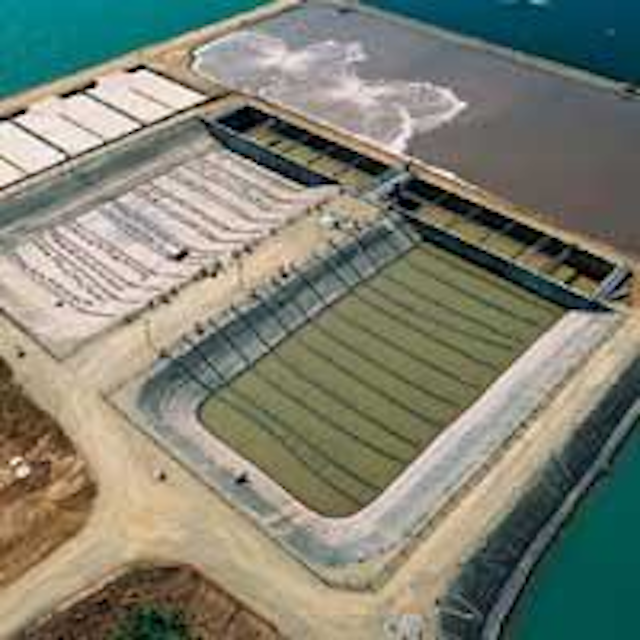 Click here to enlarge image
The Cincinnati-Northern Kentucky International Airport has selected an advanced wastewater treatment solution from Parkson Corp. to expand the nearby Elijah Creek Stormwater Treatment System. Parkson's Biolac® extended aeration activated sludge treatment system will be used to treat stormwater from the airport's deicing runoff, which contains glycol and potassium acetate. With an influent average flow of 5.0 mgd, the system will be installed in the current 15 mg equalization basin and will treat an average of 30,000 pounds of BOD per day.
Flowmeter helps utility avoid condenser fouling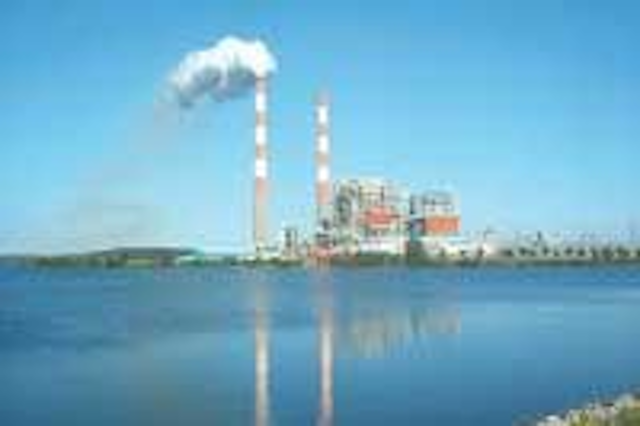 Click here to enlarge image
Accusonic Technologies, a division of ADP Corp., recently published a new Project Brief to its website entitled, "Accusonic Flowmeter Accurately Detects Fossil Fuel Plant Trouble Spots." The brief relates how Kansas City Power & Light reduced plant heat rate by an estimated 0.5% to 1.0% at its La Cygne Generating Station, Unit 1, by installing an Accusonic flowmeter to predict and avoid potential condenser fouling problems before they developed.
Aquatech wins Aruba desalination contract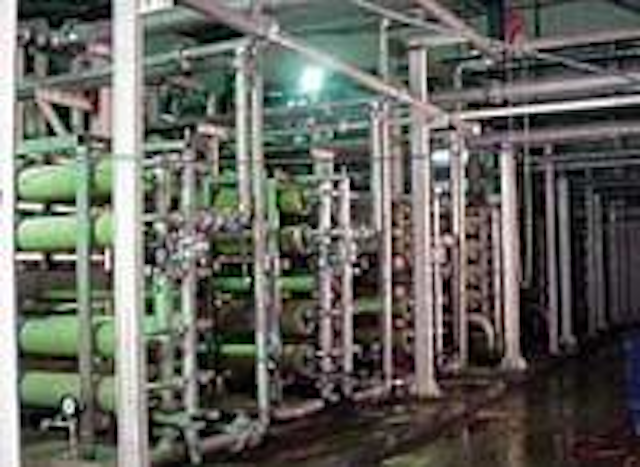 Click here to enlarge image
Aquatech International Corp., a leader in the field of desalination, water reuse and zero liquid discharge, received a contract for a thermal desalination plant for the Valero Refining Co. It will design and supply equipment to treat over 1.5 mgd of seawater for use as boiler feedwater for Valero's cogeneration power plant at its Aruba refinery. The desalination equipment features the multi-stage flash (MSF) process. When delivered in 2006, it will be the 8th identical MSF unit supplied by Aquatech on the island. Over the past 20 years, the company has supplied desalination equipment with a total installed capacity of over 11 mgd to Water-en Engergiebedrifj (WEB), the Caribbean Island's power and water utility.
Signet flowmeter solves plating problem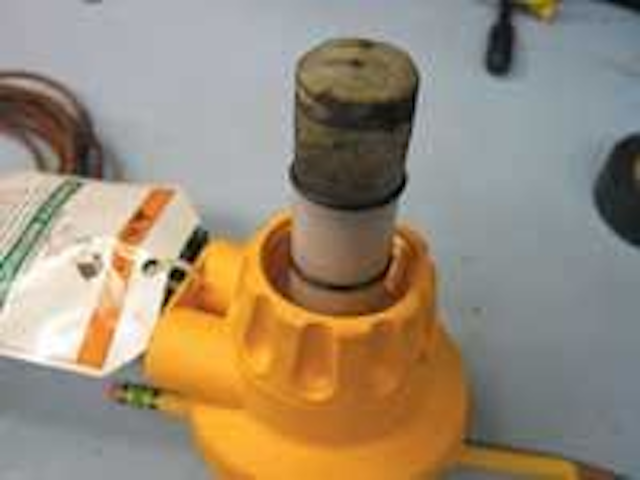 Click here to enlarge image
Crown City Plating Co., of El Monte, Calif., will use George Fischer's new Signet 2551 Insertion Magmeter to solve its continual flow measurement problem in the chrome effluent neutralization waste line. The flow measurement in the neutralization process dictates the amount of neutralizing reagents to be injected; using more than required would cost an excess in neutralizing chemicals and sewage discharge fees. The new meter installed directly into the existing paddlewheel fitting.
---
EPA revises 2 rules, strikes airline deal
The U.S. Environmental Protection Agency has finalized the Pretreatment Streamlining Rule, which revises how industrial and commercial facilities manage their wastewater discharges before sending it on to publicly owned treatment works (POTW) for final treatment. For details, see: www.epa.gov/npdes/pretreatment. In addition, the agency finalized revisions to the wastewater treatment exemptions for hazardous waste mixtures, an action also known as the "Headworks Rule Exemptions." For more, see: www.epa.gov/epaoswer/hazwaste/id/headworks. In other news, the agency also reached settlements with 11 major domestic airlines and 13 smaller airlines to ensure safety of drinking water used by passengers and crew. The settling airlines agreed to routinely monitor aircraft water quality. The action came after an EPA investigation in 2004 of 327 U.S. and foreign planes at 19 airports found total coliform contamination in the drinking water in 15% of aircraft.
Christ Water Technology now independent
With approval of shareholders of Best Water Technology, of Mondsee, Austria, Christ Water Technology has split from BWT and will operate as an independent group of companies after four years under the Austrian company. CWT plans to focus on becoming the leading international company in industrial water treatment. Its U.S. units are Christ Water USA Inc., in Vancouver, Wash., and Tenergy Christ Water LLC, in New Britain, Conn.
Badger Meter named one of 200 Best ´
Badger Meter Inc. has been named one of the "200 Best Small Companies" by Forbes magazine. The honor comes as the flow measurement and control technology and AMR digital connectivity specialist celebrates its 100th anniversary. The last time it made the Forbes list was in 1999.
---

Click here to enlarge image
Global MBR market up sharply
A BCC Inc. report says the global MBR market is estimated at $216.6 million, and rising at an average annual growth rate (AAGR) of 10.9%. It's expected to approach $363 million by 2010. This market is growing faster than the larger market for advanced wastewater treatment equipment, about 5.5% AAGR - and more rapidly than the market for other types of membrane systems, which are increasing at rates from 8% to 10%, depending on technology.
WWEMA's Presidents Council adds Powers
Charles J. "Chuck" Powers, global business director for the Water Resources Market for Flowserve Pump, has been appointed to Water and Wastewater Equipment Manufacturers Association's (WWEMA) Presidents Council. Powers also is a member of the Industrial WaterWorld Editorial Advisory Committee.
Koch Membrane treats India tannery wastewater
Two of India's largest leather-tanning factories are using Koch Membrane Systems Inc.'s UF and RO membrane technologies to increase how much wastewater they can reuse during processing. Eastern Chrome Tanning Corp. and N.M. Zackriah & Co. Ltd., in the city of Ambur, have operated wastewater recovery plants using the UF system with hollow fiber membranes and RO with spiral membranes for over a year. This region, within Tamil Nadu state, is one of India's primary leather tanning regions, and faces chronic water shortages, so availability of process water for the tanning operations is crucial to the factories.
Watts Water Technologies buys two companies
Watts Water Technologies Inc. announced that its Canadian subsidiary, Watts Industries (Canada) Inc., has acquired Flexflow Tubing LLP, of Langley, BC, Canada, in an asset purchase transaction. In other news, the company agreed to acquire China's Changsha Valve Works.
Calgon Carbon's Miss. plant resumes operation
Calgon Carbon Corp.'s Pearl River plant in Pearlington, Miss., resumed production of granular activated carbon on Nov. 4. The plant had been idled since the mandatory evacuation order in advance of Hurricane Katrina on Aug. 28, 2005. The storm surge from Hurricane Katrina partially submerged the plant. Although damage to major processing equipment was not extensive, electrical components critical to the operation of the plant required replacement.
Cytec expands mining chemicals line
Cytec Industries Inc. has completed expansion of its plant in Mount Pleasant, Tenn., to increase production capacity for metal extractant products that are of critical importance to the copper mining industry. The facility, which employs about 145 people, produces a variety of specialty chemicals, including metal extractant products used in copper mining. The expansion will allow the plant to increase its output of these products by 50%.
Teledyne to acquire MGD Technologies
Teledyne Technologies' subsidiary Teledyne Isco Inc. entered into an agreement to acquire San Diego's MGD Technologies Inc. The deal expected to close in November. Founded in 1996, MGD's principal business focuses on the development, manufacture, sales, repair and sustaining engineering of a unique velocity profiling flow measurement system.
WEF helps assess Gulf WWTP damage
The Water Environment Federation, members working for utilities, and private companies are collaborating with global engineering, consulting and construction company Black & Veatch to develop and present an area-wide assessment of the damage and probable cost to rehabilitate or replace wastewater systems in the Gulf States.
EVTN wins another oil plant deal
Enviro Voraxial Technology Inc. has signed a contract to deploy a Voraxial® 2000 Separator to a New Mexico oil production facility for a produced water (oil/water) separation application. This contract follows the recent announcement of another system being deployed to an offshore oil platform owned by CNOOC, China's third largest oil company.
AWWA honored for MTBE fight
The association wins top honors for best non-profit advocacy campaign at an awards ceremony sponsored by PR News, a trade publication of the public relations industry. It was recognized for efforts on behalf of water utilities to keep the MTBE "Safe Harbor" provision out of the Energy Bill. If it became law, the provision would have saddled drinking water utilities, local communities and consumers with an estimated $25-$29 billion in cleanup costs.
Beckhoff Automation opens new offices
Answering to the company's rapidly building momentum, Beckhoff Automation has two new regional offices in Duluth, Ga., and Bellevue, Wash. Both will serve as regional centers for customer training and direct sales and application support. They're strategically located to best serve Beckhoff's rapidly growing South and Northwest regions. In other news, the Burnsville, MN, company created a formal Canadian subsidiary, Beckhoff Automation Canada Ltd (BCAN), in Guelph, Ontario, near Toronto.
Specker named national sales manager
Chemical Injection Technologies Inc., a specialist in gas chlorinators for water and wastewater treatment and an ISO 9001:2000 certified company, has appointed Jonathan Specker as national sales manager. He'll be responsible for sales and distributor management of all Superior products in the United States and Puerto Rico. He joins Bob Fraum, vice president of sales, and Jay Long, international sales manager.
Novazone system extends fruit shelf life
Novazone, a provider of innovative ozone-based solutions to improve the freshness and safety of food and water, announced that Golden Maid Packers, growers of plums, table grapes, persimmons and kiwifruit, has deployed its ozone-based cold storage solution for kiwifruit to extend shelf life and provide additional protection against Botrytis.
Siemens to integrate USFilter
Germany's Siemens A.G. will further integrate the USFilter portfolio into its global operations to better benefit from the brand awareness and know-how of one of the leading U.S. water treatment companies, announced Dr. Roger Radke, CEO of Siemens Water Technologies and USFilter Corp., at WEFTEC.05. Radke outlined the company's plan to bring USFilter technology to global customers via the Siemens worldwide network of sales and service offices. The Siemens Group Industrial Solutions and Services (I&S) purchased USFilter of Warrendale, Pa., from Veolia Environnement in 2004, making it the cornerstone of the new Siemens Water Technologies global business - which now generates nearly $1.9 billion in annual revenues.