NEW PRODUCTS
Vynckier Enclosures Systems, the global provider of fiberglass enclosures, is launching its long-announced change of color, "Platinum Plus" for the entire line of "VJ" and "RVJ" Series of enclosures.
Nov 1st, 2005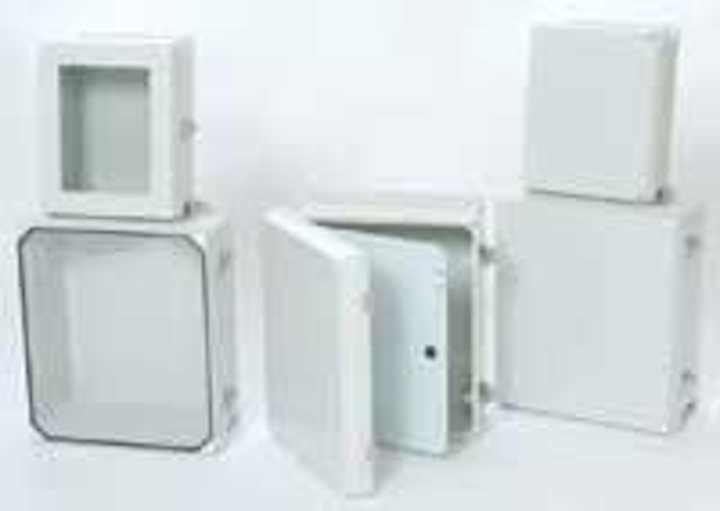 Going platinum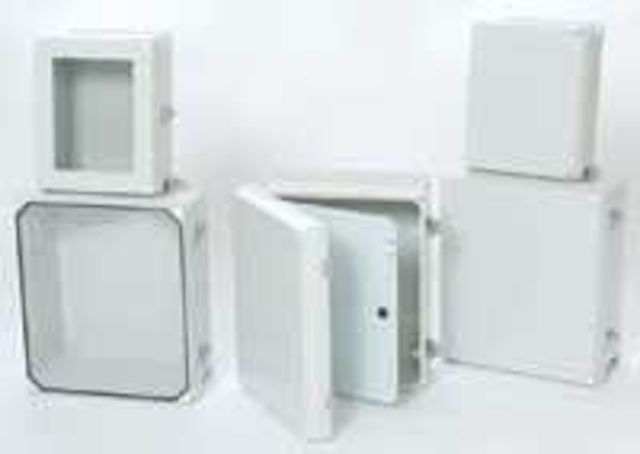 Click here to enlarge image
Vynckier Enclosures Systems, the global provider of fiberglass enclosures, is launching its long-announced change of color, "Platinum Plus" for the entire line of "VJ" and "RVJ" Series of enclosures. The new color has been a demand color from system integrators, panel shops, and OEMs, which have long requested a cleaner, cooler and more aesthetically pleasing appearance. It also offers better heat reflection and better UV resistance, due to the lighter color. These enclosures are designed for use as electrical junction boxes in highly corrosive environments.Vynckier Enclosure Systems, Lowell, MI, 616-291-1074, www.enclosuresonline.com.
Sample conditioning module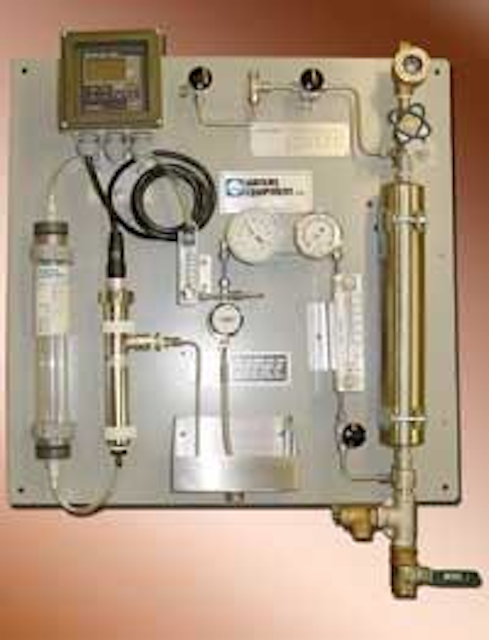 Click here to enlarge image
Waters Equipment's Series 3100 single-point sample conditioning modules (SCM) provide a versatile tool for lowering the temperature and pressure of single samples in power plants and boiler rooms. They may be used to obtain grab samples of boiler water or steam and can include a wide range of instruments for online analysis. They're pre-engineered and customized to user requirements from a large menu of selectable features. Waters Equipment Co., Lansdale, PA, 215-699-8700, www.watersequipment.com.
Boiler diagnostics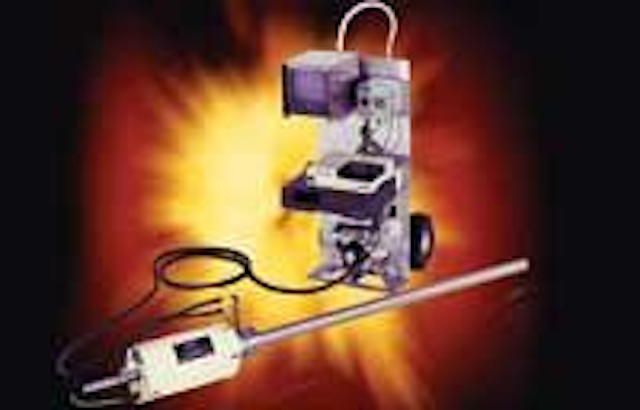 Click here to enlarge image
Lenox Instrument Co.'s Portable FireSight® Diagnostic Cart System provides color video monitoring of combustion and process control in boilers, furnaces, kilns and incinerators. With this mobile system, plant operators can use one unit for diagnostics, testing and monitoring of several individual boiler or furnace functions using any available opening. It's entirely self-contained, with a cart-mounted air filter, power system, and 9" CCD color monitor. Lenox Instrument Co., Trevose, PA, 800-356-1104, www.lenoxinst.com.
Polymer blending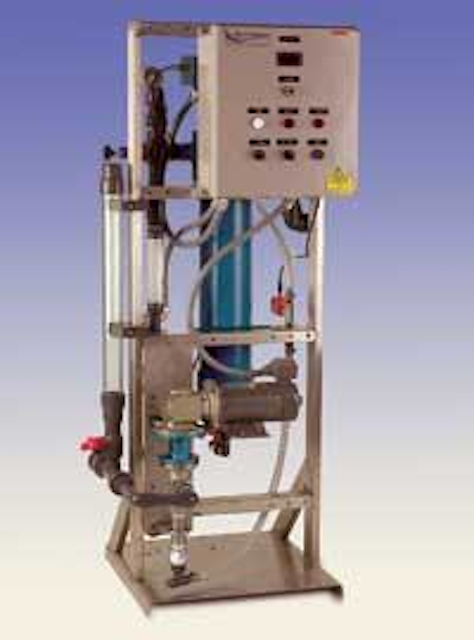 Click here to enlarge image
Fluid Dynamics Inc., a subsidiary of Neptune Chemical Pump Co. Inc., introduces the L Series dynaBLEND™ polymer blending and activation system. These units feature diaphragm metering or progressing cavity pumps, plus a proprietary non-mechanical, high-energy polymer mixing chamber. Control options range from simple manual systems to fully instrumented PLC-based units with an unlimited variety of inputs and outputs. Standard units are available to provide activated polymer solution from 30 gph through 21,000 gph. Fluid Dynamics Inc., Boulder, CO, 888-530-7300, www.dynablend.com.
Panel enclosures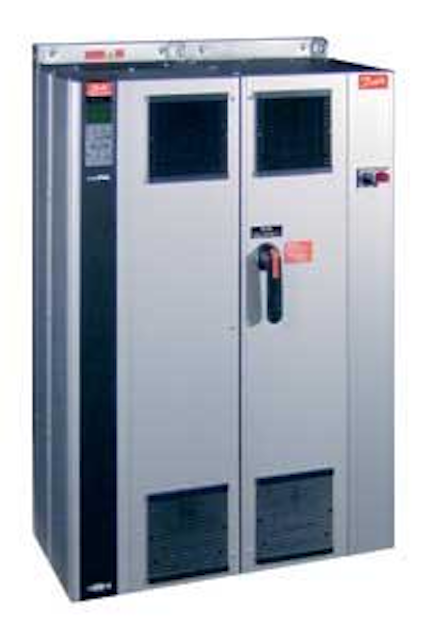 Click here to enlarge image
Danfoss Water & Wastewater introduces a new compact standard enclosure for 125 HP through 350 HP VLT Series drives. These compact enclosures provide a complete control solution in nearly any water and wastewater application that utilizes variable frequency drives for machine and process control. Standard panels are now available for drives in the range 90 through 250 kW at 380 volts. Two heights of enclosures are used, one for less than 200 HP, the other for 250, 300 and 350 HP. Danfoss Water & Wastewater, Milwaukee, WI, 800-621-8806, www.namc.danfoss.com.
Structural integrity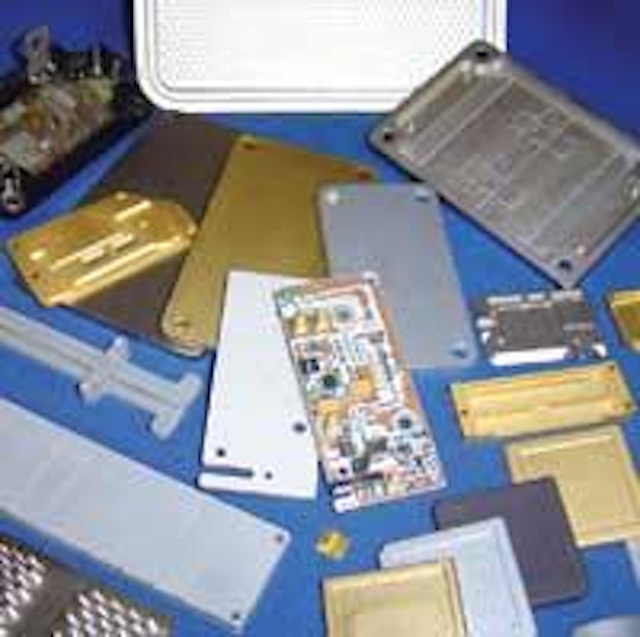 Click here to enlarge image
CPS Corporation, a worldwide designer and producer of metal matrix composites, offers AlSiC (aluminum silicon carbide), which provides highly reliable and cost-effective solutions for thermal management of heavy equipment electronics used in water treatment and wastewater management facilities. In addition to being lightweight, high strength and stiffness make AlSiC components tolerant of in-service shock and vibrations that occur in these type facilities. Unlike traditional packaging materials, the material enables a tailored coefficient of thermal expansion (CTE), offering compatibility with various electronic devices and assemblies. CPS Corp., Chartley, MA, 508-222-0614, www.alsic.com.
Chlorine dioxide generators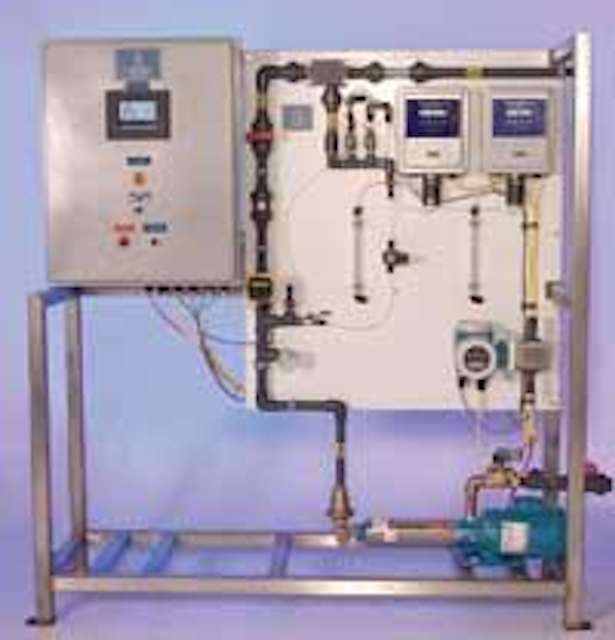 Click here to enlarge image
Altivia offers cost-effective water treatment systems including a broad range of chlorine dioxide generators and full service programs. Chlorine dioxide is effective for control of biofilm, algae and Legionella in contaminated cooling systems where chlorine treatment programs have proven ineffective. Chlorine dioxide doesn't chlorinate or react with ammonia resulting in lower effective dose rates. These simple manual to fully automatic chlorine dioxide generators, such as the new Millennium IIITM and Eka Purate® systems, can be linked to plant process controls. Altivia Corp., Houston, TX, 713-286-6306, www.altivia.com.
New MBR system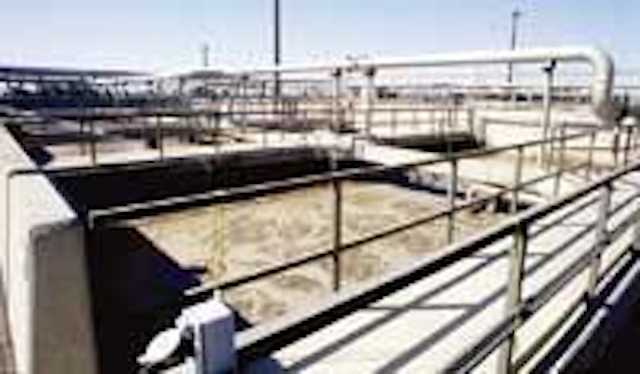 Click here to enlarge image
Parkson Corp., an Axel Johnson Inc. company, announces a technological breakthrough with the new design of its membrane bioreactor (MBR) system. The DynaLift™ MBR system features a membrane component outside the biological reactor. These remote "airlift-assisted tubular membranes," located at the most convenient and accessible site nearby, make the system highly flexible and cost effective. By separating the biological and membrane systems, each process can be independently optimized. Parkson Corp., Fort Lauderdale, FL, 954-917-1870; www.parkson.com.
EtherCAT master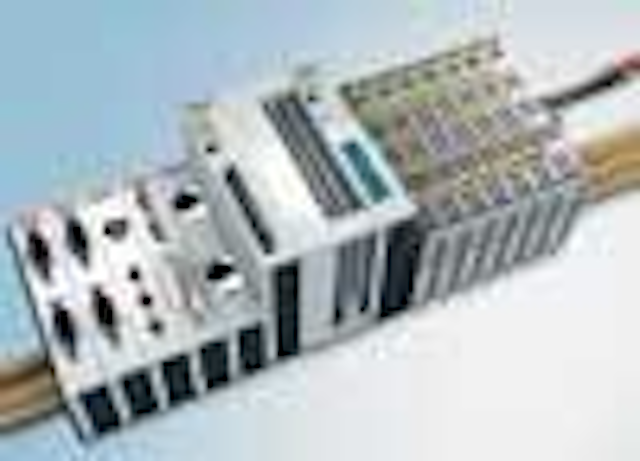 Click here to enlarge image
The CX1020 is the newest entry into the family of Beckhoff Embedded PCs. In addition to CPU performance several times more powerful than previous CX controller models, this unit features a direct connection for EtherCAT I/O Terminals. It offers industrial PC performance at the modular I/O level as a compact controller mounted on DIN rail. Compared to the CX1000 with 266 MHz AMD Geode processor, the CX1020 boasts a 600 MHz Intel Celeron M CPU. It also requires no rotating media through the use of Compact Flash as its boot and memory medium. Beckhoff Automation LLC, Burnsville, MN, 952-890-0000, www.beckhoffautomation.com.
New gas monitor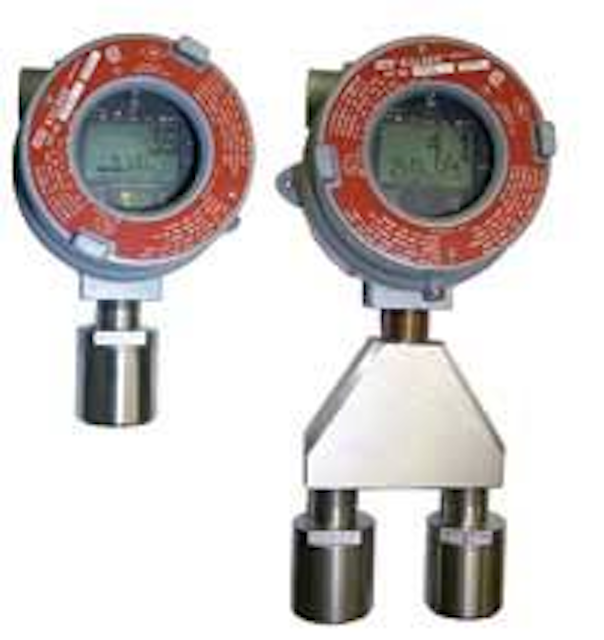 Click here to enlarge image
Global Detection Systems introduces a new gas monitor, offering low installation cost and low initial cost, and available in single or dual configuration. The Gas-Max Monitor is available in Toxic, LEL and dual-monitor configurations. The model with dual configuration allows for both a toxic sensor and an LEL sensor to be incorporated into the same unit, thus reducing space, simplifying installation and drastically decreasing the cost of installation (single conduit run, etc.). It operates in either 2-wire 4-20mA "sink" mode (accepting low-power sensors) or 3-wire 4-20mA "source" mode (providing excitation for higher power-consuming sensors). Global Detection Systems, Santa Fe, TX; Tel: 409-927-2980; Web: www.gdscorp.com.
Access door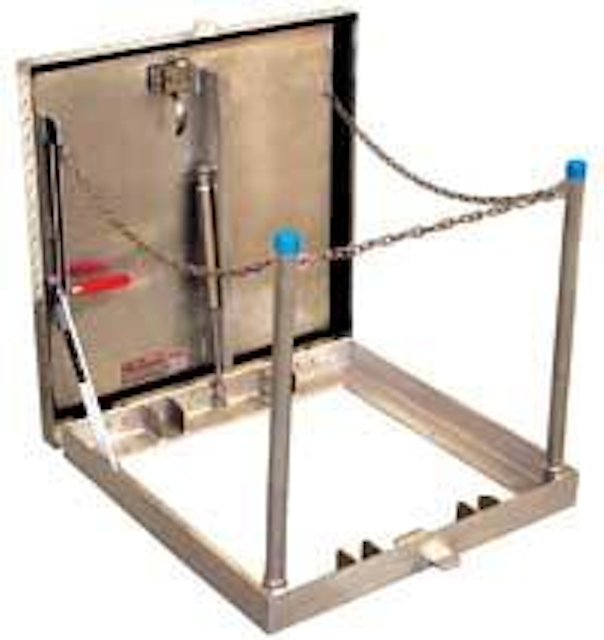 Click here to enlarge image
Bilco has introduced the TypeSM Door for access to underground equipment. The door is designed for applications that do not require a flush-mounted door. Constructed of aluminum and equipped with heavy-duty stainless steel hardware, the door features an overlapping cover design that is fully gasketed to shed water and prevents debris from entering the areaway. It is ideally suited for water treatment, reservoir and other industrial and municipal applications where infiltration of contaminants is a concern. The door also incorporates an internal mounting flange that simplifies installation. Bilco Co., West Haven, CT, 203-934-6363, www.bilco.com.
Industrial sanitizer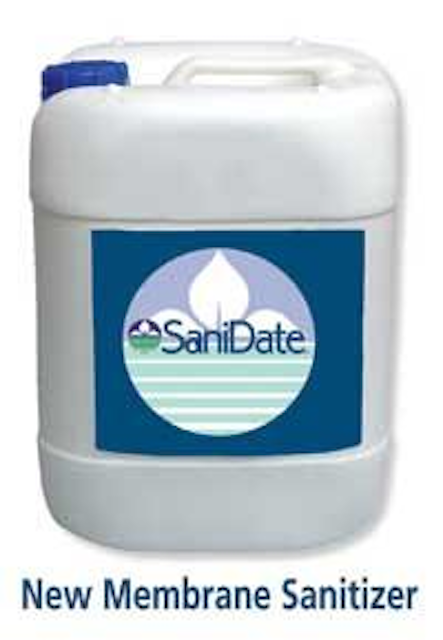 Click here to enlarge image
BioSafe Systems now offers SaniDate®, a sanitizer/disinfectant for industrial water treatment applications, including membrane filtration. The product is a new alternative to chlorine-based and Quaternary compounds that eliminates algae, bacteria, fungus, and viruses. It is non-carcinogenic, sewerable, and will not harm delicate membranes and filters. The sanitizer is effective against a variety of microscopic contaminants and is fully biodegradable. It prevents microbes from colonizing and can be added directly to circulating water without interrupting the cycle, reducing process shutdown, saving time and energy. BioSafe Systems, Glastonbury, CT, 888-273-3088, www. biosafesystems.com.
Filtration analysis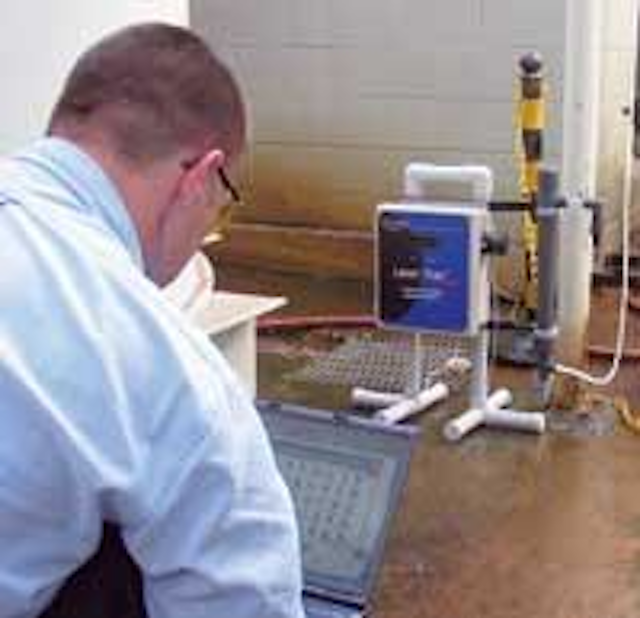 Click here to enlarge image
Pre-Treatment Optimization Profile Service & Solutions (POPSS), offered by Chemtrac Systems, is a filtration analysis that provides customers with data including filter loading conditions, service time, backwash schedule, backwash procedure, and filter media performance. POPSS provides early detection and avoidance of common water treatment upsets including membrane fouling, pre-treatment optimization, chemical underfeed or overfeed, and operator error. Based on the filtration profile analysis, the company will investigate and recommend the most cost effective method for improving water quality. Chemtrac Systems Inc., Norcross, GA, 800-442-8722, www.chemtrac.com.
Harmonic filter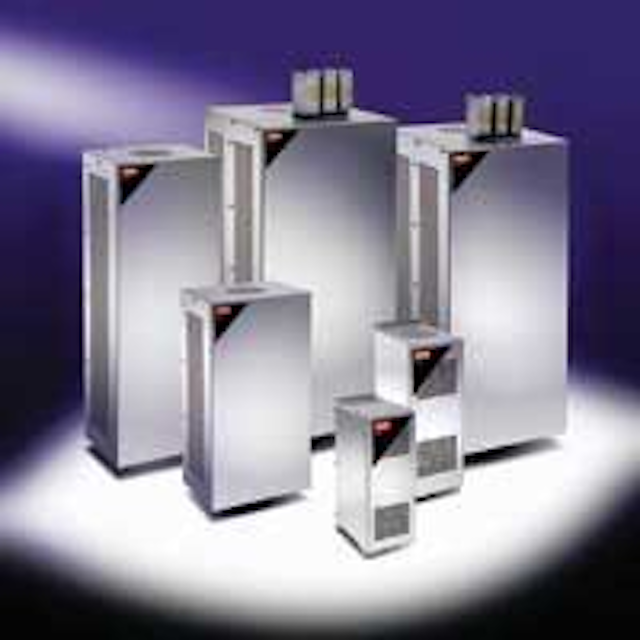 Click here to enlarge image
Danfoss Water & Wastewater now offers a compact and completely integrated system for the growing number of drive applications in which IEEE 519-1992 guidelines need to be addressed. The Advanced Harmonic Solutions packages combine the performance of the company's VLT® Series variable frequency drives with the new technology of AHF Series filters. The AHS 005 package matches a VLT Series drive with an AHF 005 unit, which reduces total harmonic current distortion (THiD) to less than 5%, thus providing performance similar to that of an 18-pulse drive under ideal conditions. Danfoss Water & Wastewater, Milwaukee, WI, 800-621-8806, www.namc.danfoss.com.
Flat panel monitors
Click here to enlarge image
GE Fanuc Embedded Systems has introduced the new Sentinel Series of flat panel monitors - which can withstand harsh environments in the most demanding industrial applications. The monitors are available in 10.4", 15", 19" and 21" display sizes with anti-reflective and anti-glare coatings for improved visualization. All models in the family have been designed, tested and certified to provide compliance for shock (MIL-S-901D, Grade A), vibration (MIL-STD-167-1), EMI/EMC (MIL-STD-461E), and environmental (MIL-STD-810E). GE Fanuc Embedded Systems, Greenville, SC, 864-627-8800, www.gefanuc.com/embedded.
Membrane filters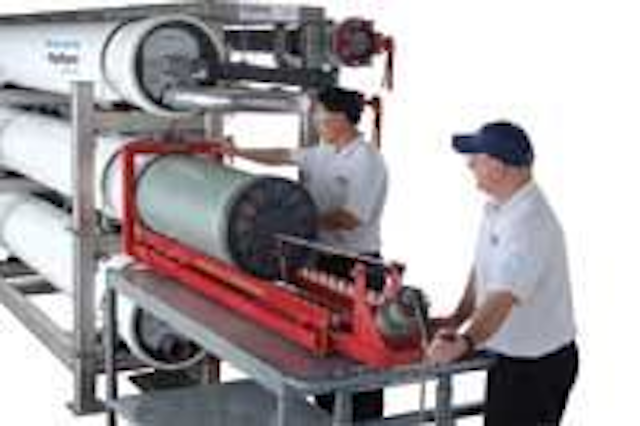 Click here to enlarge image
Koch Membrane Systems now offers the MegaMagnum spiral reverse osmosis (RO) and nanofiltration (NF) elements, which are 18" in diameter and 61" in length. The large elements significantly reduce the installed cost of large and medium-scale reverse osmosis systems designed for brackish water treatment or water reuse, and for nanofiltration systems where softening or organics removal is a desirable treatment. Koch Membrane Systems Inc., Wilmington, MA, 888-677-5624, www.kochmembrane.com.
Microfiltration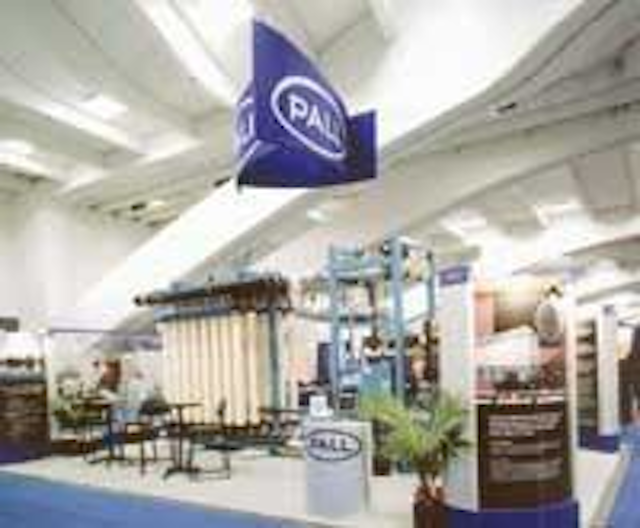 Click here to enlarge image
The Pall ARIA™ microfiltration water treatment system uses filtration modules in a hollow fiber configuration. This fully automated, turnkey solution has been used to meet EPA standards in potable drinking water, wastewater, and water reuse applications. The system has been approved to reduce or remove turbidity, viruses, bacteria, cysts, oocysts, iron, manganese, arsenic and organics from surface and ground waters, secondary effluent and sea and brackish waters. For the industrial sector, the microfiltration system can provide consistent high purity water for plant make up and feed to RO systems. Pall Corp. - Water Processing, East Hills, NY, 800-645-6532, www.pall.com.
Valve actuators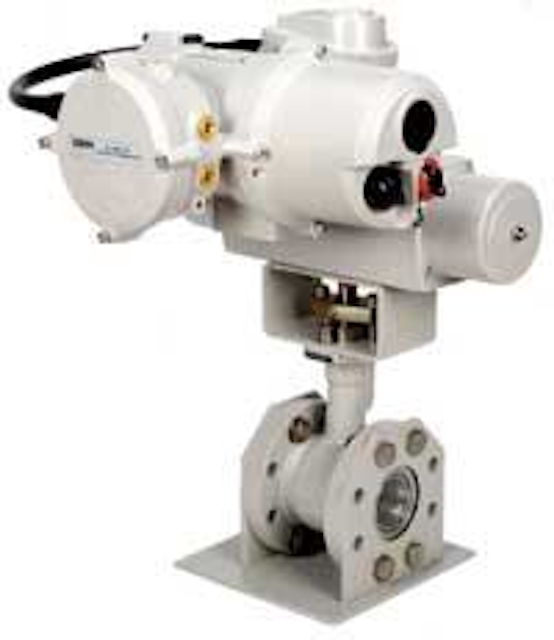 Click here to enlarge image
Rotork's new line of quarter-turn and linear Skilmatic SI electric valve actuators provide both modulating and two-position control for failsafe operation in a wide variety of water and wastewater treatment applications. They are compact, integrated units that are electrically operated and have a hydraulically powered internal spring-return mechanism to provide proper positioning of a valve in a safe condition. They can be set to failsafe in either the close or open valve position, or to lock-in position on power or system failure. Rotork Controls Inc., Rochester, NY, 585-328-1550, www. rotork.com.
Used oil storage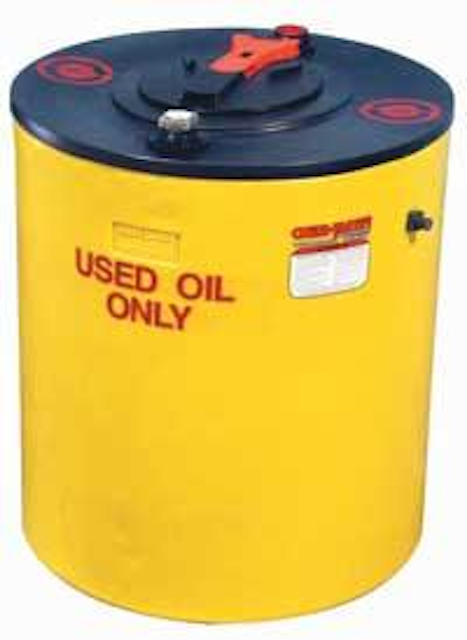 Click here to enlarge image
The Oil-Tainer from Chem-Tainer is a safe, easy-to-use storage tank for used oil when space is an issue. It provides an ideal double wall tank with 110% secondary containment that's available in 100 and 385 gal. capacities. A translucent "Safety Yellow" containment tank for easy routine inspection, it meets the latest EPA standards for used oil storage containers CFR 40-279.22. Included is a large sink with debris screen and removable debris strainer. It features an automatic overflow shutoff, oil level monitoring gauge and 2" external quick-release drain coupling. Chem-Tainer Industries, Babylon, NY, 800-275-2436, www.chemtainer.com.
Shock recorder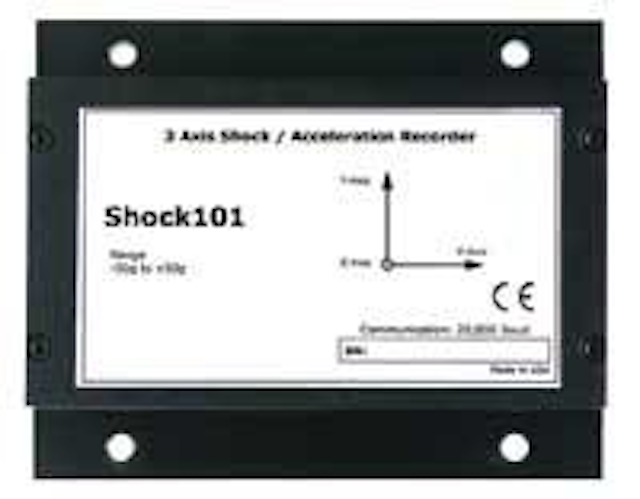 Click here to enlarge image
Hoyt Electrical Instrument Works announced the immediate availability of the Shock101 datalogger tri-axial shock recorder. The unit is a battery powered, stand alone 3-axis shock recorder that features high-speed downloads, real-time operation and a programmable start time. It's reusable, compact, user-friendly and NIST traceable. With its built-in accelerometers, it measures and records shock as peak acceleration levels over a user-defined interval. Hoyt Electrical Instrument Works Inc., Penacook, NH, 603-753-6321, www.hoytmeter.com.
Pipe locator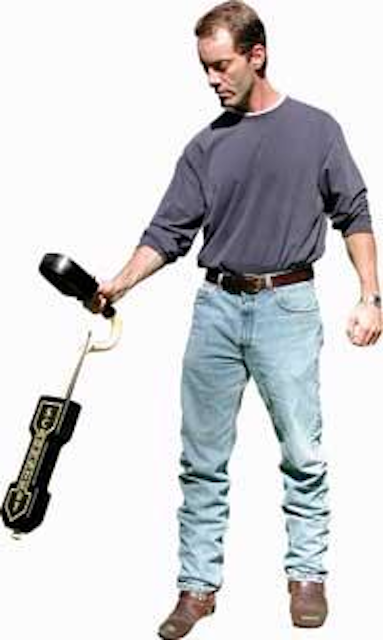 Click here to enlarge image
Schonstedt recently announced an improved locator, the TraceMaster II, based on its TraceMaster series. The series locators make use of the company's patented radio link to allow operator control of the transmitter unit from the receiver end. Since the most effective frequency can be selected without interrupting work, only one frequency at a time needs to be transmitted thus extending battery life to as much as 60 hours of intermittent use. The TraceMaster II builds on that technology with enhanced electronics and software that greatly improves detection of large diameter pipe. Schonstedt Instrument Co., Kearneysville, WV, 800-999-8280, www.schonstedt.com.
Backflow preventer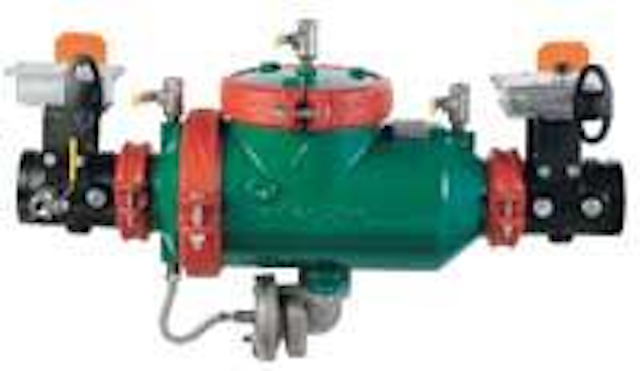 Click here to enlarge image
Apollo® from Conbraco has developed a new series of reduced pressure zone (RPZ) backflow preventer assemblies that is completely lead-free thanks to an all-stainless steel check design. The U.S.-made Defender™ 4D-200 Series, the RPZs are sized from 2-½" to 10". Current approvals include ASSE 1013 and CSA B64.4. They are also UL-listed and FM-approved in sizes 2-½" through 6". The device consists of two patented spring-loaded stainless steel check valves acting independently in a corrosion-resistant, fusion epoxy coated ductile iron body equipped with a stainless steel relief valve. Conbraco Industries Inc., Matthews, NC, 704-841-6000, www.conbraco.com.
Flame detectors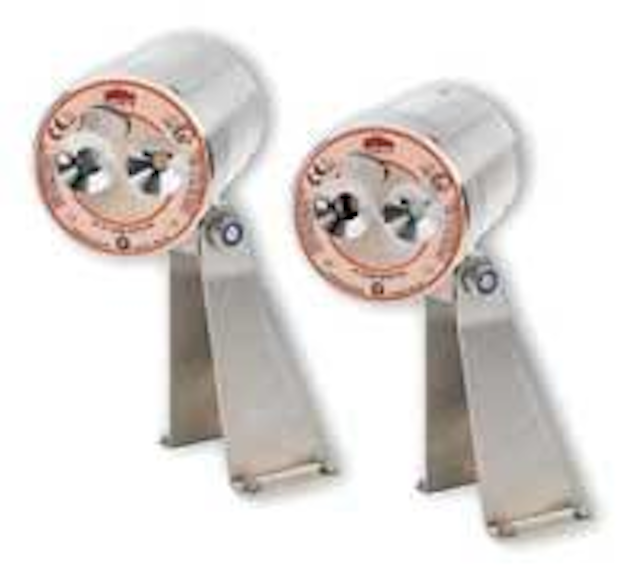 Click here to enlarge image
With advanced UV and infrared sensing technologies, the new FL3110 UV/IR and FL3111 UV-Only Series flame detectors from General Monitors are virtually immune to false alarms while sensing unwanted fires in hazardous applications and industries. Ideal for oil refineries, offshore drilling platforms, fuel loading facilities, and LNG and LPG plants, they're designed using advanced UV and IR flame sensing elements. The microcontroller-based detectors are ATEX-approved for use in the European community. General Monitors, Lake Forest, CA, 800-330-9161, www.generalmonitors.com.
Structural coatings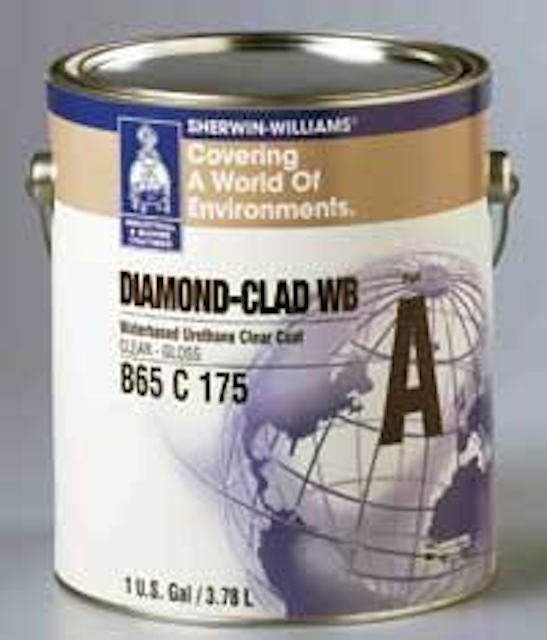 Click here to enlarge image
Two clear coat finishes from Sherwin-Williams offer an attractive, yet protective finish on high visibility outdoor structures. SHER-CLEAR™ Acrylic Clear Coat and Diamond Clad® Clear Coat Urethane Gloss provide low VOC, UV-resistant clear coats and extended color and gloss protection in exterior industrial environments. Created for use over newly applied or existing industrial coatings, SHER-CLEAR Acrylic Clear Coat dries in 45 minutes and may be applied by brush, roller, conventional or airless spray equipment. Sherwin-Williams Industrial and Marine Coatings, Cleveland, OH, 800-524-5979, www.sherwin-williams.com/im.
Lab timer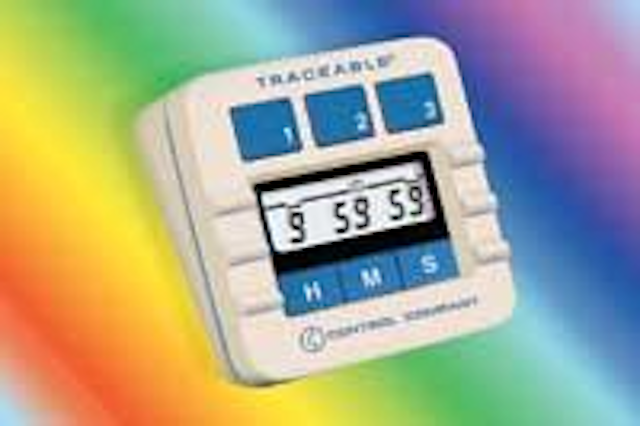 Click here to enlarge image
Control Company's new Traceable® Lab Timer signals drying and incubating times, helps catch all test results and provides event alarms for appointments. An ideal bench-mate for quality-control and experimental requirements, it's simple to use. Accuracy is 0.001%. Individually serial-numbered certificates are provided from the company's ISO 17025 calibration laboratory accredited by A2LA. It indicates traceability to standards provided by NIST. This timer allows programming of three different activities from 9 hours, 59 minutes, 59 seconds to 1 second on this portable timer. Control Co., Friendswood, TX, 281-482-1714, www.control3.com.
Heat exchangers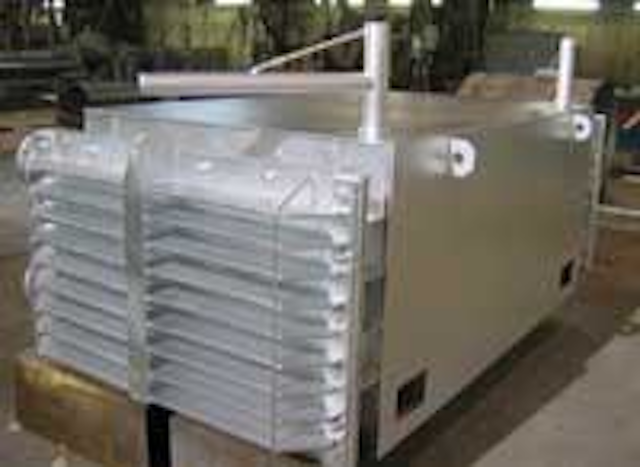 Click here to enlarge image
DDI, the manufacturer of the Cube™, Square™, Rectangular™ channels, low maintenance, heat exchangers and heat recovery systems, announces that it has new direct sludge-to-heat recovery and water-to-sludge heat exchangers that offer the advantages of minimal blockage and minimal maintenance. The company also now has a boiler and lobe pump. These can be used in municipal, agriculture, industrial, or pulp & paper applications. They can be manufactured from different metals or alloys. DDI Heat Exchangers Inc., Montreal, Canada, 514-696-7961, www.ddi-heatexchangers.com.