NEW PRODUCTS
LaMotte introduces the first, compact water analysis instrument designed for precision measurements of turbidity, chlorine and color.
May 1st, 2005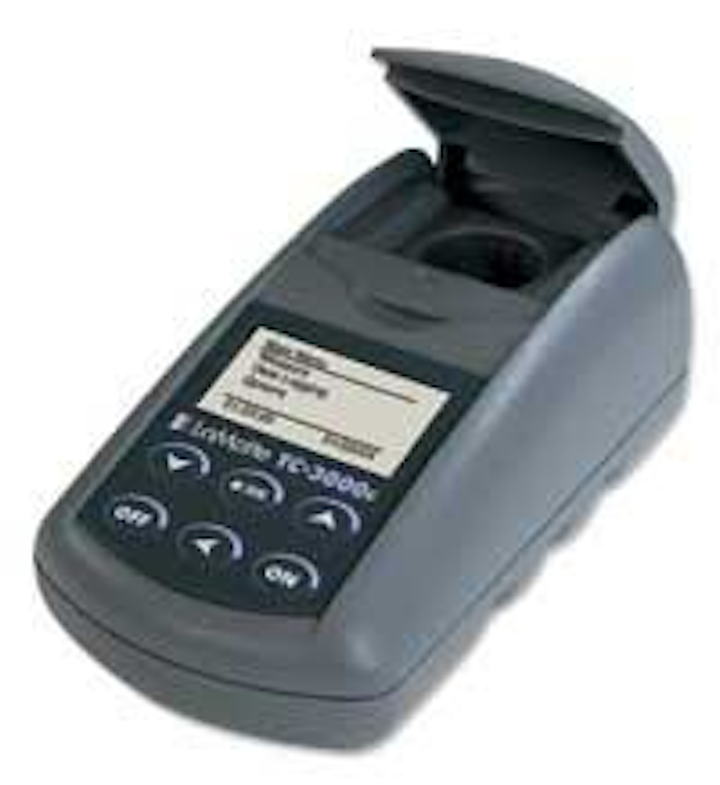 Water analysis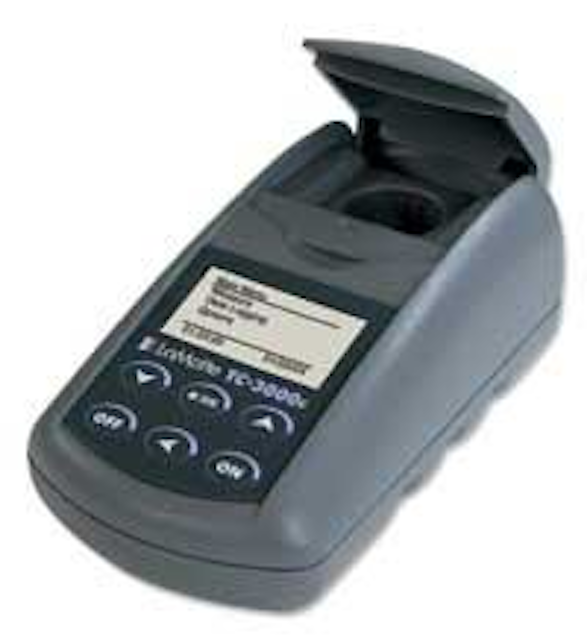 Click here to enlarge image
LaMotte introduces the first, compact water analysis instrument designed for precision measurements of turbidity, chlorine and color. The TC-3000 is equipped with an advanced microprocessor to drive a patent pending optical system that permits EPA- or ISO-compliant measurements for the water and wastewater analyst. The unique optics configuration enables the instrument to read low levels for turbidity (0.05 NTU), chlorine (0.02 ppm) and color (0.2 cu).
Chemical flowmeter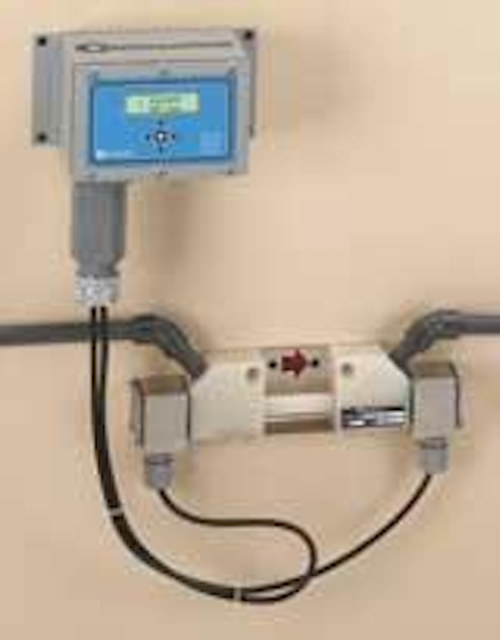 Click here to enlarge image
System 1020FT In-Line Transit-Time Flowmeter is ideally suited for low velocity, small line applications. The non-wetted transducer design, constructed of CPVC or Kynar tube material, allows it to be used on even the most aggressive chemical applications. System 1020FT accurately measures flow rates as low as 1 gph.
Controlotron Corp.
Hauppauge, NY
Tel: 800-275-8479 x235
Web: www.controlotron.com
Transducer vent filter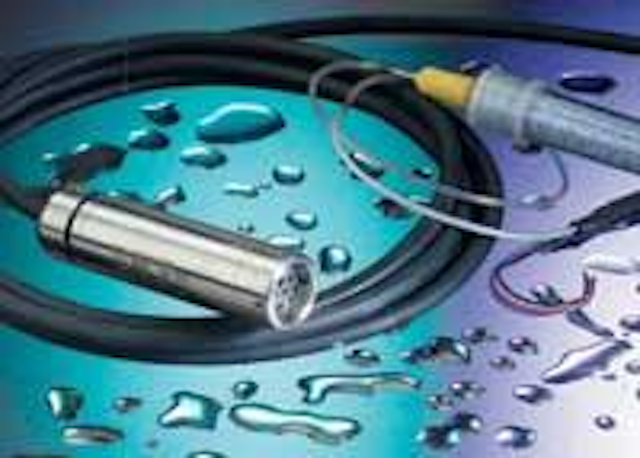 Click here to enlarge image
Pressure Systems Inc., manufacturer of KPSI™ Level and Pressure Transducers, has introduced a new vent filter that provides virtually maintenance-free moisture protection for all vented gauge format submersible transducers. Designed specifically for high humidity environments where water vapor may condense in the vent tube, the Series 810 SuperDry vent filter protects sensitive transducer electronic components from mildew, corrosion, rust and other forms of deterioration.
Pressure Systems Inc.
Hampton, VA
Tel: 800-678-7226
Web: www.PressureSystems.com/superdry.html.
Control cabinet I/O extensions
WAGO welcomes the new IP 67/68 rated sensor/actuator junction boxes to the WAGO-I/O-System family of products. Designated the 757 Series, this product safely extends control cabinet functions into the field and locally on the machine or process. This series is available in 4, 6, or 8 ports per box with either 4 or 5 poles per port (5 pole versions allow 2 signal lines per port).
WAGO Corp.
Germantown, WI
Tel: 800-346-7245
Web: www.wago.com
Flow monitoring
ADS Environmental Services introduces IntelliServe 2.5, a Web-hosted, real-time alarming system for wet and dry weather. This scalable system features "smart alarming," which learns the diurnal flow pattern of each metering site and issues flow loss and depth alarms for blockages and overflows in wastewater collection systems. It classifies current flows as dry or wet weather conditions and, through a collection of escalating alarms, is able to notify managers of imminent SSOs and CSOs, with wet weather CSOs quantified for compliance reporting.
ADS Environmental Services
Huntsville, AL
Tel: 800-633-7246
Web: www.adsenv.com
Extended sockets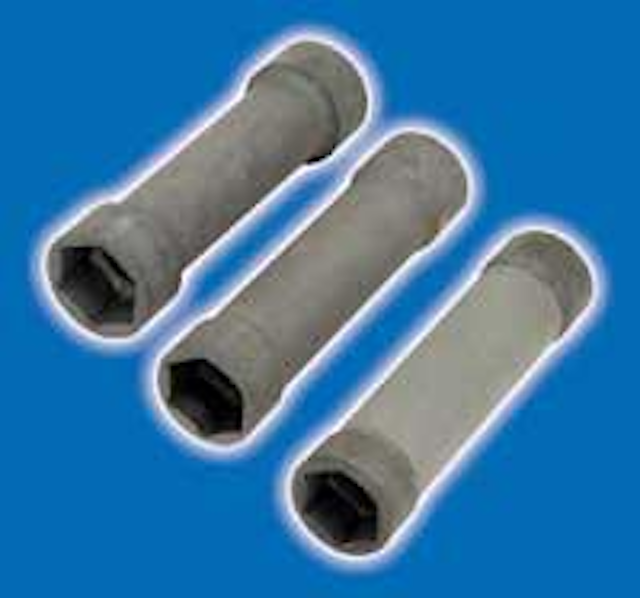 Click here to enlarge image
For deep well needs, Reed Manufacturing offers 6" long extended sockets that are impact grade. Use Extended Sockets to tighten hex nuts on repair clamps, mechanical joint fittings, and saddles. Reed offers 1-1/16", 1-1/8" and 1-1/4" sockets. Drive them with a 1/2" square drive impact wrench; hand tightening is also possible.
Reed Manufacturing Co.
Erie, PA
Tel: 800-666-3691
Web: www.reedmfgco.com
Wastewater nitrification
Click here to enlarge image
AnoxKaldnes Inc. announces a new treatment process for wastewater nitrification in lagoons using its Moving Bed® biofilm reactor (MBBR). The LagoonGuard™, as it's called, provides a cost-effective, simple way to upgrade a lagoon treatment system by retrofitting existing lagoons.
AnoxKaldnes
Providence, RI
Tel: 401-270-3898
Web: www.anoxkaldnes.com.
Plastic product ID
Terracon introduces the TerraMark permanent ID system for plastic products, the first of its kind in the pharmaceutical industry. This is a proprietary process of permanently applying chemical-resistant color-coded labels to plastic tanks and components, allowing permanent identification and tracking information to be affixed.
Terracon Corp.
Holliston, MA
Tel: 508-429-9950
Web: www.terracontanks.com
Double containment piping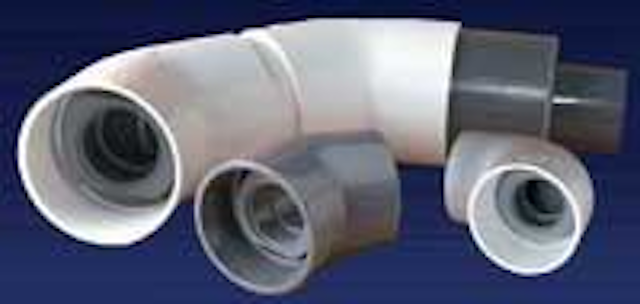 Click here to enlarge image
New Pro-Lock™ from Asahi/America is the ideal piping system for double contained sodium hypochlorite and bleach systems. It compliments the entire line up of PP, HDPE, PVDF, and E-CTFE dual-contained piping options with choice of system, material and joining technique that matches user application requirements.
Asahi/America Inc.
Malden, MA
Tel: 877-242-7244
Web: www.asahi-america.com
Process data interchange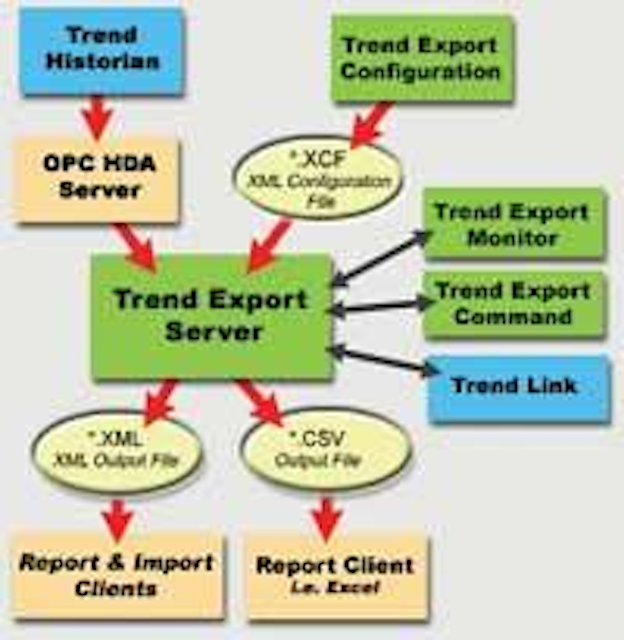 Click here to enlarge image
Trend Export is the latest software component from Canary Labs allowing users to easily export and create csv and xml files from OPC-HDA Historians. Typically, there are two types of applications that consume historical data. Reporting type applications such as Microsoft Excel or Crystal Reports or the data can be imported into database type applications like Enterprise Resource Planning (ERP) Systems. Trend Export is very intuitive and easy to use.
Canary Labs Inc.
Martinsburg, PA
Tel: 814-793-3770
Web: www.canarylabs.com
Nano media
Catalyx Inc. introduces the ultra-high-performance, low-cost HEM™ Filtration systems. Priced to be competitive with multimedia filter systems, these systems consist of unique filter media that have an extremely porous yet tough nanostructure. Extensive field tests show the backwashable media to consistently filter in the 1-5 micron range, competitive with cartridge filters. The superior turbidity removal (SDI <1.0) performance allows for complete removal of cartridge prefiltration on RO plants.
Catalyx Inc.
Brea, CA
Tel: 714-257-0308
Web: www.catalyxinc.com
Integral bell well casing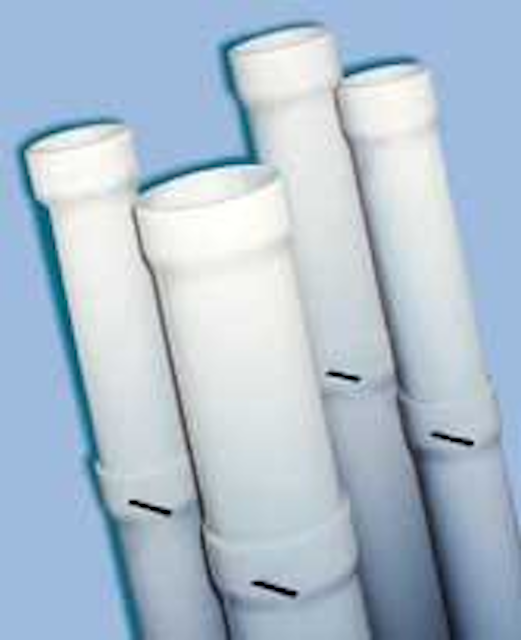 Click here to enlarge image
CertainTeed has expanded its line of Certa-Lok™ PVC Well Casing to include 4-1/2" and 5" diameter Integral Bell Well Casing in SDR26 (Class 160). Featuring a conventional belled-end joint for fast assembly, the casing is engineered to meet the requirements of ASTM F480, and is listed by NSF International as safe for use with potable water. The spline-locking design of the casing forms a full-strength joint instantly in all weather conditions, and requires no solvent cement or reinforcement screw attachments.
CertainTeed
East St. Louis, IL
Tel: 866-284-7473
Web: www.certainteed.com
Clean sweep mixer
The Chemineer® Clean Sweep mixer offers an FDA/USP Class VI elastomeric seal - no rotating shaft or mechanical seal. The mixer is ideal for low-shear, high purity mixing applications and easily accommodates mixing at low-liquid levels. Featuring a new sweeping motion design, it employs a new impeller with specially shaped blades optimized to provide global mixing throughout the vessel, easily reaching the bottom of the tank.
Chemineer Inc.
Dayton, OH
Tel: 937-454-3200
Web: www.chemineer.com
Handheld DO meter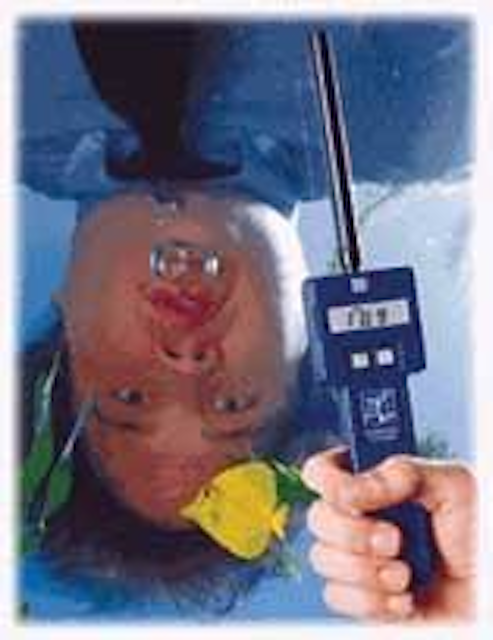 Click here to enlarge image
The DA-DO-6 portable digital dissolved oxygen/temperature meter combines a polargraphic DO sensor with an integral RTD for dissolved oxygen and temperature measurement in the laboratory, plant or field. The unit contains a small cathode which consumes minimal oxygen, thus reducing the need for sample stirring and providing a more stable response. Standby switch stabilizes the probe prior to use while economizing the battery power normally required for the display. Integral benchtop stand.
Dalec Electronics Inc.
Franklin Park, IL
Tel: 800-621-8276
Web: www.dalec.com
Digital fingerprints

Click here to enlarge image
The Digi Fingerprint Lock 6600-92(FP) from Digi Enterprises Co. Ltd. offers advanced security features, such as adopting an international advanced sensor module to ensure reliability and high quality. With sliding covers for reader protection, anti-moisture and anti-dust, it's a real all weather lock. They can be unlocked via fingerprint or PIN code. They operate on 4 AA alkaline batteries, with a special power-saving design to extend battery life. Users can change handles freely according to their preference.
Digi Enterprise Co. Ltd.
GuangZhou, China
Tel: +(86 20) 38299626
Web: www.cndigiper.com
Electronic locks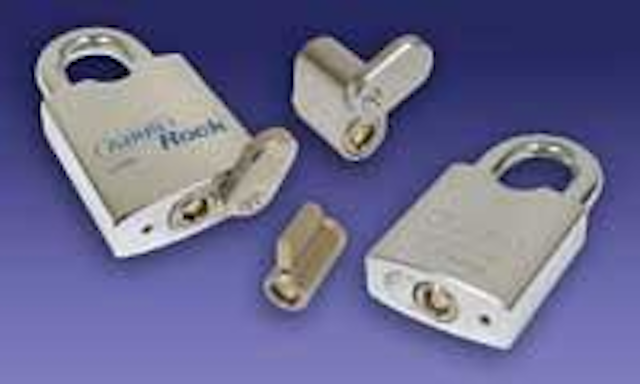 Click here to enlarge image
Videx CyberLock® electronic padlocks provide key control and an audit trail of every opening. A standard padlock can be converted into a full-functioning access control system by replacing its mechanical cylinder with a CyberLock electronic cylinder. Each time the CyberKey opens a padlock, a record of the user ID, date, and time is stored in both the lock and the key. In addition, the product line includes the CyberKey Authorizer™, which brings network and modem capabilities to its CyberLock Access Control System.
Videx
Corvallis, OR
Tel: 541-758-0521
http://www.videx.com
Arsenic removal media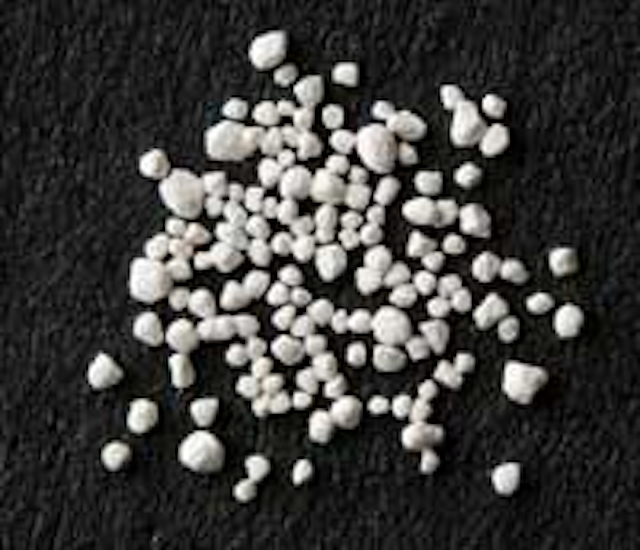 Click here to enlarge image
The Dow Chemical Company introduces Adsorbsia™, a new arsenic removal media that offers improved performance and cost advantages over traditional iron oxide-based adsorbent media. Now available in North America, the media is designed to help industry and municipalities comply with pending EPA regulations that require U.S. drinking water to have arsenic levels below 10 ppb by 2006.
Dow Chemical Co.
Midland, MI
Tel: 800-447-4369
Web: www.dowex.com/adsorbsia
Mini data loggers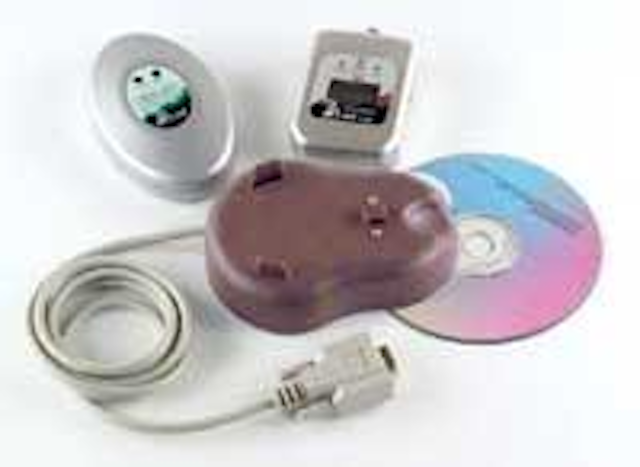 Click here to enlarge image
E Instruments has released a new Series of HVAC Mini DataLoggers, including the MiniLog T (Temperature) & MiniLog T+RH (Temp + Relative Humidity), designed to meet the needs of various Instrumentation Engineers & Quality Managers, both in laboratory & fieldwork. They feature continuous battery life for 5 years.
E Instruments Group LLC
Langhorne, PA
Tel: 215-750-1212
Web: www.einstrumentsgroup.com
Monitoring water safety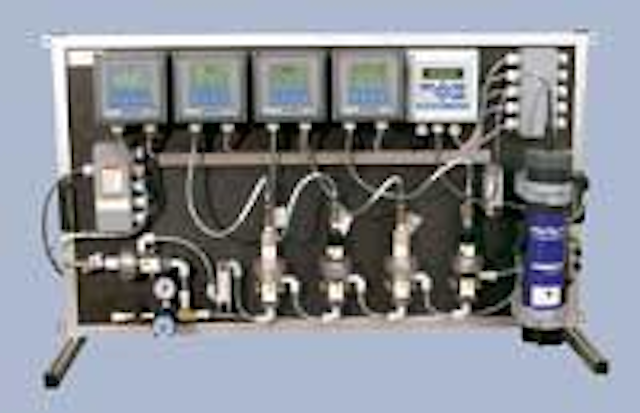 Click here to enlarge image
Rosemount Analytical presents the Water Quality Monitoring Solution with Turbidity. Use this system to help detect if an event has occurred in the water distribution system. Choose a mutiparameter water quality system for measuring both pH and ORP; as well as conductivity, chlorine, turbidity, temperature and particle index - all in one simple to use plug and plumb™ package.
Emerson Process Mgmt./Rosemount Analytical
Irvine, CA
Tel: 800-854-8257
Web: www.emersonprocess.com/raihome/liquid
Process water recycling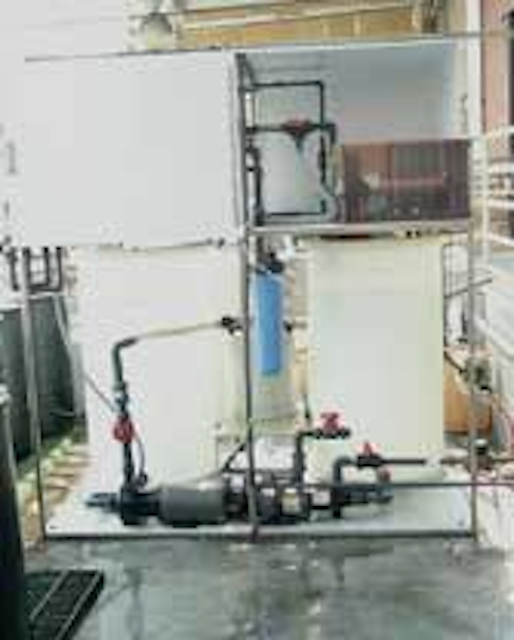 Click here to enlarge image
EthorCel™, a new process water recycling technology developed by Exergy Technologies, is now available across the United States. It's designed mainly for industrial and high tech applications where high quality DI water is used. It can re-purify used DI process rinse water economically, to be recycled back as DI quality water into the process.
Exergy Technologies Corp.
Irvine CA
Tel: 949-231-1390
Web: www.exergycorp.com
Water quality meters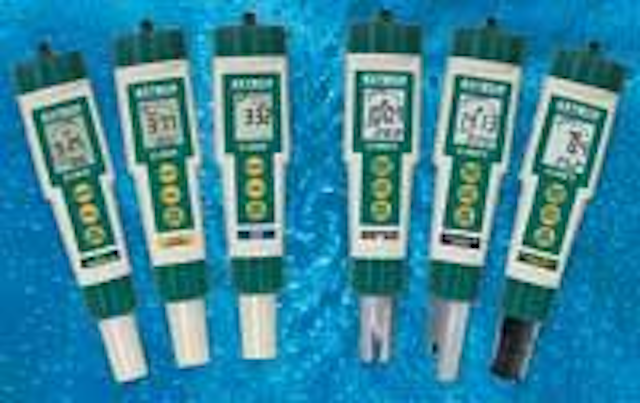 Click here to enlarge image
Extech Instruments announces availability of its waterproof ExStik® II Series of "stick style" water quality meters. The series includes three multi-parameter models, EC400, EC500 and DO600, for testing pH, Conductivity, TDS, Salinity, Temperature and Dissolved Oxygen. These builds on Extech's popular ExStik I Series of interchangeable flat surface electrodes for testing pH, ORP and chlorine.
Extech Instruments
Waltham, MA
Tel: 781-890-7440
Web: www.extech.com
Digital flowmeters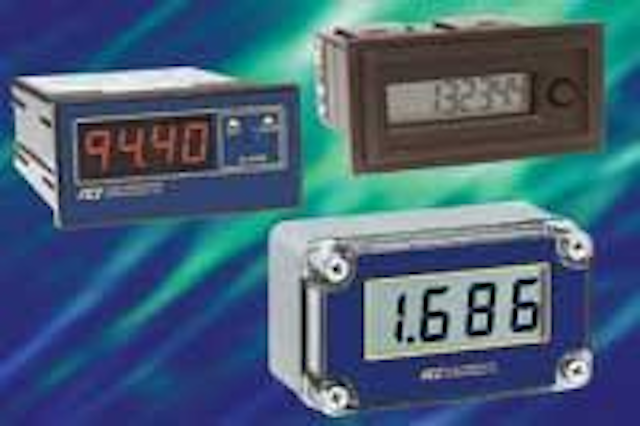 Click here to enlarge image
The new DM Family of Digital Readouts from Fluid Components International (FCI) digitally displays flow rate, totalized flow and temperature readings from FCI's popular ST and GF Series thermal-dispersion mass flowmeters. The DM Display Series offers three meters to meet a range of installation locations and process requirements.
Fluid Components International
San Marcos, CA
Tel: 800-854-1993
Web: www.fluidcomponents.com
Schedule 80 piping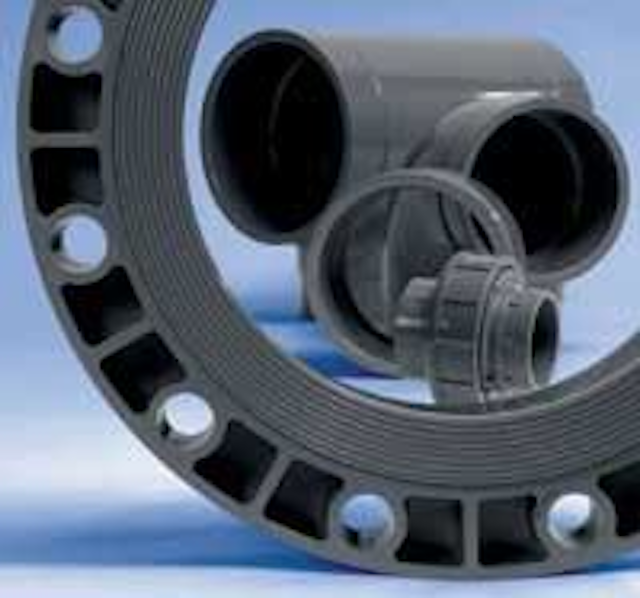 Click here to enlarge image
George Fischer Sloane Inc. has expanded its Schedule 80 PVC and CPVC Pressure Piping Systems to include large diameter 10" and 12" pipe sizes. The new Schedule 80 pipe is available in 20-foot lengths and the all necessary fittings required for most applications. Fittings are supplied in a combination of fabricated and molded styles that include a wide range of couplings, bends, wyes, pipe increasers, reducing wyes, expansion joints, brass insert fittings, and saddles.
George Fischer Sloane Inc.
Little Rock, AR
Tel: 800-423-2686
Web: www.sloane.georgefischer.com
Historian software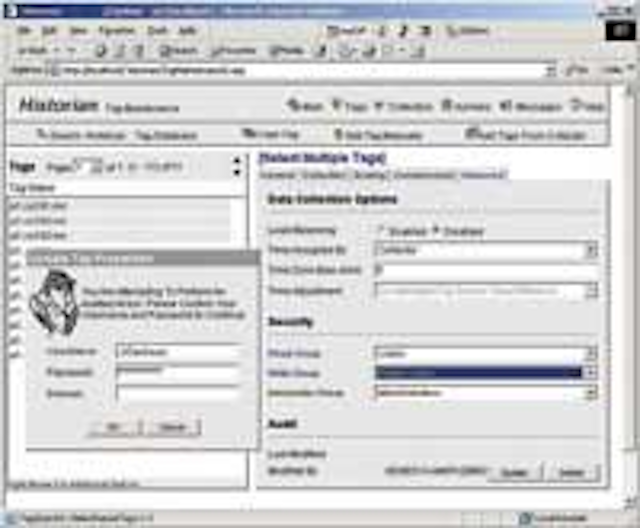 Click here to enlarge image
GE Fanuc, a unit of GE Infrastructure, introduces the new Proficy™ Historian Version 3.0 - a major new version of the company's plant-wide data historian software that collects, archives and distributes all types of real-time, plant data with improved ease of use and high availability. With this software, water and wastewater treatment facilities can effectively collect and aggregate real-time plant data from multiple sources and quickly identify the root causes of undesirable events such as equipment failures and quality issues in order to achieve peak performance.
GE Fanuc Automation Americas Inc.
Charlottesville, VA
Tel: 800-433-2682
Web: www.gefanuc.com
Water filters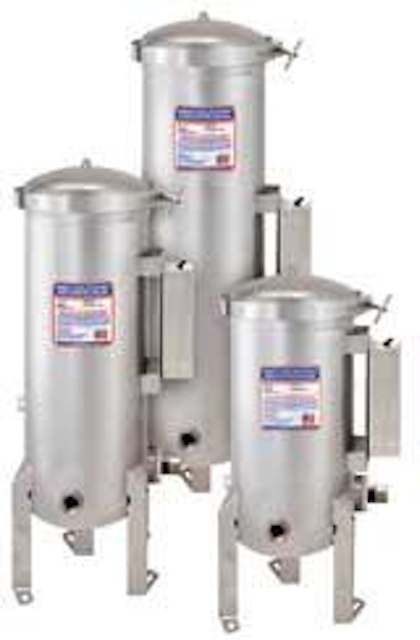 Click here to enlarge image
Harmsco Filtration Products has developed the Homeland Security Water Filter that utilizes a multi technology, flow through barrier cartridge filter along with a powerful ultraviolet disinfecting reactor in one convenient appliance to protect your home at point of entry. The family of Harmsco's Homeland Security Water filters consists of three different size models. 5, 10, & 15 gpm and are selected based on need.
Harmsco Inc.
West Palm Beach, FL
Tel: 800-327-3248
Web: www.harmsco.com
ICP spectrometer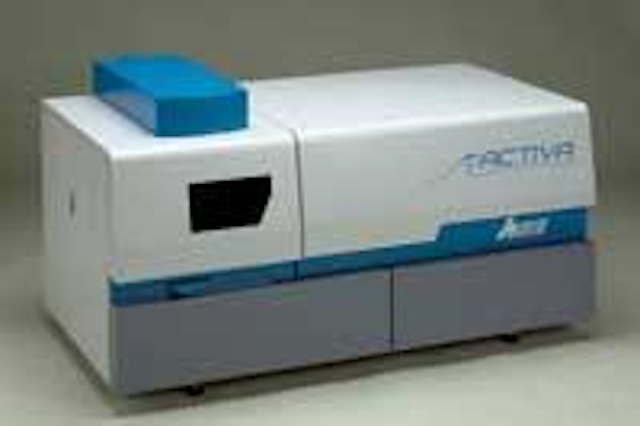 Click here to enlarge image
HORIBA Jobin Yvon announces the worldwide launch of its new ACTIVA™ Inductively Coupled Plasma - Optical Emission Spectrometer (ICP-OES), which offers simultaneous analysis and background at multiple wavelengths within a Wavelength Analytical View (WAV). This technology provides flexibility, speed and high resolution, enabling users to select any wavelength from 160-800 nm, choose the WAV mode, and personalize analysis speed and resolution.
HORIBA Jobin Yvon Inc.
Edison, NJ
Tel: 1-866-562-4698
Web: www.jobinyvon.com
Ultrapure water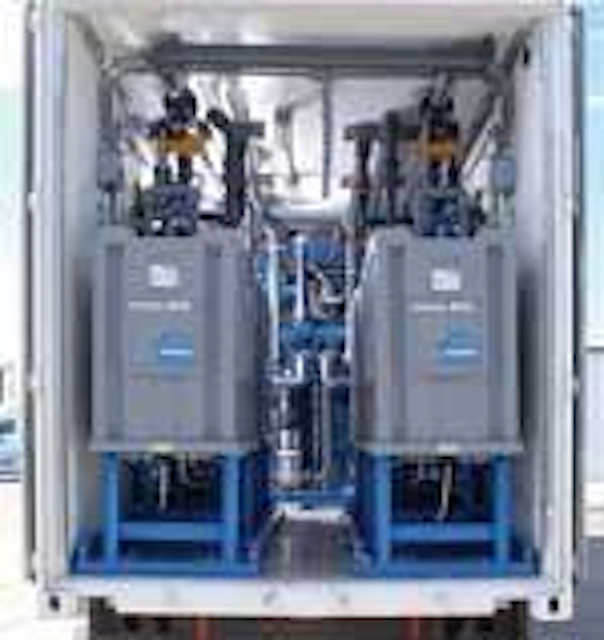 Click here to enlarge image
Ionics introduces the DeltaFlow® 2.0 system for producing ultrapure water without use of hazardous ion exchange regeneration chemicals. This unique system combines three membrane separation technologies: RO, a GTM® membrane degasification unit and EDI, in a space-efficient design for continuous production of ultrapure water.
Ionics Inc.
Watertown, MA
Tel: 617-673-4317
Web: www.ionics.com
Customer care software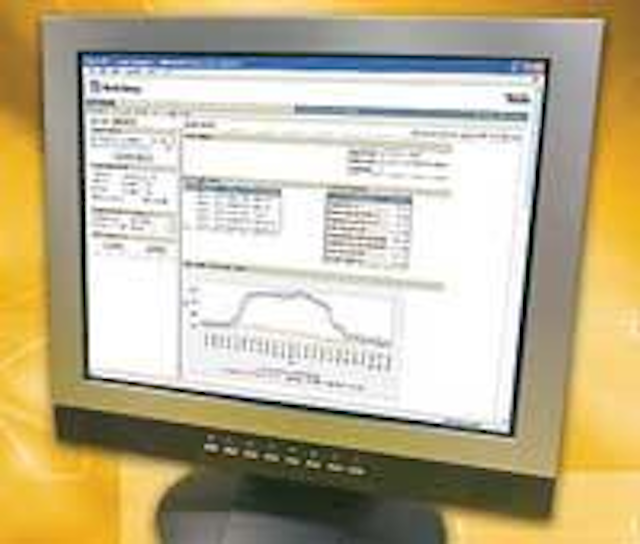 Click here to enlarge image
Itron releases its Itron Enterprise Edition Customer Care application - a software solution that leverages its leading Meter Data Management (MDM) software platform while providing improved usability and value to end-use customers. This package provides commercial and industrial (C&I) customers with a rich set of analytical tools, proactive alerts, and scheduled report delivery to actively manage their energy use patterns, energy and demand costs and operational risks.
Itron Inc.
Spokane Valley, WA
Tel: 800-635-5461
Web: www.itron.com
Flexible coating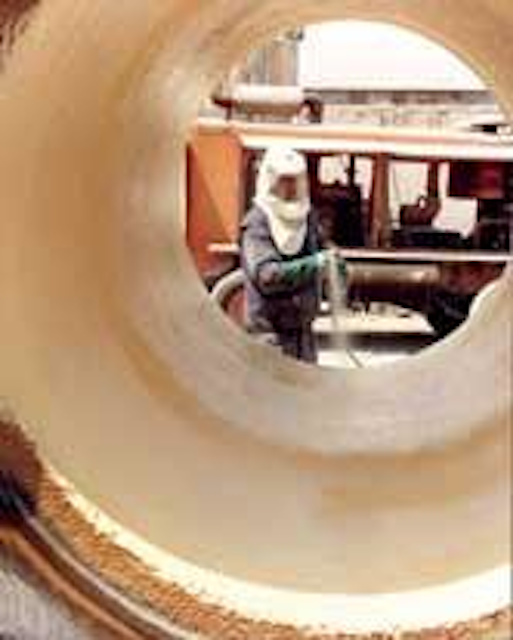 Click here to enlarge image
Irathane 155® is a two-component, ambient temperature curing, high-build polyurethane coating system designed to provide excellent corrosion protection in high abrasion and circulating water applications. It produces a monolithic surface with superior tear and tensile strengths and a high-slip finish, excellent for wet or dry environments.
ITW Devcon Futura Coatings
St. Louis, MO
Tel: 314-733-1110
Web: www.futuracoatings.com
Oil spill detection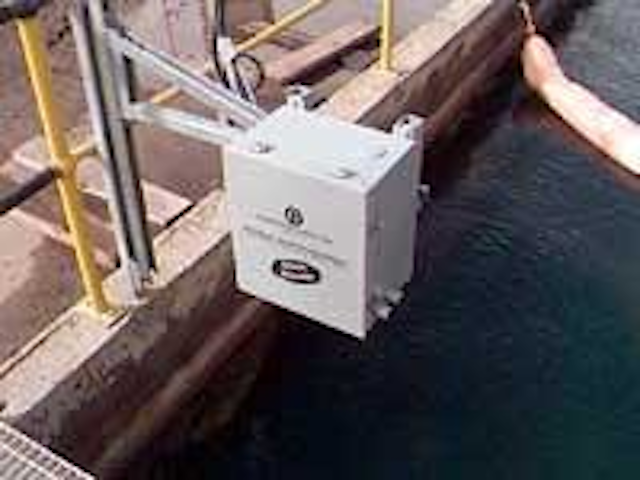 Click here to enlarge image
InterOcean introduces Slick Sleuth™ for remote oil spill detection. An autonomous, non-contact, optical sensor system, it remotely detects oil spills or leaks in any environment (i.e., harbors, coastal or inland waterways, stormwater runoff, industrial spillways, and environmentally sensitive areas). This is done in real-time and provides instant notification to users, helping accelerate response time and avert costly ecological and commercial damages.
InterOcean systems Inc.
San Diego, CA
Tel: 858-565-8400
Web: www.interoceansystems.com
Large diameter membranes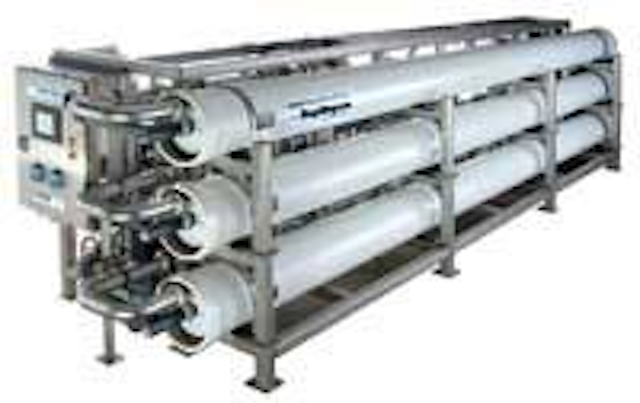 Click here to enlarge image
Koch Membrane Systems Inc. will introduce the new MegaMagnum water treatment system at AWWA (Booth # 2225). The pre-engineered, packaged system utilizes 18" diameter MegaMagnum membrane elements, the world's largest spiral-wound RO elements, to significantly reduce the cost, footprint and installation time of municipal and industrial water treatment systems.
Koch Membrane Systems Inc.
Wilmington, MA
Tel: 888-677-5624
Web: www.kochmembrane.com
Remote control paging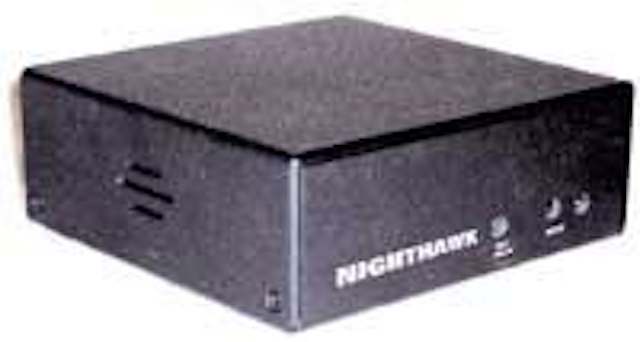 Click here to enlarge image
Nighthawk Systems introduces the NightHawk™ NH100, the newest in a line of plug-and-play wireless remote controls that use paging signals for reliable activation. This system allows a user to remotely control any device that can be plugged into a 15-amp outlet. It's also available with an on-board audible alarm and is capable of passing serial data to serial capable printers.
Nighthawk Systems Inc.
Denver, CO
Tel: 303-337-4811
Web: www.nighthawksystems.com
Intelligent video surveillance
ObjectVideo, the leader in intelligent video surveillance software, signed a national integration partner agreement with Security Services & Technologies, a FirstService company and provider of integrated electronic security systems in North America. SST, which provides innovative products and services for commercial, industrial, healthcare, pharmaceutical, education and Fortune 1000 clients, selected ObjectVideo® VEW™ after evaluating several intelligent video surveillance technologies.
ObjectVideo
Reston, VA
Tel: 703-654-9300
Web: www.objectvideo.com
Self-cleaning filters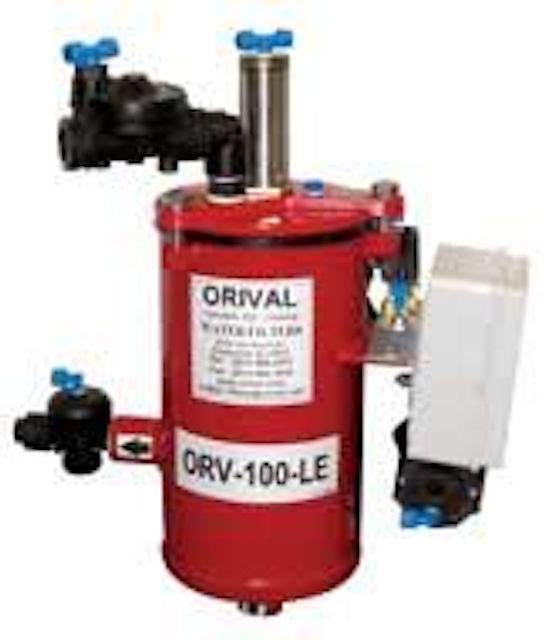 Click here to enlarge image
Specially designed for low-flow applications, the automatic, self-cleaning ORV-100-LE self-cleaning water filter requires only two gallons of backflush water. The filter is capable of handling flows up to 18 gpm and pipe of 3/4"-1". The 100-LE is the latest in the ORV series, which can handle flows of up to 12,000 gpm and pipe sizes up to 24".
Orival Inc.
Englewood, NJ
Tel: 201-568-3311
Web: www.orival.com
Nominal ozone output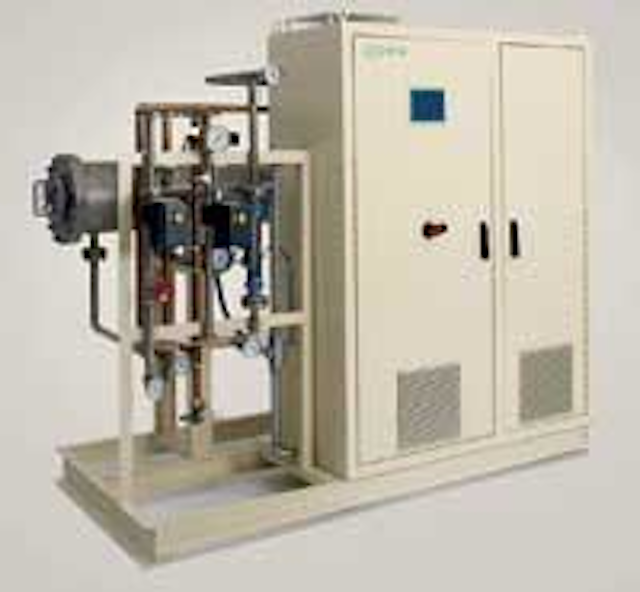 Click here to enlarge image
Ozonia presents the new OZAT™ CFV range of ozone generators to complement its existing CFS and CFL ranges. The new line includes three models with nominal outputs of 90, 130 and 175 pounds per day from oxygen. Additional sizes and models are under development. Key features are: Compact dimensions, pre-assembled skid-mounted ozone package, ASME Code 316L SS ozone vessels (USA), rugged steel cabinets house all electronics; panel mounted operator touch screen; Allen Bradley PLC, power factor of 0.99 and low harmonics (IEEE 519).
Ozonia North America
Elmwood Park, NJ
Tel: 201-794-3100
Web: www.ozonia.com
Scale, corrosion inhibitor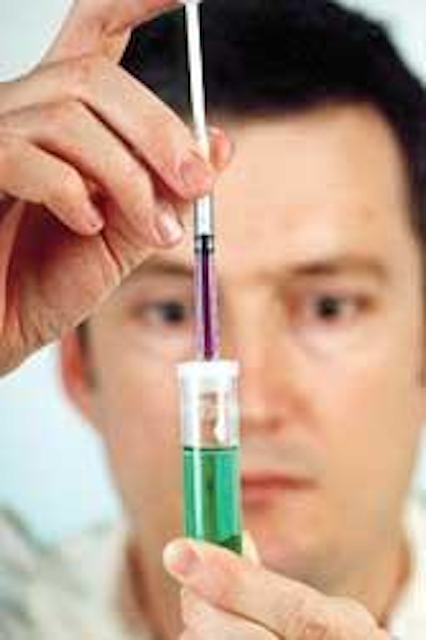 Click here to enlarge image
Palintest introduces an improved, easy-to-use organo-phosphonate test for monitoring OP levels in boiler and cooling water systems. Using a specially developed tablet containing a pH buffer and screened indicator, this new test eliminates problems of pH adjustment and end-point determination associated with traditional tests, making it more consistent and more accurate.
Palintest USA
Erlanger, KY
Tel: 800-835-9629
Web: www.palintestusa.com
Lab water system
To meet demanding life science and analytical testing requirements of research and diagnostic laboratories, Pall is bringing its water purification expertise to this market with introduction of the Pall Cascada™ Lab Water System. The point-of-use system provides optimum water quality to support diverse laboratory needs from the most critical, sensitive applications through general-purpose use. It provides a series of separation and purification steps in a single box on demand to achieve the highest purity water.
Pall Corp.
East Hills, NY
Tel: 516-801-9100
Web: www.pall.com.
Fieldbus design tool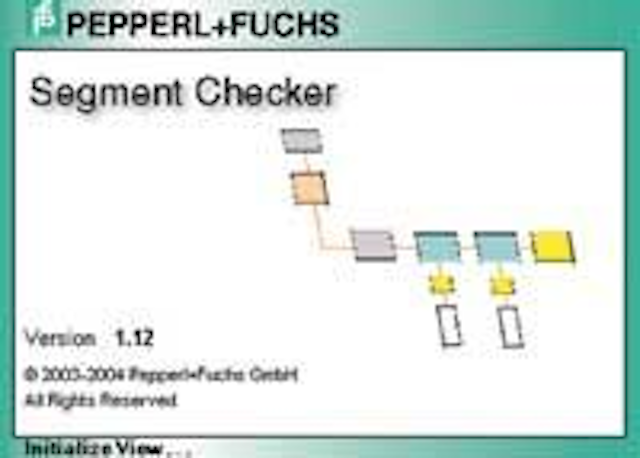 Click here to enlarge image
Pepperl+Fuchs introduces Segment Checker - a powerful new open software tool that allows users to build, validate, edit and save multiple fieldbus projects, while reducing fieldbus network design time. A demonstration of the program and limited-time free download is available at SegmentChecker.com. The first open fieldbus design tool available to the process industry, it supports centralized and distributed fieldbus architecture concepts for both FOUNDATION Fieldbus and PROFIBUS PA.
Pepperl+Fuchs
Twinsburg, OH
Tel: 330-486-0002
Web: www.segmentchecker.com.
Rapid VOC detection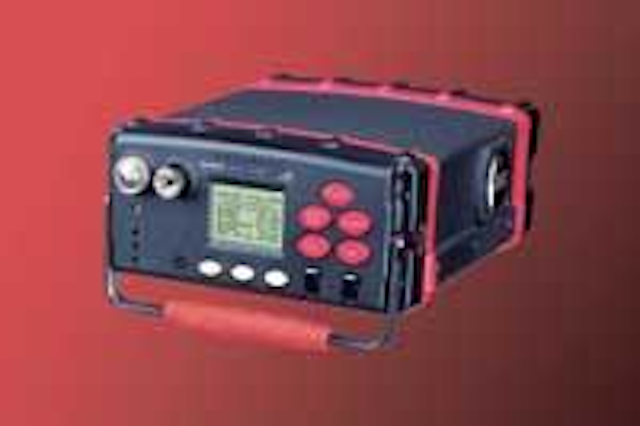 Click here to enlarge image
Photovac introduces its new PetroPRO™, a high-speed portable gas chromatograph specifically designed for accurate, rapid screening of common VOCs on site. Designed for high-speed analysis of BTEX and incorporating proprietary valve technology to increase GC peak resolution and analysis speed, this instrument detects single-digit ppb levels of benzene in just 45 seconds. An extremely linear and accurate photoionization detector reports sample concentrations from low ppb to hundreds of ppm.
Photovac Inc.
Waltham, MA
Tel: 781-290-0777
Web: www.photovac.com
Wireless industrial products
ProSoft Technology's RadioLinx product line now includes four 2.4 GHz wireless solutions: Frequency Hopping Ethernet (RLX-FHE); Frequency Hopping Ethernet with Serial Server (RLX-FHES); Frequency Hopping Serial (RLX-FHS), and Industrial Hotspot (RLX-IH). All offer: Dual antenna support for maximum performance and networking flexibility; fast, flexible and cost-effective connectivity to local, remote and mobile devices; peer-to-peer communications and diagnostics, and rugged industrial grade packaging and design meeting CSA and cUL Class 1, Div. 2, Group A-D certifications for industrial operating temperatures.
ProSoft Technology
Bakersfield, CA
Tel: 661-716-5100
Web: www.radiolinx.com
Flow, level switch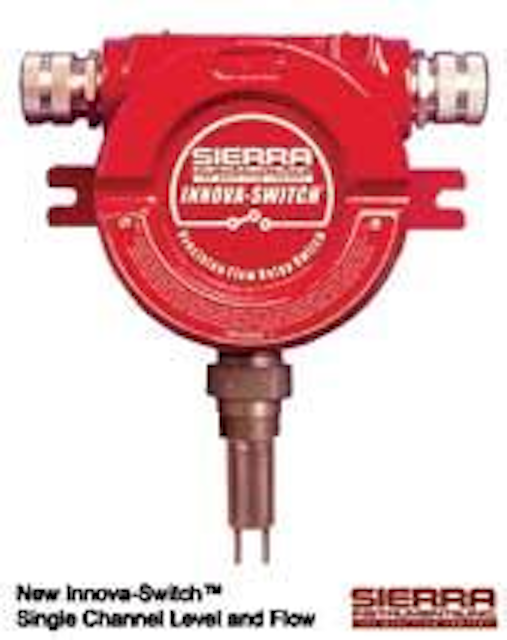 Click here to enlarge image
Sierra Instruments adds the Innova-Switch™ flow and level switch to its existing line of industrial mass flow measurement devices. Flow and level detection is accomplished by using a high-resolution thermal differential technique. The sensor consists of a pair of matched Resistance Temperature Detectors (RTDs). The sensor and wetted parts are of durable 316L stainless steel, all welded construction with no moving parts.
Sierra Instruments Inc.
Monterey, CA
Tel: 800-866-0200
Web: www.sierrainstruments.com
Industrial sorbents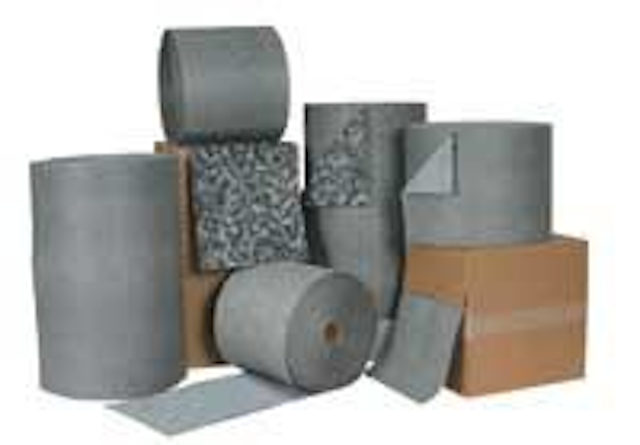 Click here to enlarge image
Highlighted by the new High Traffic Roll that efficiently absorbs water, oil, solvents and virtually any liquid, Sorbent Products Co.'s new High Traffic Family includes some of SPC's best universal sorbents in terms of strength and absorbency. In addition to the High Traffic Roll, the new family of high traffic products includes BattleMat™ - SPC's premium camouflage covered sorbent.
Sorbent Products Co.
Somerset, NJ
Tel: 800-333-7672
Web: www.sorbentproucts.com.
Lab management software
Scientific Software Inc. and Labtronics Inc. announce development of LimsLink for OpenLAB, a connectivity module integrating OpenLAB to LimsLink. This provides an off-the-shelf solution for integrating third party LIMS systems to SSI's OpenLAB Laboratory Software Framework. In this way, over 30 different commercial LIMS systems from different LIMS vendors can be integrated into the OpenLAB framework.
Scientific Software Inc.
Pleasanton, CA
Tel: 800-588-8878
Web: www.scisw.com
Pipe stopping system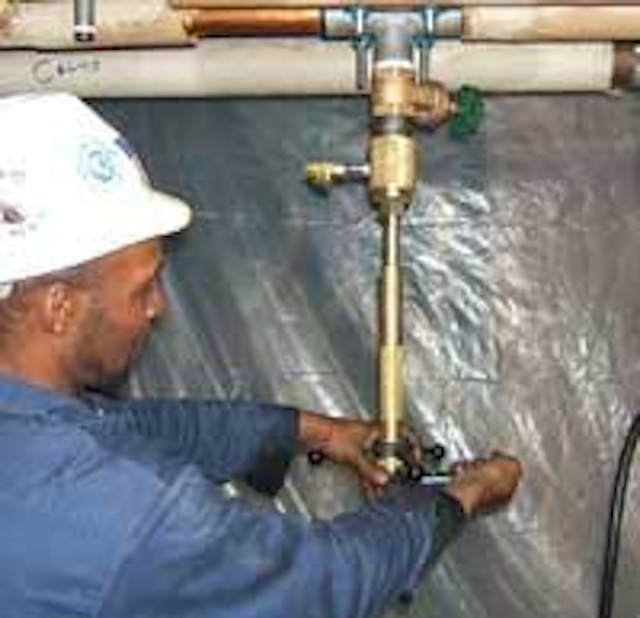 Click here to enlarge image
Shutdowns for repairs or pipe freezing, valve change outs and pressure testing of water and wastewater lines now can be eliminated with Severn Trent Services' new Jr. Hydra-Stopper line stopping system, ensuring fire protection and continued service. This hand-held kit is the newest addition to the proven line tapping and stopping Hydra-Stop® family of products.
Severn Trent Services
Fort Washington, PA
Tel: 215-283-3478
Web: www.severntrentservices.com
Portable pipe cutter
The PipeMaster is an in-line, self-propelled portable pipe cutting machine for cutting 6 to 48" CI, DI, steel pipes. It uses cutting blades with either diamond edges or tungsten carbide tips which are fully enclosed for safety. PipeMaster is powered by a hydraulic motor which drives the gear system, and requires an external hydraulic power source.
Wheeler-Rex
Ashtabula, OH
Tel: 800-321-7950
Web: www.wheelerrex.com
Chemical process modeling

Click here to enlarge image
Fluent Inc. recently released the latest version of its flagship computational fluid dynamics (CFD) software, Fluent 6.2. This release has over 300 new capabilities broadening the range of CFD applications in both chemical and hydrocarbon processing industries. These include a new sliding mesh formulation for rotating machinery, such as stirred tanks; Large Eddy Simulation (LES) and hybrid RANS/LES models; a new stiff chemistry algorithm for laminar flows; and a new ability to create custom material databases enabling re-use of material properties and reaction mechanisms in different scenarios.
Fluent Inc.
Lebanon, NH
Tel: 603-643-2600
Web: www.fluent.com
Optical waterproof mouse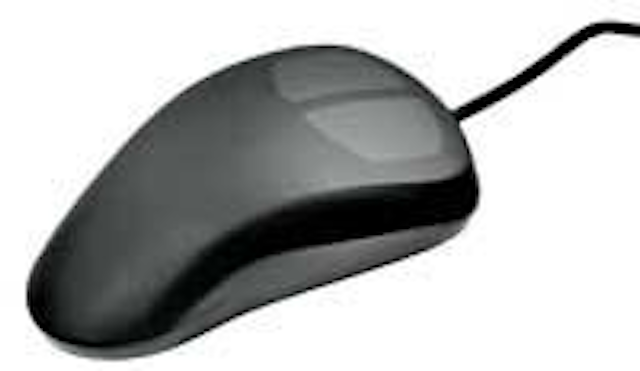 Click here to enlarge image
Continuing its line of innovative pointing devices, IKEY, a provider of industrial computer peripherals, releases its AquaPoint™ waterproof mouse. The NEMA 4X mouse features a sealed, industrial silicone overlay and robust polycarbonate frame. Its reliable, optical technology allows it to function on most any surface, while its smooth-surface buttons make the unit easy to clean.
IKEY Industrial Peripherals
Austin, TX
Tel: 800-866-6506
Web: www.ikey.com
BOD probe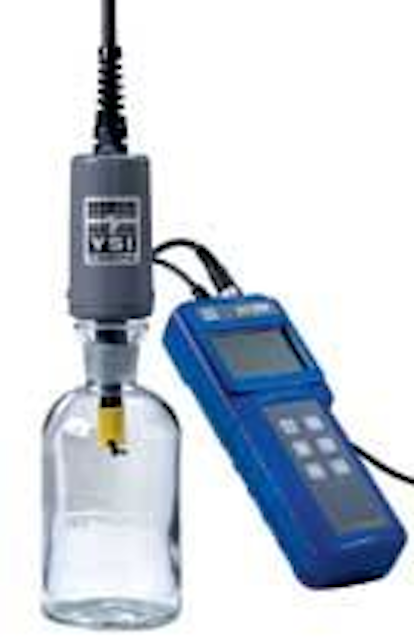 Click here to enlarge image
YSI releases the EcoSense® 200-BOD probe for performing biological oxygen demand tests in the laboratory. Combine the YSI DO200 handheld instrument with this probe for low-cost lab BOD determinations. The 200-BOD probe fits standard 300 mL BOD bottles and has a self-stirring paddle to provide adequate water flow past the membrane. It uses wall supply power to prevent unnecessary battery usage from the instrument. It's also equipped with a screw-on cap membrane with faster response times.
YSI Inc.
Yellow Springs, OH
Tel: 800-897-4151
Web: www.ysi.com/environmental
Asset management software
With nearly 100 new or enhanced features, CartêGraph Systems releases Version 6.3 of the CartêGraph Software Suite. Highlighting the additions are enhancements to the PAVEMENTview and PAVEMENTview Plus modules and a new Report Writing wizard for Report Builder. These enhancements simplify the interface, making entering and analyzing data easier.
CartêGraph
Dubuque, IA Tel: 800-688-2656 Web: www.cartegraph.com
UV water purification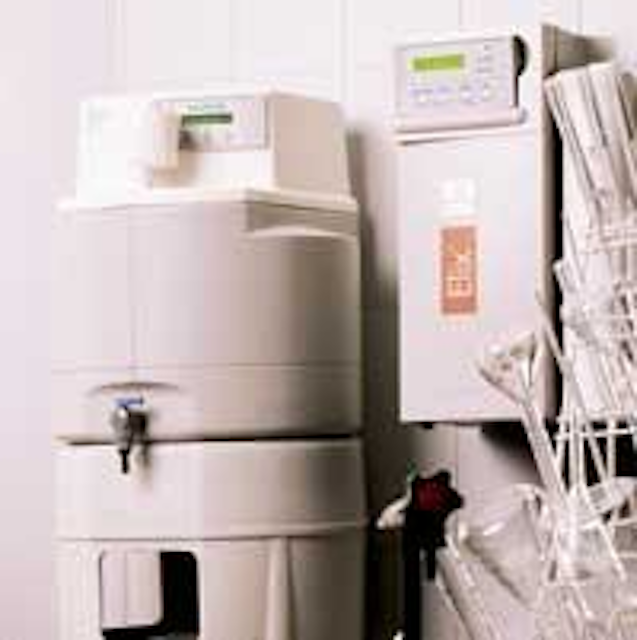 Click here to enlarge image
In contrast to distillation, the Millipore Elix UV system combines advanced purification technologies to provide users with pure water of consistent optimal quality for a more efficient, robust performance. It incorporates RO, EDI and germicidal UV lamp technologies to remove ions, organics, particles and bacteria.
Millipore Corp.
Billerica, MA
Tel: 800-645-5476
Web: www.millipore.com/h2o
Turnkey systems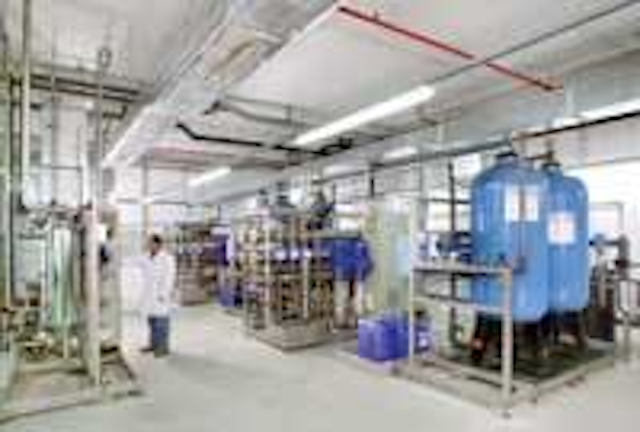 Click here to enlarge image
For purified, ultrapure and water-for-injection grade water, pharmaceutical manufacturers increasingly decide on a complete system from a single supplier. This means a reduction in sources of errors during project execution and noteworthy cost savings. The Christ Water Technology Group, for example, offers turnkey systems from water treatment plants to the peripheral equipment and documentation needed before and after, acting as general contractor by taking the responsibility for the entire system.
Christ Water Technology Group
Aesch, Switzerland
Tel: +41-61-755 83 64
Web: www.christwater.com
Level measurement system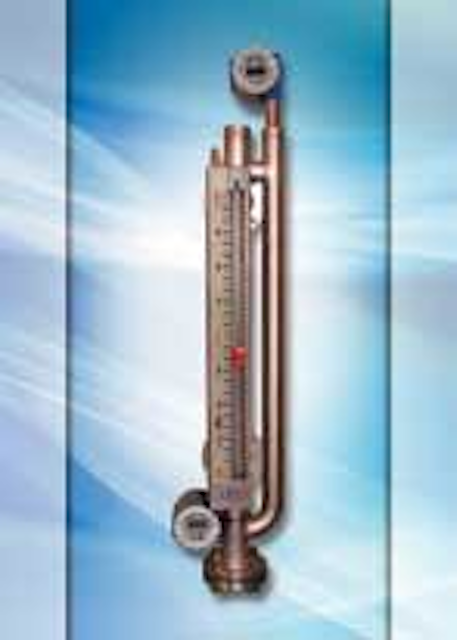 Click here to enlarge image
K-TEK announces the new MagWave™ Dual Chamber Level Measurement System. A lightweight, compact, precision-fabricated unit, it's designed to provide independent, redundant measurements in a variety of oil, gas, petrochemical, and power applications. The new system is designed around a unique, dual chamber enclosure that provides added flexibility and accuracy.
K-TEK Corp.
Prairieville, LA
Tel: 225-673-6100 Web: www.ktekcorp.com
Calibration, bump testing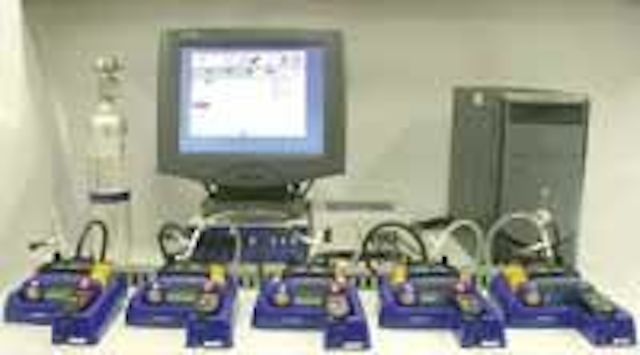 Click here to enlarge image
Crowcon's new CheckBox IMH - instrument management hub - automates calibration and bump testing of portable gas detectors, reducing operation time and costs. The station can test up to 10 detectors at once, calibrating, bump testing and uploading data files as required. By allowing both pumped and non-pumped detectors to be calibrated and tested using the same procedure, the hub greatly simplifies the whole instrument management process.
Crowcon Detection Instruments
Milford, OH
Tel: 800-527-6926
Web: www.crowcon.com