PRODUCTS & SERVICES Ion Exchange/Separation
The Headworks Eliminator™ provides fine screening suitable for use in membrane bioreactor (MBR) systems.
Jan 1st, 2005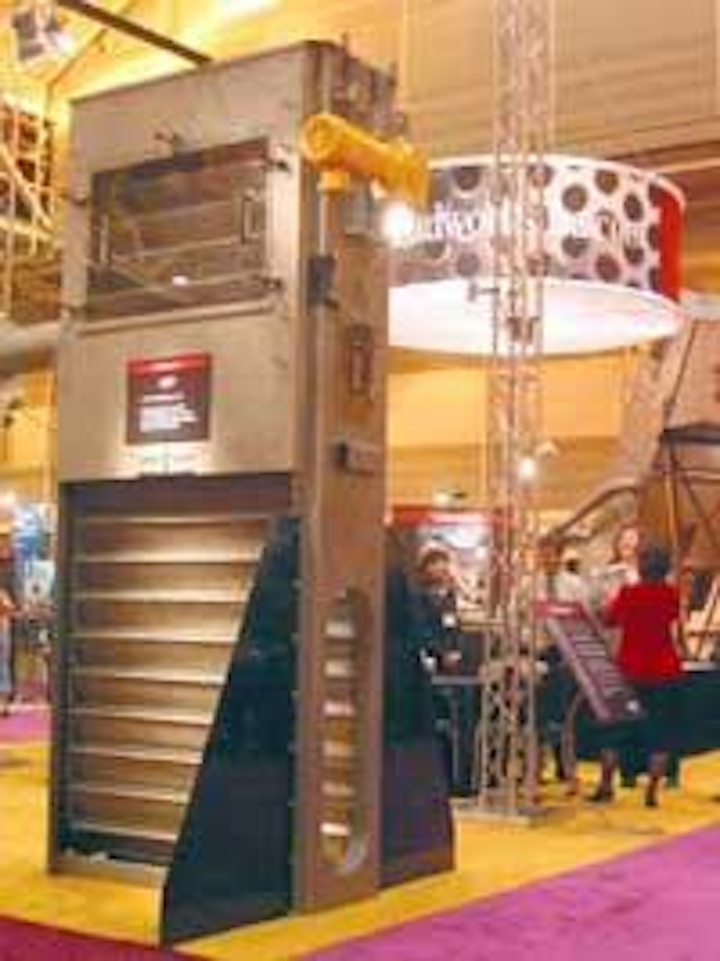 Headworks screen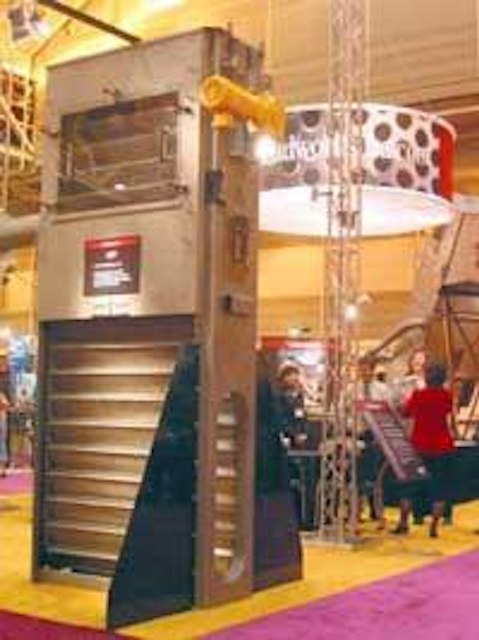 Click here to enlarge image
The Headworks Eliminator™ provides fine screening suitable for use in membrane bioreactor (MBR) systems. The screening system installed upstream of the finer filtration systems and is designed to improve their performance. The stainless elements form a continuous band, which travels parallel within the channel. The water enters through the center of the screen, turns 90 degrees, passes through the stainless steel sieve elements, and exits through the sides of the unit.
Headworks Inc.
Houston, TX
Tel: 713-647-6667
Web: www.headworksusa.com
Arsenic filter cartridges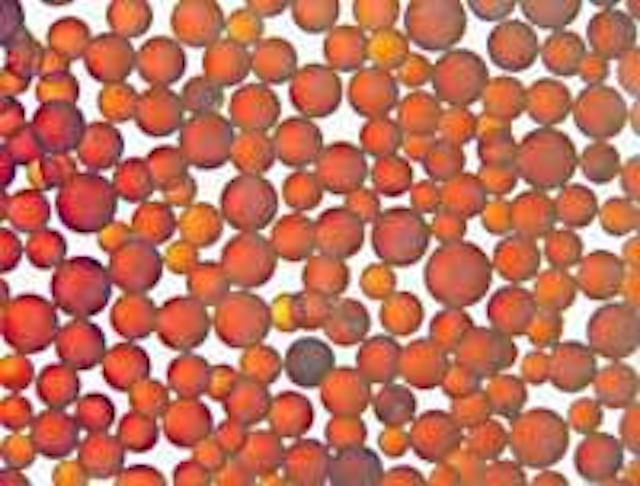 Click here to enlarge image
AriesFilterworks announces immediate availability of a new arsenic selective media cartridge that employs the ResinTech ASM-10-HP resin for arsenic removal. ASM-10-HP is a chemically modified strong base anion exchange resin with the highest binding power for arsenic of any competitive media. Unlike other arsenic selective medias, the cartridge won't bleed iron or leach any other hazardous material and it won't dump arsenic under any conditions normally experienced in potable water treatment.
AriesFilterworks, Division of ResinTech Inc.
West Berlin, NJ
Tel: 856-768-9600
Web: www.arieswater.com
Dual-stage MBR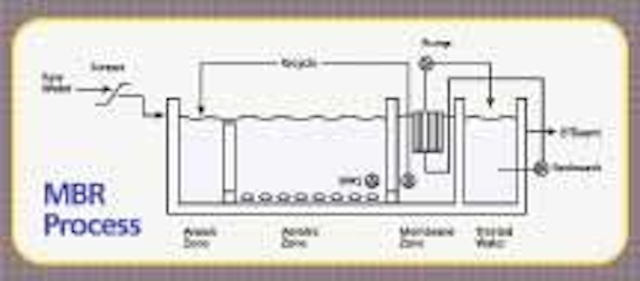 Click here to enlarge image
Introducing the new dual-stage membrane bioreactor (MBR) from Aquious - PCI Membrane Systems, a unit of ITT Industries, for advanced treatment of industrial wastewater. It delivers a higher quality effluent in less space and with lower operating costs normally associated with conventional activated sludge processing systems, taking advantage of synergies between two ITT subsidiary companies: PCI and Sanitaire, which is known for innovative municipal and industrial wastewater solutions.
Aquious - PCI Membrane Systems Inc., A Unit of ITT Industries
Milford, OH
Tel: 513-575-3500
Web: www.pcimem.com
Stormwater treatment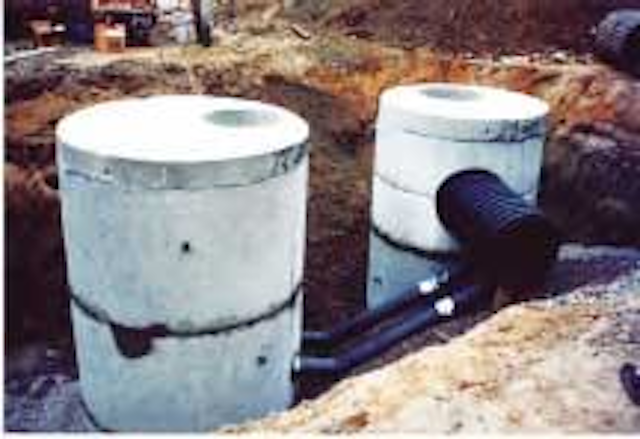 Click here to enlarge image
The BaySaver® Stormwater Separation System technology helps operators meet current and upcoming federal and state regulations. It has been proven to exceed required flow rate treatment, while delivering flexible design, installation and reduced maintenance. The systems are customizable to project site conditions, suitable for retrofit situations, and typically require less space than other types of BMPs. The company's professional services support includes engineers and technical advisors to assist with system specification and design needs, technical design manuals and online CAD tools.
BaySaver Technologies Inc.
Mount Airy, MD
Tel: 800-229-7283
Web: www.BaySaver.com
Industrial sanitizer
Click here to enlarge image
BioSafe Systems introduces SaniDate®, an EPA-registered sanitizer/disinfectant for industrial water treatment applications, including membrane filtration. A new alternative to chlorine-based and quaternary compounds that eliminates algae, bacteria, fungus and viruses, it's labeled for preventative and curative programs. It's non-carcinogenic, sewerable and won't harm delicate membranes and filters. Unlike chlorine, SaniDate is highly effective against a variety of microscopic contaminants and is fully biodegradable.
BioSafe Systems
Glastonbury, CT
Tel: 888-273-3088
Web: www.biosafesystems.com
Packaged wastewater plant
The Quadrasep® System from Blace Filtronics is designed for small volume waste treatment in industrial, marine and military applications. A packaged plant can be configured to treat a wide combination of industrial waste streams up to 20,000 gpd on an automated and unattended basis. The single skidded assemblies are fully integrated & typically require no pretreatment or accessory equipment. Capabilities include: No liquid waste, membrane level DE filtration, land-fillable dry cake discharge; closed loop or discharge to waterway, metals precipitation, emulsion breaking, oil/water separation.
Blace Filtronics Inc.
Vancouver, WA
Tel: 360-750-7709
Web: www.blaceinc.com
Filtration media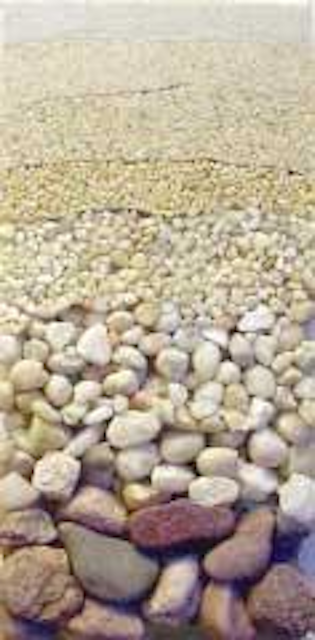 Click here to enlarge image
Fairmount Minerals offers high quality filtration media. Its subsidiaries, Best Sand and Wedron Silica, have been producers of high quality filtration media for decades. All filtration media is washed, dried and precisely screened to meet each customer's requirements. All products meet and/or exceed the AWWA B100-96 specifications and are NSF certified to Standard 61. A full range of sizes is offered, from 0.20 mm sand to 2.0" gravel. Anthracite and garnet media are also available.
Fairmount Minerals
Best Sand Co., Chardon, OH
Wedron Silica Co., Wedron, IL
Tel: 800-237-4986
Web: www.fairmountminerals.com
Wastewater solids removal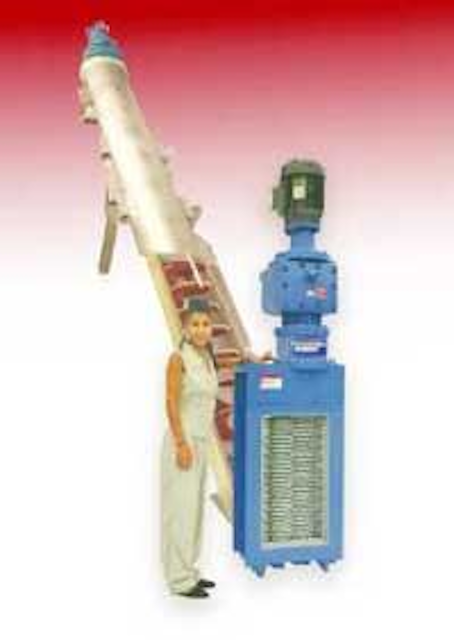 Click here to enlarge image
The SPIRALIFT® SL 19 provides grinding and screening for heavy institutional wastewater channel applications where light duty units are not suitable. The unit combines a powerful industrial-duty TASKMASTER® shredder and a high capacity oversized channel auger screen for effectively handling such tough solids as prison garb, bedding, heavy knotted items and more that choke and stall lighter duty systems. The motor and drive ranges up to 15 HP.
Franklin Miller Inc.
Livingston, NJ
Tel: 973-535-9200
Web: www. franklinmiller.com
Virus filter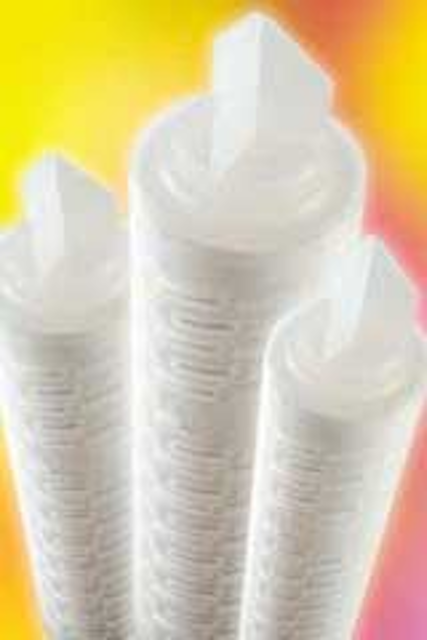 Click here to enlarge image
The introduction of the new Ultipor® VF UDV20 virus filter by Pall Corp. significantly improves the speed, safety and economics of biopharmaceutical manufacturing. By combining Pall's proven Ultipor VF DV20 membrane with its high area Ultipleat® cartridge, the new UDV20 virus filter offers up to six square meters of surface area in one filter cartridge. The new design doubles the surface area of the original Ultipor VF DV20 virus filter and does the work of two or more filters without increasing the footprint, complexity or cost of the filter system.
Pall Life Sciences
East Hills, NY
Tel: 516-801-9100
Web: www.pall.com/biopharm
Absolute filter bags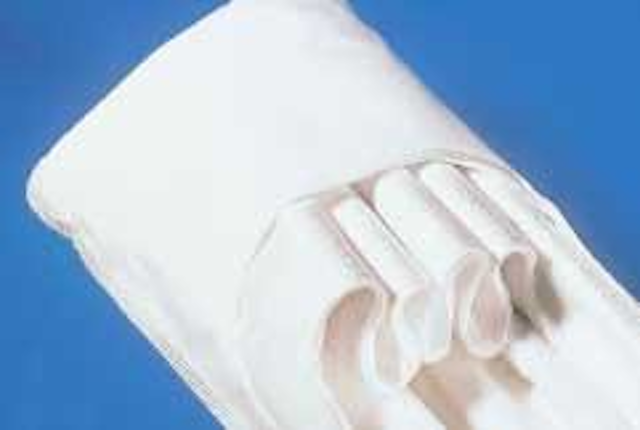 Click here to enlarge image
The ACCUGAF™ Series 500 Filter Bags from Hayward Filtration have a patented, all-welded, multi-pleated construction that significantly increases the surface area of the bag as compared to standard filter bags, resulting in high efficiencies (95-99%) and long service life. The filter bags have a pleated prefiltration layer and a complex design of final filtration layers, permitting removal of difficult to filter gels and deformable particles with a high capacity of solids loading.
Hayward Industrial Products Inc.
Elizabeth, NJ
Tel: 908-351-5400
Web: www.haywardfiltration.com
Arsenic selective resin
Click here to enlarge image
New from ResinTech comes the arsenic selective media, ResinTech ASM-10-HP, a chemically modified strong base anion exchange resin with the highest binding power for arsenic of any competitive media. A patent application has been filed with the U.S. Patent & Trademark Office for the new product. Unlike other arsenic selective media, ASM-10-HP won't bleed iron or leach any other hazardous material and it won't dump arsenic under any conditions normally experienced in potable water treatment.
ResinTech Inc.
West Berlin, NJ
Tel: 856-768-9600
Web: www.resintech.com
Arsenic removal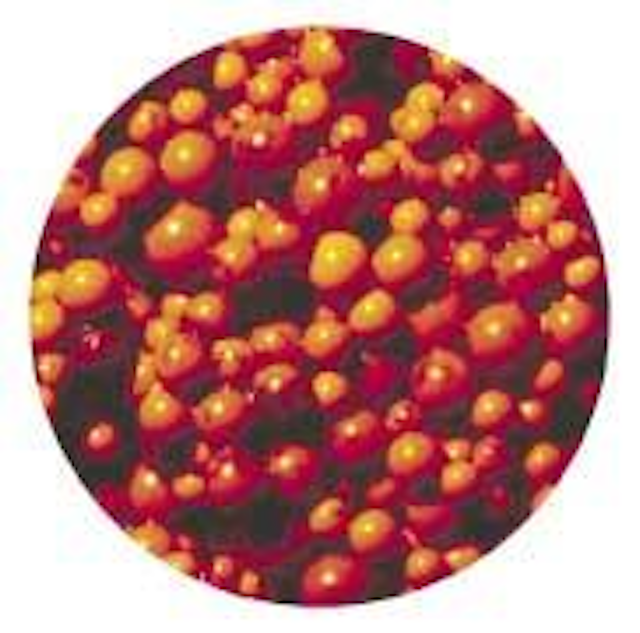 Click here to enlarge image
SolmeteX Inc., of Northborough, Mass., whose new breakthrough, patent-pending nanotechnology for arsenic removal from drinking water – ArsenXnp® – demonstrated its capacity in field trials in the U.S. Southwest, has signed a manufacturing and global marketing and distribution agreement with Purolite.
Purolite
Bala Cynwyd, PA
Tel: 800-343-1500
Web: www.puroliteusa.com
Self-cleaning filters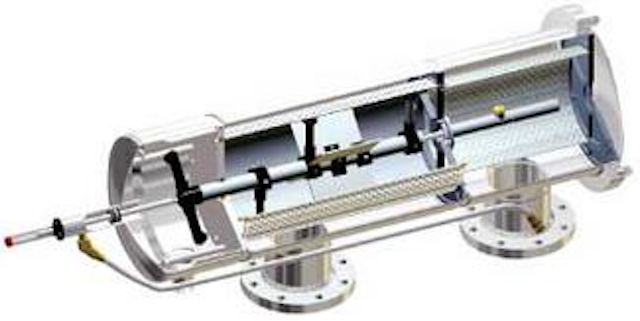 Click here to enlarge image
Constructed of 316ss, the V-Series Automatic self-cleaning water filters from Valve & Filter feature an energy efficient cleaning mechanism. These filters are suitable for tertiary wastewater disposal for a variety of applications -- service water, polishing, recycling, environmental protection and irrigation systems -- required to use treated effluent. The primary filtering screen uses "Uni-weld, Sintered" technology which maximizes the cleaning efficiency and the effective open area to stop debris and particulates. Screen cleaning is also enhanced due to the energy efficient "Hydro-Drive" rotor which reduces flushing time and thus wastewater during cleaning cycles. Degrees of filtration are available from 1500 micron to 10 micron.
Valve & Filter Corp.
Arvada, CO
Tel: 800-759-6554
Web: www.valveandfilter.com
UF cartridge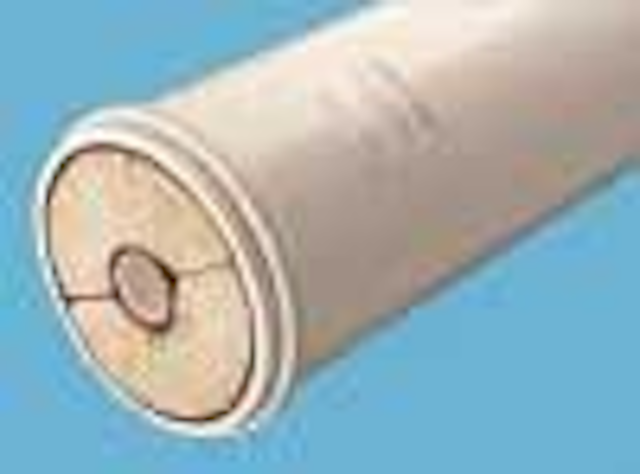 Click here to enlarge image
Evolving from the Koch Membrane System 8" ultrafiltration cartridge design, the new PMPW-10™ cartridge from KMS has a 10" diameter. It contains 60% more membrane area and provides 60% more product water. Each cartridge houses thousands of hollow fibers made from polysulfone, a membrane material in use for more than a decade. The new cartridge can reduce system floor space requirements by 50% and lower building costs significantly on a per gallon basis. Because of its smaller system size, fewer valves and pumps are needed, saving on capital equipment costs. The cartridges are available in two sizes: a 48" long model containing 550 square feet of membrane, and a 72" model containing 870 square feet of membrane.
Koch Membrane Systems Inc.
Wilmington, MA
Phone: 800-343-0499
Web: www.kochmembrane.com
Perchlorate removal
Rohm and Haas has introduced Amberlite® PWA2 ion exchange resin, which is specifically designed for the selective removal of perchlorate from drinking water. According to the EPA, perchlorate has been detected in water supplies across the United States, and can interfere with iodide uptake into the thyroid gland. In many typical municipal well contamination cases, the new resin has been shown to be a cost effective technology solution to manage perchlorate contamination concerns.
Rohm and Haas Co.
Philadelphia, PA
Tel: 800-742-6237
Web: www.amberedge.com
Stormwater filtration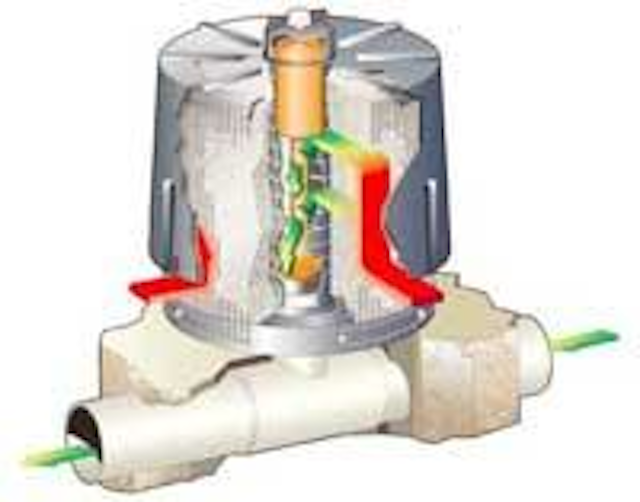 Click here to enlarge image
The Stormwater Management StormFilter®, a modular, gravity-powered, media filtration system, provides an ideal solution for the point-source treatment of polluted stormwater runoff and washwater from industrial sites. The system allows industrial sites to meet stormwater requirements in a cost-effective manner. It combines high levels of pollutant removal with an easy-to-install system that may be placed entirely underground, requires no chemicals or power, and is simple to maintain on an annual basis.
Stormwater Management Inc.
Portland, OR
Tel: (800) 548-4667
Web: www.industrialstormfilter.com
Ultrafiltration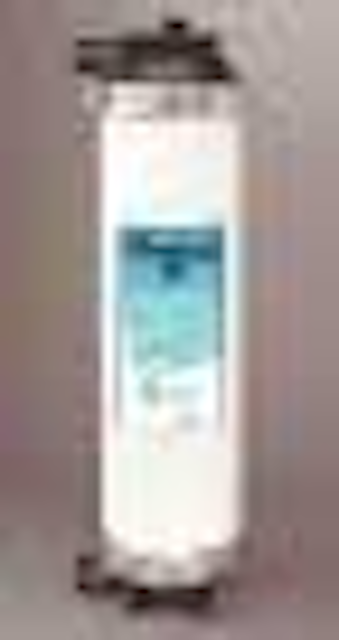 Click here to enlarge image
Hydranautics' ultrafiltration product line includes the HYDRAcap® and the HYDRAcap-LD (Large Diameter). The 0.8 mm HYDRAcap is used for surface water applications containing lower turbidities. The 1.2 mm HYDRAcap-LD was designed for a wider range of high fouling applications and meets the EPA guidelines for backwash water processing of conventional treatment plants.
Hydranautics Inc.
Oceanside, CA
Tel: 760-901-2500
Web: www.membranes.com
Membrane filter media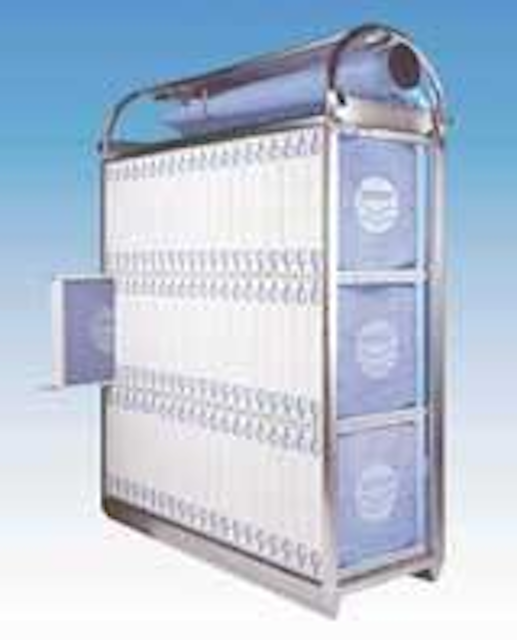 Click here to enlarge image
Zenon ZeeWeed® 1000 high efficiency, ultrafiltration membrane offers one of the smallest plant footprints available, without compromising performance. By applying suction to membranes rather than pressure, plants benefit from reduced energy consumption, decreased membrane fouling, and longer membrane life. The membranes offer >4 log removal of viruses and >3 log removal of Giardia and Cryptosporidium.
Zenon Environmental Inc.
Oakville, Ontario
Tel: 905-465-3030
Web: www.zenon.com
MBR systems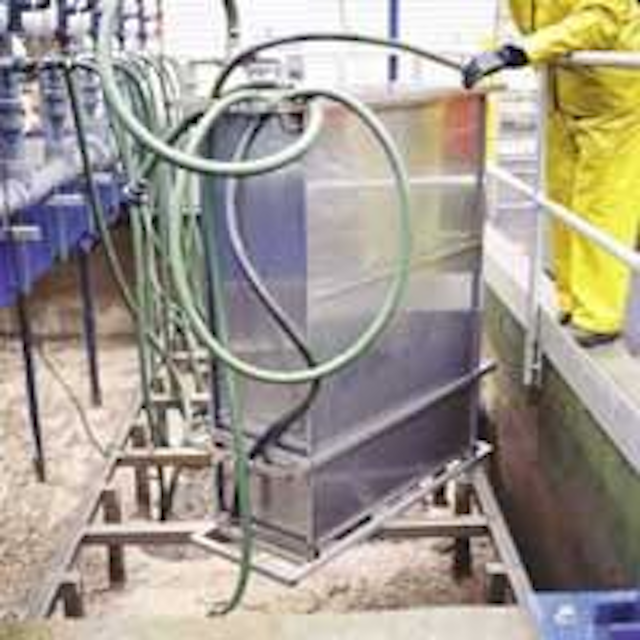 Click here to enlarge image
Effluent produced by the Ionics Membrane BioReactor (MBR) is ideal for conserving drinking water resources because it meets requirements for irrigation, industrial applications, aquifer injection and other non-potable uses. The systems replace the sedimentation process used in conventional wastewater treatment by removing the suspended materials with a microfiltration (MF) membrane. The membranes are submerged in an aeration tank, with the water being drawn through the membranes under vacuum, leaving the suspended biomass material in the aeration tank.
Ionics Inc.
Watertown, MA
Tel: 617-926-2500
Web: www.ionics.com
Membrane filtration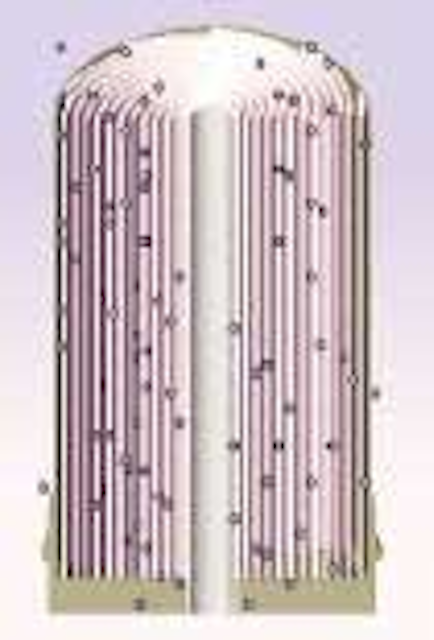 Click here to enlarge image
SpiraSep ultrafiltration technology, offered by Ashbrook Simon-Hartley, employs the advantages of spiral geometry – combined with a high-flow, low-pressure "sheet" membrane – to form a patented, backflushable, spiral-wound membrane. The ultrafiltration membrane is unique in its hydrophilic properties and its low resistance to fluid transfer. The company also offers its Aquabelt gravity belt thickener, which is now available as a totally enclosed unit.
Ashbrook Simon-Hartley
Houston, TX
Tel: 800-362-9041
Web: www.ashbrookcorp.com
Filter flume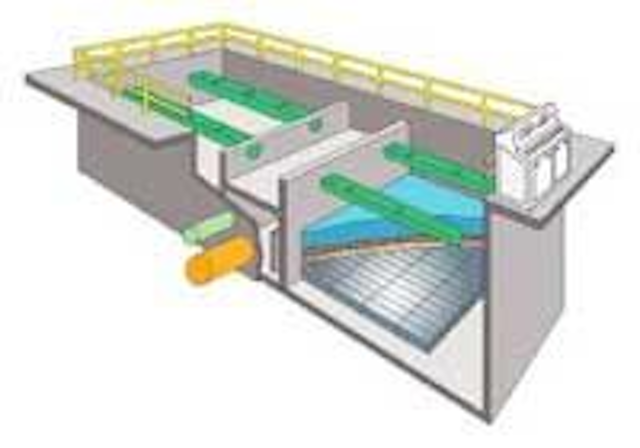 Click here to enlarge image
Although a Leopold filter can be arranged with a front flume, center flume or H flume to achieve the most effective layout, the company's Flat-Bottom Flume™ Filter is a new and innovative filter design. The FBFF arrangement allows substantial cost savings in excavation and support structures. The magnitude of these savings can be amplified where poor subsurface conditions, such as rock or groundwater, exist.
F.B. Leopold Co.
Zelienople, PA
Tel: 724-452-6300
Web: www.fbleopold.com
Stormwater filtration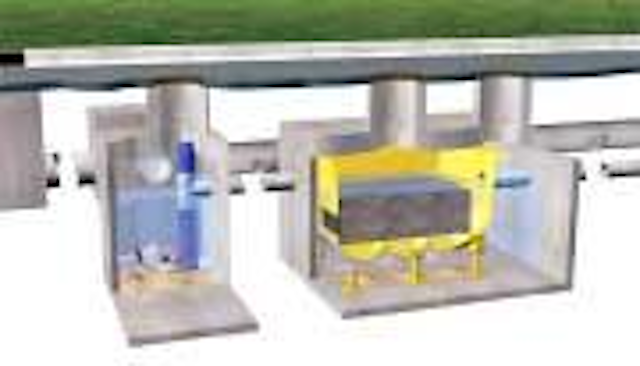 Click here to enlarge image
Bio-Microbics, an affiliate of Smith & Loveless, recently introduced the BioStorm™ system, a proprietary stormwater filtration device designed to receive and treat the initial runoff, or "first flush" from streets, parking lots or other surfaces. The system's off-line design consists of a patented StormTee™ self-cleaning deflector screen and a modular separation/coalescing unit, all housed in readily available precast concrete tanks.
Bio-Microbics Inc.
Shawnee, KS
Tel: 800-753-3278
Web: www.biomicrobics.com
CSO screens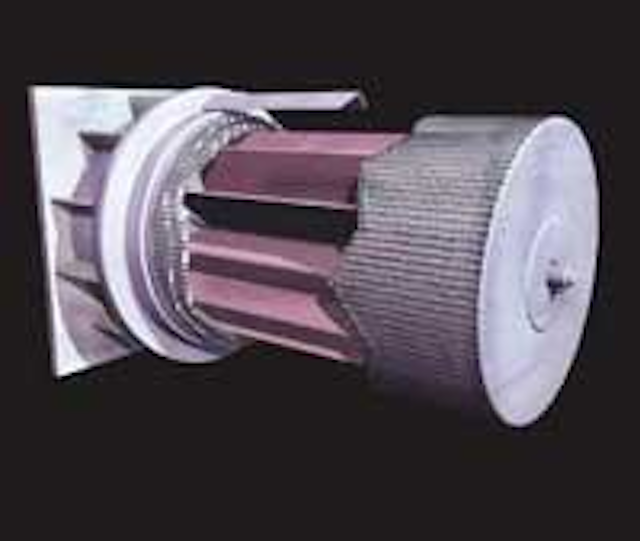 Click here to enlarge image
The Cyclone from CDS Technologies is a self-cleaning CSO screen designed to be virtually maintenance free. The stainless steel screen requires no mechanical cleaning of the screen surface and no external power source, as it operates by using the available energy of the overflow through an internal water wheel. With numerous installations throughout the UK and US, the screen has a track record for reliable combined sewer overflow screening in municipal settings.
CDS Technologies Inc.
Morgan Hill, CA
Tel: 800-848-9955
Web: www.cdstech.com
Self-cleaning filter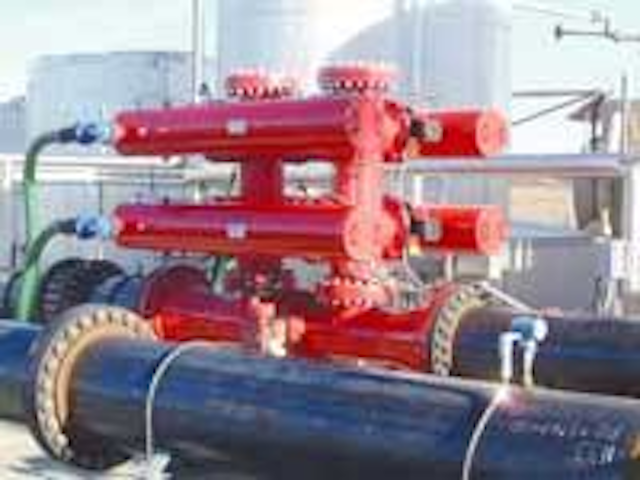 Click here to enlarge image
Orival's Automatic Self-Cleaning Water Filter removes micron-size suspended solids, independent of specific gravity, from water in once-through and re-circulating systems. Applications include waste and potable waters. Single filters handle flow rates to 10,000 gpm. Units can be banked to handle unlimited flows. The automatic self-cleaning cycle is line-pressure powered or motorized for high dirt loads. It takes only seconds and does not interrupt system flow.
Orival Inc.
Englewood, NJ
Tel: 800-567-9767
Web: www.orival.com