Compact, Onsite MBRs Growing in F&B Industry
Highly variable and difficult-to-treat wastewater is a staple byproduct of the food and beverage industry.
Aug 1st, 2006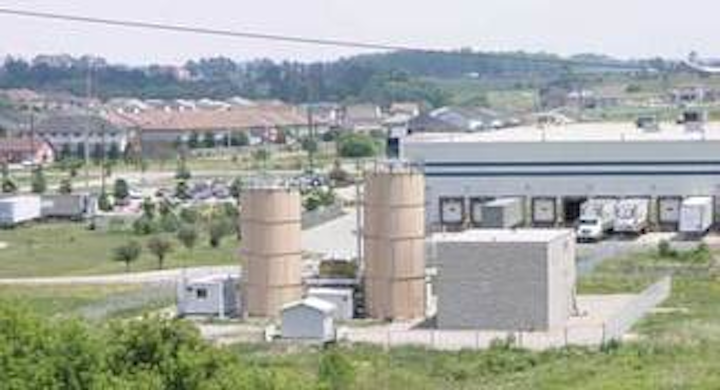 Highly variable and difficult-to-treat wastewater is a staple byproduct of the food and beverage industry. In many cases, such as at Richardson Foods, a growing food producer in the small southwest Ontario town of St. Marys, manufacturers aren't permitted to discharge raw wastewater to the municipal sewer since high organic content would overwhelm the wastewater treatment plant (WWTP).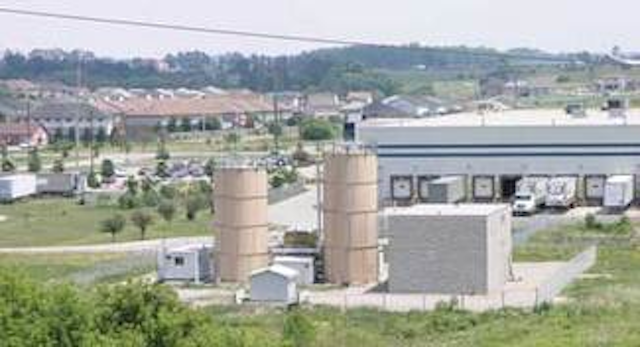 Since commissioning the ZeeWeed MBR in 2000, Richardson Foods hasn't received a single odor complaint, despite its close proximity to a growing subdivision.
Click here to enlarge image
"The wastewater from our manufacturing plant is high in oil, grease and sugar, and changes every day; it really depends what particular products are being manufactured," says Ivan Facey, environmental technician at Richardson Foods, a division of Heinz Canada. "We see BOD ranging from 1,500 to 4,000 mg/L, while COD can go from 3,500 to 6,000 mg/L."
Immersed Membranes
To handle this type of wastewater, manufacturers typically turn to an onsite WWTP that can provide pretreatment prior to releasing the wastewater to the municipal sewer system. While many treatment options are available, membrane bioreactor (MBR) technology is the leading choice for achieving superior quality effluent that meets or exceeds discharge requirements.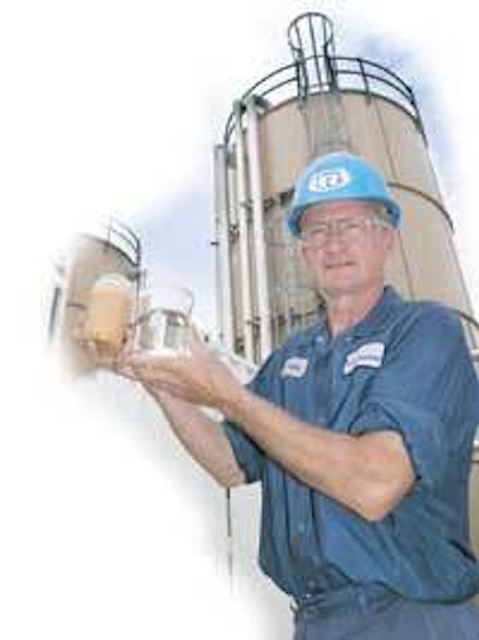 Ivan Facey, environmental technician at Richardson Foods, holds a crystal clear beaker of water, filtered by ZeeWeed membranes, alongside of a sample from the bioreactor.
Click here to enlarge image
In 2000, Richardson Foods replaced its underperforming sequencing batch reactor (SBR) with a 40,000 gpd (150 m3/day) ZeeWeed® membrane bioreactor (MBR) from Zenon Environmental, since acquired by GE Water & Process Technologies, selecting the system for its robustness, highly automated operation, cost effectiveness and low odor.
"We have a residential subdivision right across the road from the plant, but since our new system went online we have not had a single complaint about odor," Facey says. "With our old plant, it was almost a daily occurrence during the warm summer weather."
Zenon supplied complete design-build services to Richardson Foods, providing a single-source of accountability for the turnkey project. The plant was constructed in seven months, and included an equalization tank, dissolved air flotation (DAF) pretreatment system, membrane bioreactor system, and all pipes, pumps, blowers, and control equipment.
"Our new treatment plant has introduced many new processes for us to manage such as the DAF system, the membranes, and more recently a new filter press," says Dave Dykeman, maintenance and engineering manager at Richardson Foods. "However, the treatment plant is only about half the size of the old one, and its automated functionality means that we can still run it with only one operator."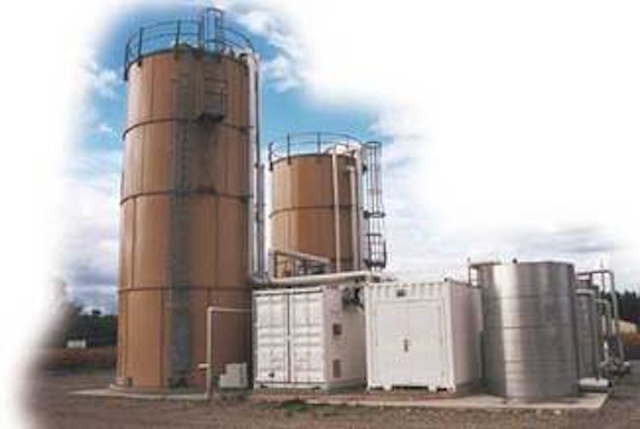 Zenon supplied complete design-build services to Richardson Foods, constructing and commissioning the plant in seven months.
Click here to enlarge image
Wastewater from the food manufacturing processes is first discharged to an equalization tank and then pumped into the DAF system for oil and grease removal. Pretreated wastewater is pumped to an aerobic bioreactor where sugars and other organic compounds are digested before the mixed liquor is pumped to the membrane tanks.
Lower Wastewater Loads
This particular MBR system's immersed hollow-fiber membranes incorporate a slight vacuum at the end of each membrane fiber to draw water through microscopic pores and into the hollow fibers. With a nominal pore size of 0.04 μm, the ultrafiltration membrane fibers act as a physical barrier, preventing suspended solids from entering into the final effluent, i.e., treated permeate. The BOD readings of the effluent are usually 2-10 mg/L, well below the regulated requirement of 300 mg/L.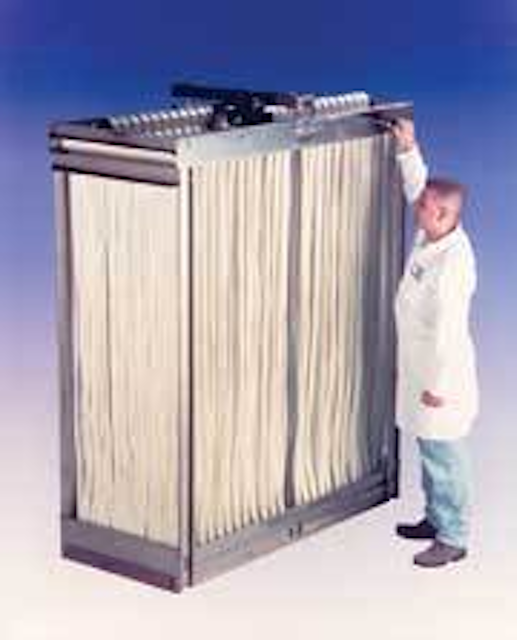 ZeeWeed membranes are immersed directly into the mixed liquor from the bioreactor and provide a physical barrier to virtually all suspended particles.
Click here to enlarge image
Since the system removes solids by filtration rather than settling, the bioreactor can operate at a much higher mixed liquor suspended solids (MLSS) concentration making the bioreactor volume much smaller than that of conventional technology. Richardson Foods operates its bioreactor at an MLSS of 12,000 mg/L, compared to 3,000 to 5,000 mg/L for a conventional system.
This higher MLSS concentration in the MBR, coupled with a longer solids retention time, means that Richardson Foods also has reduced its sludge production to only 15% of the 8,000 gallons (30 m3) per day produced by the old SBR system.
Conclusion
Membrane fibers can be easily cleaned with a clean-in-place back-pulsing process that forces permeate water back through the membranes. This dislodges any particles that may adhere to the membranes. Aeration of the membranes is also used to scour debris from the fibers and provides mixing within the process tank to maintain solids in suspension. When necessary, in-situ chemical cleaning can be automatically performed if membrane fouling reduces permeability below a specified performance level.
About the Author: Lawrence Novachis is vice president for industrial systems at Zenon Environmental Inc., of Oakville, ON, Canada - now a unit of GE Water & Process Technologies. A registered professional engineer, he also holds an MBA from York University of Toronto. Contact: 905-465-3030 or www.zenon.com.