Pumps Aid Sludge Handling at Yogurt and Juice Plant
Increasing flow rates are among the greatest challenges facing companies trying to move sludge.
Jul 1st, 2006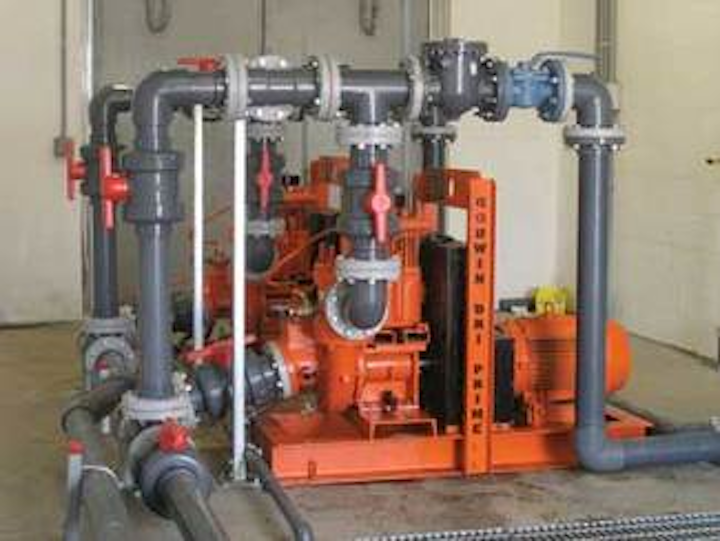 Increasing flow rates are among the greatest challenges facing companies trying to move sludge. A New Jersey-based food processing plant experienced that first-hand during the winter of 2003, when yogurt and juice production resulted in high biological oxygen demand (BOD) in residual food sludge that had built up in its primary clarifier.
The processor specializes in yogurts and juices packaged in sizes ranging from six-ounce individual servings or juice boxes to 8-, 16-, 32- and 64-ounce containers - not to mention yogurt tubes popular for on-the-go consumption.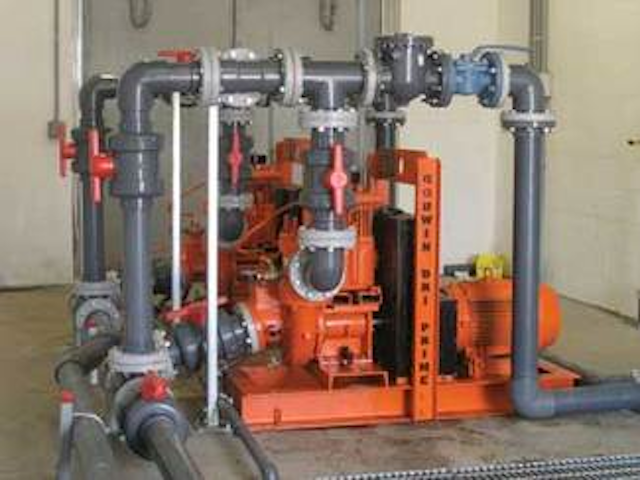 Two 4-inch Godwin Dri-Prime pumps work to move sludge at a central New Jersey food processing plant.
Click here to enlarge image
It's two permanently installed 7- horsepower flooded- suction centrifugal pumps suffered from seal leakage and didn't have enough horsepower to maintain flow when the sludge thickened.
Working with Bridgeport, NJ-based pump manufacturer and supplier, Godwin Pumps, it found a solution to the thickening sludge problem. To remove the build-up in the 12-foot primary clarifier, the plant engineer rented one 6-inch automatic self-priming Godwin Dri-Prime® pump and one 4-inch Godwin Heidra® hydraulic submersible pump. After removing the majority of heavy sludge, chemicals were added to the remainder to break down solid particles. The rental pumps successfully removed the resulting mixture.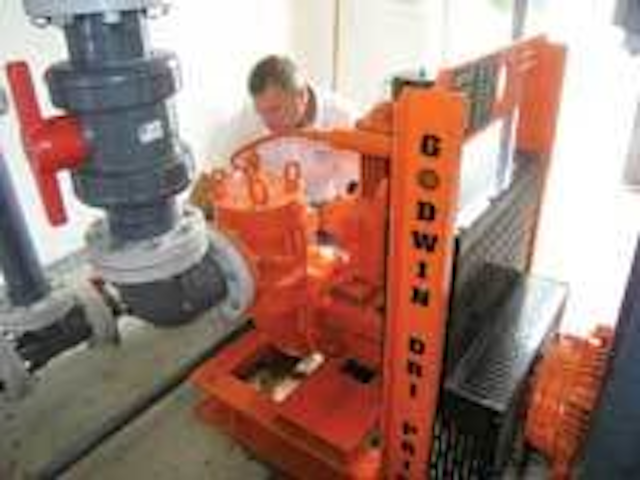 Stan Rockovich, sales engineer at Godwin Pumps, makes sure everything is running smoothly.
Click here to enlarge image
With a pending need to replace its existing sludge pumps, the processing plant then focused on implementing a general process improvement for its entire sludge pumping system to increase pump longevity and flow rates.
Temporary to Permanent
After successfully utilizing the pumps for its temporary sludge problem, the company purchased two Godwin 25 horsepower, 4-inch, model CD100M Dri-Prime pumps.
"What we found is that the Dri-Prime machine is a more reliable pump, especially when the sludge in the clarifier gets thicker," said the facility's plant engineer.
Adding to the reliability of this pumping solution is the advent of programmable controls. Using a combination of a programmable logical controller (PLC) and variable frequency drive (VFD), the two electric drive 4-inch pumps are used to balance and circulate flow between the return-activated sludge lagoon and waste-activated sludge belt press. Based on parameters set by the plant engineer, the PLC collects and uses operating data to monitor and control pump operations including balancing pump usage hours, flow rates and discharge destinations.
Effectively, the PLC triggers automated response, increases operational efficiency and system response and lessens pump wear by monitoring pumping discharge for the sludge system, which typically averages 150 gpm per pump. The PLC directs the VFD to operate the pumps' electric motors at certain RPMs, based on the flow rate that is needed to feed the belt press. Using a float system in the belt press feed tank, the PLC senses when the feed tank is full, then diverts all flow to the sludge-activated lagoon.
"If one pump goes down, the PLC will automatically increase the flow rate and operating speed of the second pump, keeping the entire system operational," explains Stan Rockovich, the Godwin Pumps sales engineer on the project.
This fail-safe method helps avoid an unplanned halt in production.
In addition to minimizing production losses and increasing pump longevity, this processing plant has been able to make use of increased flow rates to successfully incorporate routine maintenance for its processing equipment.
"The flow range of the pumps allows us to empty the clarifier when it needs routine maintenance. When emptying the clarifier, they were able to run the pumps at 1800 RPMs giving us 350 gpm per pump. The old centrifugals they had in place didn't have this kind of flow range," explains Rockvoich. "The customer previously rented pumps when they needed to pump down the clarifier for routine maintenance, now they are saving on operating expense by having reliable pumps in place."
Going with the Flow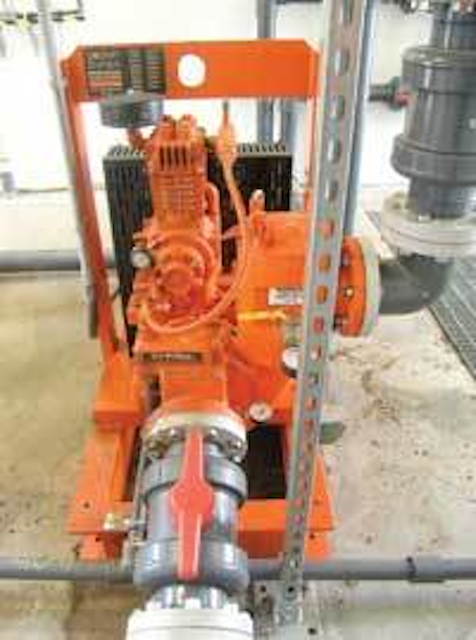 150 GPM of sludge of sludge is no problem for this model CD100M Dri-Prime pump.
Click here to enlarge image
"Godwin has quite a reputation as 'the portable pump company,' but with the advent of VFD and PLC controllers in recent years, we are selling more and more Dri-Prime pumps for permanent installations," said Godwin Pumps sales manager Mike Delzingaro. "Our pumps are known for their reliability. Couple that with sophisticated monitoring technology like VFDs and PLCs, and you're exponentially increasing the reliability and efficiency of the entire system; not to mention, minimizing your need for pump watches and costly repairs. As a result, we have extended our permanent installs to applications such as API separator sludge removal in refineries and backup lift station pumps for municipal wastewater, and food industry sludge transfer pumps."
Conclusion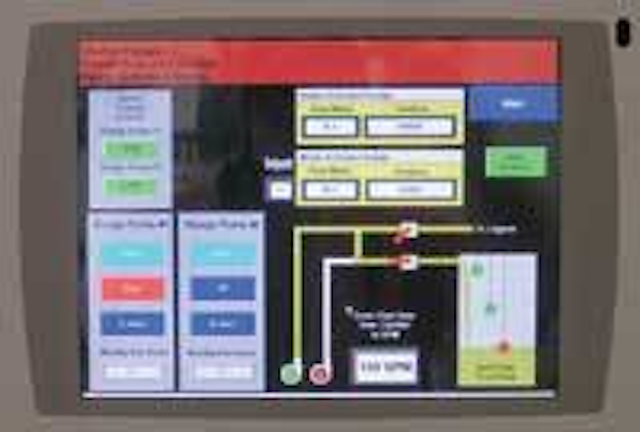 Automated touch screen pump controller, the brains of the system.
Click here to enlarge image
What started out as a temporary fix for this food processing company resulted in a technologically-advanced permanent sludge pumping solution. With added horsepower, increased flow range and overall durability, the new pumps have been operating around the clock without failure for the past six months.
---
Known as portable pump rental company, Bridgeport, NJ-based Godwin Pumps also offers permanent pumping solutions. Contact: 856-467-3636 or sales@godwinpumps.com