New Products
CST Covers, a division of CST Industries, has introduced a flush batten aluminum geodesic dome cover for drinking water and wastewater tanks.
Mar 1st, 2013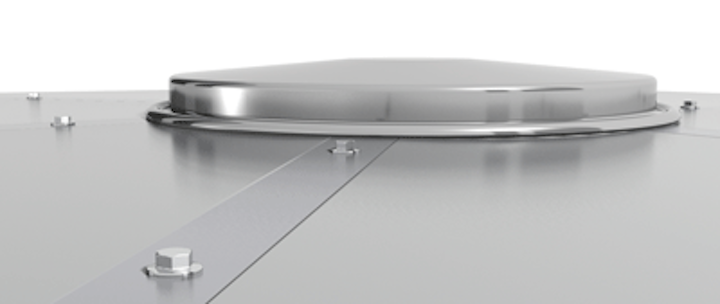 Aluminum covers
CST Covers, a division of CST Industries, has introduced a flush batten aluminum geodesic dome cover for drinking water and wastewater tanks. The OptiDome design features a double web I-beam for strength and stability, plus optimized patent-pending batten seal technology that eliminates environmental exposure and UV degradation. New hub cover technology removes the need for exterior sealant at the nodes, eliminating routine maintenance and inspection requirements.
CST Covers
Propeller pumps
The Flygt Slimline Propeller Pumps use smaller discharge column sizes resulting in a more compact pump station footprint which in turn minimizes civil construction costs. The state-of-the-art axial flow pumps deliver reliability and efficiency with increased clog resistance thanks to Flygt's unique N-technology. A self-cleaning propeller minimizes operational disturbances while delivering sustained high efficiency and reduced energy costs compared to conventional propeller pumps.
Flygt, a Xylem brand
Tank lining system
AkzoNobel's International Paint has introduced Devoe® Bar-Rust® 234P to the North American water industry. The solvent-free, epoxy, low-temperature, potable water tank lining system is designed to meet the industry's need for low VOC compliance, without compromising performance. The 100% solids, high build system is suited for new construction and rehabilitation projects because of its fast cure, simple 2:1 mixing ratio, and single coat application capability -- even in temperatures as low as 35°F.
AkzoNobel
Progressing cavity pumps
The Moyno® 2000 Model G3 Progressing Cavity Pump is suited for handling semi-dry, high solids content or caked substances. It features a series of finger mechanisms mounted on two counter-rotating shafts. Positioned above the pump's auger feed, this bridge breaker device prevents the accumulation of material in the throat of the pump. The bridge breaker is independently driven for flexibility in controlling pump and bridge breaker speed to meet specific application requirements.
Moyno Inc.
Turbocompressor
Sulzer Pumps offers the ABS turbocompressor HST 20, a direct-driven, air-cooled high speed turbocompressor. The new system offers exceptional savings from wire to air, providing more air output for every kilowatt put in. This efficiency comes from optimizing the turbocompressor as a whole. Magnetic bearings, a high-speed permanent-magnet motor, a newly designed impeller and a new labyrinth seal design all contribute to the balance. Sulzer Pumps Ltd.
PE Scraper
Electrofusion requires a clean surface. Reed's PE Scraper removes dirt and oxidation from the outside diameter of a PE pipe in preparation for the electrofusion process. Its spring-loaded blade does not skip as it keeps consistent pressure on the pipe to yield a smooth, finished surface. A minimal amount of PE is scraped away to reveal the clean pipe. The scraper can be used on the edge of the pipe and anywhere along the length.
Reed Manufacturing Co.
Oil skimmers
Abanaki has added new systems to its groundwater remediation line. This new product line will include the PetroXtractor Active Membrane Skimmer, PetroXtractor Passive Membrane Skimmer, and Leach-Aid Landfill Pump, intended for use in remediation and leachate (landfill) applications. Currently, the groundwater remediation systems line features the PetroXtractor®, a belt oil skimmer that is suitable for handling heavy oils.
Abanaki Corp.
Thermoplastic pipe
Asahi/America has expanded its family of thermoplastic double wall piping systems to help meet EPA requirements for underground chemical transfer. Chem Prolok™ has been certified by NSF to NSF/ANSI 61-G to be safe for drinking water. Made of the highest stress crack resistant PE resin, the pipe offers broad chemical resistance. Typical applications include water and wastewater treatment chemical feed systems, acids, caustics, sodium hypochlorite, mixed chemicals, compressed gasses and process piping, pressure or drainage.
Asahi/America Inc.
Basket strainers
Hayward Flow Control recently released its new Platinum GF-PP (Glass Filled Polypropylene) SB Series Basket Strainers. With this new material offering, the SB Series expands the range of piping applications for protecting critical piping systems components such as pumps, filters and flow meters from particulates and debris. The strainers are available in sizes ½" - 4", with true union threaded or flanged end connections.
Hayward Flow Control
TOC analyzer
The new Hach BioTector B3500c TOC Analyzer was specifically designed to meet the requirements of clean water applications including Condensate Return, Cooling Water, Potable Water, Pharmaceutical Water (WFI) and Demineralized Water. It offers process insights, process incident alerts, environmental monitoring, energy optimization, product and water loss prevention, and boiler and plant protection. Unlike other systems that require reagent replacement bi-weekly or monthly, this analyzer only requires replacement every six months.
Hach Co.
Ultrafiltration
PRAB's line of Ultrafiltration Systems separate emulsified oils and suspended solids from wastewater using hollow fiber, tubular or spiral wound membranes. The systems can reduce oily water volumes by as much as 98% without the use of chemical additives. Industrial manufacturers can also decrease the cost of washwater detergents by up to 75%, and reduce costs associated with heating and disposal.
PRAB
Lining system
Sauereisen SewerGard™ Industrial No. 210 is a novolac epoxy that is specifically formulated for industrial wastewater. All three available formulations provide an impermeable, high strength lining resistant to sulfuric acid, elevated temperatures, aggressive chemicals, organic and inorganic acids, caustics, etc. No. 210TN is an aggregate-filled, trowel applied lining that provides a non-sagging application for repair and protection of vertical, horizontal and overhead surfaces of either new or rehabilitated substrates.
Sauereisen Inc.
Portable BTU meter
Spire Metering Technology, formerly Shenitech, has released a new portable ultrasonic BTU meter, the Regal Series RH40. The new meter offers non-intrusive BTU and flow measurement across a broad array of pipe sizes and various liquids in heating/cooling applications. The meter relies on clamp-on sensors to perform non-intrusive measurements on flow, temperature and heat energy/BTU consumption on pipes ranging from 0.5" to 120" in diameter.
Spire Metering Technology
Grinders
With models available from 1 to 7 ½ HP, Zoeller Engineered Products offers one of the broadest lines of grinder pumps in the industry. Cool run design technology effectively disperses heat, promoting longer service life. The units are available with multiple discharge configurations and wet end designs. Some models feature the unique Zoeller reversing cutter design, preventing cutter jams. The hardened SS star cutter rarely requires replacement.
Zoeller Engineered Products
Fluorometer
Walchem has introduced the Opti-Check handheld fluorometer from Turner Designs. For years, Walchem has offered the WebMasterONE control in conjunction with Turner Designs Little Dipper online fluorometer, to measure and control the concentration of scale or corrosion inhibitors in cooling tower and boiler applications. Now the Opti-Check fluorometer is available to ensure that the calibration of the online sensor is accurate.
Walchem, IWAKI America Inc.
AODD pumps
Wilden® has announced that its Advanced™ Series Air-Operated Double-Diaphragm (AODD) Pumps feature a series of operational benefits that make them ideal for use in the handling and treatment of wastewater that is a by-product of industrial operations. Advanced Series pumps, which are available in metal or plastic materials of construction, offer a redesigned liquid path and leak-free bolted construction to provide improved transfer of fluids that may contain particulates or abrasive compounds.
Wilden Pumps
Run time switch
See Water offers an adjustable pump run time switch designed for use in general dewatering, wastewater, sewage and confined space pumping applications. With a limitless pumping range, the control has the capability of pumping for 10 seconds or hours. This product may be used in conjunction with a See Water® WS Series control panel or as a standalone control.
See Water Inc.
Peristaltic pump
Clark Solutions' new Boxer 6000 Series Peristaltic Pumps are designed to require less space than other peristaltic pumps, substantially reduce tubing wear, and provide a more balanced motor load to ensure extended pump life. An additional feature is higher dispensing accuracy and reduced pump pulsation. The pumps are available with either eight or four rollers per channel, as well as multiple channel designs. The pumps are offered in gear-box or stepper-motor driven versions, with an optional Stepper Motor Control board which installs either remotely or directly to the back of the stepper motor.
Clark Solutions