New products
GE has announced a new corrosion protection technology specifically designed for refinery boiler and steam condensate systems.
Jun 18th, 2013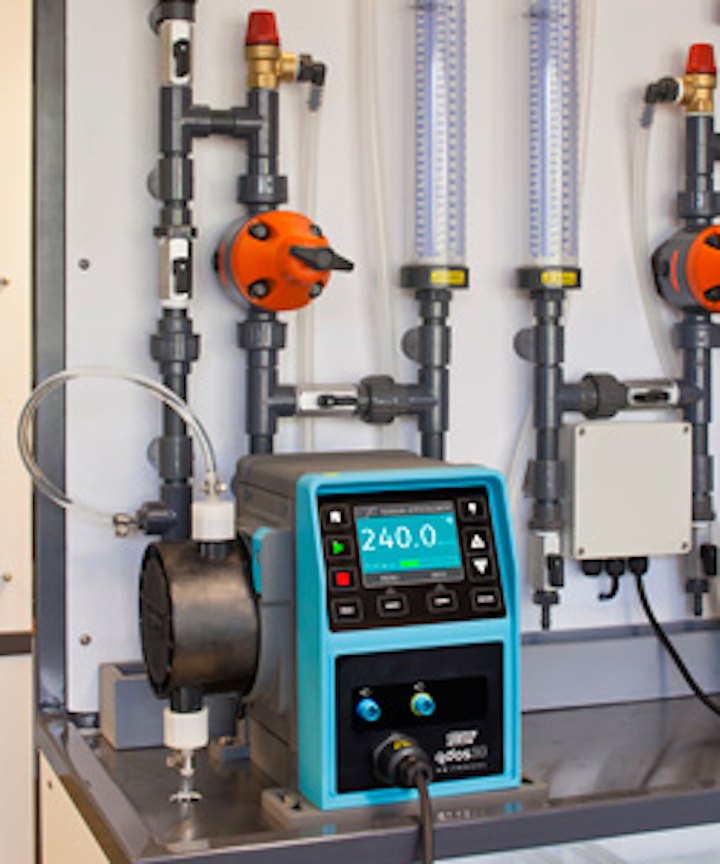 Corrosion control
GE has announced a new corrosion protection technology specifically designed for refinery boiler and steam condensate systems. GE's Steamate low salt amine (LSA) product series offers enhanced steam-side corrosion protection while providing greater reliability to the crude unit distillation process. The product series is made up of proprietary blends of volatile amines in combination with GE's unique polyamine surface corrosion inhibitor. This new technology is cost-effective and will provide corrosion protection of refinery boiler and steam-condensate systems while minimizing the potential for formation of corrosive amine salts in crude distillation units where utility steam is used in crude processing. GE Power & Waterwww.ge.com
Microbial control
Sonitec-Vortisand has launched the second generation of its unique method of controlling waterborne pathogens. The Vortisand filter combined with Microbial Control Media (MCM) technology typically reduces the amount of chemicals needed to treat the water in cooling towers by using sand coating with an EPA-approved, non-leaching and non-oxidizing chemical which disrupts the membrane of microorganisms in the water. The MCM technology, which can help combat outbreaks of Legionella (the bacteria which causes Legionnaire's disease), is now included as standard on all Vortisand applied in cooling towers. Sonitec-Vortisandwww.sonitec.com
UF membranes
The Kruger XTREAM™ ultrafiltration membrane system incorporates a new membrane element by Dow Water and Process Solutions, the IntegraFlo 102-1100 module (DW102-1100), with 1,103 ft2 per element. While this is Dow's newest ultrafiltration module, the hollow fibers are constructed of the same chemically resistant PVDF polymer used in previous modules. The module features a packing density decrease at the potting ends due to improved module design. The fibers have a 0.03 μm pore size, which facilitates removal of Cryptosporidium, bacteria, viruses, and particulates: up to 6.49 log removal of bacteria and up to a 2.3 log removal of viruses. I. Kruger Inc. www.krugerusa.com
Epoxy coating
Sauereisen has introduced a new Industrial product line: SewerGard Epoxy NovolaK Coating No. 210GN, Sprayable NovolaK No. 210 SN, and Trowelable NovolaK No. 210TN. Each of these new SewerGard coating and lining products are used to protect concrete and/or steel from chemical attack for the industrial wastewater market. They may be used in many kinds of aggressive industrial wastewater environments, such as oil refineries, food processing plants, power generation facilities, mining operations, and pulp & paper plants. Sauereisenwww.sauereisen.com
Chemical metering
Watson-Marlow has introduced its new Qdos 30 pump range. The chemical metering system eliminates ancillary equipment, enhances productivity and reduces chemical waste through more accurate, linear and repeatable metering than typical solenoid or stepper driven diaphragm metering pumps. The pumps deliver 5,000:1 flow from 0.002 to 8.0 gph at 100 psi while integrating easily through IP66 manual, analog and PROFIBUS control options. Watson-Marlow Pumps Groupwww.wmpg.com
Flowmeters
ABB Measurement Products' business announces an extended family of compact flowmeters to include four DP technologies - orifice, wedge, averaging pitot, and integral orifice. Each family member is a one-piece flow meter, incorporating the primary element, 3- or 5-valve instrument manifold and transmitter in a single, fully-pressure-tested assembly. The compact construction enhances both performance and safety as it involves a minimal number of leakage points, compared with the many potential sources of leaks found in a conventional DP flow installation.
ABB Measurement Products
Alarm system
SJE-Rhombus® has added a new alarm to its Tank Alert® family of alarms. The new Tank Alert® EZ indoor/outdoor alarm system is designed to make installations easier for installers of lift pump chambers, sump pump basins, holding tanks, sewage, and other waste applications. The design incorporates a distinct look with multiple functions. The removable cover provides greater access for easier field wiring, while the internal circuitry remains protected. The two-color molded enclosure integrates the red translucent LED beacon, the upper half illuminates, and the horn sounds when an alarm condition occurs.
SJE-Rhombuswww.sjerhombus.com
Dewatering pump
Xylem has introduced a new pump designed for dewatering in low-head applications as part of its Godwin product line. As a result of its compact size, the Godwin Vac-Prime pump is easy to move and transport. It does not require specialist transport, and with its lifting frame, fork pockets and optional wheels, it needs minimal on-site equipment. The speed of air evacuation that it delivers is due to a combination of the highly-efficient vacuum pump and the fast-priming system.
Godwin, a Xylem brand
Fractional electrodeionization
QUA®, a developer of membrane products for water and wastewater treatment applications, has launched the FEDI®-2Rx Fractional Electrodeionization product range specially designed for applications in pharmaceutical, biomedical and laboratory applications where installations require hot water sanitization to meet pharmacopoeia standards for Purified Water (PW) and Water For Injection (WFI). With patented dual voltage technology, FEDI technology is the next generation of electrodeionization (EDI) technology for the production of high purity water.
QUA Groupwww.quagroup.com