Doosan donates seawater desalination facility on remote Vietnamese island
Sep 2nd, 2012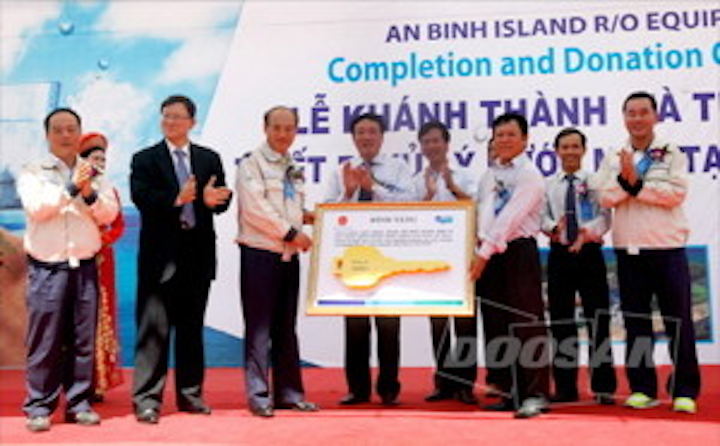 Sept. 2,2012 -- Doosan Vina, a subsidiary of Doosan Heavy Industries & Construction, has donated a seawater desalination facility to An Binh Island in Vietnam. The facility includes two Reverse Osmosis type seawater desalination units, which can produce a combined 200 tons of freshwater per day, sufficient to meet the daily water requirements of 500 people. Included in the donation were two power generators, and freshwater storage facilities.
The donation was made after the Quang Ngai provincial government, which was agonizing over ways to address the drinking water shortage on An Binh Island, requested the assistance of Doosan Vina, a leading global supplier of seawater desalination facilities. In a bid to fulfill its corporate social responsibility as a local firm in Vietnam, Doosan Vina accepted the province's request, signed an Memorandum of Understanding one year ago, broke ground on An Binh last May, and completed the construction in three months.
Doosan Vina (Chairman & CEO, Geewon Park) held an inaugural ceremony for the seawater desalination facility on August 31. In attendance at the event were more than 300 people, including Vietnamese government officials such as Truong Hoa Binh, Chief of the Supreme People's Court; Le Dung Quang, Vice Minister of Industry and Trade; Nguyen Van Rang, Vice Minister of Science and Technology; Vo Van Dung, Chief Secretary of the Communist Party of Quang Ngai Province; and Kwao Kua, Governor of the province; local residents, and Hang-ha Ryu, General Director of Doosan Vina.
An Bihn Island, situated about 30 km east of Quang Ngai Province on Vietnam's central coast is a small isle measuring 0.6 km2 with some 120 households and over 500 residents. Since no underground water is available on the island, local residents have depended on whatever rain water they could collect during the rainy season and then had to rely on shipped in water from the mainland to meet any shortfall. This created a chronic water shortage that has gone on for centuries.
With the completion of the seawater desalination facility, the water shortage that has afflicted the island since people first settled there more than 500 years ago, has been completely addressed. And thanks to the generators donated by Doosan to power the desalination equipment, the villagers will now also be able to enjoy the benefits of electricity that most people have come to take for granted.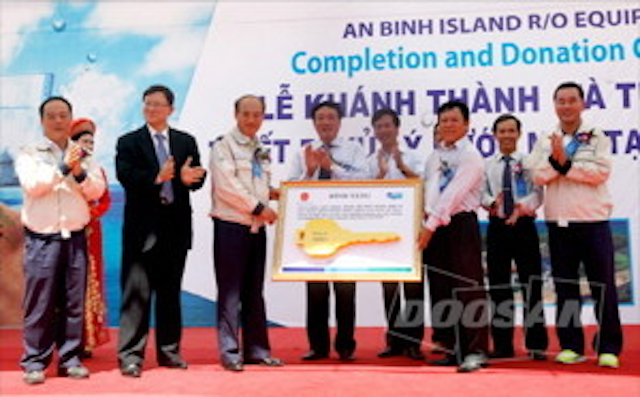 Hang-ha Ryu (third from left), General Director of Doosan Vina, hands over a key for RO facilities to Pan Din Pung (third from right), chief of An Bihn Island people's committee in Quang Ngai Province, at the inaugural ceremony to launch seawater desalination facilities in An Bihn Island in the Vietnamese province on August 31.
Hang-ha Ryu, General Director of Doosan Vina, said, "As one of the largest companies in Central Vietnam and the world's number one company in seawater desalination, Doosan Vina finds it very rewarding to have the opportunity to donate this seawater desalination facility to An Binh's residents, who have experienced great difficulties because of their water shortage," adding, "Since the Vietnamese government has also shown keen interest in this donation, I hope that the facility will not only improve An Binh residents' quality of life but also contribute to the expansion of private-sector partnerships between Korea and Vietnam."
Doosan Heavy Industries & Construction provided water purification facilities to Cambodia in collaboration with the Gwangju Institute of Science and Technology in 2006, and donated seawater desalination facilities for the Dokdo Islands in the East Sea in 2007, as it has provided seawater desalination facilities to areas suffering from water shortage in Korea and overseas as part of its corporate social responsibility activities.
###