A Sunny Solution: Disinfection Prototype Harnesses Sunlight, Aims to Provide Clean Water to Developing Nations
Two Purdue University professors have developed a unique method to treat contaminated water in developing countries by harnessing ultraviolet radiation from the sun. The technique utilizes a parabolic reflector designed to capture sunlight and concentrate it on a UV-transparent pipe through which water is continuously pumped.
Dec 9th, 2013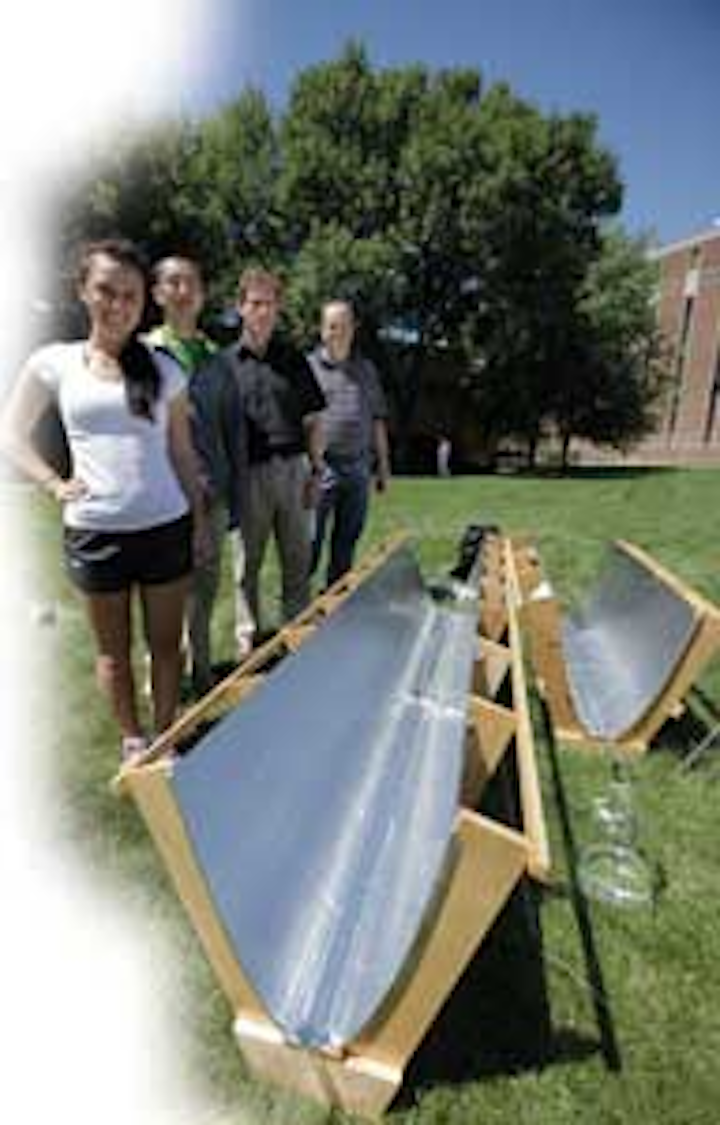 By Art Haddaway, WaterWorld Editor
Thanks to two Purdue University professors, people in developing countries who lack access to readily- available clean drinking water could see a significant improvement in the quality of water they consume.
Ernest "Chip" R. Blatchley III, professor of civil engineering and environmental & ecological engineering, and Bruce Applegate, associate professor of food science and biological sciences, have developed a unique method to treat contaminated water by harnessing ultraviolet (UV) radiation from the sun. The professors have created several prototype disinfection systems to inactivate common water-borne pollutants, such as E. coli and Salmonella typhi, in the water supplies of populated areas near or around the equator where UV radiation from the sun is more plentiful.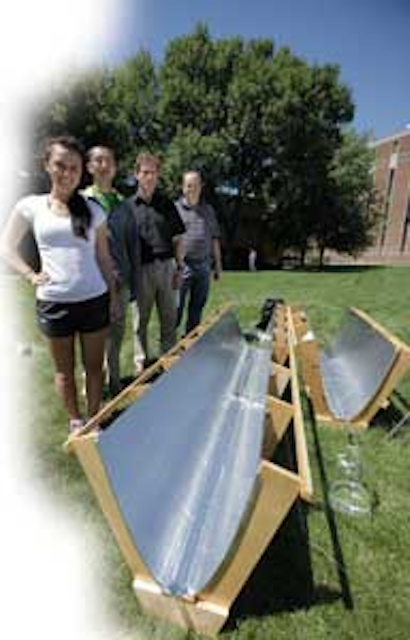 Blatchley, second to right, and Applegate, farthest right, with their team standing next to the parabolic reflectors.
"Many people who lack access to safe water live close to the equator," said Blatchley, "so one of the available resources is solar radiation. We want to take advantage of this naturally- abundant ultraviolet radiation to inactivate microbial pathogens - in other words, disinfect water."
The patent-pending technique utilizes a parabolic reflector designed to capture sunlight and concentrate it on a UV-transparent pipe through which water is continuously pumped. Unlike other conventional solar ultraviolet water disinfection (SODIS) methods, Blatchley and Applegate's treatment system provides a continuous-flow design that saves operation time and material costs, and it absorbs the sun's rays to an intensity that targets the DNA of microorganisms, ultimately damaging or destroying the nuclei of bacteria.
"UV radiation causes mutations in DNA, and with enough of it, the bacteria can no longer replicate and carry out certain cellular functions, and they die and can't reproduce," said Applegate. "It's a mutagenesis technique - the UV mutagenizes (or damages) DNA, which is used a lot in traditional microbiology for making mutants, but it's also used for a very powerful germicide."
Blatchley added, "Many of the waterborne microorganisms that cause these terrible diseases are easy to inactivate, so we have an opportunity to dramatically improve water quality with this approach."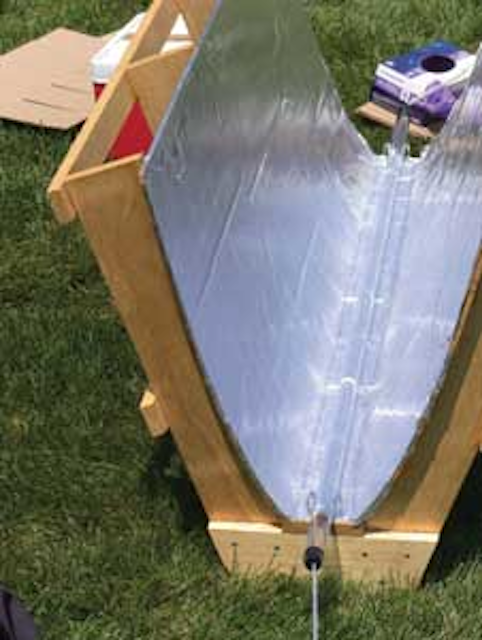 The UV disinfection system reflecting the sunlight onto the water-pumping pipe.
Another advantage of the system is that, given that it operates solely on UV radiation, it doesn't use chemical disinfectants, such as chlorine, to cleanse the water - thus allowing disinfection to occur with little or no formation of disinfection byproducts.
Zane Satterfield, an engineer scientist with the National Environmental Services Center (NESC), expounded, "Normally, you have to carry disinfectant residual in your distribution system, so using UV can reduce the amount of the normal disinfectant that is required, and it doesn't have the byproducts that other disinfection has, especially chlorine."
Accordingly, the sun is one of the most reliable and inexhaustible sources for water treatment, and new techniques like Blatchley and Applegate's are being developed to harness the sun's rays in order to purify water more efficiently - all while conserving energy, reducing costs and minimizing a large carbon footprint (see also "Solar Solutions: Utilities Harness Power of Sunlight to Reduce Costs, Save Energy," WaterWorld, October 2013).
"I think UV is going to become more and more prevalent with just about every water system out there," said Satterfield. "What I like about this (Purdue's system) is it's something that can be used in a third-world country that may not have reliable electricity or power or be able to afford that - all you need is a nice sunny day."
Studying UV disinfection over the last 20 years, Blatchley has dedicated much of his research to water treatment and the production of safe water. It wasn't until recently that he built the parabolic reflectors in his garage and eventually completed the prototypes in the lab with a team of experts including Applegate and several students. The system was initially tested on the roof of the Civil Engineering Building at Purdue.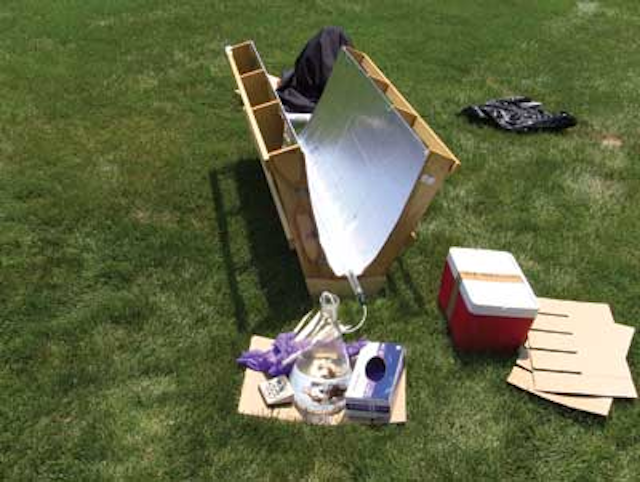 Blatchley and Applegate's prototype disinfection system pumping clean water through the UV-transparent pipe.
During the prototype testing, Blatchley and Applegate used non- pathogenic bacteria similar to the disease- causing forms found in the water sources of developing near-equatorial countries. They indicated that the objective of the experiments was to attain valuable results that could ultimately be carried over into those regions in need. "From a technical perspective, we know how to treat water, and what we want to do is take that knowledge and apply it in places where we can have an impact in terms of improving water quality and improving public health," said Blatchley.
Applegate added, "Water contamination is one of the biggest sources of health issues in developing countries. A lot of times, it's not just bacteria - it's protozoa and parasites that are there, and UV can be an indiscriminant solution that covers a large range of things."
Presently, the professors' disinfection system functions on a small scale and generates fresh water at a rate around 10 to 20 milliliters per minute, but they are exploring new methods to expand and quicken the process within larger applications - an important prerequisite before being implemented in the field.
"We still have work to do. Specifically, we need to verify that this is going to work against the microbial pathogens that we believe it will work against," said Blatchley. "We also need to understand more clearly how to scale up from the prototypes that we have to a community scale system. That will involve a combination of numerical modeling and field experiments."
Blatchley and Applegate are working on several different prototypes, including a compound parabolic collector and a device that uses a Fresnel lens, that focus and increase the overall strength of UV radiation. "What we're interested in is the ultraviolet portion of the spectrum," said Blatchley, "and by focusing, that allows us to speed up the disinfection reactions and reduce the size of the reactor for any given flow rate."
The disinfection system is patent-pending through an international application by the Purdue Office of Technology Commercialization. "It has been filed and should be published online. It can be a slow process, or it can be a quick one," said Applegate. "Purdue is very supportive of this."
The professors anticipate the technology to be fully completed and ready for implementation in developing countries within the next two to three years.