Products & Services: Disinfection Technology
Collection of disinfection technology related equipment products and services.
Nov 1st, 2016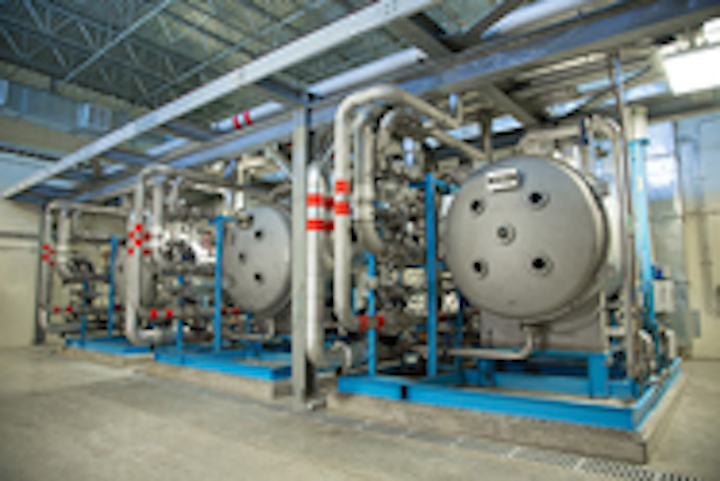 Ozone generation system

Aqua-Aerobic Systems' Aqua ElectrOzone™ Ozone Generation System is designed for safe operation and effective water treatment. The system's dielectric core is precision engineered for high dimensional accuracy on the ozone tubes allowing for consistent ozone generation, extremely low failure rates and efficient cooling. The system is ideal for potable water treatment, wastewater/water reuse and industrial applications that require ozone treatment for taste and odor control, bleaching/color removal, oxidation and disinfection.
Aqua-Aerobic Systems
UV disinfection
The TrojanUV Signa™ incorporates innovations, including TrojanUV Solo Lamp™ Technology, to reduce the total cost of ownership and drastically simplify operation and maintenance - now with 2-, 4- and 6-row configurations. Features include low lamp count and high electrical efficiency, maximum disinfection performance, optimized power consumption, intuitive controls, simple water level control, chemical and mechanical sleeve cleaning, easy bank removal, and simple retrofitting, among others.
TrojanUV
UV reactors
The Neptune Benson ETS-SW range of reactors is made of chambers that are constructed from material suited to withstand the powerful effects of the UV disinfection process. Features and benefits include: will not produce harmful carcinogenic byproducts, unique access hatch design to easily access the chamber. The device has the ability to be installed in a vertical or horizontal orientation, is easily incorporated into new installations or retrofitted solutions, and features a reduced footprint design. Flanges are standard ANSI 150 RF, flexible connection range of 4 to 30". Variable power continuously meets dosing requirements.
Neptune Benson, an Evoqua brand
Wastewater disinfectant
VigorOx WWT II is a strong wastewater disinfectant that can replace chlorine or improve the performance of a UV system. VigorOx WWT II, a peracetic acid (PAA)-based formulation, is an equilibrium mixture of acetic acid (vinegar), hydrogen peroxide, and water. It is offered as a complete solution including chemical supply; storage, feed and control equipment; and installation, startup and maintenance services. This system minimizes or eliminates capital expenses associated with replacing chlorination with alternative disinfection technologies, with no need to dechlorinate prior to discharge.
Peroxychem
Chlorine emergency shutoff
The Hexacon III Chlorine Emergency Shutoff System adds safety to chlorine feed systems. Stop a chlorine leak within seconds of detection by automatically closing the ton container or cylinder valve. The actuator quickly mounts to the valve without the use of any tools and still allows the valve to be manually opened or closed.
Halogen Valve Systems
Chlorination system
The Wallace & Tiernan® Systems S10K™ chlorinator is an all-vacuum-operated, sonically regulated unit providing economic, low capacity gas feed suitable for municipal water and wastewater applications. Direct cylinder mounting puts the vacuum regulating valve right at the source, reducing gas pressure to a vacuum immediately. Easy-to-read icons provide positive indication of container status; positive shutoff allows containers to be changed without admitting air, dirt or moisture into control unit; and easy alignment of the control unit on the container by means of a captive yoke assembly are some of the standard features.
Wallace & Tiernan, an Evoqua brand
Baffles
Director™ III Clearwell Baffles upgrade the performance of new or existing clearwell disinfection systems to meet the Contact Time (CT) requirements contained in the Safe Drinking Water Act. Manufactured from high-quality supported thermoplastic approved for use with potable water, the baffles meet the EPA and NSF Standard 61 for use in public drinking water systems and improve retention time for necessary treatment. Custom manufactured for problem-free installation and dependable service.
Environetics Inc.