PRODUCTS & SERVICES — DISINFECTION
Asahi/America has introduced the Poly-Flo® Unitary Double Containment Piping System for Chloramination.
Nov 1st, 2004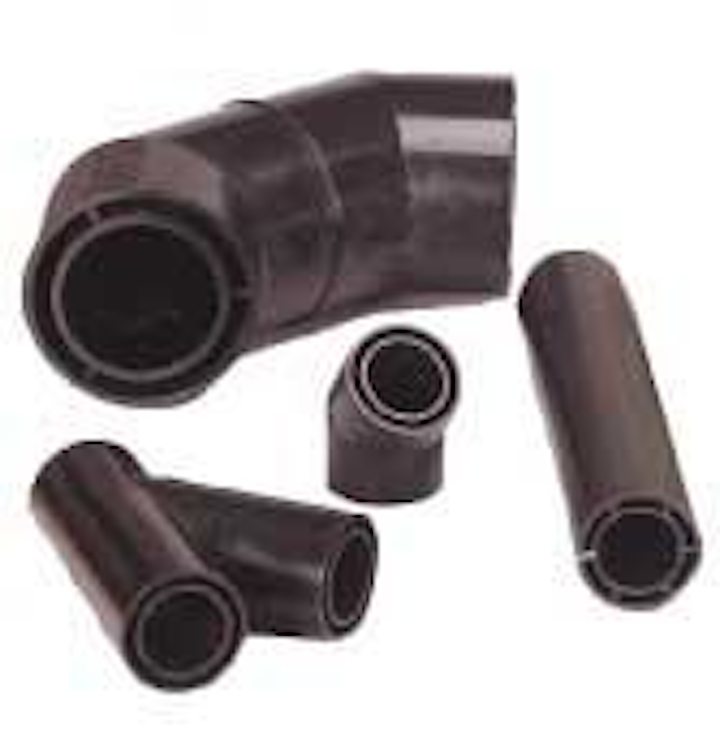 Containment piping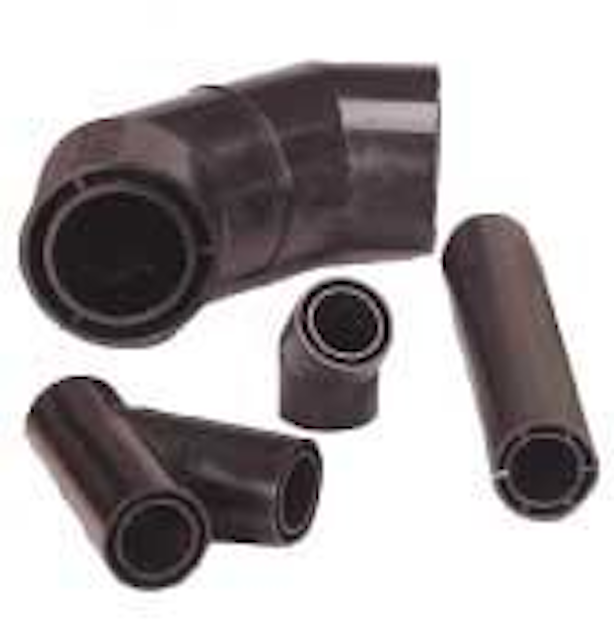 Click here to enlarge image
Asahi/America has introduced the Poly-Flo® Unitary Double Containment Piping System for Chloramination. Poly-Flo's polypropylene construction is ideally suited for the transport of aqueous ammonia used in new water treatment disinfection processes. The double contained piping system is compact and as easy to install as a single wall pipe system due to its unitary construction design.
Asahi/America, Inc.
Malden, MA
Tel: 781-321-5409
Web: www.asahi-america.com
On-site disinfection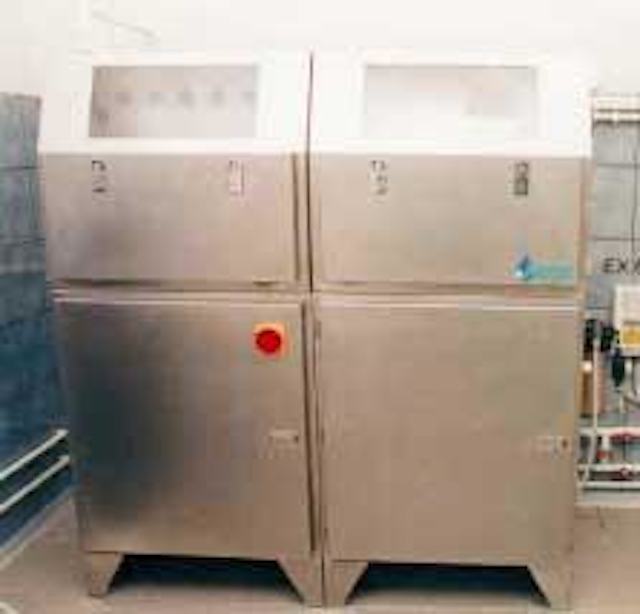 Click here to enlarge image
MIOX on-site generators for potable and wastewater disinfection provide a safer working environment by eliminating hazardous materials. The company offers both on-site hypochlorite and mixed-oxidant generators. Over 1,200 of its systems have been installed worldwide, with approximately 25% of these overseas. Mixed oxidants can reduce trihalomethane formation by up to 50%, while leaving a much more durable chlorine residual.
MIOX Corp.
Albuquerque, NM
Tel: 505-343-0090
Web: www.miox.com
Chemical flowmeter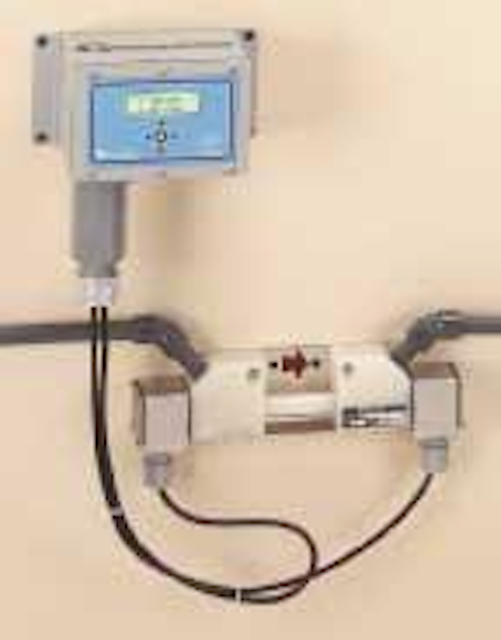 Click here to enlarge image
System 1020FT In-Line Transit-Time Flowmeter is ideally suited for low velocity, small line applications. The non-wetted transducer design, constructed of CPVC or Kynar tube material, allows it to be used on even the most aggressive chemical applications. The meter measures flow rates as low as 1 gph. Almost any liquid can be measured, from water to a diverse range of process liquids and chemicals such as fluoride, polymers, acids, sodium hypochlorite, sodium hydroxide, alum, potassium permanganate, etc.
Controlotron Corp.
Hauppauge, NY
Tel: 800-275-8479
Web: www.controlotron.com
Chlorine residual analyzer
The RA-1000 is an amperometric-type instrument for analysis and control of chlorine residual in the water and wastewater processes. The unit is capable of measuring free or total residual using inexpensive white vinegar as the buffering agent. Alternatively a CO2 buffering system is available. The analyzer is available with either a gravity or peristaltic pump-fed reagent system.
Eagle Microsystems, Inc.
Pottstown, PA
Tel: 800-780-8636
Web: www.eaglemicrosystems.com
Chlorine dioxide generators
Eka Chemicals' SVP-Pure® chlorine dioxide generators have been certified to NSF/ANSI Standard 61, Drinking Water System Components, by NSF International. The generator use Purate®, a proprietary blend of sodium chlorate and hydrogen peroxide, to generate chlorine dioxide at rates from 1 to 250+ pounds per hour. The chlorine dioxide is used as a pretreatment to promote iron and manganese removal, to avoid the formation of trihalomethane compounds, and to provide disinfection for drinking water.
Eka Chemicals Inc.
Marietta, GA
Tel: 770-578-0858
Web: www.eka.com
Disinfection monitoring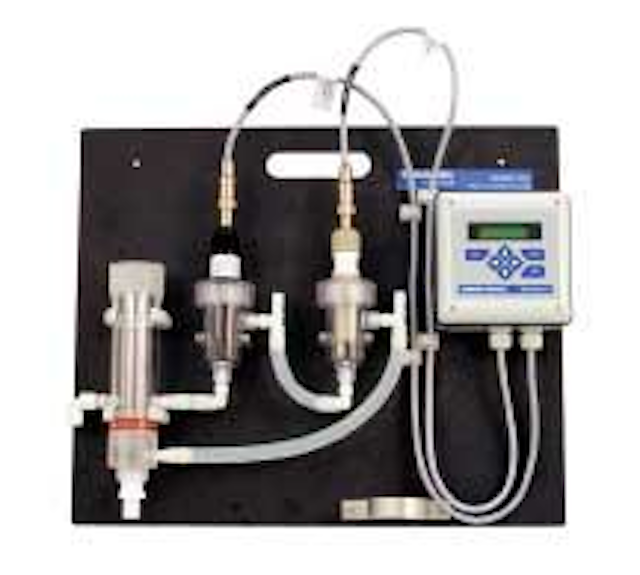 Click here to enlarge image
Emerson Process Management offers the Rosemount Analytical series of amperometric sensors and analyzers for the determination of chlorine or ozone. One complete Plumb and Plug system is the Model FCL for determination of free chlorine in fresh water. The FCL does not use sample conditioning systems or reagents to control pH. Instead the analyzer automatically compensates for changes in the pH of the sample. For ozone, model 499AOZ is used to monitor ozone dosage and residuals in the contact chamber.
Emerson Process Management, Rosemount Analytical Inc.
Chanhassen, MN
Tel: 949-757-8500
Web: www.raihome.com
Electrochlorinator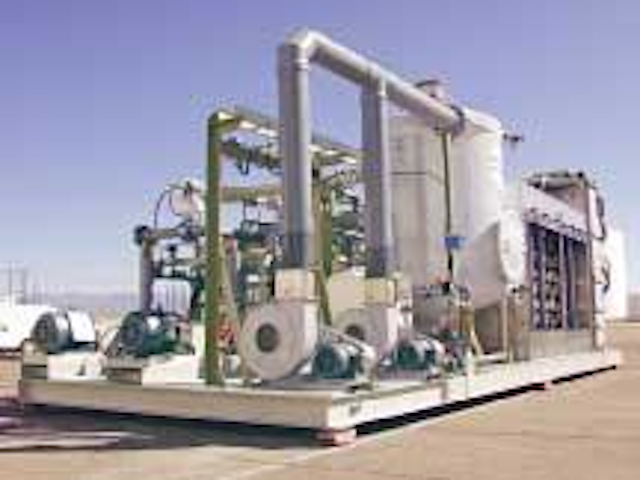 Click here to enlarge image
ChlorMaster® electrochlorinators provide on-site sodium hypochlorite (NaOCl) generation for disinfection in potable water facilities, sewage treatment plants and sewage collection systems where NaOCl is used for primary disinfection and to maintain a chlorine residual. Whether for potable water or wastewater disinfection, Pepcon Systems can provide an electrochlorination system to meet specific project objectives. The company has been designing electrochlorinators for more than 30 years.
Pepcon Systems
Cedar City, UT
Tel: 435-865-5045
Web: www.pepconsystems.com
Dechlorination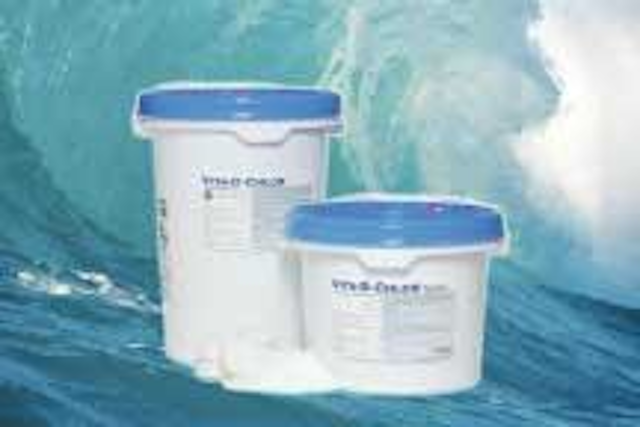 Click here to enlarge image
Vita-D-Chlor Vitamin-C chemistry immediately removes chlorine and chloramines, provides a nutrient to aquatic life, and quickly bio-degrades when finished. AWWARF study #90863 (Guidance Manual for Disposal of Chlorinated Water) identifies Vitamin-C "as the chemical of choice since it did not cause any water quality impacts in the field tests".
Integra Chemical
Renton, WA
Tel: 800-322-6646
Web: www.vita-d-chlor.com
Ozone, UV disinfection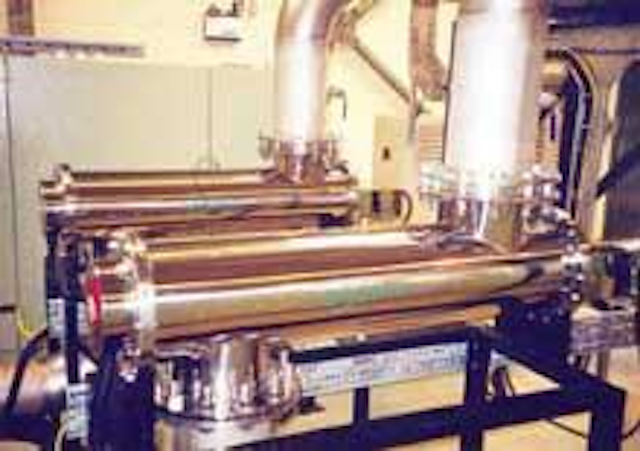 Click here to enlarge image
Ozonia North America, a supplier of ozone generation systems, also designs and manufactures Medium Pressure Ultra Violet (UV) systems for various water and wastewater treatment. Each system employs a touch-screen operator interface and PLC driven control logic. Full communication capability with plant DCS or SCADA via Ethernet or other data-highway can be configured per customer requirements.
Ozonia North America
Elmwood Park, NJ
Tel: 201-794-3100
Web: www.ozonia.com
Tablet chlorination system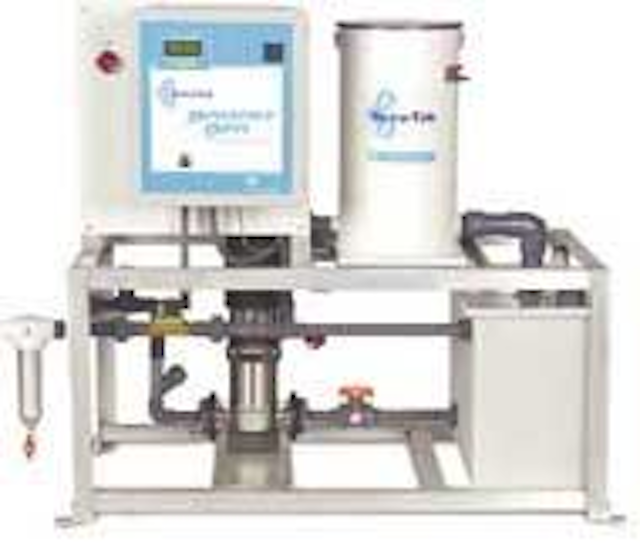 Click here to enlarge image
PowerPro® chlorination units by PPG Industries are designed specifically for use with Accu-Tab® System tablets and chlorinators. The Accu-Tab System's patented chlorinators and 3'' calcium hypochlorite tablets together allow for consistent and controllable chlorine dosages. The tablets are specifically formulated for controlled erosion. PowerPro units provide a compact, turnkey system based on any of the Accu-Tab chlorinator models.
PPG Industries Inc.
Pittsburgh, PA
Tel: 800-245-2974
Web: www.ppgaccu-tab.com
UV disinfection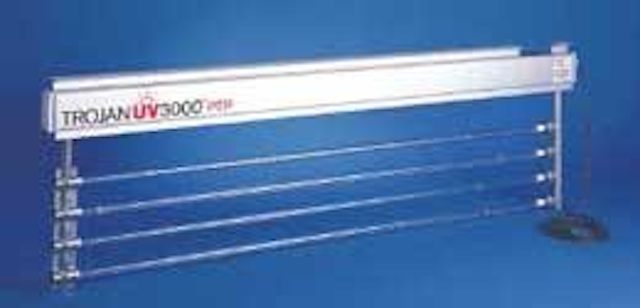 Click here to enlarge image
TrojanUV™ systems provide municipal wastewater treatment plants with an alternative to chlorination. The company offers a wide range of UV systems with options for multiple combinations of flowrates and disinfection goals. The projects range from the low-flow Package Treatment Plant (PTP) for small municipalities to the TrojanUV4000™Plus for large municipalities, with peak flows greater than 10 mgd and up. Other units include the TrojanUV3000™Plus for peak flows of 5 to 20 mgd, and the TrojanUV3000™B for peak flows of 1 to 5 mgd.
Trojan Technologies
London, ON
Tel: 519-457-3400
Web: www.trojanuv.com
Emergency valve actuators
Click here to enlarge image
Robo-Control® manufactures battery-operated actuators to remotely open and close hazardous gas cylinder valves such as chlorine and sulfur dioxide. The actuator mounts to the valve without interfering with existing hardware or dispensers and has LED indication of valve position. Some actuators can have I/O for SCADA and integral leak detection.
Robo-Control Inc.
Bridge City, TX
Tel: 409-697-2666
Web: www.robo-control.com
UV disinfection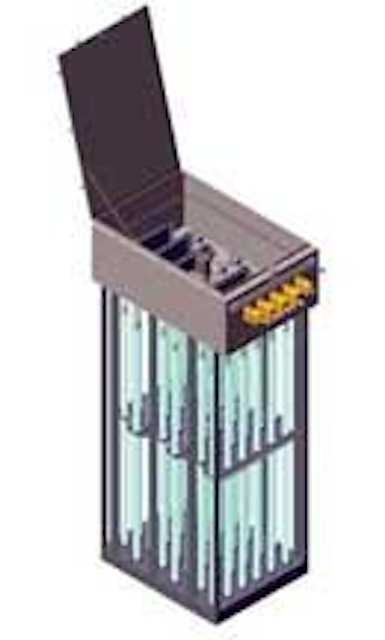 Click here to enlarge image
Infilco Degremont's new Aquaray 3X HO vertical lamp system features 36 low-pressure, super high output Amalgam UV lamps. The system can reduce footprint and increase energy efficiency of existing systems. Each high output lamp yields almost three times the germicidal output of IDI's 40 HO lamp, so fewer lamps can treat the same capacity. Row-by-row lamp flow pacing and dimming are standard features of the new module, providing further energy savings. Pacing maintains the operational dose equal or slightly higher than the design dose to accommodate a wide range of water flow and water transmittance.
Infilco Degremont
Richmond, VA
Tel: 804-756-7600
Dosing system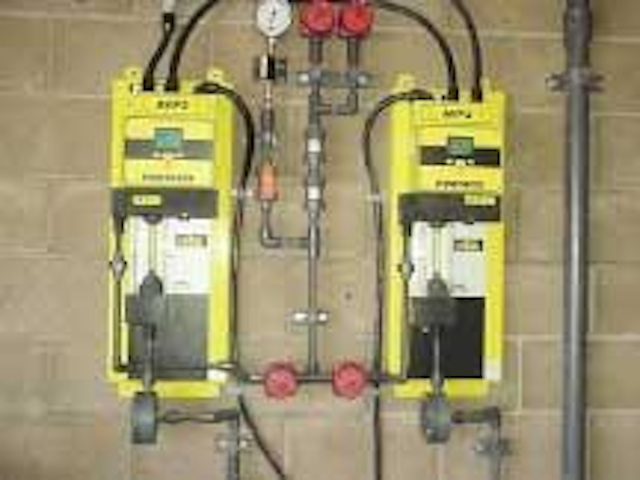 Click here to enlarge image
The Portacel Trent Liquid Dosing system features V-notch metering technology coupled with electronic controllers that can be used independently or with a facility SCADA system. The AVP2 controller will operate in a variety of control modes including flow/residual/trim, standard compound loop configurations, flow only and feed forward. Standard disinfection chemistry that can be dosed through this vacuum system includes sodium hypochlorite, sodium bisulfite, LAS and other ammonia derivatives.
Portacel Inc.
The Woodlands, TX
Tel: 281-363-2091
UV disinfection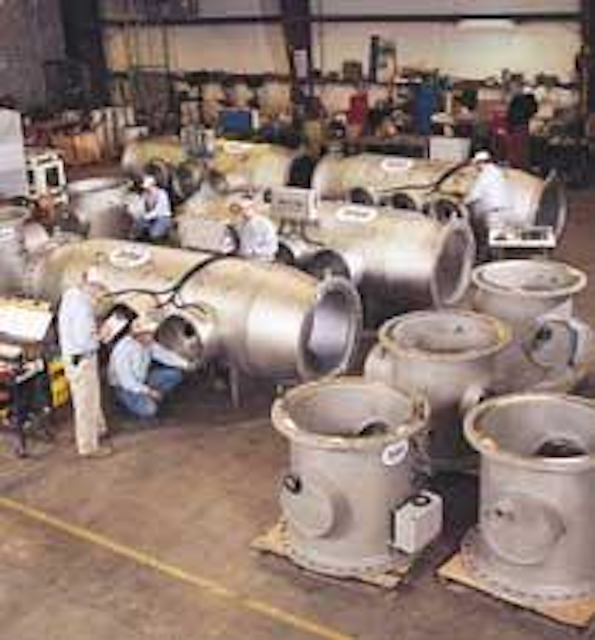 Click here to enlarge image
Calgon Carbon offers UV disinfection technology. Its Sentinel® UV product line features medium pressure designs with 18"-48" reactor sizes validated for treatment of Cryptosporidium and Giardia according to EPA LT2 guidelines, and are validated over a wide range of water qualities and flow rates.
Calgon Carbon Corp.
Pittsburgh, PA
Tel: 800-422-7266
Web: www.calgoncarbon.com