Commissioning UV Systems: Case Study of Three Drinking Water Treatment Plants
Ultraviolet (UV) disinfection has been used to treat drinking water in Europe since the 1950s and in North America for nearly two decades.
Aug 1st, 2009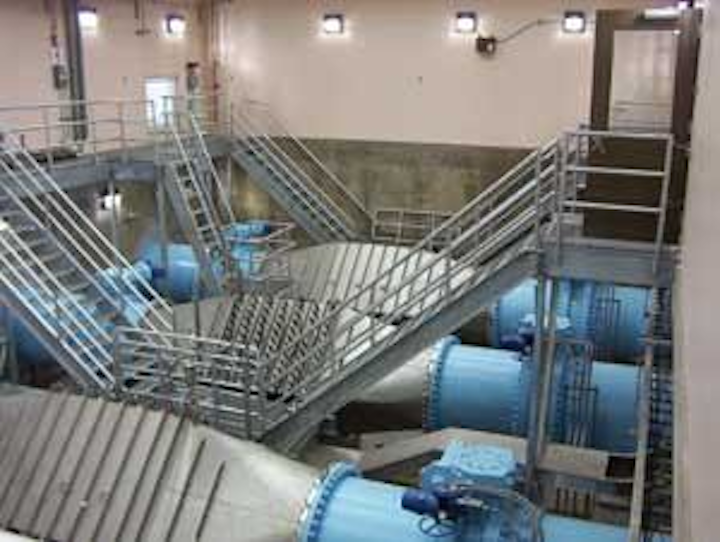 By David Gaithuma, Harold Wright and Mark Heath
Ultraviolet (UV) disinfection has been used to treat drinking water in Europe since the 1950s and in North America for nearly two decades. Over the last 10 years, the practice of UV disinfection has evolved considerably in terms of technology, design, operation, and regulations. As a result, stakeholders are increasingly looking to UV disinfection as an effective technology for inactivating chlorine-resistant pathogens such as Cryptosporidium and as an important process in achieving multi-barrier treatment and protecting public health.
While this track record suggests UV disinfection is an established technology, most states have not established a framework for implementation of UV for disinfection credit approximately three years after the finalization of the USEPA Long Term 2 Enhanced Surface Water Treatment Rule (LT2ESWTR) and the UV Disinfection Guidance Manual (UVDGM). This is indicative of the progress that remains to be made in obtaining regulatory buy-in for this technology.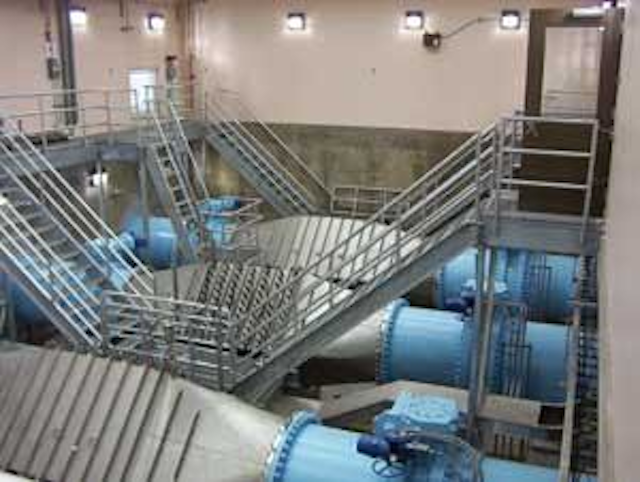 UV disinfection system at the South Tempe WTP.
Click here to enlarge image
The following case study summarizes experience in commissioning UV systems to ensure compliant operation, and working with regulatory agencies from three states -- California, Arizona and Wisconsin – to obtain UV disinfection credit.
Neenah Water Treatment Plant
The Neenah Water Treatment Plant (NWTP), located by Lake Winnebago in Wisconsin, underwent capacity expansion to 12 million gallons per day (mgd) that included installation of a UV disinfection system. The system consists of three medium pressure (MP) Trojan UVSWIFT™ 6L24 UV reactors installed downstream of lime softening, granular media filtration and granular activated carbon (GAC) contactors, and upstream of the chlorine contact basins.
The Wisconsin Department of Natural Resources (DNR) provided a compliance checklist for the UV system, which necessitated that the system undergo commissioning testing. Carollo Engineers, Trojan Technologies, Inc. and NWTP staff conducted commissioning testing in April 2007.
South Tempe
The South Tempe WTP (STWTP), with a rated capacity of 50 mgd, consists of flocculation, sedimentation followed by filtration and disinfection. As part of a plant upgrade, a UV disinfection system, consisting of four low pressure high output (LPHO) WEDECO K143 12/7 UV reactors, was installed.
The Maricopa County Environmental Services Department (MCESD) required commissioning followed by a 30-day operational test to demonstrate that the system met design objectives with respect to UV dose delivery and pathogen inactivation. Test plans were submitted to MCESD for review prior to commissioning. STWTP, Carollo Engineers and WEDECO conducted commissioning in January 2008.
Mountain House
The Mountain House WTP (MHWTP) supplies water to the community of Mountain House in northern California near the City of Tracy. The WTP, permitted for 12.5 mgd but designed for a full capacity of 20 mgd, consists of coagulation and flocculation, followed by high rate sedimentation, dual media (sand and GAC) filtration prior to disinfection with (sodium hypochlorite) and UV, consisting of two MP 36-inch Calgon Carbon Sentinel UV reactors.
In addition to start-up testing, the California Department of Public Health (DPH) required that the plant run UV for 6 months to demonstrate compliant operation for credit. Carollo Engineers conducted commissioning in October 2007.
The commissioning test protocol at each of the WTP's included the following tasks:
1. Verification of Programmable Logic Controller (PLC) dose monitoring algorithms and validated range
Visual inspection of the STWTP and MHWTP UV systems' PLC code confirmed that the programmed dose monitoring algorithm coefficients exactly matched those in the validation reports.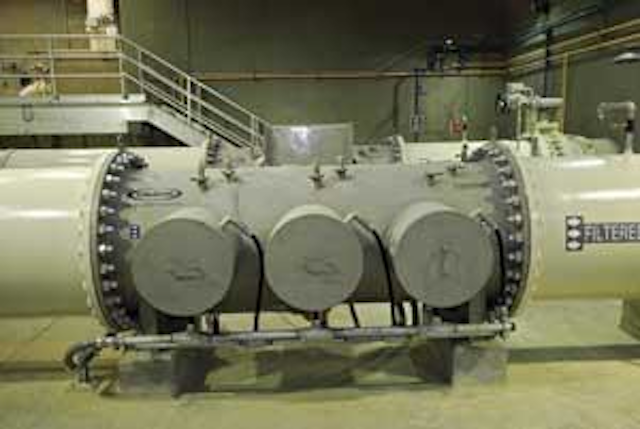 UV disinfection system at the Mountain House WTP.
Click here to enlarge image
The NWTP UV system had coefficients that differed from those in the validation report as they were based on a draft version of the validation report. The appropriate coefficients from the final validation report were uploaded into the NWTP PLC.
The dose algorithms for all the systems were also limited to each reactor's validated range.
2. Benchmarking of instrument measurements
Section 6.4.1.2 of the UVDGM requires that the maximum UV transmittance (UVT) measurement absolute offset between an online UVT monitor and a bench-top UV spectrophotometer be no greater than 2 percent. The accuracy of the UVT measurements made by the online monitors at all three WTPs was checked against a calibrated bench-top UV spectrophotometer.
Prior to re-zeroing, the online measurements at all sites deviated from the bench-top measurements by more than 2 percent.
Re-zeroing the online monitors with organic free water generally improved their accuracy to within UVDGM criteria, however, temporal drift was observed with all the units.
Frequent re-zeroing was recommended, anywhere from once or twice a day to once a week depending on the online monitor, in order to meet the UVDGM criteria. In addition, the WTPs were advised to obtain a bench-top UV spectrophotometer so that they can QA/QC the online monitor as well as keep a robust UVT dataset.
Section 6.4.1.1 of the UVDGM requires that for each duty sensor, the ratio between the average duty and reference UV sensor measurements, known as the calibration ratio, be no greater than 1.2. STWTP and MHWTP duty sensors were checked against three reference sensors while one reference sensor was used at NWTP. All duty sensors met the UVDGM criteria with maximum calibration ratios of 1.1, 1.2 and 1.1, at NWTP, STWTP and MHWTP, respectively. STWTP replaced duty sensors whose calibration ratios almost failed the UVDGM criteria.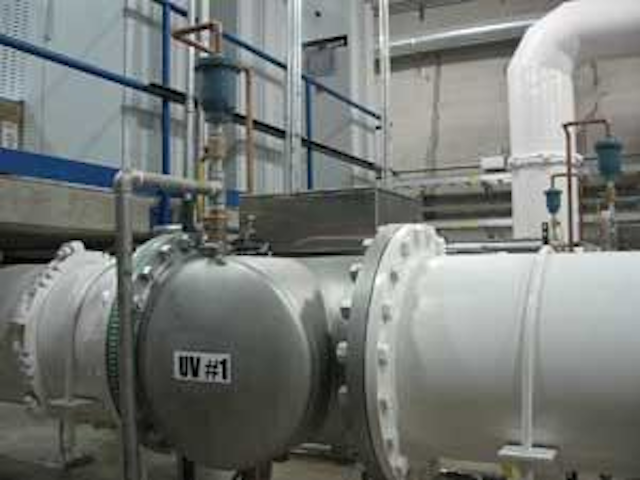 UV disinfection system at Neenah WTP.
Click here to enlarge image
Recommendations were made to NWTP to purchase at least one more reference sensor, preferably two, in order to increase the accuracy of the reference sensor check.
3. Operations spot check (functional test)
Verification of the algorithms programmed into the PLC was also conducted by comparing the Reduction Equivalent Dose (RED) calculated by a UV reactor PLC with that calculated separately using the validation dose monitoring algorithms, given the operating conditions. For given operating conditions, the UV systems' PLCs displayed RED that was not significantly different than that calculated separately using validation equations.
Online UVT error was observed to significantly impact the calculated RED, underscoring the need for WTP's to practice robust online UVT monitor QA/QC.
4. UV system power consumption
Total UV reactor power was also recorded from each UV system using a power meter. This was compared to the total power consumption as presented in the validation reports for each system. The three systems drew power that was within 3 percent of that documented in each reactor's validation report, indicating that the UV systems had stable power consumption.
Approval for Inactivation Credit
NWTP achieves credit for 2.5-log removal of Giardia, 3-log removal of Cryptosporidium and 2-log removal of virus through its lime softening and filtration processes. The remaining 2-log virus treatment is provided by free chlorine contact. With the addition of UV disinfection, the WTP opted to provide the maximum additional treatment of Cryptosporidium required by LT2ESWTR (2.5-log) through UV disinfection in lieu of Cryptosporidium monitoring of Lake Winnebago water. This also meets the remaining 0.5-log Giardia requirement.
UV disinfection provides another barrier against pathogens in addition to the conventional treatment processes and chlorine disinfection at STWTP. Prior to implementation of UV, the plant achieved credit for 2.5-log removal of Giardia and 2-log removal of virus through its conventional filtration process with the remaining 0.5-log Giardia and 2-log virus treatment provided through free chlorine contact. The UV disinfection system, approved up to 2.5 and 3-log Cryptosporidium and Giardia, respectively, allows STWTP to target 0.5-log Giardia disinfection credit with UV, which provides flexibility for chlorine dosing strategies that mitigate disinfection byproducts (DBPs) formation.
In addition to the Surface Water Treatment Rule (SWTR) and Interim Enhanced Surface Water Treatment Rule (IESWTR) requirements, the State of California requires MHWTP to meet an additional 1-log removal for both Giardia and viruses. The plant is credited with 2.5-log Giardia and 2-log virus removal through its conventional filtration process, with the remaining 3-log virus treatment provided through free chlorine contact. The plant meets the remaining 1.5-log Giardia treatment requirement with its UV disinfection system that is approved for 2-log Giardia inactivation. In order to mitigate the production of DBPs, the plant intends to use chloramines to provide disinfection residual in the distribution system.
Summary
LT2ESWTR requires that UV reactors undergo validation testing to quantify dose delivery, define dose monitoring strategies and associated validated ranges. During the design process, UV systems are specified to provide the required pathogen inactivation under design operating conditions. Where designs are based on pre-validated UV systems, the inlet and outlet piping must result in dose delivery at the plant that matches or exceeds that measured during validation.
After design and construction, UV systems must undergo commissioning to compare installed against validated reactors, train plant personnel, verify monitoring equipment accuracy, and conduct UV system functional and operational testing to assess the plant's ability to run the UV system for inactivation credit.
As such, UV system commissioning verifies system compliance per validation, which in turn provides confidence in UV disinfection.
Acknowledgements: The process of obtaining regulatory approval for UV systems is a collaborative effort that requires extensive input from all stakeholders i.e. the engineer, the UV system vendor, the WTP personnel and the regulatory agency. The authors would like to express their gratitude to the following individuals, without whose assistance, successful implementation of UV at the highlighted utilities would not have been achieved:
Matthew Marshall (Carollo Engineers)
Larry Wettering, Mark Zempel and Tony Mach (City of Neenah)
Larry Landsness and Jim Schedgick (Wisconsin Dept. of Natural Resources)
Stewart Hayes and Chuck Sheculski (Trojan Technologies, Inc.)
Don Voogt (McMahon Group)
Bob Ardizonne (Carollo Engineers), Perry Johnson (formerly, Carollo Engineers)
Brad Fuller, Bruce Wegner, Eric Martinez, Tom Hartman,
David McNeil and Mike Bershad (City of Tempe)
Bill Kenning and Eric Kaupanger (Maricopa County Environmental Services Dept.)
Chad Steele and John Turner (ITT WEDECO)
Oliver Lawal (formerly ITT WEDECO)
Trevor Dykstra and Tom Patten (Carollo Engineers)
Mike Buckley and Frank Mora (South West Water Company)
Nader Shareghi (Mountain House)
Brian Bernados, Joseph Spano, Betsy Lichti and Bhupinder Sahota (California Department of Public Health)
Keith Bircher (Calgon Carbon Corporation)
About the Authors:
David Gaithuma serves as process design engineer on Carollo's drinking water UV disinfection projects. He has conducted validation of 17 small and large-scale drinking water UV reactors from four different UV system manufacturers at the Portland, OR, UV Validation Facility, overseeing testing, conducting data analysis, and preparing validation reports. Harold Wright is an Associate with Carollo Engineers with 19 years of experience in the field of water and wastewater UV disinfection. He is the founder and technical leader of Carollo's Portland UV Validation Facility, one of the few in the world designed to validate large-scale UV reactors (up to 40 mgd). Mark Heath has 18 years of experience as an environmental engineer and his areas of specialization include: water and wastewater filtration and UV disinfection.