PRODUCTS & SERVICES DISINFECTION
The Series RPH-250 Analyzer, available from Hydro Instruments, makes use of the Amperometric method to determine residual levels ...
Nov 1st, 2007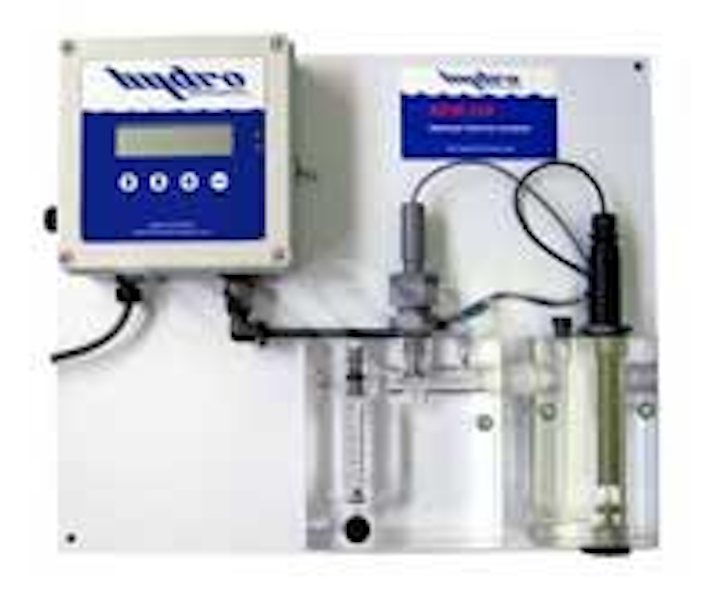 Residual chlorine analyzer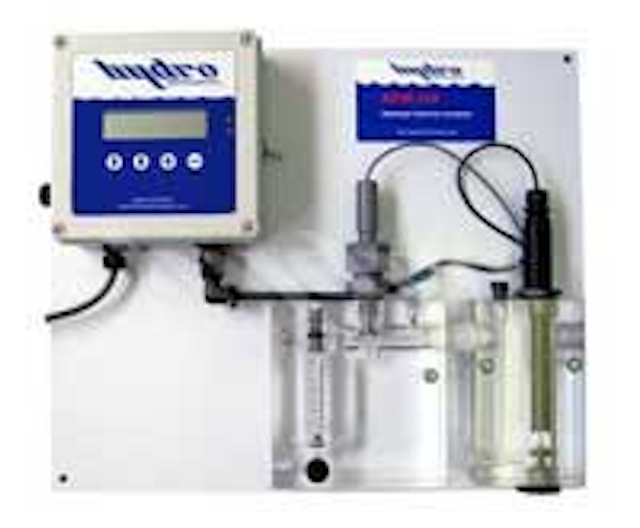 Click here to enlarge image
The Series RPH-250 Analyzer, available from Hydro Instruments, makes use of the Amperometric method to determine residual levels in the sample water. The measurement is continuous, not relying on sample and hold methods, thereby allowing for better process control. The free-chlorine probe offers easily replaceable membrane caps. The analyzer is optionally available with pH compensation performed in software.
Hydro Instruments
Perkasie, PA
Tel: 888-384-9376
www.hydroinstruments.com
Chlorine cylinder scale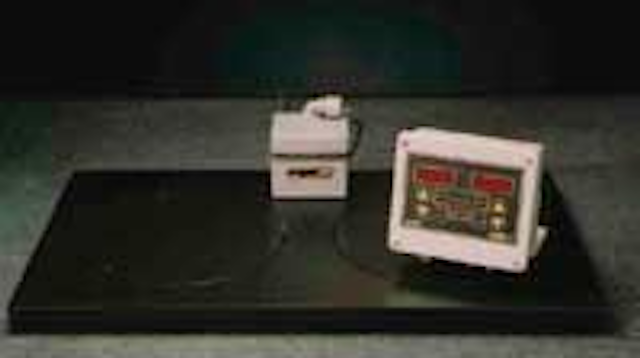 Click here to enlarge image
The DCS302 scale from Eagle Microsystems is a weighing system for two compressed gas cylinders. The scale provides an independent, accurate and readable weight indication for each weigh platform. The solid PVC scale base is warranted for five years against chemical corrosion. The readout for the scale is the EI-2000 Dual Channel Digital Indicator/Transmitter providing two, dedicated independent weight displays and two isolated 4-20 mA outputs.
Eagle Microsystems Inc.
Pottstown, PA
Tel: 800-780-8636
Web: www.eaglemicrosystems.com
Gas detection system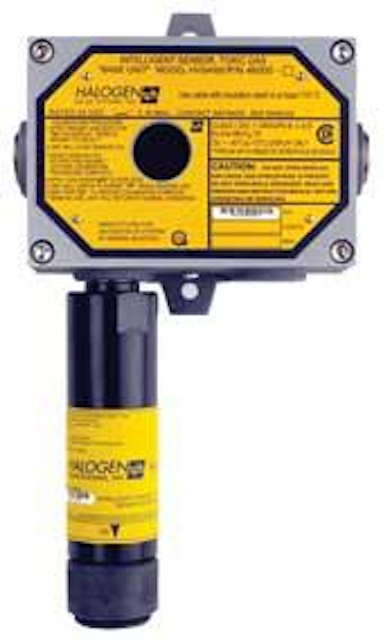 Click here to enlarge image
The Jupiter gas detection system, Model HVS4000, monitors and reports information about hazardous and toxic gases to a SCADA monitoring systems. Its features include a sensor life indication, two (250 vAC - 8 amp) settable internal relays, a three-digit display, dual MODBUS connections and 4-20 mA proportional gas level output. The system can be connected directly to the company's Emergency Gas Shutoff systems to immediately remedy a gas leak situation.
Halogen Valve Systems Inc.
Irvine, CA
Tel: 877-476-4222
Web: www.halogenvalve.com
Hydrant flushing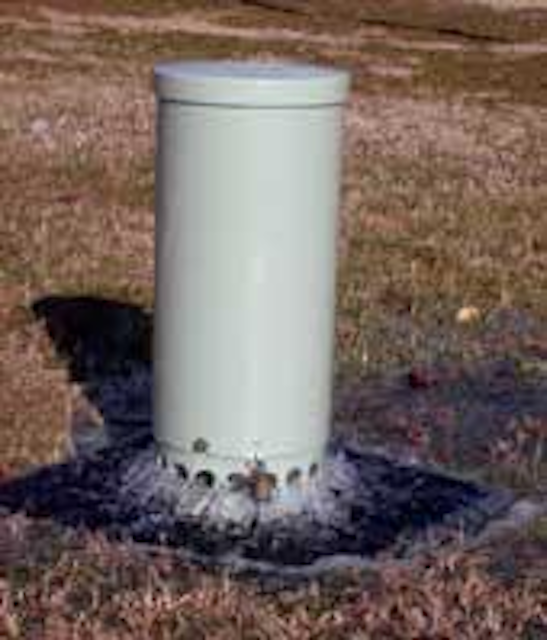 Click here to enlarge image
Kupferle has introduced the new #9400 automatic flushing device designed for maintaining chlorine residuals at permanent dead-ends. Each device has it's own controller, capable of flushing nine times per day, with each flush being up to four hours each. A 9-volt battery powers the device and each unit drains to prevent freezing. A UV-resistant, locking domed cover keeps all components protected.
Kupferle Foundry Co.
St. Louis, MO
Tel: 800-231-3990
Web: www.hydrants.com
UV disinfection
Click here to enlarge image
From its WEDECO product line, ITT Corp. is offering the LBX Series UV disinfection systems for wastewater and reuse applications. The systems were designed with the end customer in mind, offering a wealth of critical standard features and convenient options. WEDECO engineers developed the LBX from the ground up by focusing on three critical elements for UV system performance: the UV lamp, the power supply/controls, and the engineered vessel.
ITT-WEDECO
Charlotte, NC
Tel: 704-716-7600
Web: www.ittawt.com
Disinfection injectors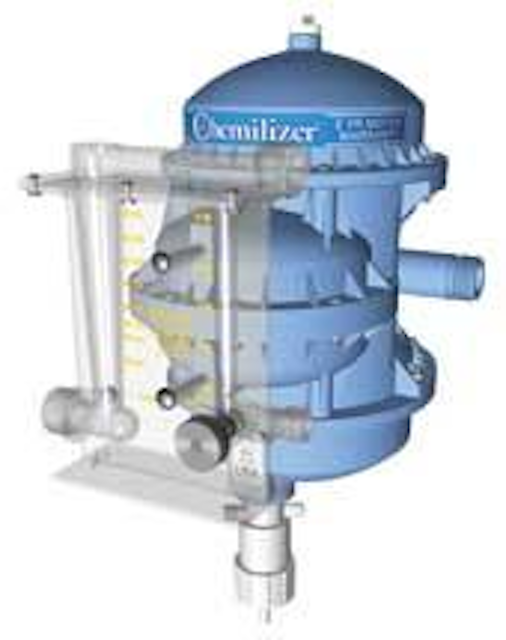 Click here to enlarge image
Chemilizer Products manufactures non-electric liquid injectors. Its adjustable, high volume CP33 is suited for municipal water treatment in small to medium size communities and is an alternative to gas generation treatment equipment. The injector is installed using standard plumbing parts and can accommodate pipes from 1" to 12" and more. It injects only when water is flowing, eliminating the possibility of over or under injection.
Chemilizer Products Inc.
Largo, FL
Tel: 800-234-7211
Web: www.chemilizer.com
Gas chlorinator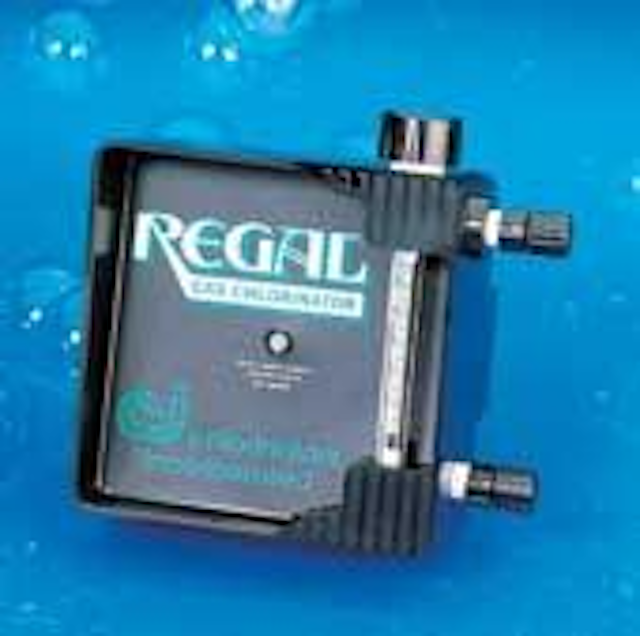 Click here to enlarge image
The RegalTM Gas Chlorinator is used all over the world to disinfect and purify municipal drinking water and wastewater, industrial wastewater, and more. The chlorinator provides a consistent chlorine residual, eliminating a lot of guesswork. With a simple design, the all-vacuum system virtually eliminates the possibility of gas leaks.
Chlorinators Inc.
Stuart, FL
Tel: 772-288-4854
Web: www.regalchlorinators.com
UV disinfection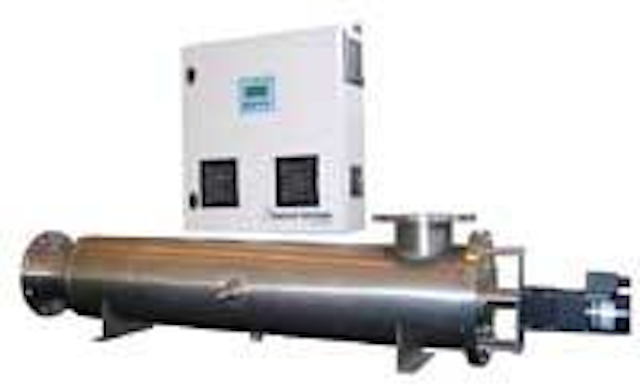 Click here to enlarge image
Degremont Technologies-Ozonia has introduced the new Aquaray® SLP Series of ultraviolet disinfection systems, designed for both water and wastewater treatment applications. The series offers a compact and high efficiency range of UV systems for small and medium water plants with flow rates from 0.15 to 2.8 mgd. The low pressure, high output amalgam lamps are powered by efficient electronic ballasts, which offer energy and operational savings while extending the lamp's life to an average of 16,000 hours.
Degremont Technologies-Ozonia
Elmwood Park, NJ
Tel: 201-794 3100
Web: www.degremont-technologies.com
Water main disinfection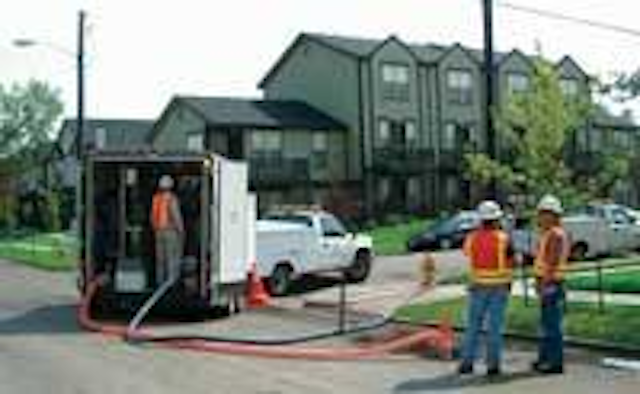 Click here to enlarge image
Mazzei Injector Corp., in cooperation with Camp Dresser & McKee and Denver Water, has developed a mobile ozone system for disinfection of municipal water mains. Following three years of research and full scale pilot testing, Denver Water now uses the trailer-mounted ozone disinfection system on pipeline segments ranging from 300 to 3,000 feet in length. The system is a complete mobile "turnkey" unit that allows the user to rapidly disinfect municipal pipelines in 30 minutes or less using ozone that is generated onsite.
Mazzei Injector Corp.
Bakersfield, CA
Tel: 661-363-6500
Web: www.mazzei.net
Microwave UV technology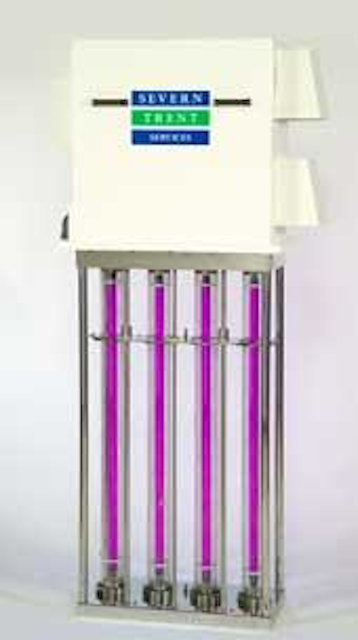 Click here to enlarge image
The MicroDynamicsTM microwave ultraviolet technology from Severn Trent Services uses microwaves to energize low-pressure, high-output lamps for municipal or industrial water and wastewater disinfection. With electrodeless lamps, there are no electrical connections to fail, corrode or leak. The lamps light instantly, providing immediate, reliable disinfection, and lamps can be switched on and off to match flow. The system offers a modular 4-lamp design to meet varying flow rates and demands, and the company's standard three-year lamp life guarantee on each system reduces maintenance concerns and whole-life costs.
Severn Trent Services
Colmar, PA Tel: 215-997-4000 Web: www.severntrentservices.com
Chlorine dioxide monitoring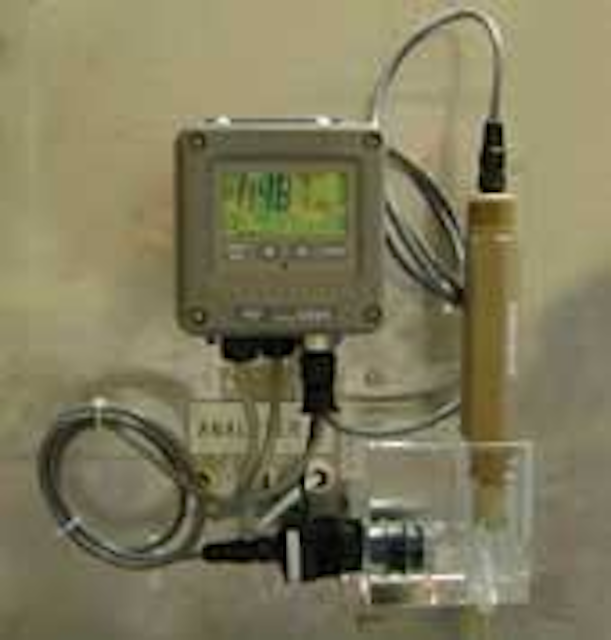 Click here to enlarge image
Analytical Technology (ATi) has introduced the Q45H/65 Residual Chlorine Dioxide Monitor for the online monitoring and control of disinfection systems. This system responds to chlorine dioxide with minimal interference from any residual chlorine that may be present. The monitor features a membrane-covered polarographic sensor that does not require the addition of chemical reagents. All that is needed is a consistent flow of water across the face of the sensor. That can be provided by a simple constant-head flowcell.
Analytical Technology Inc.
Collegeville, PA
Tel: 800-959-0299
Web: www.analyticaltechnology.com
Chlorine, turbidity monitoring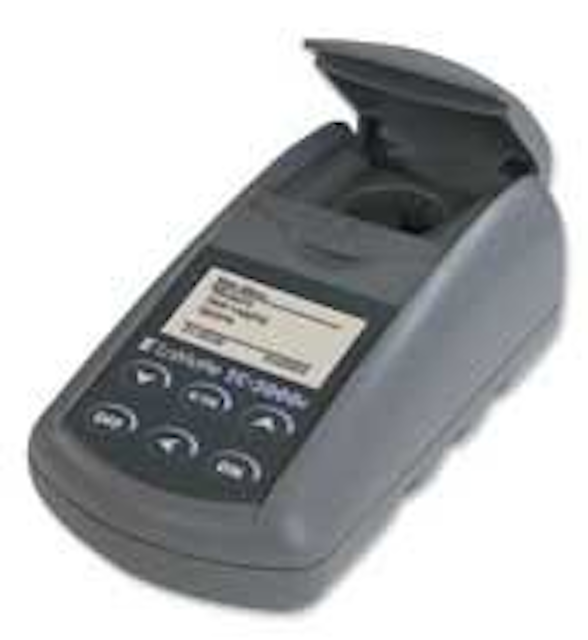 Click here to enlarge image
The TC-3000 meter combines a hi-tech microprocessor with a patent pending optical chamber resulting in higher accuracy for low chlorine and turbidity readings. Detection limit for chlorine is 0.02 ppm (range 0-10 ppm). Detection limit for turbidity is 0.05 NTU (range 0-4,000 NTU). The unit also reads color to 0.2 cu. It is available in EPA and ISO 7027 versions. The unit also features six languages, datalogging, RS-232, CE mark.
LaMotte Co.
Chestertown, MD
Tel: 800-344-3100
Web: www.lamotte.com
Calcium hypochlorite system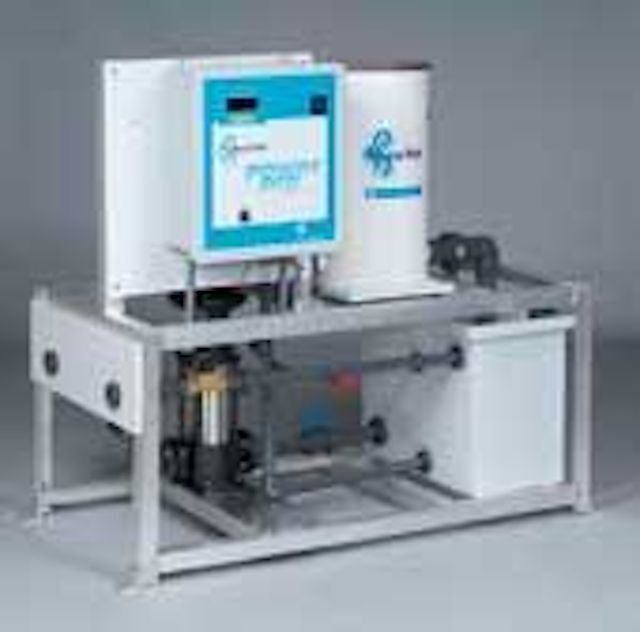 Click here to enlarge image
The Accu-Tab® PowerPro® system from PPG combines simple, patented chlorinators with slow-release calcium hypochlorite tablets to provide consistent and controllable chlorine dosages regardless of size and demand. The systems have been used at water plants as large as 14 mgd, with chlorine demands exceeding 400 pounds, and water wells as small as 35 gpm. Available in gravity and pressure return models, the systems are NSF-listed and feature a simple "hook-up/plug-in" installation.
PPG Industries
Pittsburgh, PA
Tel: 800-245-2974
Web: www.ppgaccu-tab.com
Disinfection systems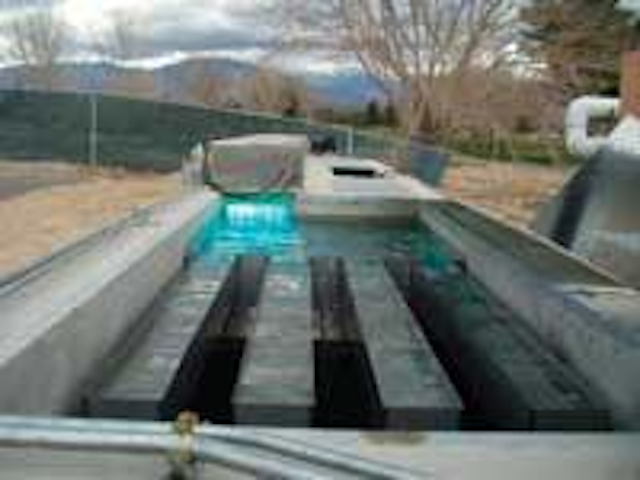 Click here to enlarge image
New advances in disinfection technology including ultraviolet and onsite hypochlorite generation offer environmentally friendly disinfection alternatives for many communities. With the acquisition of Sunlight UV technology, Siemens offers a broad range of non-chemical disinfection solutions for drinking water and wastewater applications. Onsite hypochlorite generation units like the OSEC® system eliminate dependence on commercial chemical supplies and the concerns inherent in the transport, handling and storage of chlorine gas and purchased hypochlorite.
Siemens Water Technologies
Tel: 800-525-0658
Web: www.siemens.com/water
Chlor-alkali systems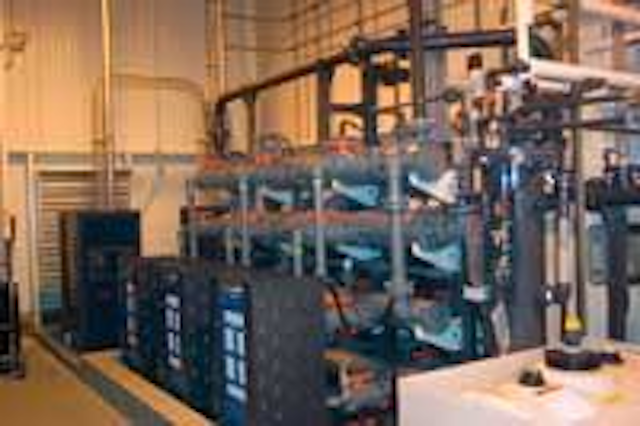 Click here to enlarge image
Electrolytic Technologies offers electrolytic chlor-alkali technology in the form of engineered systems incorporating proprietary and non-proprietary equipment to serve its customers in the water and wastewater industry with production capacities up to 50,000 ppd of chlorine gas or 15% sodium hypochlorite. Core competence within the company encompasses all of the required engineering disciplines to design, build and deliver a pre-packaged on-site generating system.
Electrolytic Technologies Corp.
North Miami Beach, FL
Tel: 305-655-2755
Web: www.electrolytictech.com
Valve actuators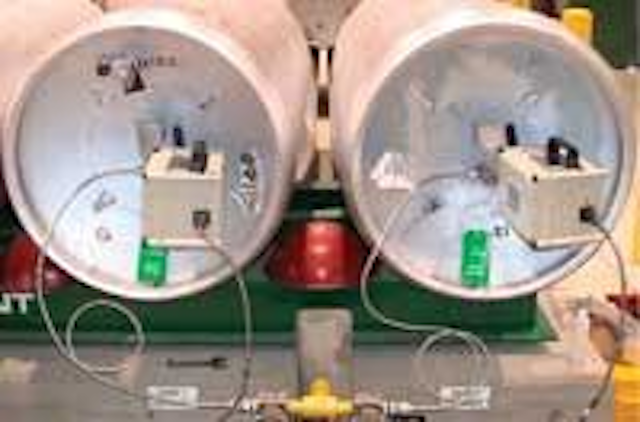 Click here to enlarge image
When higher chlorine feed rates require liquid withdrawal from containers for use with evaporators, it becomes extremely important to monitor and control the status of each valve on the container. Robo-Control® provides actuators to open and close the container valve. Digital indication of valve position and outputs for valve position are available. The actuator will communicate with an RTU or PLC for SCADA or in-plant control. Integral leak detectors provide immediate closure when a leak is detected.
Robo-Control
Bridge City, TX
Tel: 409-697-2666
Web: www.robo-control.com
Hypochlorite feed system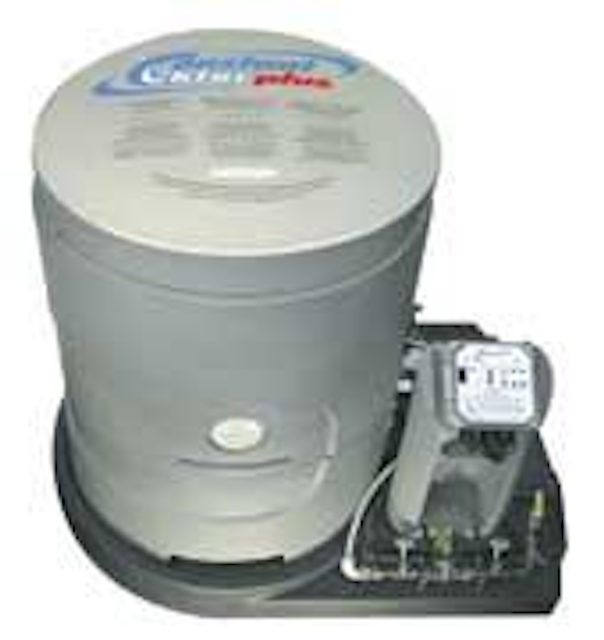 Click here to enlarge image
The Constant Chlor® Plus dry calcium hypochlorite feeding system is designed to prepare and automatically deliver a consistently accurate dose of liquid available chlorine for disinfection applications. The patented feeding system can supply up to 250 pounds of AVCL/day. NSF/ANSI 61 listed, the feeder uses NSF Standard 60 listed Constant Chlor® Plus dry calcium hypochlorite briquettes and spray technology to produce fresh liquid chlorine solution as needed.
Arch Chemicals Inc.
Norwalk, CT
Tel: 800-432-7223
Web: www.archwaterworks.com
Sodium hypochlorite generators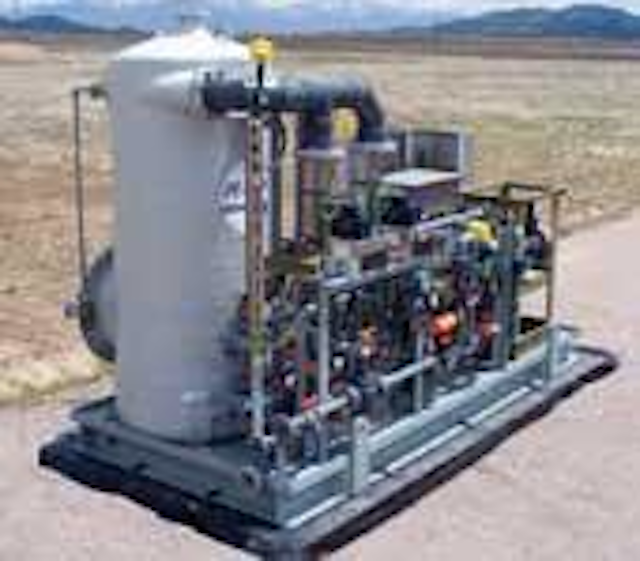 Click here to enlarge image
Pepcon's ChlorMaster® systems provide on-site sodium hypochlorite generation for use in a variety of applications including wastewater disinfection, marine organism control, potable water chlorination, and odor control systems. The company's electrolytic cells are installed worldwide. As a custom equipment manufacturer, the company can provide a system to meet specific project needs. It has been designing sodium hypochlorite generators for more than 35 years.
Pepcon Systems
Cedar City, UT
Tel: 435-865-5045
Web: www.pepconsystems.com
Controllers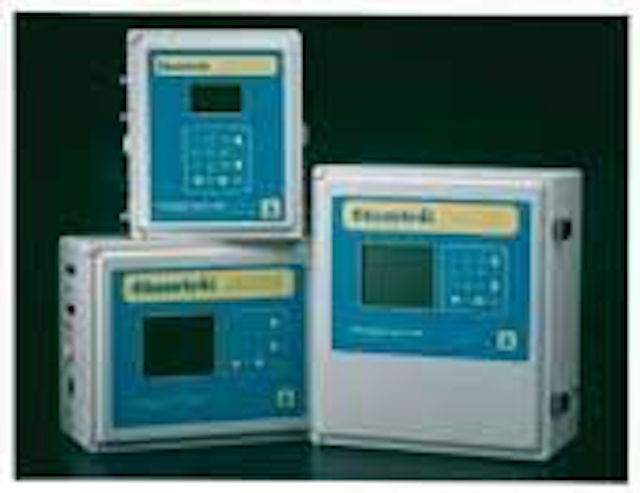 Click here to enlarge image
The Chemtrol CT product line has been upgraded in terms of both function and communication capability. In terms of function, the company has added a proprietary free chlorine sensor to the sensing capabilities of the CT3000. This adds to the 3000's current roster of capabilities, which includes conductivity, pH, ORP, temperature and flow.
Chemtrol
Santa Barbara, CA
Tel: 800-621-2279
Web: www.sbcontrol.com
UV disinfection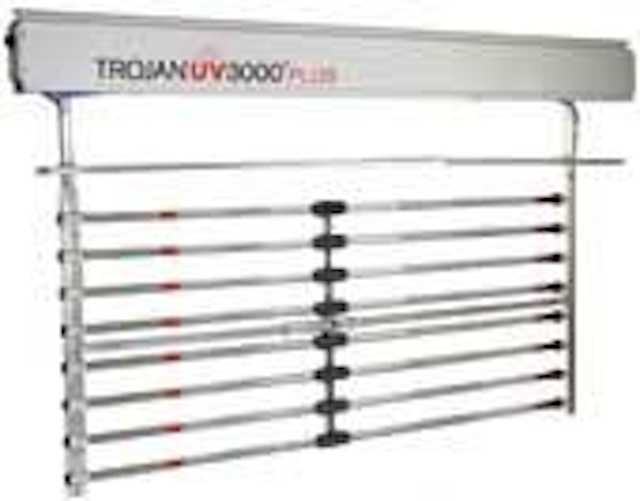 Click here to enlarge image
The TrojanUV3000PlusTM for wastewater disinfection has demonstrated its performance around the world in over 475 installations. The system is ideal for challenging wastewater disinfection applications such as combined sewer overflows or primary and tertiary wastewater reuse. The company's UV systems are simple and safe to operate, with performance guaranteed for the life of the system.
Trojan Technologies
London, Ontario Canada
Tel: 888-220-6118
Web: www.trojanuv.com