Light-bulb Moments for Ultraviolet Treatment
UV disinfection came to the rescue this summer, ridding cryptosporidium from water supply in the Midlands, UK. This article looks at why the technology was a necessity and innovation elsewhere around the world, including combing with advanced oxidation process and small scale UV LED systems.
Nov 1st, 2015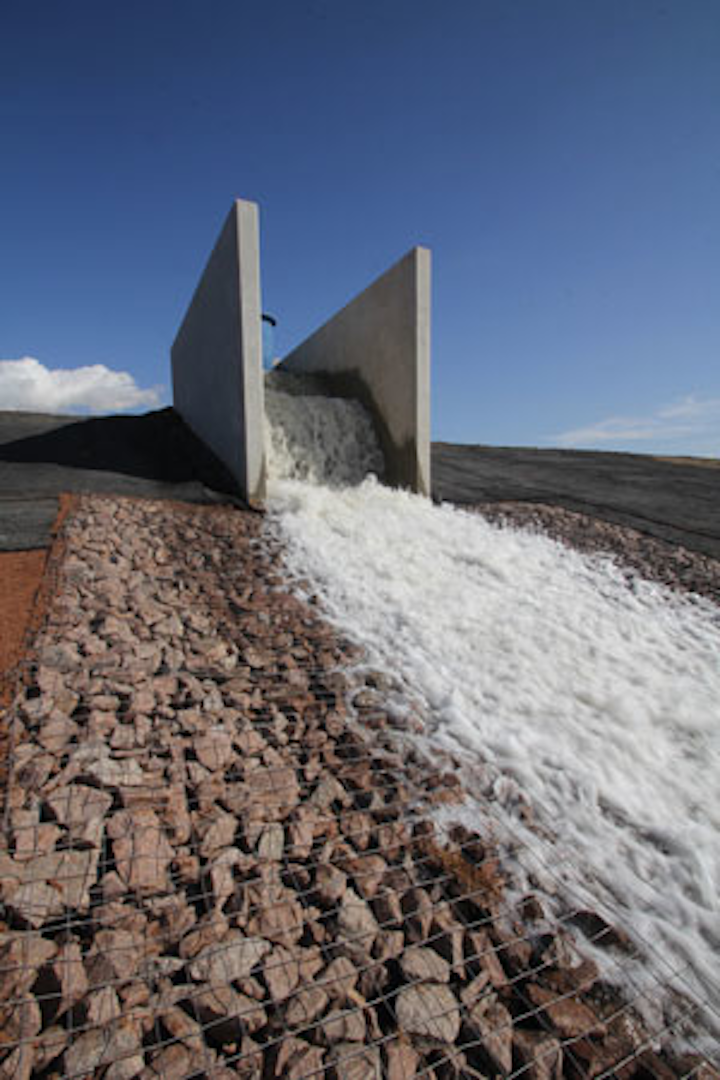 UV disinfection came to the rescue this summer, ridding cryptosporidium from water supply in the Midlands, UK. This article looks at why the technology was a necessity and innovation elsewhere around the world, including combing with advanced oxidation process and small scale UV LED systems.
By Claire Smith
A serious outbreak of cryptosporidium in drinking water in Lancashire, UK, has been successfully brought under control by the use of ultraviolet (UV) disinfection. This came at a price: the water supplier, United Utilities (UU), is facing a £25 million bill following the contamination, which led to customers in several towns having to boil water during August and early September 2015.
Engineers from UU worked 24/7 to install UV rigs at strategic points across the network - in an attempt to eradicate all traces of the microscopic parasite.
Gary Dixon, UU's customer services director told customers at the time: "The use of these UV rigs will help us speed up the process of destroying the last traces of cryptosporidium in the water."
Chlorine resistant, cryptosporidium, can lead to stomach infections and even death.
Although there was no loss of life during the Lancashire outbreak, the use of UV to solve the crisis has encouraged the water industry to look again at the technology.
Uses of UV treatment
UV works against cryptosporidium, giardia and legionella. It uses short wavelength UV light to alter the DNA of micro-organisms to end their ability to reproduce. It can also, in combination with hydrogen peroxide, be used to target trace elements of pesticides including metaldehyde. Widely used to treat water in the pharmaceutical, food and beverage and electrical industries it has a range of applications within utilities, usually in combination with other types of water treatment.
Karl Linden, professor of Environmental Engineering at the University of Colorado and president of the International Ultraviolet Association, believes these are interesting times for UV.
"Many of the techniques we use in water treatment - chlorine, disinfection, filtration have been used for 100 years," he says. "UV has a place because it is very effective against cryptosporidium but it is also being used in advanced oxidation - for the destruction of specific chemicals."
In the next ten years, Professor Linden believes LED technology will be used to develop cheaper and less energy hungry UV lamps suitable for municipal treatment plants. Switching to LED would also have the advantage of making it possible to manufacture lamps without the use of mercury.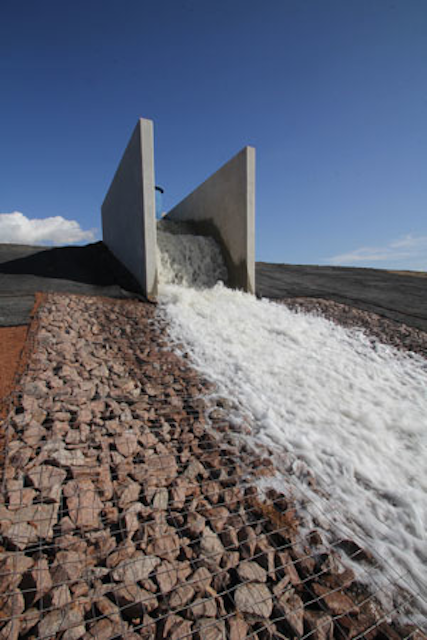 Anglian Water has shown that UV can be used to remove trace elements of metaldehyde
Research currently being carried out into the real-life carbon cost of the manufacture and use of chlorine as a disinfectant in wastewater treatment may also inspire a fresh look a alternatives such as UV.
Chlorine disinfection can also leave byproducts - some of which are believed to be carcinogenic - while the UV process is chemical-free.
"The reason I am interested in UV is to improve the techniques we use for water treatment and wastewater treatment - particularly in water reclamation," explains Prof Linden.
He believes one of the new growth areas for UV technology will be in water-stressed areas - where UV will be used as part of the process of reclaiming water from wastewater.
In UK utilities, UV treatment is most widely used in areas with a high risk of cryptosporidium. The risk of contamination comes from a high use of surface water, draining through areas used for grazing cows and sheep. UV in the UK is also used as an extra component of wastewater treatment where treated water is released into areas used for bathing or where shellfish are found.
Using UV with AO
Anglian Water has pioneered a new way of using UV as part of an advanced oxidation process (AO). In combination with hydrogen peroxide, Anglian has successfully shown that UV can be used as a way of removing trace elements of metaldehyde - which is used in slug pellets, and clopyralid - an agricultural pesticide used to inhibit thistle growth.
Barrie Holden, innovation programme manager for Anglian says: "In 2007-2008 new pesticides were identified which we were having trouble removing using conventional processes. Clopyralid is a very difficult product to remove, as is metaldehyde."
In March last year the Hall treatment works near Lincoln, which handles 20,000 m3/day, began using an advanced oxidation process combining hydrogen peroxide and UV. Water from the river Trent is stored for ten days, passes through activated carbon and a bank of sub-membranes before being treated with a combination of hydrogen peroxide and UV, which breaks down the residual pesticides. It then passes through a further set of carbon filters, which remove the excess hydrogen peroxide and stabilises the water.
Holden adds: "This multi-barrier treatment we have developed is totally unique. It is not being done anywhere else in the world."
Representatives of utilities from China and Finland have already made the journey to the Hall treatment plant to see the process in action.
Netherlands solutions
The use of UV as part of an advanced oxidation multi-barrier process has also been put into practice by Dutch state-owned utility PWN.
At Andjik in the Netherlands the UV oxidation system, built in 2004 and the first of its kind in the world, is used to inactivate microorganisms including cryptosporidium, giardia and clostridia.
The drinking water treatment plant serves around half a million people and can treat up to 4,000 m3/hour.
Bram Martjin, senior technological researcher, says: "The dose of UV needed to remove micro-organisms in advanced oxidation is far higher than that needed for disinfection - so we always tell our management they have got their disinfection for free.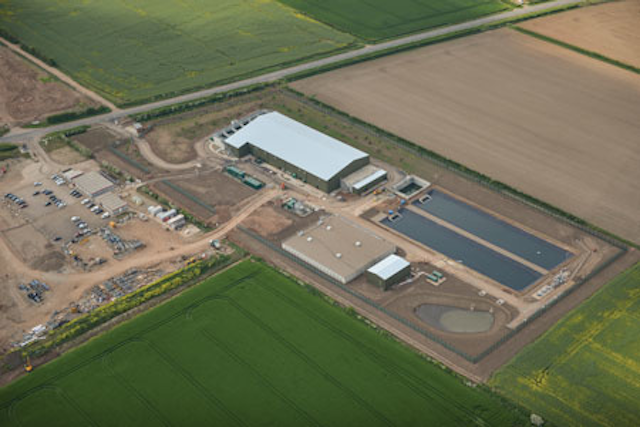 Multi-barrier: Anglian Water's Hall treatment works in the UK handles 20,000 m3/day and uses an advanced oxidation process, combining hydrogen peroxide and UV. The utility claims this is not being done anywhere else in the world.
"It is necessary to have a multi-barrier treatment at Andjik because the water comes from Ijssel Lake, which is fed by the Rhine, which comes through all the industrial areas of Europe."
PWN has also worked with UV manufacturer Trojan to create an advanced oxidation treatment for the treatment works at Heemskerk, which removes more than 400 pollutants, including pharmaceuticals, from water which is fed into the Dutch network of canals.
Under the European Union's Water Framework Directive, the concentration of each individual pesticide may not exceed 0.1 parts per billion (ppb). The total concentration of pesticides in drinking water may not exceed 0.5 ppb.
Pharmaceutical pollution
The UK water industry is currently monitoring levels of trace pollution in effluent treated by wastewater treatment plants - looking in particular at the presence of residual pharmaceuticals- such as oestrogen. Potentially this could lead to a need to find new ways of removing trace organic compounds from treated wastewater - which could mean an increased use of UV.
Paul O'Callaghan, founder of BlueTech Research, says: "Regulation is often the driver for new uses of technology in the water industry - so it could be that increased regulation of trace pollutants will lead to increased use of UV treatment."
Global use of UV
Use of UV around the world varies greatly. Many US cities, including New York, use UV to treat all drinking water. The widespread use of UV was precipitated by a deadly outbreak of cryptosporidium in Milwaukee in 1993 in which 400,000 people became seriously ill and more than 100 died. The US Environmental Protection Agency issued strict guidelines for the use of UV in 2006. The largest UV disinfection plant in the world is the 14,864 m2 (160,000 ft2) Catskill-Delaware plant, completed in 2013 at a cost of US$1.3 billion.
With more than 8,000 municipal systems in place around the world, Trojan, which has its headquarters in London, Ontario, is the biggest international player in the world of UV.
During Trojan's 35 year history, UV lamps have become more powerful - from 100W lamps to 1,000W. Advances in technology have also made the reactors more energy efficient - maximising the availability of the UV.
Trojan researchers have also worked closely to develop the use of UV in advanced oxidation, working with both Anglian Water and PWN to make sure the combination of hydrogen peroxide and UV works to target the pollutants as precisely as possible.
Small-scale LED UV
While LED UV treatment is still ten years away in terms of municipal treatment, the revolution is already taking place in industry, says Dr Ian Smith, technology manager of Hanovia, which makes UV treatment for industrial use.
"At the moment there are a small number of UV LED systems on very small flows."
UV is widely used in food and beverage manufacture, in swimming pools, in pharmaceuticals, in the manufacture of semiconductors and for the treatment of ballast water on board ships. In terms of industrial use the applications for UV technology are always expanding, says Dr Smith.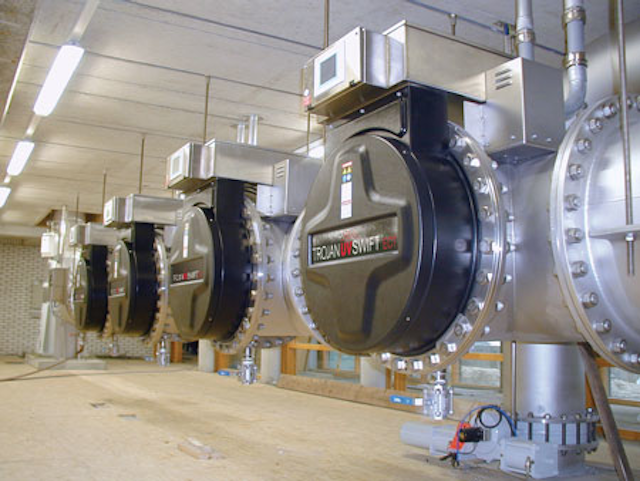 Powering up: during Trojan's 35 year history, lamp strength has increased from 100W to 1000W
While UV reactor design tends to be fairly standard, Israeli company Atlantium has been experimenting with the fundamental design of UV systems. The company has developed a fibre optic chamber for treating water which uses less energy and improves the effectiveness of treatment.
The water technology specialists have also developed a system which constantly monitors the UV process, allowing power to be adjusted to improve energy use.
Importance of innovation
Phyllis Posy, vice president of strategy and regulatory affairs at Atlantium, says: "Chlorine disinfection is a great gift but to have good UV in your toolbox is extremely useful. I think because of the nature of the challenges that are facing the water industry you are going to see it used more widely."
---
Claire Smith is from WiseOnWater. For more information on the article, contact: natasha@wiseonwater.com
More Water & WasteWater International Current Issue Articles
More Water & WasteWater International Archives Issue Articles