Products & Services: Disinfection
Collection of Disinfection related products and services.
Oct 1st, 2016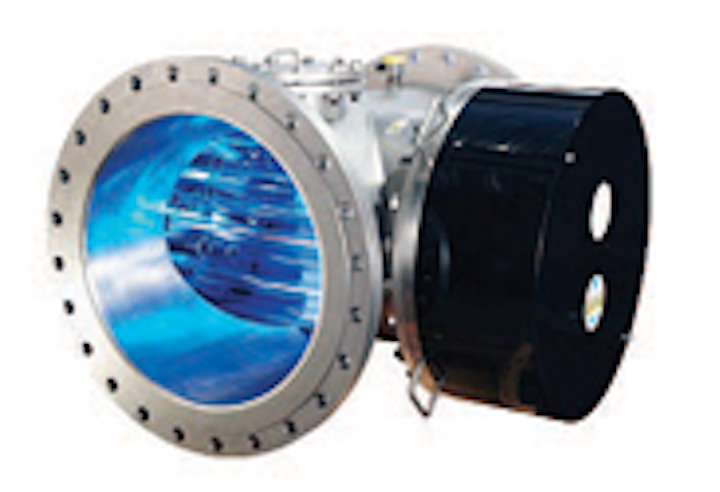 UV reactors
The Neptune Benson ETS-SW range of reactors is made of chambers that are constructed from material suited to withstand the powerful effects of the UV disinfection process. It will not produce harmful carcinogenic byproducts and features a unique access hatch designed to provide easy access to the chamber. The device has the ability to be installed in a vertical or horizontal orientation, is easily incorporated into new installations or retrofitted solutions, and features a reduced footprint design. Flanges are standard ANSI 150 RF, flexible connection range of 4" to 30". Variable power continuously meets dosing requirements.
Neptune Benson
UV purification
Mighty Pure® UV Water Purifiers from Atlantic Ultraviolet Corporation can treat 3 to 20 gallons per minute (180 to 1,200 gallons per hour), and feature a type 316 stainless steel chamber that's electropolished and passivated. Using germicidal ultraviolet lamps, the process is ideal for laboratories, factories and dairies. An exclusive Easy Off™ Retainer Cap for effortless lamp change and drain plug for in-place draining of the purifier chamber make the product simple to use.
Atlantic Ultraviolet Corporation
Process wastewater treatment
The Model R OXIGEST® treatment system from Smith & Loveless provides stable operation and flexible process options for sanitary and industrial/process wastewater applications. The OXIGEST® design encompasses complete aeration, clarification and advanced treatment in concentric tankage while allowing these unit processes to be individually separated and controlled. Its concentric tankage maximizes space efficiency in its footprint, thereby preserving precious facility land for other key plant operations. Multiple aeration zones can be employed to provide specific activated sludge processes for desired treatment levels, including multi-stage aeration, complete mixed, plug-flow and nitrification/denitrification.
Smith & Loveless
Wastewater disinfectant
VigorOx WWT II is a strong wastewater disinfectant that can replace chlorine or improve the performance of a UV system. VigorOx WWT II, a peracetic acid (PAA)-based formulation, is an equilibrium mixture of acetic acid (vinegar), hydrogen peroxide, and water. The system is offered as a complete solution including chemical supply; storage, feed and control equipment; and installation, startup and maintenance services. The system minimizes or eliminates capital expenses associated with replacing chlorination with alternative disinfection technologies, with no need to dechlorinate prior to discharge. Applications include: primary, secondary, or tertiary effluent treatment; reuse streams; and enhancement of UV systems.
PeroxyChem
Activated carbons and UV technologies
Calgon Carbon can design and engineer ultraviolet (UV) disinfection systems incorporating its product line to treat the flows of most open channel wastewater streams. The Sentinel Advanced Oxidation Process (AOP) is a powerful treatment method that can be used to destroy harmful contaminants in process wastewater. The cost-effectiveness and simplicity of UV disinfection technology, coupled with advanced oxidation, enables it to function alone or as an additional fail-safe with activated carbon and ion exchange systems for complex multi-source or multi-contaminant water treatment facilities.
Calgon Carbon Corporation
UV disinfection
The TrojanUV Signa™ incorporates innovations, including TrojanUV Solo Lamp™ Technology, to reduce the total cost of ownership and drastically simplify operation and maintenance - now with 2-, 4- and 6-row configurations. Features include low lamp count and high electrical efficiency, maximum disinfection performance, optimized power consumption, intuitive controls, simple water level control, chemical and mechanical sleeve cleaning, easy bank removal, and simple retrofitting, among others.
TrojanUV
Chlorination system
The Wallace & Tiernan® Systems S10K™ chlorinator is an all-vacuum-operated, sonically regulated unit providing economic, low capacity gas feed suitable for industrial or process water applications. Direct cylinder mounting puts the vacuum-regulating valve right at the source, reducing gas pressure to a vacuum immediately. Easy-to-read icons provide positive indication of container status; positive shutoff allows containers to be changed without admitting air, dirt or moisture into control unit; and easy alignment of the control unit on the container by means of a captive yoke assembly are some of the standard features.
Wallace & Tiernan, an Evoqua brand
Disinfection